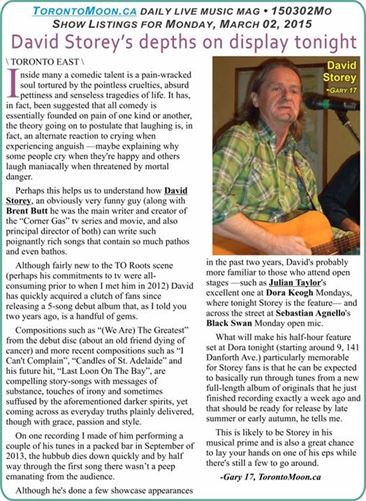 \ TORONTO EAST \
Inside many a comedic talent is a pain-wracked soul tortured by the pointless cruelties, absurd pettiness and senseless tragedies of life. It has, in fact, been suggested that all comedy is essentially founded on pain of one kind or another, the theory going on to postulate that laughing is, in fact, an alternate reaction to crying when experiencing anguish —maybe explaining why some people cry when they're happy and others laugh maniacally when threatened by mortal danger.
Perhaps this helps us to understand how David Storey, an obviously very funny guy (along with Brent Butt he was the main writer and creator of the "Corner Gas" tv series and movie, and also principal director of both) can write such poignantly rich songs that contain so much pathos and even bathos.
Although fairly new to the TO Roots scene (perhaps his commitments to tv were all-consuming prior to when I met him in 2012) David has quickly acquired a clutch of fans since releasing a 5-song debut album that, as I told you two years ago, is a handful of gems.
Compositions such as "(We Are) The Greatest" from the debut disc (about an old friend dying of cancer) and more recent compositions such as "I Can't Complain", "Candles of St. Adelaide" and his future hit, "Last Loon On The Bay", are compelling story-songs with messages of substance, touches of irony and sometimes suffused by the aforementioned darker spirits, yet coming across as everyday truths plainly delivered, though with grace, passion and style.
On one recording I made of him performing a couple of his tunes in a packed bar in September of 2013, the hubbub dies down quickly and by half way through the first song there wasn't a peep emanating from the audience.
Although he's done a few showcase appearances in the past two years, David's probably more familiar to those who attend open stages —such as Julian Taylor's excellent one at Dora Keogh Mondays, where tonight Storey is the feature— and across the street at Sebastian Agnello's Black Swan Monday open mic.
What will make his half-hour feature set at Dora tonight (starting around 9, 141 Danforth Ave.) particularly memorable for Storey fans is that he can be expected to basically run through tunes from a new full-length album of originals that he just finished recording exactly a week ago and that should be ready for release by late summer or early autumn, he tells me.
This is likely to be Storey in his musical prime and is also a great chance to lay your hands on one of his eps while there's still a few to go around.
-Gary 17, TorontoMoon.ca
SHOW LISTINGS for Monday, March 02, 2022
Listings preceded by an asterisk (*) are repeating weekly events. (Double asterisk indicates repeating event with different hosts/guest/etc.). Admission prices followed by a slash and minus (/-) after the amount indicates door charge with availability of cheaper rates for some purchases. /+ indicates stated price is minimum.
Names of subscribers appear in bold, are underlined and, where applicable, include a live link to their websites. Advertisers' listings are in larger highlighted type, include live link to website and also have ad icon included in listings.
5-8> Mike Daley Jazz Trio @ Gate 403, 403 Roncesvalles Ave., TO West ~Jazz
6> Pat Maloney @ Cameron House (front), 408 Queen St. W., TO
*6-9> Calliope's Nest open stage/jam for women @ Lola Pub, 40 Kensington Ave., TO
*6-8> Communi-Kitch with Ken Hall @ The Garnet, 231 Hunter St. W., Peterborough
6:30> U of T Jazz Ensembles @ The Rex, 194 Queen St. W., TO ~Jazz
*7> Hard Time Mondays with Rick & Gailie @ Black Horse Pub, 452 George St. N., Peterborough
**7:30> M Factor Mondays with host Elana Harte & features Angela Saini; Ben Kunder @ The Old Nick, 123 Danforth Ave., TO East
7:30> Chris Banks & Friends @ Tranzac Lounge (Southern Cross), 292 Brunswick Ave., TO
7:30> Advocats Big Band @ Seven44, 744 Mount Pleasant Road, TO North ~R&B/Swing
8-11> Bossa Tres @ Relish, 2152 Danforth Ave., Toronto East ~Latin Jazz
8-12> open stage with Julian Taylor & 9:30 feature by David Storey @ Dora Keogh, 141 Danforth Ave. TO East
8> John K & The Outfit @ The Only Café, 972 Danforth Ave., TO East ~Rock
8> comedy night @ Cameron House (rear), 408 Queen St. W., TO
**8-1> open stage with host Dylan Hennessy @ Free Times Café, 320 College St., TO
*8-11> open stage @ McGradie's, 2167 Victoria Park Ave., Scarborough
**8-12> BBQ & jam night with John Marlatt @ Moonshine Café, 137 Kerr St., Oakville; ($8.95 with BBQ dinner special starts at 6)
*8-12> open stage @ Simcoe Blues & Jazz, 926 Simcoe St. N., Oshawa
8:30> I Spy @ Castro's, 2116 Queen St. E., TO East
*9-1> eclectic open stage/jam with host Nelson Sobral @ The Painted Lady, 218 Ossington Ave., TO West
**9-1:30> jam with No Band Required @ Grossman's, 379 Spadina Ave., TO
*9-1> Hamstrung Stringband @ The Local, 396 Roncesvalles Ave., TO West ~Bluegrass
9-1> Michael O'Grady & Friends @ Gate 403, 403 Roncesvalles Ave., TO West ~Celtic stomp
9-12> tba @ The Roncy, 390 Roncesvalles Ave., TO West ~acoustic solo
*9-1> jam with Tom Barlow @ Shore Grill, 71 Lakeshore Rd. E., Port Credit
*9:30-2> Sebastian Agnello & friends @ Black Swan (ground floor), 154 Danforth Ave., TO East
9:30> Humber College Jazz Ensembles @ The Rex, 194 Queen St. W., TO ~Jazz
10> Jordan John @ The Orbit Room, 580 College St., TO ~R&B/Blues
*10> open mic (2 songs; signup starts 8p.m.) @ Tranzac Lounge (Southern Cross), 292 Brunswick Ave., TO
10> Bad Seeds @ Cameron House (front), 408 Queen St. W., TO
10:30> Big Otter Creek Unplugged @ The Hideout, 484 Queen St. W., TO ~indie Rock
Copyright © 2015 Toronto Moon Magazine. All Rights Reserved