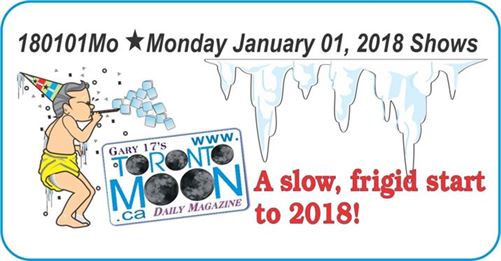 The new year is underway but it's a pretty quiet start.  Mondays are never a particularly busy day to begin with and several of the regular open stages and residency shows normally taking place are cancelled as a huge number of rooms choose to take the day off to recover from last night's festivities. (As with New Year's Eve and other holidays, I've only included shows that I have some solid indication are actually happening.)
On the flip side, however, there are a few places offering shows this afternoon that you'd normally expect to see on a Sunday, especially in the 905 West area where Roc'n Doc's and Mulligan's Pub in Mississauga and Carrigan Arms in Burlington all have afternoon shows taking place that you'd otherwise be more likely to find happening on the Sabbath.
Elsewhere a few of the more hardy artists and rooms which house them will be doing their thing as usual and if you're a musician who didn't have a New Year's Eve gig you can still, despite cancellation of most of the usual jams and open stages, get your chops out today with Sebastian Agnello at Black Swan in TO East, Al Reilly and his Catalyst band at Rockpile in Etobicoke or at Cornerstone in Guelph.  You may get bonus points (and bonus stage time) for attending on such a frigid holiday Monday!
-Gary 17, TorontoMoon.ca
[email protected]
SHOW LISTINGS for

Monday, January 01, 2022
For KEY to listings codes and schemata see note at end of shows list.
Names of subscribers appear in bold, are underlined and, where applicable, include a live link to their Home or Event url.  FOR SUBSCRIPTION DETAILS VISIT: http://www.torontomoon.ca/subscribe/
Advertisers' listings are in larger, highlighted type, include live link to website and also have ad icon included in listings.  FOR ADVERTISING INFO VISIT:
http://www.torontomoon.ca/advertise-with-toronto-moon/
ON AIR/ONLINE
*6> "Underplayed and Underpaid" interviews and performances by Guelph area bands on CFRU 93.3 FM broadcast and online
7-8> "Acoustic Workshop" with host Heather Fielding @ CIUT 89.5 FM broadcast and online
416 – TORONTO CENTRAL
4> Candice Sand @ Shangri-La Hotel, 188 University Ave. ~songwriter
2:30> "Salute to Vienna" @ Roy Thomson Hall, 60 Simcoe St. ~Classical; $
10> The Wilderness; guests @ Lost And Found, 577 King St. W. ~Hip Hop
416 - TORONTO EAST
4-6> "Sound Healing Meditation" with Darren Austin Hall @ Beach United Church, 140 Wineva Ave. ~meditational music with chimes and bells, etc.; $40
7:30> "Revolution Mondays" with host Lindsay Coleman & guest feature Matt Groopie @ The Old Nick, 123 Danforth Ave. ~songwriters; 0$
8:30-10:30> Fraser Melvin Band @ Castro's, 2116 Queen St. E. ~original Blues; $
416 – TORONTO ETOBICOKE
416 – TORONTO SCARBOROUGH
6> Azalea @ The Korner Pub, 3045 Kingston Rd. ~original Rock/Pop; $
416 – TORONTO WEST
*9-1> Hamstrung Stringband @ The Local, 396 Roncesvalles Ave. ~Bluegrass
10> Good Enough Band @ Drake Hotel Lounge, 1150 Queen St. W. ~karaoke with live band
519
3-6> Guelph Symphony Orchestra @ River Run Centere, 35 Woowich St., Guelph ~Classical; $
3-7> Pete Temple & the Cornerstones @ The Boathouse, 57 Jubilee Drive, Kitchener ~Blues-Rock; $10
*7:30-12> open mic with Anthony Schmanthony @ The Cornerstone, 1 Wyndham St. N., Guelph
705
3> Washboard Hank's New Year's Levee @ The Garnet, 231 Hunter St. W., Peterborough ~Country/Roots-Rock/Rockabilly
905 EAST
*8-11> open stage @ Simcoe Blues & Jazz, 926 Simcoe St. N., Oshawa
905 SOUTH
8> Spanjazz @ The Pearl Company, 16 Steven St., 905-524-0606, Hamilton ~Jazz; $65  (includes dinner)
905 WEST
2-6> Annette Haas, Colin Connors & Darren LaChance @ Carrigan Arms, 2025 Upper Middle Road, Burlington ~songwriters
4-8> Hogmanay Levee Stew feat. Kevin Phillips @ Mulligan's Pub, 2458 Dundas St. W., Mississauga ~Blues/R&B/Pop
4:30-8:30> Chuck Jackson & The All Star Band @ Roc'n Doc's, 105 Lakeshore Rd. E., Port Credit ~Blues/R&B
LISTINGS KEY
Listings are organized by area in which the shows occur and within each area field shows are listed chronologically.
Listings preceded by an asterisk (*) are repeating weekly events. (Double asterisk indicates repeating event with different hosts/guest/etc.). Events preceded by question mark (?) usually take place but have not been confirmed. Admission prices followed by a slash and minus (/-) after the amount indicates door charge with availability of cheaper rates for some purchases. /+ indicates stated price is minimum.
-Copyright © 2018 by Gary "17" Webb-Proctor & TorontoMoon.ca. All Rights Reserved