\ TO WEST \
While the raves about Ariana Gillis contained in the promo for her appearance tonight as part of a four-artist show at Hugh's Room Live may be a bit over the top, the promising then-19 year-old I first saw perform in 2010 has overcome stupendous setbacks to mature into an acclaimed songwriter.
"Best new emerging artist anywhere," said Rock critic Dave Marsh after release of her debut album, To Make It Make Sense, in 2009, for which she won Songwriter of The Year and the next year Album of the Year at the Niagara Music Awards.  Grammy winner Bernie Taupin likewise called her "the single most exciting artist I've heard in a long time" and she went on to win the 2009 Canadian Folk Music Award for Young Performer of The Year.
I was also impressed that evening eight years ago by her stage presence, musical skills and especially her diverse range of songs when I heard Gillis with her band that night.  Back then, as she was just starting to get noticed by the Roots community, she was known more as the daughter of veteran songwriter David Gillis —but now he is known by many as "the father of Ariana Gillis!"
Whimsical but pithy songs with a bit of an edge, about a vacation in Heaven, an appointment in purgatory and a stalker who didn't know he was a stalker, alternated with darker, moody numbers and some rip-roaring singalongs when I heard the group, which also included her award-winning father on a variety of stringed instruments.
During the early years of this decade, sporting the same pretty-Punk look she exhibited that early January evening eight-and-a half years ago, she was appearing at festivals and Roots venues across the country.  Another album, 2011's, Forget Me Not, led to serious interest from U.S. record companies.  But that experience wasn't a positive one, as she told Niagara Falls Review writer jlaw in a 2016 interview, so by 2014, disillusioned by the industry trying to mold her into something she wasn't comfortable with, she stepped back a bit.
After a period of introspection, just as she was considering getting back into the scene on her own terms, in November of 2015 —while opening a car door of all things— she hit her head and suffered a concussion that ended up leaving her unable to perform or even do day-to-day things like make food and that required an extended period of recovery.
It wasn't until the summer of 2016 that her severe symptoms finally abated and she was able to get back into action and consider recording.  Two crowd-funding campaigns that year and in 2017 helped her to finally be able to release a second album, Head Full of Stars, at a show in Hugh's Room Live last September.
(She now, with an appearance that's more restrained but genuine, also has a new campaign underway that she started last month with Grammy Award winner Buddy Miller, to produce an Americana/Folk album.  You can see a pitch video of the pair and donate on Indiegogo.com.)
Although I've focused on Gillis for this article, the show tonight also includes three other equally compelling artists.  I've written many times over the years about the diverse and dichotomous talents of Noah Zacharin.  Tanya Philipovich has become a ubiquitous and welcome presence in clubs all across the west end and more recently downtown.  Paul Reddick is an acclaimed veteran harp player and songwriter who in 2017 won the Juno award for Blues Album of the Year.
All four appear together (in a sequential round-robin format) starting at 8:30 as the kickoff to a new monthly Songwriters Series in the well appointed listening room at 2261 Dundas St. West and cover is just $25, or less in advance.
-Gary 17, TorontoMoon.ca
[email protected] * [email protected]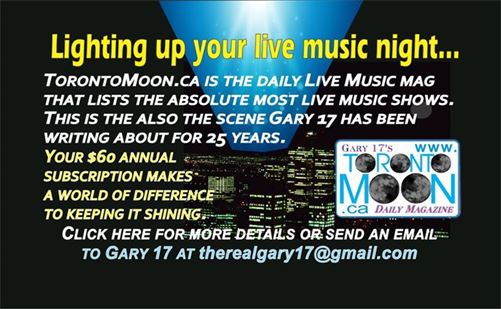 SHOW LISTINGS for

Tuesday, July 10, 2021
For KEY to listings codes and schemata see note at end of shows list.
Names of subscribers appear in bold, are underlined and, where applicable, include a live link to their websites.
FOR SUBSCRIPTION DETAILS VISIT:  http://www.torontomoon.ca/subscribe/
Advertisers' listings are in larger, highlighted type, include live link to website and also have ad icon included in listings.
FOR ADVERTISING INFO VISIT: http://www.torontomoon.ca/advertise-with-toronto-moon/
ON AIR/ONLINE
4-6pm> Blues Blast w Ken Wallis @ 101.5 FM or 1015thehawk.ca
**7-8> "Songtalk Radio" songwriters interviews/chat with weekly guest @ CJRU 1280AM Toronto and online
7-9> "Unsung and On The Side" with Carolyn Fe on Rock-Fm.ca
7-10> Bluesday On Tuesday @ CKUW 95.9 FM www.ckuw.ca/listen
10-11> "Howl" with hosts Nancy Bullis & Valentino Assenza on CIUT 89.5FM & online ~profiles of and interviews with poets and songwriters
416 – TORONTO CENTRAL
Noon-1> Kobo Town @ Trinity Square Park, 19 Trinity Square
4> Caribbean Carnival launch party @ Nathan Phillips Square, 100 Queen St. W. ~Worldbeat; $0
6> Matt Weidinger @ Cameron House (front), 408 Queen St. W.  ~songwriter
6> Boy Pablo @ Rivoli, 334 Queen St. W. ~contemporary original; $
6:30-8:30> Richard Whiteman Quartet @ The Rex, 194 Queen St. W. ~Jazz; $pwyc
*6:30-9:30> Stacie McGregor @ N'awlin's, 299 King St. W. ~Jazz piano
7> Los City; King's Limit @ Supermarket, 268 Augusta Ave. ~indie; $
7> Strengthen What Remains; MOURN; Trauma Mode; Fragment @ Handlebar, 159 Augusta Ave. ~Metal/Grunge/Hard-core; $
7:30> The Manabu Kitada Quintet @ Tranzac Club (Southern Cross), 292 Brunswick St. ~Worldbeat Jazz
*7:45-12> open mic with backline @ Cavern Bar, 76 Church St.
*8> open mic night with Michael & Mark Villamor @ The Hideout, 423 College St.
8> Keith Mosfet; Aleksi Campagne; Les Barricades @ Tranzac Club (Main Hall), 292 Brunswick St. ~original Roots; $?
8> Jorge Drexler @ Phoenix Concert Theatre, 410 Sherbourne St. ~contemporary original; $
8-10:30> Melissa Lauren  with Ori Dragan & Nathan Hiltz @ Jazz Bistro, 251 Victoria St. ~tribute to Peggy Lee; $
8> Art Bar poetry & open stage with Lisa Young; charles c. smith; Sheila Stewart @ Free Times Café, 320 College St. ~spoken word
8> Hey Stella! @ Cameron House (front), 408 Queen St. W. ~Country/Roots-Rock/Rockabilly
8:30> The Suitcase Junket; The Cool Hands @ Horseshoe Tavern, 370 Queen St. W. ~indie; $
*8:45> Tyler Yarema & His Rhythm @ Reservoir Lounge, 52 Wellington St. E. ~Jazz/Blues; $
9> open mic @ Cherry Cola's, 200 Bathurst St.
*9> open mic @ The Paddock, 178 Bathurst St.
9:30> Ernest Lee Band @ Grossman's, 379 Spadina Ave. ~Blues-Rock
9:30> Brandon Boone & Grut @ The Rex, 194 Queen St. W. ~Atlanta Jazz; $
*10-2> The Sattalites @ Orbit Room, 580 College St. ~original & cover Reggae/Funk; $
10> Painting Silence @ Tranzac Club (Southern Cross), 292 Brunswick St.
10> The Sinners Choir @ Cameron House (front), 408 Queen St. W. ~Blues/R&B
416 –TORONTO EAST
7> Courtney Barnett @ The Danforth Music Hall, 147 Danforth Ave.
7-10> Greg Pilo and guests Pat LaBarbera, Adrian Farrugia, Neil Swainson @ Salty Dog, 1980 Queen St. E. ~mainstream Jazz; $0
**8-11> open stage hosted by Kyle Duffin @ The Old Nick, 123 Danforth Ave.
8-11> Rachel Cousins; Freddie Got Lasers; Jonny Starkes @ Linsmore Tavern, 1298 Danforth Ave. ~indie; 0$
*8-11> Traditional Irish music @ Ceili Cottage, 1301 Queen St. E.
8:30-10:30> The 501 Band @ Castro's, 2116 Queen St. E.
*9> open mic with host Asha Diaz @ Groove Bar, 1952 Danforth Ave.
9-12> Stuart Laughton's Radio Dial @ Dora Keogh ~eclectic vintage Pop/Jazz
*9:30> Peter Verity @ Black Swan, 154 Danforth Ave. ~Folk Roots
416 – TORONTO ETOBICOKE
*6-10> The Irish Guys @ The Irish Shebeen, 5555 Eglinton Ave. W. ~acoustic Pop covers & originals
7:30-10:30> Gene DiNovi @ Old Mill (Home Smith Bar), 21 Old Mill Rd. ~piano/vocal Pop/Jazz; minimum food/beverage order $20
*8> Groove Stone @ Timothy's Pub, 344 Brown's Line ~Rock/Soul
416 – TORONTO WEST
6-8> "Probably Poetry" with several poets @ Burdock, 1184 Bloor St. W. ~spoken word; $10
8> Immersion @ Drake Hotel, 1150 Queen St. W. ~contemporary original; $
8> Dave Matthews Band @ Budweiser Stage, 909 Lake Shore Blvd. W. ~contemporary original; $
*8-11> Freeman Dre & The Kitchen Party @ The Inter Steer, 357 Roncesvalles Ave. ~acoustic Folk-Rock originals & covers
8:30> Paul Reddick; Ariana Gillis; Noah Zacharin; Tanya Philipovich @ Hugh's Room Live, 2261 Dundas St. W. ~songwriters; $25
9> Grizzly Coast; Mercy Flight; Mimi Oz @ The Piston, 937 Bloor St. W. ~indie songwriters; pwyc
9> Olive B; Savannah Somers opens; Matthew Im @ Burdock, 1184 Bloor St. W. ~songwriters; $10
9> Brendt Diabo @ The Local, 396 Roncesvalles Ave. ~Country/Roots-Rock/Rockabilly
9> Sam Louis; Ten Meter Band @ The Painted Lady, 218 Ossington Ave. ~Jurassic Rock
10> Alli Sunshine & Jesse Bellon @ Motel Bar, 1235 Queen St. W.
519
6> open mic @ Manhattan's Guelph, 951 Gordon St., Guelph
*6-8:30> Ukulele jam & workshop @ Idea Exchange Galt, Queen's Square at 1 North Square, Cambridge
*6> open mic @ The Ridge Social Eatery, 3215 Roseville Rd., Ayr
6:30-8> Ukulele jam & workshop @ Idea Exchange Preston, 435 King St. E., Cambridge
*7-11> Waterloo Wellington Bluegrass Association holds Bluegrass jam @ Galt Legion RCL #121, 4 Veterans Way, Cambridge
7:30> Drones and Meditation Sound Workshop @ Silence, 46 Essex Street, Guelph
8> open stage @ Grand River Hotel, 1102 King St. E., Cambridge
8> jam with John McKinley Band @ Lana's Lounge, 220 King St. N., Waterloo
8> acoustic song circle jam with host Terry Golletz @ Café Crêperie, 40 Mill St. W., Elora
9> DC Fraser @ McCabe's Irish Pub, 9 Wyndham St. N., Guelph
9> open mic jam @ Sip Club, 91 Wyndham St. N., Guelph
10> Chalkline @ Duke of Wellington, 33 Erb St. W., Waterloo
705
7> open mic with Randy Hill @ Black Horse Pub, 452 George St. N., Peterborough
*8> open mic night with Matt Diamond @ Red Dog Tavern, 189 Hunter St. W., Peterborough
10> Kerry Jane McMaster @ The Garnet, 231 Hunter St. W., Peterborough
905 EAST
*6:30-11> The Woodshed jam with Don Niblett & Frank Zochodne @ Simcoe Blues & Jazz, 926 Simcoe St. N., Oshawa
7-9> Cobourg Poetry Workshop @ The Cat & Fiddle Cobourg, 38 Covert St. Cobourg ~spoken word
*7:30> Don Owen & Bruce Longman @ Arthur's Pub, 930 Burnham St., Cobourg ~tribute to The Beatles
*8:30-12:30> open mic @ The Pearson Pub, 101 Mary St. W., Whitby
9> Ray Darren @ The Corral, 433 Simcoe St. S., Oshawa ~Country Rock
*9-1> open mic with Justin Cooper @ Fox & The Goose, 799 Park St. S., Oshawa
*9-1> open acoustic jam @ The General, 21 Celina St., Oshawa
*10> open mic with Josh Beaven @ The Atria, 59 King St. E., Oshawa
905 NORTH
7-10 > open song circle with Patti McLaughlin @ RCL 385, 105 Industrial Pkwy. N., Aurora
*8> open mic @ The Tickled Toad, 330 Steeles Ave. W., Thornhill
*8-11> jam with Matthew Kane & The Brews Brothers @ The Crown, 9580 Yonge St., Richmond Hill
*8:30-12:30> open mic with host Steffi Postol Goodfield @ Falcon & Firkin, 10300 Yonge St., Richmond Hill
*9> open mic with Manny D, Andy Earle & Dave Breckels @ Big Chris BBQ, 17380 Yonge St., Newmarket
905 SOUTH
Noon-2> Big Rude Jake @ Jackson Square, Hamilton, 2 King St. W. ~original Blues; $0
Noon-2> Jack Sith @ Gore Park, King St. E. at John St. S., Hamilton
7> songwriters open stage with Deeps/Dave Pomfret @ Lukaya Café, 592 Upper Wellington St., Hamilton
*8> Chris Chambers @ Gallagher's Bar, 69 Augusta St., Hamilton ~acoustic Pop covers & originals
*8:30-12> Traditional Irish jam @ Corktown Pub, 175 Young St., Hamilton
*8> Chris Clause @ Thirsty Cactus, 2 King St. E., Dundas ~acoustic
*9:30> Ten Gallon Cat @ Cat 'n' Fiddle, 174 John St. S., Hamilton ~Country?
10> jam night @ Lazy Flamingo, 19 Hess. St. S., Hamilton
905 WEST
6:30-9> Amanda Rheaume @ Hendrie Park in Royal Botanical Gardens, 680 Plains Rd. W., Burlington ~songwriter; $
*7> Rob Reed @ Max Resto Lounge, 102-2180 Itabashi Way, Burlington
*7> open mic with Chris Partland @ Fionn MacCool's Burlington, 2331 Appleby Line, Burlington ~songwriters
8-11> Dale & Cody & guests @ The Port House, 139 Lakeshore Rd. E., Port Credit-Mississauga ~acoustic Pop duo
*8> The Phil & John Show @ Shore Grill, 71 Lakeshore Rd. E., Port Credit ~acoustic Pop Rock
8-12> Nick Rendero @ Roc'n Doc's, 105 Lakeshore Rd. E., Port Credit ~Rock/Top 40 covers
*8> open stage (signup at 7:30) with host Neil McNaughton @ Moonshine Café, 137 Kerr St., Oakville; $2
*8:45> open mic with Matt Zaddy @ Cuchulainn's Irish Pub, 158 Queen St. S., Streetsville-Mississauga
9> open mic with Chuck Coles @ The Dickens, 423 Elizabeth St., Burlington
LISTINGS KEY
Listings are organized by area in which the shows occur and within each area field shows are listed chronologically.
Listings preceded by an asterisk (*) are repeating weekly events. (Double asterisk indicates repeating event with different hosts/guest/etc.). Events preceded by question mark (?) usually take place but have not been confirmed. Admission prices followed by a slash and minus (/-) after the amount indicates door charge with availability of cheaper rates for some purchasers eg. students, members, seniors, etc.). /+ indicates stated price is minimum.
Copyright © 2018 by Gary "17" Webb-Proctor & TorontoMoon.ca All Rights Reserved