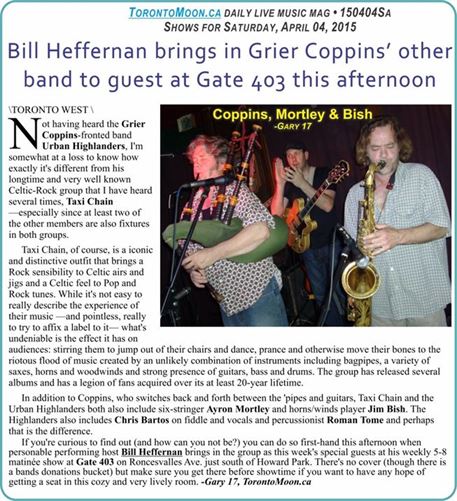 \TORONTO WEST \
Not having heard the Grier Coppins-fronted band Urban Highlanders, I'm somewhat at a loss to know how exactly it's different from his longtime and very well known Celtic-Rock group that I have heard several times, Taxi Chain —especially since at least two of the other members are also fixtures in both groups.
Taxi Chain, of course, is an iconic and distinctive outfit that brings a Rock sensibility to Celtic airs and jigs and a Celtic feel to Pop and Rock tunes. While it's not easy to really describe the experience of their music —and pointless, really to try to affix a label to it— what's undeniable is the effect it has on audiences: stirring them to jump out of their chairs and dance, prance and otherwise move their bones to the riotous flood of music created by an unlikely combination of instruments including bagpipes, a variety of saxes, horns and woodwinds and strong presence of guitars, bass and drums. The group has released several albums and has a legion of fans acquired over its at least 20-year lifetime.
In addition to Coppins, who switches back and forth between the 'pipes and guitars, Taxi Chain and the Urban Highlanders both also include six-stringer Ayron Mortley and horns/winds player Jim Bish. The Highlanders also includes Chris Bartos on fiddle and vocals and percussionist Roman Tome and perhaps that is the difference.
If you're curious to find out (and how can you not be?) you can do so first-hand this afternoon when personable performing host Bill Heffernan brings in the group as this week's special guests at his weekly 5-8 matinée show at Gate 403 on Roncesvalles Ave. just south of Howard Park. There's no cover (though there is a bands donations bucket) but make sure you get there before showtime if you want to have any hope of getting a seat in this cozy and very lively room. -Gary 17, TorontoMoon.ca
SHOW LISTINGS for Saturday, April 04, 2022
Listings preceded by an asterisk (*) are repeating weekly events. (Double asterisk indicates repeating event with different hosts/guest/etc.). Admission prices followed by a slash and minus (/-) after the amount indicates door charge with availability of cheaper rates for some purchases. /+ indicates stated price is minimum.
Names of subscribers appear in bold, are underlined and, where applicable, include a live link to their websites. Advertisers' listings are in larger, highlighted type, include live link to website and also have ad icon included in listings.
*12-3> Julian Fauth's Blues Brunch @ Axis, 3048 Dundas St. W., TO West ~Blues
*12-3> Danny Marks & friends @ The Rex, 194 Queen St. W., TO ~Jazz
1:30-4:30> Words & Music with hosts Linda Stitt + guests @ Vino Rosso, 995 Bay St. TO ~eclectic original mix
**2-6> Sil Simone Band with special guest Paul Tessaro @ Carrigan Arms, 2025 Upper Middle Rd., Burlington ~Rock/Blues
**2-6> open mic with a different weekly host @ Magic Oven, 347 Keele St., TO West
*2-6> jam w. Tom Finocchio @ Sam's Place, Barton-Chestnut Sts., Hamilton
**2-6> Saturday Blues Sermon with James Anthony & special guest Mark Bird Stafford @ Black Swan Pub Burlington, 4040 Palladium Way, Burlington ~Blues
2:30-4:30> Fraser Melvin & Indira Nanavati @ Humble Beginnings, 3109 Dundas St. W., TO West ~acoustic Roots/Blues/Pop
*3-6> Danny B Band @ Blue Goose, 1 Blue Goose St., Etobicoke South ~R&B/Blues
*3-7> jam with Michelle Deneault & Redder @ Port Credit Legion, 35 Front St., Port Credit
3> The Hot Five Jazzmakers @ C'est What, 67 Front St. E., TO ~traditional Jazz; $5
3> Jamzac @ Tranzac Club (Southern Cross), 292 Brunswick Ave., TO
*3-7> open stage jam @ Moonshine Café, 137 Kerr St., Oakville; $2
3:30-6:30> Loaded Blues featuring Jim Cornell of Still Sunday & guest Jordo Arnott of Running Violet @ The Loaded Dog, 1921 Lawrence Ave. E., Scarborough
*3:30-6> Johnny Wright @ Outriggers, 2232 Queen St. E., TO East ~R&B
3:30> The Mississauga Big band Jazz Ensemble @ The Rex, 194 Queen St. W., TO ~Jazz
3:30> Frank Botos Quartet @ The Pilot, 22 Cumberland St., TO ~Jazz
**4-8> Bear's Band with guest singer James Burton @ Southside Johnny's, 3653 Lakeshore Blvd. W. Etobicoke South ~Rock-R&B
4-7> Fabulous Rave @ Seven44, 744 Mount Pleasant Road, TO North ~Jazz; $
*4-7:30> Ronnie Hayward Trio @ McQueen's, 993 Queen St. E., TO E. ~Blues/Roots
*4-8> The Meteors with guest Tony Paglia @ Timothy's Pub, 344 Brown's Line, Etobicoke South ~Blues/Rock/R&B
**5-8> Bill Heffernan & Friends featuring guests Grier Coppins & The Urban Highlanders @ Gate 403, 403 Roncesvalles Ave. TO West –Rootsy Pop
5-8> Mike Todd @ The Local, 396 Roncesvalles Ave., TO West ~Irish Sessions
5> Rick & Gailie @ Black Horse Pub, 452 George St. N., Peterborough
6-8> Rattlesnake Choir @ Cameron House (front), 408 Queen St. W., TO ~Rockabilly
6-8> The Cosmotones @ Castro's, 2116 Queen St. E., TO East ~Blues/Roots
*6-9> Victoria & Bobby Keys @ Roc'n Doc's, 105 Lakeshore Rd. E., Port Credit ~soft Pop
7:30> Nick Teehan Gorup @ The Rex, 194 Queen St. W., TO ~ Jazz
7:30> Abigail Lapell & friends @ Tranzac Club (Southern Cross), 292 Brunswick Ave., TO
8> Old Man Flanagan's Ghost @ The Feathers, 962 Kingston Rd., TO East ~songwriter
8> Trinity Mpho @ Small World Music Centre, 180 Shaw St., TO ~Worldbeat
8> Mudpunch @ The Only Café, 972 Danforth Ave., TO East ~Blues-Rock duo
8-12> The Weber Brothers @ Moonshine Café, 137 Kerr St., Oakville ~Blues; $10
8:30> Jason Fowler, Jory Nash & more for John Prine tribute @ Hugh's Room, 2261 Dundas St. W., TO West ~tribute; $27.50/-
8:30> Chelsey Bennett Band @ Black Horse Pub, 452 George St. N., Peterborough
*9-1> karaoke with Rob MacArthur @ Tudor Rose, 700 Harwood Ave. S., Ajax
9-1> Colin Amey @ Black Dog Pub, 87 Island Rd., Scarborough ~acoustic Pop/soft Rock
9-1> Horned Ace @ Gate 403, 403 Roncesvalles Ave., TO West ~ Jazz
9> Marlon Chaplin @ C'est What, 67 Front St. E., TO ~pwyc
9> Elementals; Clam Hash; Flamingo Bay; Lad Classic  @ Cameron House (rear), 408 Queen St. W., TO ~indie
9> Los Dobros @ The Local, 396 Roncesvalles Ave., TO West ~Blues
9> The Starlite Band @ Eton House, 710 Danforth Ave., TO East ~vintage Pop Rock; $
9> North of 49 @ Blue Goose Tavern, 1 Blue Goose Rd., Etobicoke South ~Pop Rock
9> Rambling Band @ Carrigan Arms, 2025 Upper Middle Rd., Burlington
9> Jeff Brown Band @ The Corral, 433 Simcoe St. S., Oshawa ~Country
9-1> PRJ @ Simcoe Blues & Jazz, 926 Simcoe St. N., Oshawa ~Blues
9-1> Blue Print @ Oscar's Roadhouse, 1785 Queen St. E., Brampton ~Pop Rock/Top 40
9> Whiskey River @ King Richard's Pub, 15570 Yonge St., Aurora ~Pop Rock
**9> Niagara Rhythm Section @ The Old Winery, 2228 Niagara Stone Rd., Niagara-On-The-Lake ~R&B/Blues
9:30> Wild T & The Spirit @ Linsmore Tavern, 1298 Danforth Ave., TO East ~Blues Rock; $10
9:30-11:30> Jennifer Foster + Erika Werry & The Alphabet @ Relish, 2152 Danforth Ave., TO East ~
9:30-1> Soul Funkshun featuring Dave Girdlestone @ Sixth Line Pub, 1500 Sixth Line, Oakville ~Funk/Soul/R&B
9:30> James Sloan & Friends @ Black Swan, 154 Danforth Ave., TO East ~original Roots-Pop
*9:30-2> karaoke with The English Rose & The Mad Scotsman @ Winners, 2181 Lawrence Ave. E., Scarborough
9:30> Something Extra @ Seven44, 744 Mount Pleasant Road, TO North; $
9:30> Lady Kane @ Alleycatz, 2409 Yonge St., TO North ~Funk/Soul/R&B
9:30> The Itchy & Scratchy Show @ The Duke Live, 1225 Queen St. E., TO East ~Pop Rock
9:30> Two For The Show @ Stone Cottage Pub, 3750 Kingston Rd., Scarborough ~Pop Rock
9:30> Band Of Fools @ Timothy's Pub 344 Brown's Line, Etobicoke South ~Pop Rock/Top 40; $5
9:30> Ernie G & John Bride @ Shore Grill, 71 Lakeshore Rd. E., Port Credit ~Pop Rock/Top 40
9:30> Firesound Band @ Jake's Boathouse Brampton, 59 First Gulf Rd., Brampton ~Pop Rock
9:30> Danyka Nadeau @ Aw Shucks, 15230 Yonge St., Aurora ~Pop Rock
9:45> The David Love Band also featuring Darrell McNeill @ Spot 1, 289 Rutherford Rd., Brampton ~melodic 60s Pop Rock
9:45> Nuf Said @ The Rex, 194 Queen St. W., TO ~NY Jazz
*9:45> Tyler Yarema & His Rhythm @ Reservoir Lounge, 52 Wellington St. E., TO ~Jazz/Blues
10-2> IN2U @ Southside Johnny's, 3653 Lakeshore Blvd. W. Etobicoke South ~Rock/Top 40
10-2> Big Tobacco & The Pickers @ Dakota Tavern, 249 Ossington Ave., TO West ~Country
*10> karaoke with Randy Petrie @ Kramers, 1915 Yonge St., TO North
10> Ride The Tiger @ Orbit Room, 480 College St. TO ~Funk/Soul
10> Chris Culgin @ Cameron House (front), 408 Queen St. W., TO
10-2> Elmer Ferrer Band @ Roc'n Doc's, 105 Lakeshore Rd. E., Port Credit ~Rock/Top 40
10-2> Sub Solo @ Fionn MacCool's Ajax, 36 Kingston Rd. E., Ajax ~Pop Rock
10-2> Phoenix Rising @ Whisky John's, 843 King St. W., Oshawa
10> Bloody Diamonds; Faux Cults; The Lonely Parade @ The Garnet, 231 Hunter St. W., Peterborough
10:30> Scully & The Crossbones @ The Hideout, 484 Queen St. W., TO ~indie Rock
10:30> City & The Sea @ The Dickens, 423 Elizabeth St., Burlington ~Pop Rock
Copyright © 2015 Toronto Moon Magazine. All Rights Reserved