Friends and bandmates of Rock drummer Frank Peluso were shocked to learn that he had passed away on Monday, October 19 from cancer.
According to Al Reilly, with whose Catalyst band he had been the main sticks man off and on for over twelve years before going on to be part of the Floyd Factor and Just Heart tribute bands, "he had known about it for some time but kept it to himself … until it was too late and had spread to other parts of his body."
His formal funeral home obituary (under the name Francesco Frank Peluso, where you can leave condolence messages and memories) does not indicate how old he was but a close friend told TorontoMoon.ca that he was 58,
A regular presence at the Catalyst-hosted Monday jams at Rockpile in Etobicoke, he was nicknamed "Frank the Enforcer," but in truth was known as a relaxed and amiable fellow who was much respected and liked by fellow musicians and fans alike, as indicated in social media posts.
"Such a lovely, kind man who made it a joy to be part of the rhythm section. He was a fantastic musician, and was generous with his knowledge. I truly treasure the few times I was lucky enough to be part of your band Al, and stand with Frank to hold it down. I can't tell you how heartbroken I am for you, for Brenda and your band…..and for all of us who knew him, even if we didn't know him well, it is such a deep loss," wrote Tessa Kimmel.
Derek Barton posted that "I will always remember how helpful and supportive Frank was when I was trying out new tunes I learned with you guys … Awesome drummer and always so welcoming."
"What a huge loss in our small, tight-knit circle, and a huge loss for the local music scene too," Reuben Kincaid wrote.
"Frank loved music on a level most wouldn't understand, but we could all appreciate how he shared his instrumental (and vocal) gift with us, for the music and not the money - which very few "rock stars" could ever say. Frank was my favourite live drummer, out of the hundreds that I'd heard and/or worked with over the years. If anyone ever had the ability to knock it up a notch when the chips were down and the house was full, it was Frank. He was a true pro, and what he lacked as a driver of cars he more than made up for as a driver of bands. We will miss you hard, my friend."
He was certainly able to take a joke as well. As Reilly recounts in describing the circumstances surrounding the band photo that appears above, he appreciated a good prank.
"Every band photo we tried to get Frank had his eyes closed & we were joking about [that] as we had taken like 5 shots. 'This one, I told the other guys to close their eyes as Frank is trying so hard not to blink!! He was ready to choke me after that," Reilly recalled, but "he couldn't choke me for laughing so hard!!"
Peluso was also an avid and gifted photographer, who often shot photos and videos of local bands and whose impressive images of Toronto area scenes can be seen on a FlickR.com website page, where he went under the moniker "Photofranco."
Mike Walker posted in a Facebook group set up to remember Frank that "he was always very kind giving his time to answer my photography questions. Not many people give great advice that is so easy to understand."
He also did a lot of professional acting, according to one post by another friend.
Visitation will be held on Friday, October 23rd 2020 from 3:00 PM to 8:00 PM at the Vescio Funeral Home, Woodbridge Chapel, 8101 Weston Rd, Woodbridge. If so desired, donations in memory of Francesco Frank may be made to a charity of your choice, or to the SPCA.
-By Gary 17, www.TorontoMoon.ca
[email protected] * [email protected]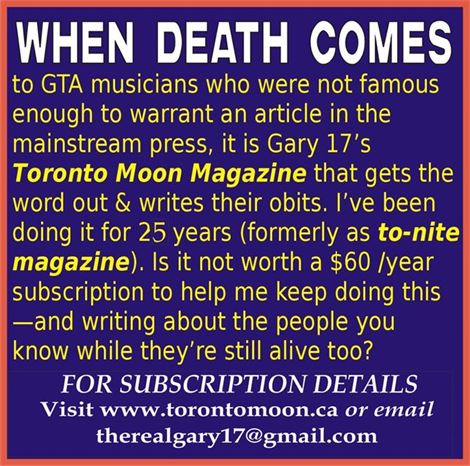 Copyright 2020 by Gary Webb-Proctor & TorontoMoon.ca