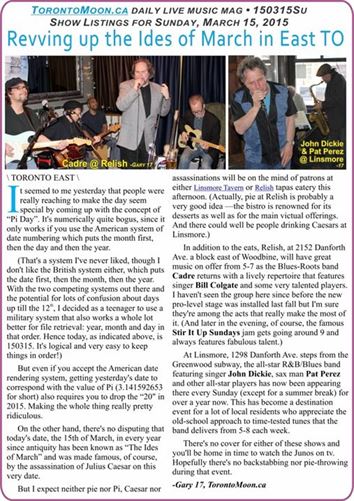 \ TORONTO EAST \
It seemed to me yesterday that people were really reaching to make the day seem special by coming up with the concept of "Pi Day". It's numerically quite bogus, since it only works if you use the American system of date numbering which puts the month first, then the day and then the year.
(That's a system I've never liked, though I don't like the British system either, which puts the date first, then the month, then the year. With the two competing systems out there and the potential for lots of confusion about days up till the 12th, I decided as a teenager to use a military system that also works a whole lot better for file retrieval: year, month and day in that order. Hence today, as indicated above, is 150315. It's logical and very easy to keep things in order!)
But even if you accept the American date rendering system, getting yesterday's date to correspond with the value of Pi (3.141592653 for short) also requires you to drop the "20″ in 2015. Making the whole thing really pretty ridiculous.
On the other hand, there's no disputing that today's date, the 15th of March, in every year since antiquity has been known as "The Ides of March" and was made famous, of course, by the assassination of Julius Caesar on this very date.
But I expect neither pie nor Pi, Caesar nor assassinations will be on the mind of patrons at either Linsmore Tavern or Relish tapas eatery this afternoon. (Actually, pie at Relish is probably a very good idea —the bistro is renowned for its desserts as well as for the main victual offerings. And there could well be people drinking Caesars at Linsmore.)
In addition to the eats, Relish, at 2152 Danforth Ave. a block east of Woodbine, will have great music on offer from 5-7 as the Blues-Roots band Cadre returns with a lively repertoire that features singer Bill Colgate and some very talented players. I haven't seen the group here since before the new pro-level stage was installed last fall but I'm sure they're among the acts that really make the most of it. (And later in the evening, of course, the famous Stir It Up Sundays jam gets going around 9 and always features fabulous talent.)
At Linsmore, 1298 Danforth Ave. steps from the Greenwood subway, the all-star R&B/Blues band featuring singer John Dickie, sax man Pat Perez and other all-star players has now been appearing there every Sunday (except for a summer break) for over a year now. This has become a destination event for a lot of local residents who appreciate the old-school approach to time-tested tunes that the band delivers from 5-8 each week.
There's no cover for either of these shows and you'll be home in time to watch the Junos on tv. Hopefully there's no backstabbing nor pie-throwing during that event.
-Gary 17, TorontoMoon.ca
SHOW LISTINGS for Sunday, March 15, 2022

:
Listings preceded by an asterisk (*) are repeating weekly events. (Double asterisk indicates repeating event with different hosts/guest/etc.). Admission prices followed by a slash and minus (/-) after the amount indicates door charge with availability of cheaper rates for some purchases. /+ indicates stated price is minimum.
Names of subscribers appear in bold, are underlined and, where applicable, include a live link to their websites. Advertisers' listings are in larger highlighted type, include live link to website and also have ad icon included in listings.
11-2> Unspeakable Organ Trio for Jazz brunch @ Relish, 2152 Danforth Ave. TO East
11am-2pm> Gloria Valentine & Nina Shapilsky for Jazz brunch @ Free Times Café, 320 College St., TO
*12-3> Julian Fauth's Blues brunch @ Axis, 3048 Dundas St. W., TO West ~Blues
12-3> Excelsior Dixieland Jazz Band @ The Rex, 194 Queen St. W., TO ~Jazz
1> Quebecois jam @ Tranzac Club (Southern Cross), 292 Brunswick Ave., TO
1:30-4:30> Nicole Coward for Canada Blooms garden festival @ Beer/Win Lounge, Direct Energy Centre, Exhibition Place, TO West ~Folk
*2-5> Gina Pennesi & Scott Metcalfe @ Morgan's, 1282 Danforth Ave., TO East ~Jazz
2-5> Oakville Improv jam @ Moonshine Café, 137 Kerr St., Oakville
*3-6> open mic with Nicola Vaughan @ Hirut, 2050 Danforth Ave., TO East
3-5> Alaniaris @ Tranzac Club (Southern Cross), 292 Brunswick Ave., TO
*3-6> Michael Brennan @ Graffiti's, 170 Baldwin St. TO ~East Coast Rock/Blues Roots
*3-7> open stage with Kevin Ker @ The Earl Of Whitchurch, 6204 Main St., Stouffville
*3-7> jam at CJ Barleys, 213 The Queensway, Keswick
3> Brian Haddelssey @ Black Horse Pub, 452 George St. N., Peterborough
3:30-6:30> Dr. Nick & The Rollercoasters @ The Rex, 194 Queen St. W., TO ~Blues
*3:30-7:30> jam @ Black Bear, 1125 O'Connor Drive, TO East
4-8> The Pie Guys @ Timothy's Pub, 344 Brown's Line, Etobicoke ~Pop Rock
4-8> Jenn Kee @ Blue Goose Tavern, 1 Blue Goose Rd., Etobicoke South
4> The Conductors @ Cameron House (front), 408 Queen St. W., TO
4> Winnie Brave @ Castro's Lounge, 2116 Queen St. E., TO East
*4:30-8> New Orleans Connection All Stars & guests @ Grossman's, 379 Spadina Ave., TO ~New Orleans Jazz
*4:30-8> Chuck Jackson's All Stars @ Roc'n Doc's, 105 Lakeshore Rd. E., Port Credit ~Blues
*5-9> John Dickie/Pat Perez Band @ Linsmore Tavern, 1298 Danforth Ave, TO East ~R&B/Blues
5-7> Cadre @ Relish, 2152 Danforth Ave., TO East ~Roots-Rock/Blues
*5-9> All ages open jam with Juggernaut Jam Band featuring Andy Narsingh @ West Shore Bar & Grill, 877 Bayly St., Pickering
**5-8> John Borra & Sam Ferrara w. guest @ The Communist's Daughter, 1149 Dundas St. W. TO West ~Country
5-9> Honouring Herman Sang @ Seven44, 744 Mount Pleasant Road, TO North ~tribute; $40
5-8> Sean Donald @ The Local, 396 Roncesvalles Ave., TO West ~old time Country
5> Monk's Music @ Tranzac Club (Southern Cross), 292 Brunswick Ave., TO
5-8> Carter Brodkorb Quintet @ Gate 403, 403 Roncesvalles Ave., TO West ~Jazz
**5-8> The Stew @ Mulligan's, 2458 Dundas St. W., Mississauga ~R&B/Rock
*5-9> open mic with feature guest @ Sgt. Pepper's Aurora, Walmart Plaza (Hwy 404 & Aurora Rd.), Aurora
*6-10> jam with Tommy Rocker, John Robbie @ Scarborough Junction, 646 Danforth Rd., Scarborough
*7-1> Freefall Sundays open stage with hosts Steve York & Tony Rabalao (2 songs each -signup @ 7 or pre-sign online) @ The Supermarket, 268 Augusta St., TO
*7-11> Karaoke with Rob MacArthur @ The Edge, 250 Bayly St. W., Ajax
7> The Double Cuts @ Cameron House (front), 408 Queen St. W., TO ~Western Swing
7-9:30> Joel Visentin's Bugaloo Squad @ The Rex, 194 Queen St. W., TO ~Jazz
*7-11> open jam @ McGradie's, 2167 Victoria Park Ave., Scarborough
**7-11> The Nomads @ Shore Grill, 71 Lakeshore Rd. E., Port Credit
*7> open jam with Mike Shotton & The Flying Squirrels @ Black Swan Pub Burlington, 4040 Palladium Way, Burlington
*7> Rick and Gailie @ Black Horse Pub, 452 George St. N., Peterborough
7:30> Diane Roblin @ Tranzac Club (Southern Cross), 292 Brunswick Ave., TO
*8-10:30> Michael Keith @ On Cue Billiards, 349 Jane St., TO West ~eclectic acoustic solo
8> Gordon's Acoustic Living Room @ Free Times Café, 320 College St., TO ~acoustic Pop/Roots
*8:30-12:30> karaoke with The English Rose & The Mad Scotsman @ Gryphon Pub, 114 Dundas St. E., Whitby
9-1> Mike Pelletier Quartet @ Gate 403, 403 Roncesvalles Ave., TO West ~Jazz
9> Watch This Sound @ Castro's Lounge, 2116 Queen St. E., TO East ~Jamaican music
9> Greg Cockerill @ The Local, 396 Roncesvalles Ave., TO West
*9> Rob Hiemstra solo @ The Unicorn, 175 Eglinton Ave. E., TO North ~Rock/Pop
*9-1> The Tonkas @ Roc'n Doc's, 105 Lakeshore Rd. E., Port Credit ~Rock/Top 40
9> Jabelle @ Simcoe Blues & Jazz, 926 Simcoe St. N., Oshawa ~Jazz
*9-1> jam with Mike Roland and Lenny Vaccari @ Stewart Maguires Landing, 15 Allan Dr., Bolton
*9-1> jam @ Ivy Arms Pub, 201 Main Street East, Milton
*9:30-1> jam with the Stir It Up Band featuring Bryan Van Dusen & David Macmichael @ Relish, 2152 Danforth Ave., TO East
9:45> Mackenzie Longpre @ The Rex, 194 Queen St. W., TO ~Jazz
*10> Horshack feat. Chris Caddell @ Orbit Room, 580 College St., TO ~Bluesy contemporary & classic Rock
10> Makeshift Island @ Tranzac Club (Southern Cross), 292 Brunswick Ave., TO
*10> The Mercenaries @ Dakota Tavern, 249 Ossington Ave., TO West
10> Bad Seeds @ Cameron House (front), 408 Queen St. W., TO
**10> Blues jam with Brian Cober, Bill Hedefine & guest bassist @ Grossman's, 379 Spadina Ave., TO
*10> jam with Groove Stone feat. Dale Harrison @ Scruffy Murphy's Uptown, 150 Eglinton Ave. E., TO North
10:30> Geoff Willingham @ The Hideout, 484 Queen St. W., TO ~indie Rock
Copyright © 2015 Toronto Moon Magazine. All Rights Reserved