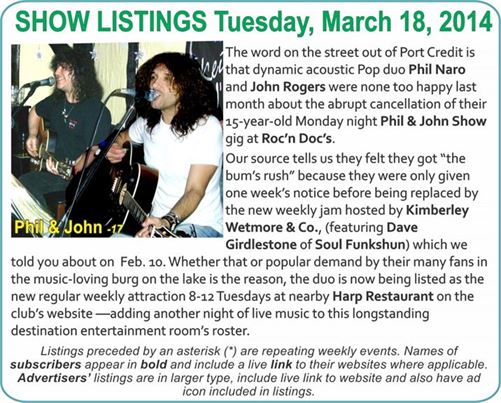 The word on the street out of Port Credit is that dynamic acoustic Pop duo Phil Naro and John Rogers were none too happy last month about the abrupt cancellation of their 15-year-old Monday night Phil & John Show gig at Roc'n Doc's.
Our source tells us they felt they got "the bum's rush" because they were only given one week's notice before being replaced by the new weekly jam hosted by Kimberley Wetmore & Co., (featuring Dave Girdlestone of Soul Funkshun) which we told you about on Feb. 10.
Whether that or popular demand by their many fans in the music-loving burg on the lake is the reason, the duo is now listed as the new regular weekly attraction 8-12 Tuesdays at nearby Harp Restaurant on the club's website —adding another night of live music to this longstanding destination entertainment room's roster.
LISTINGS
*5-8> Piano Jazz @ Sauce, 1376 Danforth Ave., TO E. ~Jazz
5-8> David Rubel Music @ Gate 403, 403 Roncesvalles Ave., TO W. ~Jazz
6> John Showman & Tom Power @ Cameron House (front), 408 Queen St. W., TO
*6:30-11> open acoustic jam with Don Niblett & Frank Zochodne @ Simcoe Blues & Jazz, 926 Simcoe St. N., Oshawa
6:30> David Hutchinson Quartet @ The Rex, 194 Queen St. W., TO ~Jazz
7> Karaoke with host Rob MacArthur @ Ajax Legion (RCL 322), 112 Hunt St., Ajax
7:30-9:30> Alex Vissa @ Relish, 2152 Danforth Ave. TO E. ~songwriter
7:30> Chris Wallace @ Tranzac Club (Southern Cross), 292 Brunswick St., TO
*8-12> Phil & John Show feat. Phil Naro @ The Harp, 55 Lakeshore Rd. E., Port Credit ~Pop Rock
*8> open stage with host Alexander Quail @ Moonshine Café, 137 Kerr St., Oakville
8-12> Jerome Tucker & Tim Bastmeyer @ Monarchs Pub in Eaton Chelsea Hotel, 33 Gerrard St. W., TO
*8> open mic with Jacelyn Holmes @ Groove Bar, 1952 Danforth Ave., TO E.
8> The Ditch Horses @ The Only Café, 972 Danforth Ave., TO E. ~indie
*8:30-12:30> open jam @ The Duke Live, 1225 Queen St. E., TO E.
8:30> Sharon Corr (of The Corrs) @ Hugh's Room, 2261 Dundas St. W., TO W. ~songwriter; $30
*8:30> Django Jam @ Dominion On Queen, 500 Queen St. E., TO ~Django Jazz
9> Danny Marks & Alec Fraser Blues Night @ Gate 403, 403 Roncesvalles Ave., TO W. ~Blues
9> Gypsy Rebels @ The Local, 396 Roncesvalles Ave., TO W. ~Gypsy Folk
9> The Treasures @ Dakota Tavern, 249 Ossington Ave., TO W.
9> Ababe Music presents The Goatbox Rebels; Sarah Sidd; The Stormalongs; Eightcubed @ The Painted Lady, 218 Ossington Ave., TO W. ~indie showcase
*9:30> karaoke with The English Rose & The Mad Scotsman @ The Fossil & Haggis, 790 Military Trail, Scarborough
*9:30> Peter Verity @ Black Swan, 154 Danforth Ave., TO E. ~Folk Roots
9:30> Nicola Vaughan hosts jam @ Grossman's, 379 Spadina Ave., TO
9:30> James Carroll; TC Folkpunk; Jeremy Panda @ C'est What, 67 Front St. E., TO ~indie songwriters
*9:30-12> open stage hosted by Jennifer Brewer @ The Old Nick, 123 Danforth Ave., TO E.
9:30> Thomas Janzon Quartet @ The Rex, 194 Queen St. W., TO ~NYC Jazz
*9:30> jam with Derek Downham @ Axis, 3048 Dundas St. W., TO W. ~eclectic
9:30> Cutler Boyd @ The Corral, 433 Simcoe St. S., Oshawa ~Country Rock
*10-2> Marshall Dane Trio @ Roc'n Doc's, 105 Lakeshore Rd. E., Port Credit ~New Country/Pop
*10-2> The Sattalites @ Orbit Room, 580 College St., TO ~orig. & cover Reggae/Funk
10> Ken McDonald Quartet & guests @ Tranzac Club (Southern Cross), 292 Brunswick St., TO ~Jazz
10> Harlan Pepper @ Cameron House (front), 408 Queen St. W., TO
*10-11> Nik Beat's Howl radio show @ CIUT 89.5 FM, ~spoken word & music
10:30> Jeans Off Duo @ The Hideout, 484 Queen St. W., TO ~indie Rock
*10:30> blueVenus with Luke Roberts @ Castro's, 2116 Queen St. E.. TO E. ~original Pop
 Copyright © 2014 Toronto Moon Magazine. All Rights Reserved