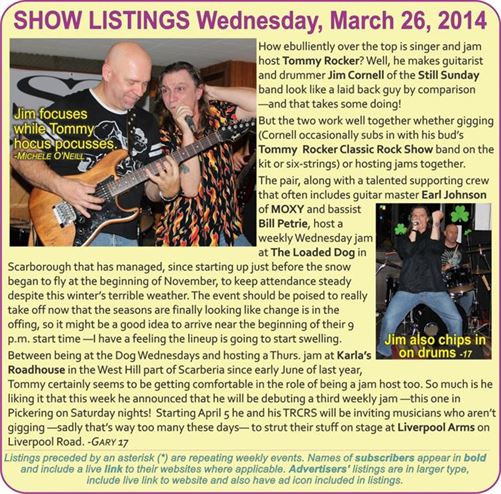 How ebulliently over the top is singer and jam host Tommy Rocker? Well, he makes guitarist and drummer Jim Cornell of the Still Sunday band look like a laid back guy by comparison —and that takes some doing!
But the two work well together whether gigging (Cornell occasionally subs in with his bud's Tommy  Rocker Classic Rock Show band on the kit or six-strings) or hosting jams together.
The pair, along with a talented supporting crew that often includes guitar master Earl Johnson of MOXY and bassist Bill Petrie, host a weekly Wednesday jam at The Loaded Dog in Scarborough that has managed, since starting up just before the snow began to fly at the beginning of November, to keep attendance steady despite this winter's terrible weather. The event should be poised to really take off now that the seasons are finally looking like change is in the offing, so it might be a good idea to arrive near the beginning of their 9 p.m. start time —I have a feeling the lineup is going to start swelling.
Between being at the Dog Wednesdays and hosting a Thurs. jam at Karla's Roadhouse in the West Hill part of Scarberia since early June of last year, Tommy certainly seems to be getting comfortable in the role of being a jam host too. So much is he liking it that this week he announced that he will be debuting a third weekly jam —this one in Pickering on Saturday nights!  Starting April 5 he and his TRCRS will be inviting musicians who aren't gigging —sadly that's way too many these days— to strut their stuff on stage at Liverpool Arms on Liverpool Road. -Gary 17
LISTINGS:
5-8> Leigh Graham Jazz Duo @ Gate 403, 403 Roncesvalles Ave., TO W. ~Jazz
6> Declan Donovan @ Cameron House (front), 408 Queen St. W., TO
6:30> Griffith Hiltz Trio @ The Rex, 194 Queen St. W., TO ~Jazz
6:30> Jay Aymar's 2 mics & 2 guitars with guest @ The Painted Lady, 218 Ossington Ave., TO W. ~original Pop Rock
7-9> Roger Zuraw @ Second Cup Islington, 4850 Dundas St. W., Etobicoke South ~Roots-Pop originals
*7-11> open jam with Wayne Buttery Band @ The Beacon, 146 45th St., Wasaga Beach
*7:30-10:30> Peter Griffin & BTBs @ Relish, 2152 Danforth Ave., TO E. ~Jazz
7:30> Comhaltas Irish Slow Session @ Tranzac Club (Tiki Room), 292 Brunswick Ave. TO ~folk dancing
7:30> Trevor Giancola @ Tranzac Club (Southern Cross), 292 Brunswick Ave. TO ~Jazz
7:30> Best Poet of the Month with Howard Wayne @ Free Times Cafe, 320 College St., TO ~spoken word
*8-12> Girls Night Out Jazz singers jam with Lisa Particelli, Peter Hill et al @ Chalkers, 247 Marlee Ave., TO NW
8-1> Blues/R&B jam hosted by The Divine Miza & The Company She Keeps @ Moonshine Café, 137 Kerr St., Oakville; $5
8-10> Ardene Shapiro @ Musideum, 401 Richmond St. W., TO ~songwriter; $20/pwyc
**8> open stage with 9 p.m. feature by Brian Jantzi @ Fat Albert's, 25 Cecil St. (Steelworkers Hall), TO ~Roots
8-12> Michael Clarke @ Fionn MacCool's Ajax, 32 Kingston Rd. E. Ajax
*8-1> open jam with Wednesday's Child feat. Johnny Bootz Hutt @ Lola, 40 Kensington Ave., TO
8> Michael Danckert Quartet @ Monarchs Pub (Eaton Chelsea Hotel), 33 Gerrard St. W., TO ~Jazz
*8-12> all-ages jam with The Brand New Low @ Sixth Line Pub, 1500 Sixth Line, Oakville
8-1> Phil & John Show feat. Phil Naro @ Timothy's Pub, 344 Brown's Line, Etobicoke South ~Pop Rock
*8-11> open mic @ Frank's Pasta, 426 King St. E., Cobourg
*8-11> Fraser-Daley @ Inter Steer, 357 Roncesvalles Ave. TO W. ~Roots/Blues
*8-11> jam with Juggernaut @ Black Bear, Ajax, 967 Westney Rd. S., Ajax
*8:30> open mic with Jenn Fiorentino @ Earl Of Whitchurch, 6204 Main St., Stouffville
*8:30> Crazy Strings host High Lonesome Wednesdays with opening acoustic act @ Silver Dollar 486 Spadina Ave., TO ~Bluegrass
*8:30> Something Country @ The Endzone, 1900 King St. E., Hamilton ~Country
*9> open jam with Tommy Rocker's Classic Rock show featuring Jim Cornell & members of Still Sunday @ The Loaded Dog, 1921 Lawrence St. E., Scarborough
*9> jam with Rockin' A Hard Place featuring Andrew J. Walsh @ Oscar's, 1785 Queen St. E., Brampton
*9-12> jam with Damage Control @ St. Louis Bar & Grill Ajax, 11 Harwood Ave. S., Ajax
*9?> jam with Michael Zane @ Shakers, 580 Kerr St., Oakville
9> Big Wind Band @ Simcoe Blues & Jazz, 926 Simcoe St. N., Oshawa
9-12> Michelle Rumball with Kevin Quain & Kevin Barrett @ Gate 403, 403 Roncesvalles Ave., TO W. ~Blues
9> John David Williams & Adrian Gross @ The Local, 396 Roncesvalles Ave., TO W. ~Ragtime Gypsy Jazz
9> Wayne Cass Jazz Rock jam feat. Great Bob Scott & Mike Pellarin @ The Painted Lady, 218 Ossington Ave., TO W. ~original Pop Rock
*9-1> open mic jam with Whiskey Birds @ Sweetz Lounge, 5289 Hwy 7, Woodbridge-Vaughan
9> Murder Country & Kitty @ Dakota Tavern, 249 Ossington Ave., TO W.
*9:30> open stage with Nicola Vaughan @ Black Swan (downstairs), 154 Danforth Ave., TO E.
9:30> Paul DeLong's Bucket of Fish Orchestra @ The Rex, 194 Queen St. W., TO ~Jazz
*9:30-2> jam with Live Animals @ The Unicorn, 175 Eglinton Ave. E., TO N.
9:45> Wednesdays Go Pop showcase with Fun Fact; Big Frasier; Old James @ Supermarket, 268 Augusta Ave., TO ~indie
10-12> Big Tobacco & The Pickers @ Rock 'N Horse Saloon, 250 Adelaide St. W., TO ~original Country; $5
10> Paul Reddick @ Cameron House (front), 408 Queen St. W., TO ~Blues
10> Ethan Ardielli Group @ Tranzac Club (Southern Cross), 292 Brunswick Ave. TO ~Jazz
*10-2> Blues-Rock jam with Bruce Domoney @ Grossman's, 379 Spadina Ave. TO
*10-2> Paul & Curtis @ Roc'n Doc's, 105 Lakeshore Rd. E., Port Credit ~Rock/Pop
10:30> The Undercovers @ The Hideout, 484 Queen St. W., TO ~indie Rock
*10:30> The LMT Connection @ Orbit Room, 580 College St. TO ~Funk/R&B; $
Copyright © 2014 Toronto Moon Magazine. All Rights Reserved