By Mike Beggs
Special to TorontoMoon.ca
\ TO CENTRAL \
I dug for —but never did find—  an old typewritten "dupe" of a story I did on songwriter Kyp Harness for the defunct Eye magazine in the mid-to-late Eighties.
Back then we were both hanging out at the long-running (and still going) Fat Albert's Folk club, then at its watershed mark.  He was part of a grass roots talent pool which also included Ron Sexsmith, Bob Snider (both of whom became major label artists), then-Blue Rodeo keyboardist (and producer) Bob Wiseman, and the Leslie Spit Treeo (fronted by Laura Hubert, today a ranking Toronto Pop-Jazz diva).  All of them were great, but Harness was the one with the Dylanesque venom and turn of phrase.
It's three decades later, and there are no signs of abatement.  The Sarnia native has built up a catalogue of 13 indie albums and three books —the third of which, his fictional debut "Wigford Rememberies" is a finalist for Canada's ReLit Awards, honouring new work released by indie publishers.  I haven't got a copy yet, but TorontoMoon.ca publisher Gary 17 deemed it, "a kind of daring, elegiac series of vignettes, and X-Ray of the modern soul" in a recent review in a community publication.  How 'bout that?
"I've been writing them a long time," Harness says matter-of-factly of the songs, stories, and cartoon series ("Mortimer The Slug") he has been churning out at home, while raising two kids with his wife Allison Grayhurst, herself a poet.
He returns to the Tranzac Club tonight for his new monthly Monday night residency, joined by piano player Tania Gill, bassist John Switzer and drummer Sean Lancaric —accomplished players all.
His unspoiled vocals may never be heard in CHR rotation at the dental office.  But the rise-and-fall melody of "Allison" leads one through a Herman Hesse-like allegory.  The Country-tinged "Rare and Beautiful" and from-the-kitchen Folk/Rock of "Calm Down" ring true about love, domesticity, and just making it through the month end.  Manifestos like "Workin' In The Factory", "Give It Up" and "Chemical Valley" boil over with rage.  Then, there's a minimalistic lark like "Little Doggie".
Harness's folky guitar playing is tailored to "whatever works for the song".  But his piano style is partly inspired by Little Richard.  It's all part of, "stirring up the stew."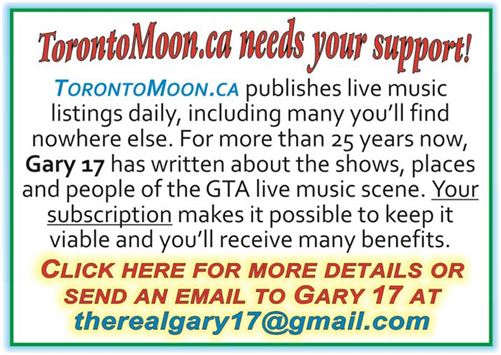 Shame he doesn't have a higher profile.  But Kyp just isn't the guy to go Nashville and co-write with "studio writers", in hopes of placing a song with Brad Paisley.
"I play every month for anybody who wants to hear the songs —and keep it going," he offers.
Harness has also been asked to do two numbers at Hugh's Room on May 23 for a musical celebration of Bob Dylan's 77th birthday.  And he aims to have another album AND book out in the fall.
Tonight's show runs from 6 to 9 p.m. in the Southern Comfort Lounge of the club at 292 Brunswick Ave. just south of Bloor St. Admission is pay-what-you-can.
For more information about TorontoMoon.ca contact
Gary 17, TorontoMoon.ca
[email protected] * [email protected]
SHOW LISTINGS for

Monday, April 30, 2022
For KEY to listings codes and schemata see note at end of shows list.
Names of subscribers appear in bold, are underlined and, where applicable, include a live link to their Home or Event url.  FOR SUBSCRIPTION DETAILS VISIT: http://www.torontomoon.ca/subscribe/
Advertisers' listings are in larger, highlighted type, include live link to website and also have ad icon included in listings.  FOR ADVERTISING INFO VISIT:
http://www.torontomoon.ca/advertise-with-toronto-moon/
ON AIR/ONLINE
*6> "Underplayed and Underpaid" interviews and performances by Guelph area bands on CFRU 93.3 FM broadcast and online
6> "Soundcheck with Sabrina" with Sabrina Fallah @ Jungle 77.3 & online at http://www.jungle773.com/ ~eclectic tracks, interviews etc.
416 – TORONTO CENTRAL

*5-9> Jim Heineman Trio @ Mirto Italian Restaurant, 25 Toronto St. ~Jazz
6> Myles Castello @ Cameron House (front), 408 Queen St. W. ~songwriter
6-8> Kyp Harness Band @ Tranzac Club (Southern Cross), 292 Brunswick St. ~songwriter
6:30

> Peter Hill Quintet @ The Rex, 194 Queen St. W. ~Jazz; $
6:30-8> The Charis Collective @ Creeds Coffee Bar, 390 Dupont St. ~Classical -5 violins; $16.
*7-10> open stage with Brad Scott @ Lola, 40 Kensington Ave.
**8> Music City North open mic with host Scott Carruthers @ Rose & Crown, 2335 Yonge St.
**8> open mic (2 songs; sign-up starts 8 p.m.) with host Yawd Sylvester @ Tranzac Lounge (Southern Cross), 292 Brunswick Ave.
8> Smooky MarGielaa @ Mod Club, 722 College St. ~contemporary original; $
8> Ukulele jam @ Tranzac Lounge (Main Hall), 292 Brunswick Ave.
8> Laughed The Boy; Zulu Panda @ The Cavern, 76 Church St. ~indie; $
8:30> UNT; Lost Arts; Sophie and the Gentles; more @ Horseshoe Tavern, 370 Queen St. W. ~eclectic indie; $0
**9-1:30> open stage jam @ Grossman's, 379 Spadina Ave.
*9:30> open mic @ Amsterdam Bicycle Club, 54 The Esplanade
9:30> John MacLeod's Rex Hotel Orchestra @ The Rex, 194 Queen St. W. ~Jazz; $
10> Jordan John @ The Orbit Room, 580 College St. ~R&B/Blues; $
10> Bywater @ Cameron House (front), 408 Queen St. W. ~original Rock/Pop
10-2> Dan Gagnon @ The Hideout, 423 College St.
416 - TORONTO EAST
7-10> Kaitlyn & Colin Zarour @ Relish, 2152 Danforth Ave. ~songwriters; 0$
7:30> "Revolution Mondays" with host Sandra Bouza & guest feature Side Hustle @ The Old Nick, 123 Danforth Ave. ~songwriters; 0$
8:30-10:30> WE-B3 @ Castro's, 2116 Queen St. E.
*8:45-12> Riverboat Mondays acoustic open stage jam with Tyler Ellis @ Dora Keogh, 141 Danforth Ave.
*9-12> The Out of Towners @ Sauce on Danforth, 1376 Danforth Ave.
416 – TORONTO ETOBICOKE
416 – TORONTO SCARBOROUGH
7:30> Uke jam/workshop @ Stone Cottage Pub, 3750 Kingston Rd.
*8-12> open stage @ McGradie's, 2167 Victoria Park Ave.
*8-12> open jam with All or Nothing @ Newfoundlander Tavern, 472 Danforth Road
416 – TORONTO WEST
6:30-8:30> unplugged open mic @ Common People Shop, 1694 Queen St. W.; $5
7-11> Mariachi Fuego @ Dakota Tavern, 249 Ossington Ave.
7> Alec Trent's Triple Bari Band @ The Emmet Ray, 924 College St. ~baritone sax Jazz; pwyc
8> Lol Life Lolas; Mahta; Freddie Got Lasers @ The Piston, 937 Bloor St. W. ~eclectic indie; $
*8> open mic/jam @ The Wicket Pub, 1671 Bloor St. W.
*8-11> open mic with Jean Baptiste De Collier @ Station Ale House, 2457 Bloor St. W.
9> Nichol Robertson's Boogaloo Boys @ Reposado, 136 Ossington Ave. ~songwriter; 0$
*9-1> Hamstrung Stringband @ The Local, 396 Roncesvalles Ave. ~Bluegrass
*9-1> eclectic open stage/jam with host Nelson Sobral & feature by Kunle @ The Painted Lady, 218 Ossington Ave.
9:30> Jim Lewis Group @ The Emmet Ray, 924 College St. ~Jazz; pwyc
*10-11> The Skyliners @ Skyline Restaurant, 1426 Queen St. W. ~low-fi Soul/Blues
*10> open mic with host Liam Kearney @ The Hole In The Wall, 2867 Dundas St. W.
519
*5> open mic with Dennis Napper @ Rhapsody Barrel Bar, 179 King St. W., Kitchener
*8-12> open stage @ The Boathouse, 57 Jubilee Drive, Kitchener
*9-2> James Murray @ Jimmy Jazz, 52 Macdonell St., Guelph ~acoustic Pop covers & originals
9:30> Hunter Sheridan @ McCabe's Irish Pub, 9 Wyndham St. N., Guelph ~acoustic Pop covers & originals
705
*7> Rick & Gailie @ Black Horse Pub, 452 George St. N., Peterborough
8-12> jam night with Rob Drake @ Sticky Fingers Dunlop, 199 Essa Rd.
905 EAST
6> Rob Phillips @ Arthur's Pub, 930 Burnham St., Cobourg ~Jazz
*8-11> open stage @ Simcoe Blues & Jazz, 926 Simcoe St. N., Oshawa
905 NORTH
8-11> open mic @ The Barrel, 2180 Steeles Ave. W., Vaughan
9:25-1:05> jam/open stage with backline @ Sneakers Uptown, 18025 Yonge St., Newmarket
905 SOUTH
6> Michael Wainwright & Rick Labrie @ Innsville, 1141 Highway 8, Stoney Creek ~Beatles covers
6:30>> Greensville Guitar Pickers jam @ Greensville Branch Library, 59 Kirby Ave., Hamilton
7-10> talent competition with Darcy Feaver; Eyes on Alliance; The Alpiones; Make.Shift @ Pub Fiction, 1242 Garner Rd. W., Ancaster ~eclectic indie
*8> The New Rebel Westerners @ Cat 'n' Fiddle, 174 John St. S., Hamilton ~Country
*8> Live Band Karaoke @ 33 Bowen, 33 Bowen St., Hamilton
8> Flowshine @ Casbah Lounge, 306 King St. W., Hamilton ~indie; $
905 WEST
*7-10> open mic with Chris Partland @ 5 West Brewpub, 3600 Dundas St. W., Burlington
*8-12> jam with Tom Barlow @ Shore Grill, 71 Lakeshore Rd. E., Port Credit-Mississauga
**8-12> BBQ & jam night with Wayne Cheddie @ Moonshine Café, 137 Kerr St., Oakville; ($8.95 with BBQ dinner special starts at 6)
*10> Gracie @ Spice Lounge, 52 Lakeshore Rd. E., Port Credit-Mississauga ~acoustic Pop covers & originals
LISTINGS KEY
Listings are organized by area in which the shows occur and within each area field shows are listed chronologically.
Listings preceded by an asterisk (*) are repeating weekly events. (Double asterisk indicates repeating event with different hosts/guest/etc.). Events preceded by question mark (?) usually take place but have not been confirmed. Admission prices followed by a slash and minus (/-) after the amount indicates door charge with availability of cheaper rates for some purchasers (eg. students, seniors, members, etc.). /+ indicates stated price is minimum.
-Copyright © 2018 by Gary "17" Webb-Proctor & TorontoMoon.ca. All Rights Reserved