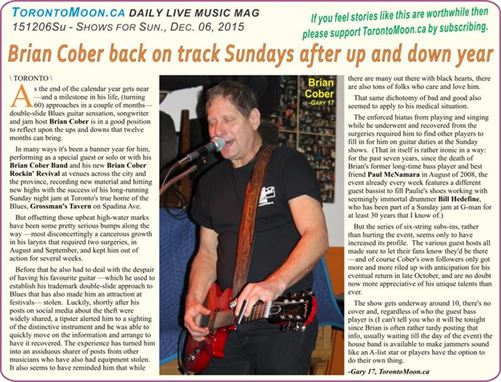 \ TORONTO \
As the end of the calendar year gets near —and a milestone in his life, (turning 60) approaches in a couple of months— double-slide Blues guitar sensation, songwriter and jam host Brian Cober is in a good position to reflect upon the ups and downs that twelve months can bring.
In many ways it's been a banner year for him, performing as a special guest or solo or with his Brian Cober Band and his new Brian Cober Rockin' Revival at venues across the city and the province, recording new material and hitting new highs with the success of his long-running Sunday night jam at Toronto's true home of the Blues, Grossman's Tavern on Spadina Ave.
But offsetting those upbeat high-water marks have been some pretty serious bumps along the way —most disconcertingly a cancerous growth in his larynx that required two surgeries, in August and September, and kept him out of action for several weeks.
Before that he also had to deal with the despair of having his favourite guitar —which he used to establish his trademark double-slide approach to Blues that has also made him an attraction at festivals— stolen. Luckily, shortly after his posts on social media about the theft were widely shared, a tipster alerted him to a sighting of the distinctive instrument and he was able to quickly move on the information and arrange to have it recovered. The experience has turned him into an assiduous sharer of posts from other musicians who have also had equipment stolen. It also seems to have reminded him that while there are many out there with black hearts, there are also tons of folks who care and love him.
That same dichotomy of bad and good also seemed to apply to his medical situation.
The enforced hiatus from playing and singing while he underwent and recovered from the surgeries required him to find other players to fill in for him on guitar duties at the Sunday shows. (That in itself is rather ironic in a way: for the past seven years, since the death of Brian's former long-time bass player and best friend Paul McNamara in August of 2008, the event already every week features a different guest bassist to fill Paulie's shoes working with seemingly immortal drummer Bill Hedefine, who has been part of a Sunday jam at G-man for at least 30 years that I know of.)
But the series of six-string subs-ins, rather than hurting the event, seems only to have increased its profile. The various guest hosts all made sure to let their fans know they'd be there —and of course Cober's own followers only got more and more riled up with anticipation for his eventual return in late October, and are no doubt now more appreciative of his unique talents than ever.
The show gets underway around 10, there's no cover and, regardless of who the guest bass player is (I can't tell you who it will be tonight since Brian is often rather tardy posting that info, usually waiting till the day of the event) the house band is available to make jammers sound like an A-list star or players have the option to do their own thing.
-Gary 17, TorontoMoon.ca
SHOW LISTINGS for Sunday, December 06, 2021:
Listings are organized by area in which shows take place and listed chronologically within each area field.
Listings preceded by an asterisk (*) are repeating weekly events. (Double asterisk indicates repeating event with different hosts/guest/etc.). Admission prices followed by a slash and minus (/-) after the amount indicates door charge with availability of cheaper rates for some purchases. /+ indicates stated price is minimum.
Names of subscribers appear in bold, are underlined and, where applicable, include a live link to their websites. Advertisers' listings are in larger highlighted type, include live link to website and also have ad icon included in listings.
416 – Toronto Central
11am-2pm> Tio Chorinho for Jewish brunch buffet @ Free Times Café, 320 College St., TO
noon> The Wintergarten Orchestra @ C'est What, 69 Front St. E., TO ~orchestral music
12-3> Excelsior Dixieland Jazz Band @ The Rex, 194 Queen St. W., TO ~Jazz
2:30> No Angels Dancing (Allison Cameron & Stephen Parkinson) @ Tranzac Club (Southern Cross), 292 Brunswick Ave., TO
*3-6> Michael Brennan @ Graffiti's, 170 Baldwin St. TO ~East Coast Rock/Blues Roots
3:30-6:30> Dr. Nick & The Rollercoasters @ The Rex, 194 Queen St. W., TO ~Jazz; $
*4:30-8> New Orleans Connection All Stars & guests @ Grossman's, 379 Spadina Ave., TO ~New Orleans Jazz
5-9> Robbie Lane & The Disciples with special guest Sam Taylor @ Seven44, 744 Mount Pleasant Road, TO North ~vintage Rock/R&B; $10
5> Monk's Music @ Tranzac Club (Southern Cross), 292 Brunswick Ave., TO ~Jazz
6-7:30> Ambre McLean @ 120 Diner, 120 Church St., TO ~Jazz
*7-1> Freefall Sundays open stage with hosts Steve York & Tony Rabalao (2 songs each -signup @ 7 or pre-sign online) @ The Supermarket, 268 Augusta St., TO
7> The Double Cuts @ Cameron House (front), 408 Queen St. W., TO ~Western Swing
7> Tia McGraff @ C'est What, 69 Front St. E., TO ~
7-9:30> Autobahn @ The Rex, 194 Queen St. W., TO ~Jazz; $
7:30> Sam Broverman: A Jewish Boy's Christmas @ Jazz Bistro, 251 Victoria St., TO ~Jazz
7:30> Michael Herring & guests @ Tranzac Club (Southern Cross), 292 Brunswick Ave., TO ~Jazz
8-9:30> Chris Hercules @ 120 Diner, 120 Church St., TO
*8> open mic @ The Cavern Bar, 76 Church St., TO
8> Daniel Field with The Family Band album release @ The Central, 603 Markham St., TO ~indie
8:30> Noah Pascoe @ Free Times Café, 320 College St., TO ~songwriter
9> jam with Jay Pennell @ Scruffy Murphy's, 150 Eglinton Ave. E., TO North
9:30> Ilios Steryannis Quartet @ The Rex, 194 Queen St. W., TO ~Jazz; $
*10> Horshack feat. Chris Caddell @ Orbit Room, 580 College St., TO ~Bluesy contemporary & classic Rock
10> New Grease Revival @ Cameron House (front), 408 Queen St. W., TO

**10> Blues jam with Brian Cober, Bill Hedefine & guest bassist @ Grossman's, 379 Spadina Ave., TO
10:30> Woodchoppers Association @ Tranzac Club (Southern Cross), 292 Brunswick Ave., TO ~improvisational Roots
10:30> Geoff Willingham @ The Hideout, 484 Queen St. W., TO ~indie Rock
416 – Toronto East
*2-5> Adelaide Falling Trio @ Morgan's, 1282 Danforth Ave., TO East ~Jazz
2> A Very Indie Christmas with Jessica Speziale; Emily Coutts; Mirian Kay; Brooklyn Doran; more @ Daniels Spectrum, 595 Dundas St. E., TO East
2:30> Riverdale Share concert @ The Danforth Music Hall, 147 Danforth Ave., TO East ~all-ages; $20
*3-6> open mic with Nicola Vaughan @ Hirut, 2050 Danforth Ave., TO East
*3:30-7:30> jam @ Black Bear, 1125 O'Connor Drive, TO East
4> The Del Fi's @ Castro's Lounge, 2116 Queen St. E., TO East
*5-9> John Dickie/Pat Perez Band @ Linsmore Tavern, 1298 Danforth Ave, TO East ~R&B/Blues
7> The Sword; Royal Thunder @ Opera House, 735 Queen St. E., TO East ~original Rock; $
8> Brian Passmore @ The Only Café, 972 Danforth Ave., TO East ~Folk
*9-1> jam with the Stir It Up Band featuring David Macmichael @ Relish, 2152 Danforth Ave., TO East
9> Watch This Sound @ Castro's Lounge, 2116 Queen St. E., TO East ~vintage Jamaican music
416- Toronto Etobicoke

2-5> James Clark; Craig Robertson; The Clarkson Brothers @ Village Vinyl Music Emporium & Café, 2925 Lake Shore Blvd. W., Etobicoke ~indie Pop
4-8> BG Rhythm Section featuring Gary Kendall + guest Matt Allen & Teddy Leonard @ Blue Goose Tavern, 1 Blue Goose Rd., Etobicoke South ~Blues/R&B
5-8> Lost Patients @ Timothy's Pub, 344 Brown's Line, Etobicoke ~Pop Rock
*10-2> jam with Rebecca Matiesen & Phoenix @ Southside Johnny's, 3653 Lakeshore Blvd. W., Etobicoke South
416 – Toronto Scarborough
*6-10> jam with Tommy Rocker @ Scarborough Junction, 646 Danforth Rd., Scarborough
*7-11> open jam @ McGradie's, 2167 Victoria Park Ave., Scarborough
416 – Toronto West
**11-2> live Jazz brunch @ DeSoto's, 1079 St. Clair Ave. W., TO West
*12-3> Julian Fauth's Blues brunch @ Axis, 3048 Dundas St. W., TO West ~Blues
* 12-3> The Cosmotones @ Dakota Tavern, 249 Ossington Ave., TO West ~Rockabilly
**5-8> John Borra & Sam Ferrara w. guest @ The Communist's Daughter, 1149 Dundas St. W. TO West ~Country
*5-8> Michael Darcy @ The Local, 396 Roncesvalles Ave., TO West ~Folk/Country
5-8> Rob Thaller & Joanna Reynolds Duo @ Gate 403, 403 Roncesvalles Ave., TO West ~Jazz
*8:30-11:30> Fraser Melvin Blues Band @ Fat City Blues, 890 College St., TO West ~Blues
9> Defile; Ratsloth; The Blind Surgeons; Operations @ Smiling Buddha, 961 College St., TO West 9-1> Simone Morris Trio @ Gate 403, 403 Roncesvalles Ave., TO West ~Jazz
9> Suitcase Sam @ The Local, 396 Roncesvalles Ave., TO West ~
9> Selina Martin; Yellow Jacket Avenger @ Holy Oak Café, 1241 Bloor St. W., TO West
9> Jesse Lane & The Parlour Brothers @ Burdock, 1184 Bloor St. W., TO West
9> Hugh Wilson @ The Tennessee, 1554 Queen St. W., TO West
10> The Beauties @ Dakota Tavern, 249 Ossington Ave., TO West
519
*9-1> jam @ Ivy Arms Pub, 201 Main Street East, Milton
705
*3-7> jam at CJ Barleys, 213 The Queensway, Keswick
3> Bluegrass Menagerie feat. Mathew Fines @ Black Horse Pub, 452 George St. N., Peterborough
*7> open mic with Randy Hill @ Black Horse Pub, 452 George St. N., Peterborough
905 East
*3-7> Jam with hosts Paul Storm, John Huntley & Jon McCann @ West Shore Bar & Grill, 877 Bayly St., Pickering
*5-10> All-ages open jam with Juggernaut @ The Edge Lounge, 250 Bayly St. W., Ajax
*7-11> Karaoke with Rob MacArthur @ The Edge, 250 Bayly St. W., Ajax
*8:30-12:30> karaoke with The English Rose & The Mad Scotsman @ Pearson Pub, 101 Mary St. W. Whitby
905 North
**1-3> Joe & Frank with guest performer @ Lake Simcoe Arms, 21089 Dalton Rd., Jackson's Point ~Jazz
*3-7> open stage with Kevin Ker @ The Earl Of Whitchurch, 6204 Main St., Stouffville
*5-9> open mic with feature guest @ Sgt. Pepper's Aurora, Walmart Plaza (Hwy 404 & Aurora Rd.), Aurora
905 South
2-6> Bay City Blues Band & guest Tommy Carbone @ Bay City Music Hall, 50 Leander Drive, Hamilton ~Blues; $5
905 West
**2-6> Country matinee with host Colin Connors and guest Mark LaForme @ Carrigan Arms, 2025 Upper Middle Rd., Burlington ~Country
2> Tom Altobelli Trio @ Fionn MacCool's Burlington, 2331 Appleby Line, Burlington
3-6> kids jam with Rob Dundas & Dave Robinson @ Moonshine Café, 137 Kerr St., Oakville ~$5; $5 kids
*4:30-8> Chuck Jackson's All Stars @ Roc'n Doc's, 105 Lakeshore Rd. E., Port Credit ~Blues
**5:30-8:30> The Stew @ Mulligan's, 2458 Dundas St. W., Mississauga ~R&B/Rock
**7-11> The Nomads @ Shore Grill, 71 Lakeshore Rd. E., Port Credit
*7> open jam with Mike Shotton & The Flying Squirrels @ Black Swan Pub Burlington, 4040 Palladium Way, Burlington
7-10> Ukulele night @ Moonshine Café, 137 Kerr St., Oakville ~$10 minimum purchase
*7:30> open jam hosted by Troy Harmer @ The Brown Barrel, 1515 Upper Ottawa St., Hamilton
*8> open mic night with house band featuring Mike Shotton, Tim & Dave Johns @ Black Swan Burlington, 4040 Palladium Way, Burlington
*9-1> tba @ Roc'n Doc's, 105 Lakeshore Rd. E., Port Credit ~Blues; $
*10:30> Adam Cooke & The Adams Family @ The Dickens, 423 Elizabeth St., Burlington
Copyright © 2015 Toronto Moon Magazine. All Rights Reserved