It started as a trickle shortly after the Ontario government ordered live music bar venues to close on St. Patrick's Day and in the two-plus weeks since is turning into a flood.
Live streaming (and new postings of both fresh and of old videos already long on YouTube) is becoming so prevalent that fans are starting to have to choose which ones to watch "live" much as they previously had to select which venue to attend to see a show they'd like.
Of course the great thing about performances streamed live is that in most cases they can be and are preserved as videos that you can watch later and a number of items in our daily "RESIDING" category of web shows fall into that category —though it's not always clear exactly how long they'll actually be in residence at the urls given.
Today, like every day, I try to add at least a couple of new RESIDING entries to the listings along with the day's listings of shows that go live at specific times.
Today's highlights include a concerto performed by Mississauga Symphony violinist Viera Zmiyiwsky outside her granny's retirement home, a batch of "Soothing Jazz" songs from JAZZFM.91, a Country mini-festival with Kansas Stone and several other acts at 7pm, another Brady's Basement: Live Stream Concerts to Support Musicians fundraiser presented by Shawn Brady and several streams from Bandsintown artists along with a concert from the ongoing Home Routes Online Folk Festival.
There are also, of course, many other interesting items for a wide variety of tastes (including a new solo acoustic vid from Kathleen Lovett of Kat House and the entire new album by Pop songwriter Drew Winters) peppered throughout today's listings. Enjoy!
-By Gary 17, TorontoMoon.ca
[email protected] * [email protected]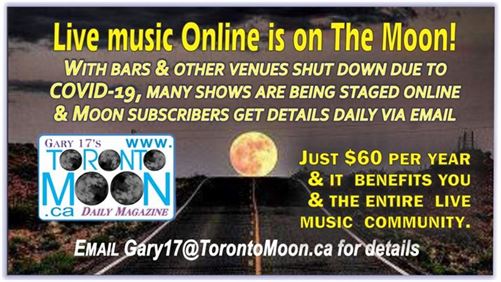 ONLINE/ON AIR SHOW LISTINGS for Friday, April 03, 2022
Names of subscribers appear in bold, are underlined and, where applicable, include a live link to their websites.
For Subscription details visit https://www.torontomoon.ca/subscribe/
Advertisers' listings are in larger, highlighted type, include live link to website and also have ad icon included in listings.
FOR ADVERTISING INFO VISIT: https://www.torontomoon.ca/advertise-with-toronto-moon/
*6am-6am> CBCMusic shows feature all-Canadian content @ CBC Radio One
*11am-1pm> The Rock-A-Round with Slim Tim @ www.rockabilly-radio.net ~ Rockabilly tracks (from UK, repeats Sundays 3-5am & Wednesdays 6-8am)
Noon-6> Steel City Music with Gunner Smith @ The HAWK FM 101.5fm ~Blues, etc.
1-2pm> "Groove Radio" with host Bill King & guests @ CIUT 89.5FM & streamed online
1-9> live stream with Charli XCX on Instagram
1-1:30pm: Come Sunday (Gospel Radio Show) w Paul Panchezak (Trickbag) @ 93.3 CFMU or cfmu.ca (Hamilton)
3-7> Julian Taylor hosts @ 106.5 ELMNT FM in Toronto & www.elemntfm.ca ~eclectic music 25% indigenous, 35% CanCon
4> tba for National Arts Centre #CanadaPerforms series on NAC Facebook page
7> Jacqueline Auguste "Isolation Live Feed" with "My Originals" theme live stream on Facebook
7> Kansas Stone and Friends with Jason McCoy, Mackenzie Leigh Meyer, Cory Marks, Dani Strong, Robyn Ottolini, David Boyd James, Kris Barclay, Rebecca Rain many more on Instagram Live
8> Andrea Ramolo live stream on Facebook ~songwriter
8> Home Routes presents National Online Folk Festival streamed on Facebook, with Veranda ~Quebec songwriter
8> Justin Furstenfeld of Blue October performs acoustic solo originals on Stageit
8> Ken Wallis Blues Source show with tracks and interviews @ www.bluesandrootsradio.com
9-midnight> "Gumbo Kitchen" with Ron Littlejohn @ JAZZ.FM91 & online ~Blues/R&B/Funk tracks and artists
*9:30-10:30> "Q" TV broadcast with Tom Power with segments from @TheCurrentCBC, interviews, entertainment news & more @ CBC-TV
RESIDING> Drew Winters all ten tracks from Last Call In Montreal album on YouTube and on Spotify ~original Pop
RESIDING> Rob Minderman performs "Invisible Enemy" original song about COVID-19 on YouTube (0:4:00)
RESIDING> Wayne Neon and the Amazing Tubular Orchestra™ on Youtube: Social Distance Sessions live ~eclectic covers & originals (0:18:22)
RESIDING> Eclectic Power Company featuring Graham Clarke covers "Wheat Kings (Tragically Hip) on InstagramTV (0:3:10)
RESIDING> recording of Carmen Toth performing "Way Too Early Show" March 29 edition on Facebook solo ~songwriter (1:31:48)
RESIDING> Late Fakirs featuring Greg Shields perform "Silent Keeper of Your Lost Dreams" on YouTube
RESIDING> Howard Gladstone performs original Roots solo on Facebook ~songwriter (0:5:32)
RESIDING> Dougal Bichan performs original song "More Than 100" on InstagramTV (0:8:23)
RESIDING> Kathleen Lovett performs solo on Facebook live (recording) ~Pop Rock/Roots/Blues covers (1:52:53
RESIDING> David McLachlan performs two original songs recorded @ Bluebird Café, Nashville, on YouTube (0:8:02)
RESIDING> "I Gotta Wash My Hands" Beatles parody COVID-19 video by Hobby Marketing on You Tube (0:2:30)
RESIDING> Barenaked Ladies "Selfie Cam Jam" together-apart performance of "Lovers In A Dangerous Time" (Bruce Cockburn); 0:5:15
RESIDING> Toronto Symphony Orchestra performs "Appalachian Spring" in remote ensemble on YouTube ~Classical (0:4:26)
RESIDING> Eugene Smith recorded live stream show from March 27 on YouTube ~songwriter (1:13:55)
RESIDING> James Anthony performs original "Corona Blues" song on YouTube ~songwriter (0:2:39)
RESIDING> Jillian Bunting performing original & cover songs on Facebook ~songwriter (0:53:20)
RESIDING> The Jukebox Hour with Phill Hood and The Exclamation on Facebook ~covers and originals by request (1:23:08)
RESIDING> Marsala Lukianchuk performs "I Wish I Was Locked Down With You" Facebook video ~songwriter (0:1:49)
RESIDING> Reuben O'dell-Barkow with Marianna Lvovskaja recorded live (0:51:40)
RESIDING> Sarah Siddiqui video recorded live "Put The Worry Away (Isolation Sessions)" ~songwriter (0:25:28)
RESIDING> "10 Soothing Jazz Tunes…" (article with links) from Jazz.FM81 @ jazz.fm
RESIDING> Video of violinist Viera Zmiyiwsky performing for her 94-year-old grandmother, Anna, outside a retirement home in Mississauga on April 1 on Facebook ~classical; (0:5:38)
RESIDING> Sam Roberts Band as Isolation Jubilation Sensation performing original song "We're All In This Together" on YouTube (0:03:10)
RESIDING> Jessica Mondello performing covers & originals on Facebook ~songwriter (1:03:43)
RESIDING> "Austin City Limits" presents free concerts from Country greats and original acts on pbs.org
RESIDING> The Dexters R&B super group perform "Melon Collie Serenade" on YouTube (0:5:55)
RESIDING> Colin Brunton performs original song "Coronavirus Rhapsody" on Youtube (0:6:01)
RESIDING> Mark Malibu and the Wasagas perfom Rockabilly PSA "Fight Covid-19" on YouTube (0:0:53)
RESIDING> Michael Theodore performing covers & originals on Facebook ~songwriter (1:17:01)
RESIDING> Bandcamp Weekly with various artists tba
RESIDING> Bandsintown Live with various artists tba
RESIDING> Home Routes podcast Show #22 with host Tim Osmond & tunes by TBA [previous podcasts also accessible from page] (0:21:31)
RESIDING> Instructional video "The Coronavirus Explained & What You Should Do" on YouTube (0:8:34)
x
Copyright © 2020 by Gary "17" Webb-Proctor & TorontoMoon.ca. All Rights Reserved