\ TO WEST \
A songwriter with a somewhat unpredictable nature and a devilish sense of humour, Skye Wallace somehow manages to combine girlishness and grit in an edgy yet engaging persona.
Utilizing different modes and moods, her by turns delightfully demonic yet yearning soul is evident through a multiplicity of videos on You Tube and her social media accounts and has been on display live every Monday night this month at Dakota Lounge.
She has three albums out so far, including her latest, Something Wicked, of which mini-samples can be heard on her website and in some of the numerous video snippets of her performances of its tracks and numbers from two previous releases.
In the vids, relentless honesty and a take-no-prisoners attitude is shoved in your face through a Folk-Punk approach on some Pogo-friendly Rock-style numbers performed with her high-energy band, while on others, strumming solo, she smoothly draws you in with moody ballads exhibiting introspective emo tendencies.
Some of her videos are a real hoot to watch, displaying her fun-loving, somewhat bizarre sense of humour, such as one involving a snowball fight in the woods and another portraying a hockey-style fight to win the championship during a curling match!
Then there's the New Wavish "Scarlett Fever" love paean from her Living Parts album —clearly this "classically trained singer who discovered Punk music in her youth" artist, as she describes herself, has multiple dimensions going on.
Tonight's final installment of her Monday series with her band at Dakota also features a set by indie-Folk duo Bears in Hazenmore from Alberta.  The promo for the event doesn't indicate whether there's a cover charge but normally there is a small levy to get in the doors of the basement lounge club at 249 Ossington Ave. just north of Dundas St. West.
If you can't make this evening's 8-12 show but want to see her live, pencil in November 2 through 4, when she'll be guesting nightly solo with Ron Hawkins at funky east end hipster hangout The Only Café on Danforth Avenue near Donlands subway station.
-Gary 17, TorontoMoon.ca
[email protected] * [email protected]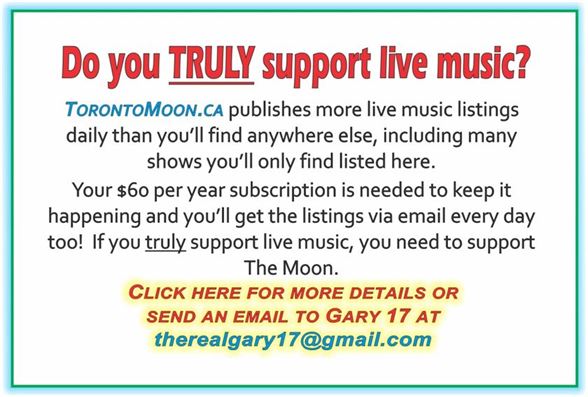 SHOW LISTINGS for Monday, October 29, 2021
Listings are organized by area in which the shows occur and within each area field shows are listed chronologically. For KEY to listings codes and schemata see note at end of shows list.
Names of subscribers appear in bold, are underlined and, where applicable, include a live link to their Home or Event url.  FOR SUBSCRIPTION DETAILS VISIT: http://www.torontomoon.ca/subscribe/
Advertisers' listings are in larger, highlighted type, include live link to website and also have ad icon included in listings.  FOR ADVERTISING INFO VISIT:
http://www.torontomoon.ca/advertise-with-toronto-moon/
ON AIR/ONLINE
*2-3> "Out of The Bassment" with host Keiko Gutierrez @ 93.3 CFMU Hamilton and online at http://cfmu.ca/shows/21-out-of-the-bassment ~music featuring bass players
*6> "Underplayed and Underpaid" interviews and performances by Guelph area bands on CFRU 93.3 FM broadcast and online
6> "Soundcheck with Sabrina" with Sabrina Fallah @ Jungle 77.3 & online at http://www.jungle773.com/ ~eclectic tracks, interviews etc.
416 – TORONTO CENTRAL -Broadview/Bayview to Ossington
*5-9> Jim Heineman Trio @ Mirto Italian Restaurant, 25 Toronto St. ~Jazz
5:30-9:30> momondays Toronto with host Michel Neray & guest musicians/ speakers Carol Shulte, Dwesi Millington, Sagen Pearse, Martha Henderson, Josef Stetter, Mike Pickett @ The Hideout, 423 College St. ~eclectic networking & performance; $
6> Jon Brooks @ Cameron House (front), 408 Queen St. W. ~songwriter
6> Carl Dixon; Maureen Jennings @ Toronto Reference Library, 789 Yonge St. ~acoustic original & poetry celebrating 100th anniversary of end of WWI; $0
6:30> U of T Jazz Ensembles @ The Rex, 194 Queen St. W. ~Jazz; $
**7-1 (sign-up at 7, show starts 7:30)> open stage with host Wayne Neon @ Free Times Café, 320 College St.
*7-10> open stage with Brad Scott @ Lola, 40 Kensington Ave.
7> RapCaviar; Juice WRLD; Boi-1da @ Rebel, 11 Polson St. ~original Rap/Hip-Hop; $
7:30> Sabrina Claudio @ Phoenix Concert Theatre, 410 Sherbourne St. ~contemporary original; $
7:30> Mirah; Tomberlin @ Monarch Tavern, 12 Clinton St. ~indie; $
7:30> Shane Cook, Joey Wright & Joe Phillips with Lonesome Ace Stringband @ Tranzac Lounge (Main Hall), 292 Brunswick Ave. ~Country/Roots-Rock
7:30-10:30> Balfolk with guests Mini Bal; John and Emilyn @ Drom Taberna, 458 Queen St. W. ~folk dancing to live music fiddlers etc.
7:30> Schumann's Piano Quintet with Rob Kapilow @ Edward Johnson Building, 80 Queen's Park Crescent ~Classical; $
**8> open mic (2 songs; sign-up starts 8 p.m.) with host Yawd Sylvester @ Tranzac Lounge (Southern Cross), 292 Brunswick Ave.
8> Mofett/Mackinnon @ Cameron House (front), 408 Queen St. W. ~indie; $0
8:30> Reckless Rock & Roll @ Horseshoe Tavern, 370 Queen St. W. ~indie; $?
8:30> Austin Bassarath @ The Cavern, 76 Church St.
8:30> John MacLeod's Rex Hotel Orchestra @ The Rex, 194 Queen St. W. ~Jazz; $
**9-1:30> open mic/jam with host Sam Sundar-Singh & feature by Sophie Atkin @ Grossman's, 379 Spadina Ave.
*9:30> open mic @ Amsterdam Bicycle Club, 54 The Esplanade
10> Jordan John @ The Orbit Room, 580 College St. ~Jazz-Rock fusion; $
10> Heavy on The Willie @ Cameron House (front), 408 Queen St. W. ~Country
10-2> Dan Gagnon @ The Hideout, 423 College St.  ~contemporary Rock
416 - TORONTO EAST -Broadview/Bayview to Victoria Park
6-9> Kristy Hagerman; Cory Freigen opens @ Starbucks, 1417 Danforth Ave. ~songwriters
7-10> Mr. Jr. @ Relish, 2152 Danforth Ave. ~"Cowpunk" songwriter; 0$
7:30> Tequila Mockingbirds @ Hirut, 2050 Danforth Ave. ~singalong neighbourhood choir; $0
7:30> "Revolution Mondays" with host Coco Cognac Brown & guest feature Maria Ryan @ The Old Nick, 123 Danforth Ave. ~songwriters; 0$
7:30> Crowd Lu @ Opera House, 735 Queen St. E. ~Taiwanese songwriter; $
**8> open mic with host Rev + Murphy's Law, 1702 Queen St. E.
*8:45-12> Riverboat Mondays acoustic open stage jam with Tyler Ellis @ Dora Keogh, 141 Danforth Ave.
*9-12> The Out of Towners @ Sauce on Danforth, 1376 Danforth Ave.
*9:30-2> Sebastian Agnello & friends open stage @ Black Swan Tavern, 154 Danforth Ave.; 0$
416 – TORONTO ETOBICOKE
416 – TORONTO SCARBOROUGH
7:30> Hallowe'en themed ukulele jam/workshop @ Stone Cottage Pub, 3750 Kingston Rd.
*8-12> open jam with All or Nothing @ Newfoundlander Tavern, 472 Danforth Road
416 – TORONTO WEST -Ossington to Etobicoke
6-8:30> book launch for John Semley's "Hater" @ Burdock, 1184 Bloor St. W.
7> Robert Chapman Trio @ The Emmet Ray, 924 College St. ~Jazz; pwyc
8-12> Skye Wallace & guest Bears in Hazenmore @ Dakota Tavern, 249 Ossington Ave. ~songwriter; $?
8> Oh Pep!; Omhouse @ The Baby G, 1608 Dundas St. W.  ~contemporary original; $
8> Ritual Veil; Sisters of Shaddowwe; Shyness of Strangers; Trick Casket @ See-Scape, 347 Keele St. ~indie; $
*8-11> open mic with Jean Baptiste De Collier @ Station Ale House, 2457 Bloor St. W.
*9-1> Hamstrung Stringband @ The Local, 396 Roncesvalles Ave. ~Bluegrass
*9-1> eclectic open stage/jam with host Nelson Sobral; features by Lauren Mayer & Alex Purcell @ The Painted Lady, 218 Ossington Ave.
9> Tiptoes (recording release for ep); Sages @ Burdock, 1184 Bloor St. W. ~indie; $10
9:30> Trevor Hogg Trio @ The Emmet Ray, 924 College St. ~Jazz; pwyc
519 EAST -Guelph, K-W & vicinity
*7:30-12> open mic with Anthony Schmanthony @ The Cornerstone, 1 Wyndham St. N., Guelph
*8-12> open stage @ The Boathouse, 57 Jubilee Drive, Kitchener
*9-2> Anthony Damiao @ Jimmy Jazz, 52 Macdonell St., Guelph ~acoustic Pop covers & originals
705
*7-11> Rick & Gailie's Crash & Burn @ Black Horse Pub, 452 George St. N., Peterborough ~acoustic Pop covers & originals; $0
8-12> jam night with Rob Drake @ Sticky Fingers Dunlop, 199 Essa Rd.
905 EAST -Pickering to Cobourg
6> Rob Phillips @ Arthur's Pub, 930 Burnham St., Cobourg ~Jazz
905 SOUTH -Hamilton & vicinity
6> Michael Wainwright & Rick Labrie @ Innsville, 1141 Highway 8, Stoney Creek ~Beatles covers
6:30>> Greensville Guitar Pickers jam @ Greensville Branch Library, 59 Kirby Ave., Hamilton
7:30> Brownman Ali Electryc Trio's Hallowe'en "Thriller" concert @ Artword Artbar, 15 Colbourne St., Hamilton ~tribute to Michael Jackson & Hallowe'en; $15
*8> The New Rebel Westerners @ Cat 'n' Fiddle, 174 John St. S., Hamilton ~Country
9> Chrys & Momo; Charlie Weber; Andrew Brethour @ Doors Pub, 56 Hess St. S., Hamilton ~indie; $10
905 WEST -south Peel, Halton
*8-12> jam with Tom Barlow @ Shore Grill, 71 Lakeshore Rd. E., Port Credit-Mississauga
**8-12> BBQ & jam night with Carmen North @ Moonshine Café, 137 Kerr St., Oakville; ($8.95 with BBQ dinner special starts at 6)
*8:30> Gracie @ Spice Lounge, 52 Lakeshore Rd. E., Port Credit-Mississauga ~Pop covers & originals
LISTINGS KEY
Listings preceded by an asterisk (*) are repeating weekly events. (Double asterisk indicates repeating event with different hosts/guest/etc.). Events preceded by question mark (?) usually take place but have not been confirmed. Admission prices followed by a slash and minus (/-) after the amount indicates door charge with availability of cheaper rates for some purchasers (eg. students, seniors, members, etc.). /+ indicates stated price is minimum.
-Copyright © 2018 by Gary "17" Webb-Proctor & TorontoMoon.ca. All Rights Reserved