COVID-19may have surpassed its peak of new infections rates in Ontario and Toronto, but the stay-in-place orders and laws against public assemblies and bar openings continue, and the fallout is getting intense.
Earlier this week the owners of The Hideout, a 13-year seven-shows-a-week staple of the live music scene, announced on their Instagram page that the "crushing blow" of COVID has forced them to decide to close their doors permanently.
The room, owned by brothers Dan and Jimmy Good along with their cousing Phil, had already closed once three years ago after the building it had operated in for nine years was sold, forcing a move to their latest College Street location.
"All the things we have taken for granted over the years, the general 'social nearing' that we were accustomed to, was directly responsible for the feeling of comfort and safety that we all enjoyed. We miss these beautiful life gestures of love as we struggle through these unusual times," they wrote.
While the business "has been a resilient business, overcoming many difficult hurdles," they note, "this is different." they add.
Metaphorically "the drums are broken, the guitars smashed and the amps are burning… there can be NO encore."
Another impact of the COVID pandemic is on what was scheduled to be the grand reopening this month of the legendary El Mocambo on Spadina Ave at College St. after six years and reportedly upwards of $30 million in renovations to turn it into upscale concert theatre type destination event room.
Two multi-venue live music festivals that normally happen in each spring and early summer have also announced that they'll be postponing this year's edition —assuming they can still be held at all, realistically.
The 38th Canadian Music Week, originally schedule to take place next month, has been put off till September 8-13. And NXNE, originally planned for June 12-21, has announced it now will take place August 11-16. The Toronto Jazz Festival, which normally happens during the first week of July, has also said it is cancelled for now but organizers hope "that we can move the festival to a later date the summer."
Likewise the Orangeville Blues and Jazz Festival, which is usually the first Ontario festival off the mark each year in early June, while not outright cancelling this year's 18th edition, has announced it is postponed indefinitely.
By the sounds of things, you'd be well advised to hunker down and gird your musical loins for a lot more digital music between now and Canada Day.
-By Gary17, TorontoMoon.ca
[email protected] * [email protected]
ONLINE/ON AIR SHOW LISTINGS for Wednesday, April 22, 2022
"RESIDING" items are those which are not time-sensitive and can be accessed 24/7
Names of subscribers appear in bold, are underlined and, where applicable, include a live link to their websites. For Subscription details visit: https://www.torontomoon.ca/subscribe/
Advertisers' listings are in larger, highlighted type, include live link to website and also have ad icon included in listings. FOR ADVERTISING INFO VISIT: https://www.torontomoon.ca/advertise-with-toronto-moon/
Midnight-11:59pm weekly> York Region Open Mic "Virtual Open Mic" on Facebook with host Steffi Postol Goodfield. "Post yourself playing a song on our York Region Open Mic page
*6am-6am daily> CBCMusic shows feature all-Canadian content @ CBC Radio One
2> Home Routes Concerts presents community workshop and jam-a-long on Facebook with Shauna and Grant
3-7 weekdays> Julian Taylor hosts @ 106.5 ELMNT FM in Toronto & www.elemntfm.ca ~eclectic music 25% indigenous, 35% CanCon
3-5 weekly> Lou's Control ft Lou Molinaro @ 93.3 CFMU or cfmu.ca (Hamilton)
4> Jordan Abel for National Arts Centre #CanadaPerforms series on Twitter
6> Agneya Chikte for National Arts Centre #CanadaPerforms series on Facebook page
*6-8pm weekly> The Rock-A-Round with Slim Tim @ www.rockabilly-radio.net ~ Rockabilly tracks (from UK, repeat show from previous Friday)
7? Weekly> Fat Albert's virtual open stage on Zoom ~visit Facebook group for actual start time and link, which should be posted by the time they start
7> Bruce Springsteen; Charlie Puth; Halsey; SZA; more for "Jersey 4 Jersey" benefit show streaming live on njprf.org
7> Amanda Lowe & Warnakul Asuriya for National Arts Centre #CanadaPerforms series on Facebook page
7> Suzie Vinnick live stream on Streetjelly.com ~original Blues
9> JB The First Lady for National Arts Centre #CanadaPerforms series on Facebook page
7-7:30 daily> Craig Cardiff performs covers & originals live streaming on Instagram
*9:30-10:30 daily> "Q" TV broadcast with Tom Power with segments from @TheCurrentCBC, interviews, entertainment news & more @ CBC-TV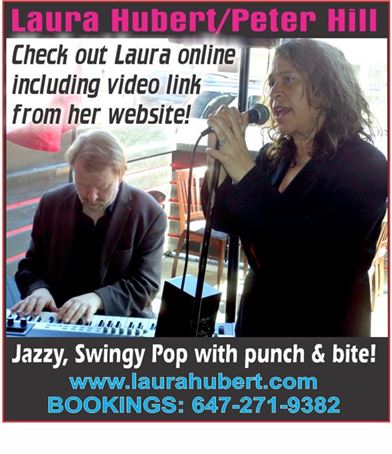 RESIDING> vid of Laura Hubert Band performing cover of "Loralei" @ Jazz Bistro filmed by Xpand Studio, on YouTube ~Jazz (0:4:47)
RESIDING> One Eyed Oracle (aka Boris Buhot) new album Really Small Town links on website ~original Rock/Pop
RESIDING> Little Peter and the Elegants perform 11-song set covering Sha Na Na at Wheels On Danforth, August 2019 to celebrate 50th anniversary of Woodstock ~video on YouTube (0:30:11)
RESIDING> Robbie Rox performs "Ridiculous Host" original song solo acoustic on YouTube (0:1:52)
RESIDING> Carmen Toth "surprise live stream" covers & originals from April 17 on Facebook (0:34:40)
RESIDING> Late Fakirs featuring Greg "Harpfool" Shields perform continually growing collection of original tunes from "Corona-chan Collection" ~videos link on YouTube ~contemporary original
RESIDING> Shawn Brady performs original song "Sideways 2020" video on Facebook ~songwriter (0:4:46)
RESIDING> Kathleen Lovett performs cover of John's Prine's "Sam Stone" acoustic solo on YouTube; (0:5:22)
RESIDING> Al Reilly performs "Still Loving You" Scorpions cover acoustic solo on YoutTube (0:6:17)
RESIDING> Doc Higgins performs original song "The Lonesome Death of John Prine" on YouTube; (0:4:36)
RESIDING> Robbie Rox performs original song "Small Things Make Me Happy" solo acoustic for Good Friday on Facebook ~songwriter; (0:1:25)
RESIDING> Sebastian Agnello performs "Pour Me Another Tequila Sheila" @ Black Swan live in 2011 on Moon TV on YouTube; (0:2:54)
RESIDING> Kevin Jollimore performs "Stay the Blazes Home" for COVID protocols on YouTube ~ original Roots Rock; (0:3:20)
RESIDING> Drew Winters all ten tracks from Last Call In Montreal album on YouTube and on Spotify ~original Pop
RESIDING> Rob Minderman performs "Invisible Enemy" original song about COVID-19 on YouTube (0:4:00)
RESIDING> Wayne Neon and the Amazing Tubular Orchestra™ on Youtube: Social Distance Sessions live ~eclectic covers & originals (0:18:22)
RESIDING> Kathleen Lovett covers "Sam Stone" by John Prine on YouTube; (0:5:22)
RESIDING> Eclectic Power Company featuring Graham Clarke covers "Wheat Kings (Tragically Hip) on InstagramTV (0:3:10)
RESIDING> Howard Gladstone performs original Roots solo on Facebook ~songwriter (0:5:32)
RESIDING> Dougal Bichan performs original song "More Than 100" on InstagramTV (0:8:23)
RESIDING> Kathleen Lovett performs solo on Facebook live ~Pop Rock/Roots/Blues covers (1:52:53)
RESIDING> David McLachlan performs two original songs recorded @ Bluebird Café, Nashville, on YouTube (0:8:02)
RESIDING> Scarborough Ukulele watch party jam introduction on Facebook
RESIDING> Colin James performs cover of "Walkin' Blues" by Son House on YouTube ~Blues (0:3:28)
RESIDING> Jesse Cook (with 12-year old daughter) performs 25-years-old original song "Tempest" on Facebook ~songwriter (0:3:30)
RESIDING> Andy Griffiths performs "What's So Funny" (Nick Lowe cover) on YouTube (0:4:34)
RESIDING> Jackie performs original song "Unspun" on YouTube ~songwriter (0:3:14)
RESIDING> Rick McCue performs original song "A Full Bottle of Wine" on Facebook ~songwriter (0:3:13)
RESIDING> Eric Schenkman performs original "Locked In The House All Day" song on YouTube ~original Rock; (0:3:45)
RESIDING> Jesse Parent performs new original song "Learning to Live Apart" in YouTube video; ~songwriter (0:3:22)
RESIDING> Steve Bowen's Kitchen Party from Milton on Facebook ~ol' time/traditional Roots; (0:42:51)
RESIDING> Bill Romberg performs original "Army of Heroes" song on YouTube ~songwriter; (0:3:30)
RESIDING> Craig Cardiff MP3s of two versions of new "To Be Safe, Loved & Home" original song on Spotify ~songwriter (0:3:20/0:5:06)
RESIDING> "I Gotta Wash My Hands" Beatles parody COVID-19 video by Hobby Marketing on You Tube (0:2:30)
RESIDING> Barenaked Ladies "Selfie Cam Jam" together-apart performance of "Lovers In A Dangerous Time" (Bruce Cockburn cover); 0:5:15
RESIDING> 2018 Dave's Crew video from open mic @ Dave's Pizza on YouTube; (0:9:20)
RESIDING> Linda Nusca Albertyn et al together-apart video collage of "Listen To The Music" cover on Facebook; (0:3:37)
RESIDING> Toronto Symphony Orchestra together-apart performance of "Appalachian Spring" in remote ensemble on YouTube ~Classical (0:4:26)
RESIDING> various artists recorded live concerts for Care In Canada Ontario for seniors in care homes, accessible to anyone on YouTube
RESIDING> James Anthony performs original "Corona Blues" song on YouTube ~songwriter (0:2:39)
RESIDING> Canadian astronaut Chris Hadfield performs "Space Oddity" from International Space Station on YouTube via TorontoMoon.ca (0:5:30)
RESIDING> "Almighty Voices" Episode 1 video with various artists on YouTube in support of Unison Benevolent Fund relief for artists fund (0:35:40)
RESIDING> Spoons new original song "Landing Lights" on YouTube ~original Pop (0:4:41)
RESIDING> Eugene Smith recorded live stream show from March 27 on YouTube ~songwriter (1:13:55)
RESIDING> Jillian Bunting performing original & cover songs on Facebook ~songwriter (0:53:20)
RESIDING> Miz Debbie & The Don Valley Stompers video recorded at Grossman's Tavern on YouTube ~Blues; (0:5:28)
RESIDING> The Jukebox Hour with Phill Hood and The Exclamation on Facebook ~covers and originals by request (1:23:08)
RESIDING> Reuben O'dell-Barkow with Marianna Lvovskaja recorded live (0:51:40)
RESIDING> Sarah Siddiqui video recorded live "Put The Worry Away (Isolation Sessions)" ~songwriter (0:25:28)
RESIDING> "10 Soothing Jazz Tunes…" (article with links) from Jazz.FM81 @ jazz.fm
RESIDING> Video of violinist Viera Zmiyiwsky performing for her 94-year-old grandmother, Anna, outside a retirement home in Mississauga on April 1 on Facebook ~classical; (0:5:38)
RESIDING> audio podcast episodes of "Q" with Tom Power and various artists streaming on request @ CBC Radio
RESIDING> Matt Groopie & David Grossman video performance of "Man On The Moon" (REM) acoustic outdoors from Facebook; (0:5:22)
RESIDING> Sam Roberts Band as Isolation Jubilation Sensation performing original song "We're All In This Together" on YouTube (0:03:10)
RESIDING> Marsala Lukianchuk performs "I Wish I Was Locked Down With You" Facebook video ~songwriter (0:1:49)
RESIDING> James Anthony sings John Prine's "All The Way With You," recorded April 9, 2020; on YouTube; (0:2:18)
RESIDING> "Austin City Limits" presents free concerts from Country greats and original acts on pbs.org
RESIDING> The Dexters R&B super group perform "Melon Collie Serenade" on YouTube (0:5:55)
RESIDING> Jessica Mondello performing covers & originals on Facebook ~songwriter (1:03:43)
RESIDING> Colin Brunton performs original song "Coronavirus Rhapsody" on Youtube (0:6:01)
RESIDING> Mark Malibu and the Wasagas perform Rockabilly PSA "Fight Covid-19" on YouTube (0:0:53)
RESIDING> Michael Theodore performing covers & originals on Facebook ~songwriter (1:17:01)
RESIDING> Home Routes podcast Show #22 with host Tim Osmond & tunes by Roots/Blues artists Kalyna Rakel [previous podcasts also accessible from page]
RESIDING> Instructional video "The Coronavirus Explained & What You Should Do" on YouTube (0:8:34)
Copyright © 2020 by Gary "17" Webb-Proctor & TorontoMoon.ca. All Rights Reserved