\ TO CENTRAL \
Some weekly open mics don't go ahead on holiday weekends and therefore several regular ones we're not certain about because the host musicians, clubs and promoters are all too lazy or stupid to post whether or not they are happening have "unconfirmed" after their entry in today's listings.
But it's a pretty rare Monday when there's no open stage at Free Times Café. And indeed the Free Times event is not only happening tonight in the room at 320 College St., for which sign-up time is 7p.m., it boasts a stellar host this evening who is not only an affable fellow but also well equipped to impart a few tricks and techniques to participating musicos.
An acclaimed fingerstyle guitar picker and elemental songwriter, D'Arcy Wickham not only demonstrates an impressive command of instruments and voice, he is also a professional instructor who has taught headline performers and had students referred to him by icons of the Canadian music scene.
D'Arcy comes by his expertise as a performer and teacher though dint of a long and admirable pedigree, beginning with his collaborations and touring with Ian Thomas in the early 1970s.
Although he bowed out of full-time performing after releasing a couple of singles in order to concentrate on teaching and raising a family, he sought out Thomas to produce his debut Dust and Loneliness album in 2000, which was immediately embraced by the Roots community.  Two of its tracks appear on composite cds released by Borealis Records and his music was compared in one review to "Jackson Browne or John Hiatt without an edge."  Another critic noted that his songs have "neither the unnecessary simplicity, nor the unnecessary complications" some writers fall prey to.
In the same straightforward but polished manner that he writes and performs songs of substance like those on his new Signal Hill album, he imparts tips and techniques on guitar, other stringed instruments and vocals in lessons at two locations and online.
His finely honed skills in performance and the studio, both solo or as accompaniment, and a successful 40-year career teaching, show Wickham to be a supremely well-rounded master of musical art.
If you're looking for more than just a chance to do the same old same old and hope to grow your music while enjoying the open stage experience, this might be the one to check out tonight.
-Gary 17, TorontoMoon.ca
[email protected] * [email protected]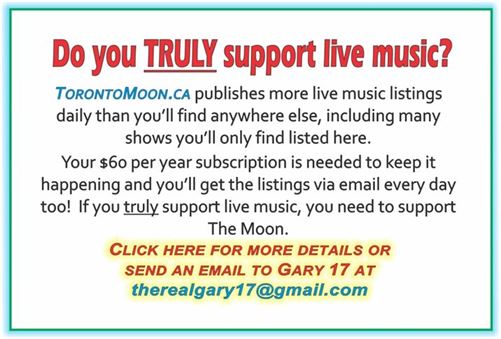 SHOW LISTINGS for

Monday, August 06, 2021
For KEY to listings codes and schemata see note at end of shows list.
Names of subscriberslyppear in bold, are underlined and, where applicable, include a live link to their Home or Event url.  FOR SUBSCRIPTION DETAILS VISIT: http://www.torontomoon.ca/subscribe/
Advertisers' listings are in larger, highlighted type, include live link to website and also have ad icon included in listings.  FOR ADVERTISING INFO VISIT:
http://www.torontomoon.ca/advertise-with-toronto-moon/
ON AIR/ONLINE
*6> "Underplayed and Underpaid" interviews and performances by Guelph area bands on CFRU 93.3 FM broadcast and online
6> "Soundcheck with Sabrina" with Sabrina Fallah @ Jungle 77.3 & online at http://www.jungle773.com/ ~eclectic tracks, interviews etc.
416 – TORONTO CENTRAL
Noon-1> Safe As Houses @ Union Station, 65 Front St. W. ~original Roots; $
12:15-1:15> Eastern European Romantics @ Holy Trinity Church, 10 Trinity Square
1-5> "Gospel Explosion" with Alynthia Lewis; DOAHL Academy; Kenny Blakel Jide Adeoye; Stephen Lewis; Abieyuwa Eweke; Exalted Praise  @ Harbourfront Centre, 234 Queens Quay W. ~contemporary Gospel; $0
*5-9> Jim Heineman Trio @ Mirto Italian Restaurant, 25 Toronto St. ~Jazz
6> Andrew Collins Trio @ Cameron House (front), 408 Queen St. W. ~songwriter
6-8> Priya Shan; Brandon Ben @ Tranzac Club (Southern Cross), 292 Brunswick St. ~songwriters
6:30> Otterville @ The Rex, 194 Queen St. W. ~Jazz; $
**7-1 (sign-up at 7, show starts

7:30

)> open stage with host D'Arcy Wickham @ Free Times Café, 320 College St.
*7-10> open stage with Brad Scott @ Lola, 40 Kensington Ave.
7> For the Fallen Dreams with Obey The Brave, Bodysnatcher, Prison, LOYALIST & Pillars of Autumn @ Hard Luck Bar, 772 Dundas St. W. ~Metal/Grunge/Hard-core; $
7:30> Godspeed You!; Black Emperor; Jessica Moss  @ Phoenix Concert Theatre, 410 Sherbourne St. ~contemporary original; $
7:30> Sean Jones @ Casa Loma Glass Pavilion, 1 Austin Terrace ~smooth Rock/Pop; $30
7:30-10:30 Balfolk @ Drom Taberna, 458 Queen St. W. ~folk dancing to live music fiddlers etc.
**8> open mic (2 songs; sign-up starts 8 p.m.) with host Chris Banks @ Tranzac Lounge (Southern Cross), 292 Brunswick Ave.
8> Greene/Theriot @ Tranzac Lounge (Tiki Room), 292 Brunswick Ave. ~spoken word improvisors
8> Post Malone @ Mod Club, 722 College St. ~contemporary original; $
8> Ukulele jam @ Tranzac Lounge (Main Hall), 292 Brunswick Ave.
**9-1:30> Kilowatt Band @ Grossman's, 379 Spadina Ave. ~Funk/R&B/Soul
9-2> Caribana Carnival parade & concerts @ Caribana Toronto, 21 Princes Blvd.
*9:30> open mic @ Amsterdam Bicycle Club, 54 The Esplanade
9:30> Daniel Jamieson's Danjam Orchestra @ The Rex, 194 Queen St. W. ~Jazz; $
10> Jordan John @ The Orbit Room, 580 College St. ~Jazz-Rock fusion; $
10> Stone Country @ Cameron House (front), 408 Queen St. W. ~Country/Roots-Rock/Rockabilly
10-2> Dan Gagnon @ The Hideout, 423 College St.
416 - TORONTO EAST
7> Gary Clark Jr.; Fiona Silver @ The Danforth Music Hall, 147 Danforth Ave.
7:30> Pamela Gilmartin & guest String Emergence @ The Old Nick, 123 Danforth Ave. ~songwriters; 0$
*7:30> The Advocats Big Band @ The Duke Live, 1225 Queen St. E. ~big band Swing Jazz/Soul; $10
8> (unconfirmed) open mic  @ Murphy's Law, 1702 Queen St. E.
*8:45-12> (unconfirmed) Riverboat Mondays acoustic open stage jam with Tyler Ellis @ Dora Keogh, 141 Danforth Ave.
*9-12> The Out of Towners @ Sauce on Danforth, 1376 Danforth Ave.
416 – TORONTO ETOBICOKE
2-8> Lakeshore Mardi Gras with Krista Blondin; Catch The Queen; Green River Revival @ Colonel Samuel Smith Park, 3145 Lake Shore Blvd. W. ~tributes; $0
416 – TORONTO SCARBOROUGH
5-11> Excel @ Tropical Nights, 1154 Morningside Ave. ~Reggae/Soul
7:30> Uke jam/workshop @ Stone Cottage Pub, 3750 Kingston Rd.
*8-12> open jam with All or Nothing @ Newfoundlander Tavern, 472 Danforth Road
416 – TORONTO WEST
5-8> Leah Daniels @ Aviva Centre, 1 Shoreham Drive ~Country songwriter; $?
7> Steele/Slous 5 @ The Emmet Ray, 924 College St. ~Jazz; pwyc
*8> open mic/jam @ The Wicket Pub, 1671 Bloor St. W. ~contemporary original; $
8> Olivia Chaney with Kate Boothman @ Drake Hotel Lounge, 1150 Queen St. W.
*8-11> open mic with Jean Baptiste De Collier @ Station Ale House, 2457 Bloor St. W.
*9-1> Hamstrung Stringband @ The Local, 396 Roncesvalles Ave. ~Bluegrass
*9-1> eclectic open stage/jam with host Nelson Sobral @ The Painted Lady, 218 Ossington Ave.
9> Palm Baker @ Burdock, 1184 Bloor St. W.
9:30> Coliln Fisher/Josh Cole/Spencer Cole @ The Emmet Ray, 924 College St. ~Jazz; pwyc
*10-11> (unconfirmed) The Skyliners @ Skyline Restaurant, 1426 Queen St. W. ~low-fi Soul/Blues
*10> (unconfirmed) open mic with host Liam Kearney @ The Hole In The Wall, 2867 Dundas St. W.
519
*5> open mic with Dennis Napper @ Rhapsody Barrel Bar, 179 King St. W., Kitchener
*7:30-12> open mic with Anthony Schmanthony @ The Cornerstone, 1 Wyndham St. N., Guelph
*8-12> open stage @ The Boathouse, 57 Jubilee Drive, Kitchener
*9-2> James Murray @ Jimmy Jazz, 52 Macdonell St., Guelph ~acoustic Pop covers & originals
9:30> David Scott @ McCabe's Irish Pub, 9 Wyndham St. N., Guelph ~acoustic Pop covers & originals
9:30> Turk and the Hobbits @ Duke of Wellington, 33 Erb St. W., Waterloo
705
*7> Rick & Gailie @ Black Horse Pub, 452 George St. N., Peterborough
8-12> jam night with Rob Drake @ Sticky Fingers Dunlop, 199 Essa Rd.
905 SOUTH
6> Michael Wainwright & Rick Labrie @ Innsville, 1141 Highway 8, Stoney Creek ~Beatles covers
*8> The New Rebel Westerners @ Cat 'n' Fiddle, 174 John St. S., Hamilton ~Country
905 WEST
11am-4> "Joseph Brant Day Festival" with Burlington Teen Tour Band; Healthy Aboriginal Men's Drum Circle; Halton Dance Network; Hoop Dancing Performance; Bare Blue Sea @ LaSalle Park, 50 North Shore Blvd. E., Burlington ~variety; $0
*8-12> jam with Tom Barlow @ Shore Grill, 71 Lakeshore Rd. E., Port Credit-Mississauga
**8-12> BBQ & jam night with Mimico Bill @ Moonshine Café, 137 Kerr St., Oakville; ($8.95 with BBQ dinner special starts at 6)
*8:30> Gracie @ Spice Lounge, 52 Lakeshore Rd. E., Port Credit-Mississauga ~Pop covers & originals
LISTINGS KEY
Listings are organized by area in which the shows occur and within each area field shows are listed chronologically.
Listings preceded by an asterisk (*) are repeating weekly events. (Double asterisk indicates repeating event with different hosts/guest/etc.). Events preceded by question mark (?) usually take place but have not been confirmed. Admission prices followed by a slash and minus (/-) after the amount indicates door charge with availability of cheaper rates for some purchasers (eg. students, seniors, members, etc.). /+ indicates stated price is minimum.
-Copyright © 2018 by Gary "17" Webb-Proctor & TorontoMoon.ca. All Rights Reserved