\ ETOBICOKE \
Anyone who's been a part of the live music scene for any length of time has probably had to learn the knack of turning a negative experience into a positive one —given that the industry is so full of knocks, setbacks, slings and arrows.
Outrage is certainly a proper response to what happened earlier this month to veteran Pop Rock singer-guitarist and songwriter Dan Walek —whose vintage 1970s-era Gibson SG guitar was stolen along with a Fender Pro Light Cube bass amp from his home in Mississauga while he gigged in Scarborough.
As if it weren't evil enough that someone would steal the tools of one's trade, it apparently was done by someone who knew him and wanted to wound, since the axe and amp apparently were all that was taken and later that day, after Dan posted about the theft on Facebook, someone hacked his account and put up a mocking gif.
But the anger that not only Dan but his legion of fans and musical friends from the several jams and open mics he runs weekly (about which we told you just last month) have understandably felt and expressed, has also led to some love coming his way.
Dan's longtime pal on the Scarborough music scene and sometimes-band mate, singer Al Reilly, has led the drive to raise a few bucks to help Dan replace the guitar with something equivalent —although of course there's no way you can ever really fill the hole left by losing an instrument with which you have a longstanding, emotional bond.
(Take a look at the pic accompanying the article btw, and if you see the instrument —a Gibson SG with serial number 034951369— for sale online or in a shop somewhere, either call the police or let Dan or I know —or just buy it and I know Dan will happily reimburse you for whatever you pay.)
Tonight Al is turning his weekly 8-12 jam at The Rockpile in Etobicoke into a mini-benefit to help Dan along with getting replacement six-string.
"Dan is one of the good guys that I have had the pleasure of knowing for 40 years who doesn't deserve this bullshit thievery as this man would give you the shirt off his back!!" Al posted in explaining why he's pitching in.
There'll be a donations jar, a 50-50 draw and a raffle (which will include a one-year subscription to TorontoMoon as one of the prizes).  Plus, of course, I'd expect Dan to be there and performing, along with the usual raft of excellent talents who populate the big stage in the room at at 5555 Dundas St. West a little east of The East Mall.
If you can't make it but want to help, Al has also set up an email account at which you can donate by email transfer: [email protected].
Ironically, while the perpetrator of the heinous theft may have hoped to hurt Dan by doing so (and did) the end result of the scumbag's actions will be the opposite:  by the time tonight's benefit is done I'd wager Dan will be smiling ear to ear as those who appreciate and care for him demonstrate their affection by pitching in to help.  The last laugh in this sorry episode will most certainly belong to Dan Walek.
-Gary 17, TorontoMoon.ca
[email protected] * [email protected]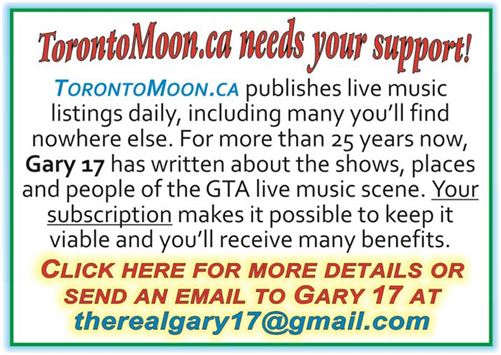 SHOW LISTINGS for

Monday, August 20, 2021
For KEY to listings codes and schemata see note at end of shows list.
Names of subscriberslyppear in bold, are underlined and, where applicable, include a live link to their Home or Event url.  FOR SUBSCRIPTION DETAILS VISIT: http://www.torontomoon.ca/subscribe/
Advertisers' listings are in larger, highlighted type, include live link to website and also have ad icon included in listings.  FOR ADVERTISING INFO VISIT:
http://www.torontomoon.ca/advertise-with-toronto-moon/
ON AIR/ONLINE
*6> "Underplayed and Underpaid" interviews and performances by Guelph area bands on CFRU 93.3 FM broadcast and online
6> "Soundcheck with Sabrina" with Sabrina Fallah @ Jungle 77.3 & online at http://www.jungle773.com/ ~eclectic tracks, interviews etc.
416 – TORONTO CENTRAL
12:15-1:15> The Bedford Trio @ Holy Trinity Church, 10 Trinity Square ~smooth Rock/Pop; $0
*5-9> Jim Heineman Trio @ Mirto Italian Restaurant, 25 Toronto St. ~Jazz
6> Andrew Collins Trio @ Cameron House (front), 408 Queen St. W.
6:30> Michael Davidson Group with Allison Au on sax @ The Rex, 194 Queen St. W. ~Jazz; $
**7-1 (sign-up at 7, show starts 7:30)> open stage with host Linda Saslove @ Free Times Café, 320 College St.
*7-10> open stage with Brad Scott @ Lola, 40 Kensington Ave.
7> Five Finger Death Punch; Breaking Benjamin; Bad Wolves; Nothing More @ Budweiser Stage, 909 Lake Shore Blvd. W. ~contemporary original; $
7> Beach House; Papercuts @ Sony Centre for the Performing Arts, 1 Front St. E. ~contemporary original; $
7:30> Nate Renner; Alex Samaras @ Tranzac Lounge (Southern Cross), 292 Brunswick Ave.
7:30> Drake with Aubrey Migos @ Scotiabank Arena / Air Canada Centre, 40 Bay St. ~contemporary original; $
7:30> Black Tusk; Whores; White Nails @ Lee's Palace, 529 Bloor St. W. ~Metal/Grunge/Hard-core; $
7:30-10:30 Balfolk @ Drom Taberna, 458 Queen St. W. ~folk dancing to live music fiddlers etc.
7:30> Sean Jones @ Casa Loma Glass Pavilion, 1 Austin Terrace ~smooth Rock/Pop; $30
**8> open mic (2 songs; sign-up starts 8 p.m.) with hosts Dave Lang & John Sladek @ Tranzac Lounge (Southern Cross), 292 Brunswick Ave.
8> Ukulele jam @ Tranzac Lounge (Main Hall), 292 Brunswick Ave.
8> Andre Pettipas and The Giants; Jesse Merineau; Moement @ Horseshoe Tavern, 370 Queen St. W. ~indie; $0
8:30> Daron McColl Trio @ The Cavern, 76 Church St.
**9-1:30> open mic/jam with features by Egg & The Breakfast Band; Kyle Grounds @ Grossman's, 379 Spadina Ave.
9> Stone Country @ Cameron House (front), 408 Queen St. W. ~Country; $0
*9:30> open mic @ Amsterdam Bicycle Club, 54 The Esplanade
9:30> Mike Herriott & The OTR Band @ The Rex, 194 Queen St. W. ~Jazz; $
10> Jordan John @ The Orbit Room, 580 College St. ~Jazz-Rock fusion; $
10-2> Dan Gagnon @ The Hideout, 423 College St.
416 - TORONTO EAST -Broadview/Bayview to Victoria Park
7-8:30> Summer Song Circle in-the-round open jam @ Withrow Park, 725 Logan Ave.
7:30> Sandra Bouza; more @ The Old Nick, 123 Danforth Ave. ~songwriters; 0$
*7:30> Uptown Swing Band @ The Duke Live, 1225 Queen St. E. ~big band Swing Jazz/Soul; $10
**8> open mic with host Adam Caranfa Murphy's Law, 1702 Queen St. E.
*8:45-12> Riverboat Mondays acoustic open stage jam with guest host Julian Taylor @ Dora Keogh, 141 Danforth Ave.
*9-12> The Out of Towners @ Sauce on Danforth, 1376 Danforth Ave.
416 – TORONTO ETOBICOKE
416 – TORONTO SCARBOROUGH
7:30> Uke jam/workshop @ Stone Cottage Pub, 3750 Kingston Rd.
*8-12> open jam with All or Nothing @ Newfoundlander Tavern, 472 Danforth Road
416 – TORONTO WEST -Ossington to Etobicoke
6-9> Ivy Knight @ Dakota Tavern, 249 Ossington Ave.
7> Ben MacLean @ The Emmet Ray, 924 College St. ~Jazz; pwyc
7:30> Emily Pettet, Rae Maitland, Nancy Kenny, Remington North @ Burdock, 1184 Bloor St. W. ~eclectic indie; $10
8> Tenshi; Moreno Gomes; The Purcell Project @ Smiling Buddha, 961 College St. ~indie; $
*8> open mic/jam @ The Wicket Pub, 1671 Bloor St. W.
*8-11> open mic with Jean Baptiste De Collier @ Station Ale House, 2457 Bloor St. W.
8:30> Beppe Gambetta @ Hugh's Room Live, 2261 Dundas St. W. ; $
*9-1> Hamstrung Stringband @ The Local, 396 Roncesvalles Ave. ~Bluegrass
*9-1> eclectic open stage/jam with host Nelson Sobral @ The Painted Lady, 218 Ossington Ave.
9:30> Jeff LaROchelle Quartet @ The Emmet Ray, 924 College St. ~Jazz; pwyc
*10-11> The Skyliners @ Skyline Restaurant, 1426 Queen St. W. ~low-fi Soul/Blues
*10> open mic with host Liam Kearney @ The Hole In The Wall, 2867 Dundas St. W.
519
*7:30-12> open mic with Anthony Schmanthony @ The Cornerstone, 1 Wyndham St. N., Guelph
*8-12> open stage @ The Boathouse, 57 Jubilee Drive, Kitchener
*9-2> Anthony Damiao @ Jimmy Jazz, 52 Macdonell St., Guelph ~acoustic Pop covers & originals
9:30> David Scott @ McCabe's Irish Pub, 9 Wyndham St. N., Guelph ~acoustic Pop covers & originals
705
*7> Rick & Gailie @ Black Horse Pub, 452 George St. N., Peterborough
8-12> jam night with Rob Drake @ Sticky Fingers Dunlop, 199 Essa Rd.
10> Barry Hunnakka @ British Arms Pub, 29 Dunlop St. E., Barrie ~acoustic Pop covers & originals; $0
905 EAST
6> Rob Phillips @ Arthur's Pub, 930 Burnham St., Cobourg ~Jazz
7-10> open mic @ The Music Scene, 1916 Dundas St. E., Whitby
*8-11> open mic & karaoke @ Simcoe Blues & Jazz, 926 Simcoe St. N., Oshawa
905 NORTH
5:30> Momondays Aurora @ Aw Shucks, 15230 Yonge St., Aurora ~networking, musical performances, spoken word; $25
7-1> open mic @ The Barrel, 2180 Steeles Ave. W., Vaughan
9:25-1:05> jam/open stage with backline @ Sneakers Uptown, 18025 Yonge St., Newmarket
905 SOUTH
Noon-1> Ginger St. James @ Hamilton City Hall outdoors, 71 Main St. W., Hamilton ~acoustic Pop covers & originals; $0
Noon-2> Miles Evans-Branagh @ Jackson Square, Hamilton, 2 King St. W. ~smooth Rock/Pop; $0
6> Michael Wainwright & Rick Labrie @ Innsville, 1141 Highway 8, Stoney Creek ~Beatles covers
6:30>> Greensville Guitar Pickers jam @ Greensville Branch Library, 59 Kirby Ave., Hamilton
*8> The New Rebel Westerners @ Cat 'n' Fiddle, 174 John St. S., Hamilton ~Country
8> Kommissars; Human Nun; Max & Maxine Moon @ This Ain't Hollywood, 345 James St. N., Hamilton ~Punk/Thrash; $
905 WEST
*8-12> jam with Tom Barlow @ Shore Grill, 71 Lakeshore Rd. E., Port Credit-Mississauga
*8:30> Gracie @ Spice Lounge, 52 Lakeshore Rd. E., Port Credit-Mississauga ~Pop covers & originals
LISTINGS KEY
Listings are organized by area in which the shows occur and within each area field shows are listed chronologically.
Listings preceded by an asterisk (*) are repeating weekly events. (Double asterisk indicates repeating event with different hosts/guest/etc.). Events preceded by question mark (?) usually take place but have not been confirmed. Admission prices followed by a slash and minus (/-) after the amount indicates door charge with availability of cheaper rates for some purchasers (eg. students, seniors, members, etc.). /+ indicates stated price is minimum.
-Copyright © 2018 by Gary "17" Webb-Proctor & TorontoMoon.ca. All Rights Reserved