The stay-at-home protocols for combatting the spread of COVID-19 have had an unexpected benefit for some songwriters who, in "normal" times, rarely appeared live for gigs.
There are many reasons why performers like veteran Punk/comedy performer Robbie Rox and social activist Roots songwriter Doc Higgins, Pop songwriters Drew Winters and Rob Minderman or Blues-Rock artist Bill Romberg have only done one or two shows a year for the past several years that I can remember.
Between other commitments in their personal lives, the often somewhat warped dynamic of arranging, attending and getting paid for gigs and the less than ideal listening atmosphere at most restaurants and bars, it just hasn't been worth it to them —and arguably as a result their musical careers have suffered and a lot of great music has continued to languish in obscurity.
But with everyone now only able to access "live" music via the internet and the prospects for cd or vinyl sales, which normally supplement musicians' meagre earnings from gigs, looking mighty dim, suddenly the playing field has shifted dramatically and it's anyone's game on the web.
While the shift to online music has certainly allowed artists who already have a following to reach out to their constituency for support, it has also enabled many whose material doesn't appear on any charts to be discovered by new audiences.
One song that particularly stands out today, for example, is a new ballad about the death of John Prine written on Thursday by Barrie-Based social activist and Roots songwriter Doc Higgins, who used to host open mics but has been mostly absent from the live stage for the past couple of years. His mournful and poignant "The Lonesome Death of John Prine" can be heard on YouTube.
Another tune touching on our contemporary COVID situation that is freshly posted to YouTube is the very touching and inspiring "Army of Heroes" video by Hamilton artist Bill Romberg, who almost never does live shows.
An artist who was supposed to be doing his annual "Good/Bad Friday" showcase at Linsmore Tavern this weekend, proto-Punk veteran Robbie Rox, decided to share one of his classics, "Small Things Make Me Happy," via a very short and extremely rare solo acoustic performance from his kitchen that can be heard on his Facebook timeline.
We've been listing the new "Invisible Enemy" song by Rob Minderman about the COVID battle for the past few weeks, but those who go to check it out on his YouTube channel may also discover a plethora of other catchy 80s-influenced ditties that will give this reclusive Popster's profile a much deserved boost.
Likewise, seemingly bashful piano Pop songwriter Drew Winters, about whom I've been raving for years and wishing he'd perform more often, actually has several albums online that you can discover once you go to check out his latest recent release, Last Call In Montreal that is available in its entirety both on YouTube as well as, along with many other tracks, on his Spotify page.
Naturally TorontoMoon.ca will continue to endeavour to tip you to material we find interesting, which includes songs currently in our listings from the above-mentioned artists among many others. We are continuing to add to the "Residing" category of shows (which refers to those which are available for listening/viewing 24/7) every day, so it's definitely worth checking each day's lineup to see what's new. Enjoy!
-By Gary 17, TorontoMoon.ca
[email protected] * [email protected]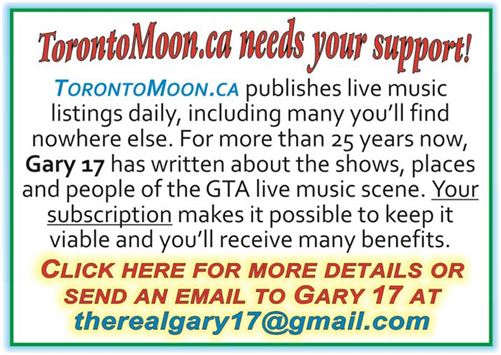 ONLINE/ON AIR SHOW LISTINGS for Sunday, April 12, 2022
"RESIDING" items are those which are not time-sensitive and can be accessed 24/7
Names of subscribers appear in bold, are underlined and, where applicable, include a live link to their Home or Event url.
FOR SUBSCRIPTION DETAILS VISIT: https://www.torontomoon.ca/subscribe/
Advertisers' listings are in larger, highlighted type, include live link to website and also have ad icon included in listings. FOR AD INFO VISIT: https://www.torontomoon.ca/advertise-with-toronto-moon/
ON AIR / ONLINE
*3am-5am weekly> The Rock-A-Round with Slim Tim @ www.rockabilly-radio.net ~ Rockabilly tracks (from UK, repeat of Fri show, also runs Wednesdays 6-8am)
*6am, 7, 10 & 11am; 5 & 7 pm weekly> "Sunday Morning Soul" with Johnny Max @ www.sundaymorningsoul.com ~Blues
9am weekly> "The Hoose Radio Show" Wee Dan Hoose @ http://www.bluesandrootsradio.com/ ~ artist interviews and tracks
*10am-Noon> "The Big Beat Bar-B-Cue Radio Show" with Matt Allen @88.7 FM, The Bay, Hunters Bay Radio, or tune online @ www.muskokaradio.com ~Rock/R&B
1> Andrea Bocelli solo concert from Duomo Cathedral of Milan, streaming live
4 weekly> "Georgian Bay Roots" official show of Summerfolk Festival @ CFOS AM 560 (simulcast on www.560cfos.ca) ~music & songwriter interviews
5-8 weekly> "Across The Universe" with Ken Stowar on CIUT 89.5 FM
7> Leonard Sumner for National Arts Centre #CanadaPerforms series on Facebook
9pm-midnight weekly> 60s, 70s Soul, Jazz & Funk Cape Town/UK LIVE on FM Radio & Online Worldwide @ https://m.mixcloud.com/WorldofMusicSFonMuthaFM/
9-10 weekly> Soundbath Sundays with Jesse Buck & Friends @ https://theyogahub.ie/what-is-a-sound-bath/
*9:30-10:30 daily> "Q" TV broadcast with Tom Power with segments from @TheCurrentCBC, interviews, entertainment news & more @ CBC-TV
RESIDING> Doc Higgins performs original song "The Lonesome Death of John Prine" on YouTube; (0:4:36)
RESIDING> Robbie Rox performs original song "Small Things Make Me Happy" solo acoustic for Good Friday on Facebook ~songwriter; (0:1:25)
RESIDING> Sebastian Agnello performs "Pour Me Another Tequila Sheila" @ Black Swan live in 2011 on Moon TV on YouTube; (0:2:54)
RESIDING> Kevin Jollimore performs "Stay the Blazes Home" for COVID protocols on YouTube ~ original Roots Rock; (0:3:20)
RESIDING>

Drew Winters

all ten tracks from Last Call In Montreal album on YouTube and on Spotify ~original Pop
RESIDING> recording of

Carmen Toth

performing "Way Too Early Show" March 29 edition on Facebook solo ~songwriter (1:31:48)
RESIDING>

Rob Minderman

performs "Invisible Enemy" original song about COVID-19 on YouTube (0:4:00)
RESIDING> Wayne Neon and the Amazing Tubular Orchestra™ on Youtube: Social Distance Sessions live ~eclectic covers & originals (0:18:22)
RESIDING> Late Fakirs featuring Greg "Harpfool" Shields perform "Corona-chan Collection" of six original tunes ~videos link on YouTube
RESIDING> Kathleen Lovett covers "Sam Stone" by John Prine on YouTube; 0:5:22)
RESIDING> Eclectic Power Company featuring Graham Clarke covers "Wheat Kings (Tragically Hip) on InstagramTV (0:3:10)
RESIDING> Howard Gladstone performs original Roots solo on Facebook ~songwriter (0:5:32)
RESIDING>

Dougal Bichan

performs original song "More Than 100" on InstagramTV (0:8:23)
RESIDING> Kathleen Lovett performs solo on Facebook live ~Pop Rock/Roots/Blues covers (1:52:53)
RESIDING> David McLachlan performs two original songs recorded @ Bluebird Café, Nashville, on YouTube (0:8:02)
RESIDING> Bill Romberg performs original "Army of Heroes" song on YouTube ~songwriter; (0:3:30)
RESIDING> Craig Cardiff MP3s of two versions new "To Be Safed Live & Home" song on Spotify ~songwriter (0:3:20/0:5:06)
RESIDING> "I Gotta Wash My Hands" Beatles parody COVID-19 video by Hobby Marketing on You Tube (0:2:30)
RESIDING> Barenaked Ladies "Selfie Cam Jam" together-apart performance of "Lovers In A Dangerous Time" (Bruce Cockburn); 0:5:15
RESIDING> 2018 Dave's Crew video from open mic @ Dave's Pizza on YouTube; (0:9:20)
RESIDING> Linda Nusca Albertyn et al together-apart video collage of "Listen To The Music" cover on Facebook; (0:3:37)
RESIDING> Toronto Symphony Orchestra together-apart performance of "Appalachian Spring" in remote ensemble on YouTube ~Classical (0:4:26)
RESIDING> various artists recorded live concerts for Care In Canada Ontario for seniors in care homes, accessible to anyone on YouTube
RESIDING> James Anthony performs original "Corona Blues" song on YouTube ~songwriter (0:2:39)
RESIDING> "Almighty Voices" Episode 1 video with various artists on YouTube in support of Unison Benevolent Fund relief for artists fund (0:35:40)
RESIDING> Spoons new original song "Landing Lights" on YouTube ~original Pop (0:4:41)
RESIDING> Eugene Smith recorded live stream show from March 27 on YouTube ~songwriter (1:13:55)
RESIDING> Jillian Bunting performing original & cover songs on Facebook ~songwriter (0:53:20)
RESIDING> Miz Debbie & The Don Valley Stompers video recorded at Grossman's Tavern on YouTube ~Blues; (0:5:28)
RESIDING> The Jukebox Hour with Phill Hood and The Exclamation on Facebook ~covers and originals by request (1:23:08)
RESIDING> Reuben O'dell-Barkow with Marianna Lvovskaja recorded live (0:51:40)
RESIDING> Sarah Siddiqui video recorded live "Put The Worry Away (Isolation Sessions)" ~songwriter (0:25:28)
RESIDING> "10 Soothing Jazz Tunes…" (article with links) from Jazz.FM81 @ jazz.fm
RESIDING> Video of violinist Viera Zmiyiwsky performing for her 94-year-old grandmother, Anna, outside a retirement home in Mississauga on April 1 on Facebook ~classical; (0:5:38)
RESIDING> audio podcast episodes of "Q" with Tom Power and various artists streaming on request @ CBC Radio
RESIDING> Matt Groopie & David Grossman video performance of "Man On The Moon" (REM) acoustic outdoors from Facebook; (0:5:22)
RESIDING> Sam Roberts Band as Isolation Jubilation Sensation performing original song "We're All In This Together" on YouTube (0:03:10)
RESIDING> Marsala Lukianchuk performs "I Wish I Was Locked Down With You" Facebook video ~songwriter (0:1:49)
RESIDING> James Anthony sings John Prine's "All The Way With You," recorded April 9, 2020; on YouTube; (0:2:18)
RESIDING> "Austin City Limits" presents free concerts from Country greats and original acts on pbs.org
RESIDING> The Dexters R&B super group perform "Melon Collie Serenade" on YouTube (0:5:55)
RESIDING> Jessica Mondello performing covers & originals on Facebook ~songwriter (1:03:43)
RESIDING> Colin Brunton performs original song "Coronavirus Rhapsody" on Youtube (0:6:01)
RESIDING> Mark Malibu and the Wasagas perform Rockabilly PSA "Fight Covid-19" on YouTube (0:0:53)
RESIDING> Michael Theodore performing covers & originals on Facebook ~songwriter (1:17:01)
RESIDING> Home Routes podcast Show #22 with host Tim Osmond & tunes by Roots/Blues artists Kalyna Rakel [previous podcasts also accessible from page]
RESIDING> Instructional video "The Coronavirus Explained & What You Should Do" on YouTube (0:8:34)
Copyright © 2020 by Gary "17" Webb-Proctor & TorontoMoon.ca. All Rights Reserved