Although some may argue that the very existence of a ukulele is an effective social distancing tool (hey, at least it's not bagpipes!) for regular participants in the Mondays alternating Scarborough Uke Jam open mic and Song Circle sessions at Olde Stone Cottage it's a unifying device.
These days, of course, it's not possible for the crowd of uke-playing jammers to gather in the stately old edifice on Kingston Road for the 7:30-9 sessions, so the events have gone virtual.
To watch or participate you'll need to be a member of the SUJ Facebook group. I guess it helps if you also own a ukulele but I know from first-hand experience that this is not required. And you may find yourself amazed by the versatility and musical prowess that some players display on the little instrument.
Tonight organizer Jay Moonah will host a "live 'watch party' jam" on Facebook to which videos can be uploaded to the group by members ahead of time. Next week he co-ordinates a Uke jam on the Zoom platform and so on until the COVID isolation protocols end and the bar can reopen.
When you visit the event page for tonight's "gathering" on Facebook there's also some details about the best way to view the show.
In lieu of the small cover charge usually levied for physical participation in the real, Jay is asking for donations to be made to the serving staff of the bar, by sending an e-transfer to [email protected].
-By Gary 17, TorontoMoon.ca
[email protected] * [email protected]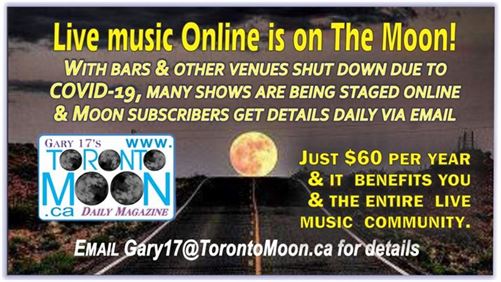 ONLINE/ON AIR SHOW LISTINGS for Monday, April 06, 2022
Names of subscribers appear in bold, are underlined and, where applicable, include a live link to their Home or Event url. FOR SUBSCRIPTION DETAILS VISIT: https://www.torontomoon.ca/subscribe/
Advertisers' listings are in larger, highlighted type, include live link to website and also have ad icon included in listings. FOR ADVERTISING INFO VISIT:
https://www.torontomoon.ca/advertise-with-toronto-moon/
*6am-6am> CBCMusic shows feature all-Canadian content @ CBC Radio One
3-7> Julian Taylor hosts @ 106.5 ELMNT FM in Toronto & www.elemntfm.ca ~eclectic music 25% indigenous, 35% CanCon
4> Shawna Caspi for National Arts Centre #CanadaPerforms series on NAC Facebook page ~songwriter
4-6pm: Blues Source Canada w Ken Wallis @ 101.5 FM or 1015thehawk.ca
*5-6> "Out of The Bassment" with host Keiko Gutierrez @ 93.3 CFMU Hamilton and online at http://cfmu.ca/shows/21-out-of-the-bassment ~music featuring bass players
*6> "Underplayed and Underpaid" interviews and performances by Guelph area bands on CFRU 93.3 FM broadcast and online
6> "Soundcheck with Sabrina" with Sabrina Fallah @ Jungle 77.3 & online at http://www.jungle773.com/ ~eclectic tracks, interviews etc.
*7:30-9> Scarborough Uke Jam virtual jam on Zoom (video and/or audio)
9> Home Routes presents National Online Folk Festival streamed on Facebook, with Ian Foster ~Newfoundland songwriter
*9:30-10:30> "Q" TV broadcast with Tom Power with segments from @TheCurrentCBC, interviews, entertainment news & more @ CBC-TV
RESIDING> Drew Winters all ten tracks from Last Call In Montreal album on YouTube and on Spotify ~original Pop
RESIDING> Rob Minderman performs "Invisible Enemy" original song about COVID-19 on YouTube (0:4:00)
RESIDING> Wayne Neon and the Amazing Tubular Orchestra™ on Youtube: Social Distance Sessions live ~eclectic covers & originals (0:18:22)
RESIDING> Late Fakirs featuring Greg "Harpfool" Shields perform "Corona-chan Collection" of six original tunes ~videos link on YouTube
RESIDING> Eclectic Power Company featuring Graham Clarke covers "Wheat Kings (Tragically Hip) on InstagramTV (0:3:10)
RESIDING> recording of Carmen Toth performing "Way Too Early Show" March 29 edition on Facebook solo ~songwriter (1:31:48)
RESIDING> Howard Gladstone performs original Roots solo on Facebook ~songwriter (0:5:32)
RESIDING> Dougal Bichan performs original song "More Than 100" on InstagramTV (0:8:23)
RESIDING> Kathleen Lovett performs solo on Facebook live ~Pop Rock/Roots/Blues covers (1:52:53
RESIDING> David McLachlan performs two original songs recorded @ Bluebird Café, Nashville, on YouTube (0:8:02)
RESIDING> "I Gotta Wash My Hands" Beatles parody COVID-19 video by Hobby Marketing on You Tube (0:2:30)
RESIDING> Barenaked Ladies "Selfie Cam Jam" together-apart performance of "Lovers In A Dangerous Time" (Bruce Cockburn); 0:5:15
RESIDING> Toronto Symphony Orchestra performs "Appalachian Spring" in remote ensemble on YouTube ~Classical (0:4:26)
RESIDING> "Almighty Voices" Episode 1 video with various artists on YouTube in support of Unison Benevolent Fund relief for artists fund (0:35:40)
RESIDING> Eugene Smith recorded live stream show from March 27 on YouTube ~songwriter (1:13:55)
RESIDING> James Anthony performs original "Corona Blues" song on YouTube ~songwriter (0:2:39)
RESIDING> Jillian Bunting performing original & cover songs on Facebook ~songwriter (0:53:20)
RESIDING> "The Jukebox Hour" video from April 2 with Phill Hood and The Exclamation on Facebook ~covers and originals by request (2:37:50)
RESIDING> Marsala Lukianchuk performs "I Wish I Was Locked Down With You" Facebook video ~songwriter (0:1:49)
RESIDING> Reuben O'dell-Barkow with Marianna Lvovskaja recorded live (0:51:40)
RESIDING> Sarah Siddiqui video recorded live "Put The Worry Away (Isolation Sessions)" ~songwriter (0:27:52)
RESIDING> "10 Soothing Jazz Tunes…" (article with links) from Jazz.FM81 @ jazz.fm
RESIDING> Video of violinist Viera Zmiyiwsky performing for her 94-year-old grandmother, Anna, outside a retirement home in Mississauga on April 1 on Facebook ~classical; (0:5:38)
RESIDING> audio podcast episodes of "Q" with Tom Power and various artists streaming on request @ CBC Radio
RESIDING> Matt Groopie & David Grossman video performance of "Man On The Moon" (REM) acoustic outdoors from Facebook; (0:5:22)
RESIDING> Sam Roberts Band as Isolation Jubilation Sensation performing original song "We're All In This Together" on YouTube (0:03:10)
RESIDING> Jessica Mondello performing covers & originals on Facebook ~songwriter (1:03:43)
RESIDING> "Austin City Limits" presents free concerts from Country greats and original acts on pbs.org
RESIDING> The Dexters R&B super group perform "Melon Collie Serenade" on YouTube (0:5:55)
RESIDING> Colin Brunton performs original song "Coronavirus Rhapsody" on Youtube (0:6:01)
RESIDING> Mark Malibu and the Wasagas perform Rockabilly PSA "Fight Covid-19" on YouTube (0:0:53)
RESIDING> Michael Theodore performing covers & originals on Facebook ~songwriter (1:17:01)
RESIDING> Home Routes podcast Show #22 with host Tim Osmond & tunes by Kalyna Rakel [previous podcasts also accessible from page] (0:21:31)
RESIDING> Instructional video "The Coronavirus Explained & What You Should Do" on YouTube (0:8:34)
x
-Copyright © 2020 by Gary "17" Webb-Proctor & TorontoMoon.ca. All Rights Reserved