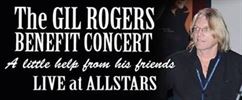 \ BRAMPTON \
A benefit show taking place tonight at All Stars Bar & Grill in Brampton (73 Bramalea Rd.) that had been organized with the goal of helping music promoter Gil Rogers recover from a sudden recent illness is now planning to donate proceeds to his family to cover the costs of his funeral.
Rogers, a veteran promoter/organizer with Concert Productions International and for Q107 events passed away January 10 after spending a week in hospital after taking sick shortly after New Year's Day with what longtime companion Julie Gallant described as "flu like symptoms" in a post on his Facebook timeline the day after he was admitted.
Hospital examination revealed "he was bleeding internally and his liver was failing" and though the bleeding was staunched "his auto immune was obviously low so he caught a Strep 2 virus in his blood stream." With his liver not absorbing toxins, they collected in his kidneys, which developed complications leading to him being put on a respirator in a coma after his body became unable to breathe. Things didn't improve and he passed sometime on Saturday.
Halton-Peel area Blues booker Joe Pinto had begun organizing tonight's benefit, which starts at 6 p.m., after hearing about Gil's hospitalization on January 6 and has assembled an impressive roster of talents to perform.
The lineup includes: Larry Melton; Suzie Q Groove & Alan Truda Edwards; Mint; Amber's Dragon; Chris Newman & JT Harris; Al Reilly's Catalyst; Frank Cosentino jam with Earl Johnson, Phil Naro, Joe Pinto et al; James Alcock of Rockin' A Hard Place; Roland Roxx & Rockin' Buds; Psychotic Authority.
-Gary 17, www.TorontoMoon.ca