\ TO WEST \
Musicians and their fans in the Junction area are calling on people to boycott performing at or patronizing longtime live music venue Axis Gallery & Grill after a band's show was cancelled with no compensation upon their arrival at the bar last Saturday night.
It's the latest in a series of episodes and changes that has several veteran performers in the area saying the place has gone downhill since owner Jack Wang took it over in June of last year.
Once-regular performers and patrons there such as Derek Downham and Michelle Rumball (who respectively posted Monday on a Facebook post calling for a boycott that "the decline continues" and the new owners "seemed skeevy" from the outset) have indicated they will no longer have anything to do with the room after this latest boondoggle.
When members of The Blues Miners band fronted by veteran bass player and music enabler in the area Dave McManus arrived at the club at 3048 Dundas St. W. on June 16 and began setting up for the gig that was still being advertised with a poster on the front door, initially nobody bothered to tell them that their gig had been cancelled.
(In retrospect that fact that a large freezer was positioned on the stage area where bands normally play should have alerted them, but the veteran players, used to all sorts of strange bar behaviours, shrugged and began placing their gear around it.)
Guitarist Mike Sedgewick related on Facebook the next day that "I walked in 3 loads of gear from the car and nobody said anything.  Wasn't until a band member saw me and told me gig was cancelled."
Sax player/vocalist George Baumann posted that "as I was setting up my gear on the stage, the owner came up and explained that he had received a big fine from the city for a 'noise violation' and that he was cancelling all live music … beginning tonight."
Wang told TorontoMoon.ca in a telephone interview on June 20 that he "had no choice" but to cancel the show because "two guys came from the City and said 'you can't do that'" after "neighbours upstairs" complained about the noise from the show the week before and he was issued a $300 ticket that night that he had subsequently paid.
"It's unfortunate," he said.  "I like the music, but people upstairs complained."  He said he "tried to find the number" of band leader McManus to tell him the show was cancelled "but I couldn't find it anywhere."
McManus tells us, however, that "every page in the 'band book' where I made bookings there" over a period of more than 15 years "included band name, MY name and land-line number," and that Wang's wife Crystal had said nothing to him when he put up posters earlier in the week while she was there nor when he had brought in his gear around 2:30 on the afternoon of show as she watched from behind the bar.
McManus said that he heard later "that Jack had said he told one of the girls to call and cancel all the summer bookings" but that "no one called me."  Still, as of June 19 "no one has called Ken Yoshioka, who was booked for June 23," he said Tuesday evening.
Naturally, as is all too common when such fiascos occur, no offer of any compensation whatsoever has been forthcoming from the club.  Wang gave no explanation for why the band was not offered even part of their expected fee.
If this were a one-off situation it might be possible to overlook it or put it down to a big misunderstanding.  But it wasn't without cause that, in a recent article about the Hump Night Blues shows that McManus had been putting on at Axis —until they were cancelled with a few days notice and subsequently moved elsewhere— I included the descriptor "disintegrating" immediately preceding the club's name.
It's a sad turn of events in a bar about which I've written glowingly many times over the past 17 years of its existence, starting even before we reported in 2005 on the launch of the now-legendary (and sadly now long gone) Tuesday night jam hosted by Derek Downham and its 11-year run and including recounting in a 2013 article how the bar helped shaped the evolution of the local area's music scene.
The Saturday night episode, however, is part of a recent pattern of treating musicians and their rights and needs as an after-thought, with behaviours you could never get away with in dealing with a plumber, electrician, locksmith or the guys who replace shattered windows.
Since Wang took over Axis has gradually abandoned its traditional constituency of local musicians and artists by systematically cutting out shows.  It has desecrated the famed "three trees patio" that I first wrote about more than 15 years ago, when the club was starting to make a name for itself on the live music scene, by installing gaudy aluminum awnings.  And increasingly, we're told, beleaguered staff has been either quitting or starting to work shifts elsewhere with a view to relocating, unable to cope with the change in vibe and customers' unhappy reactions to it.
Veteran Juno-winning Blues songwriter Julian Fauth, who had staged Saturday and Sunday brunch shows there for close to a decade under previous owner Roger, merited no more respect.  After the club dropped his Saturday shows a few months ago, he subsequently learned that his Sunday show was also being cancelled when the cook told him ten minutes before the end of his April 15 show that it would be the last.  The cook got the job of delivering the news with such little class because "none of the [serving] girls would do it," McManus told me.
Another musician, songwriter Brian Jantzi, recollected on the Facebook boycott thread, started by McManus's daughter Sarah McManus, that he "had my first paying gig at Axis when I returned to Toronto 10 years ago. And the Tuesday jams with Derek Downham were the best. Bob Cohen and I showed up one night recently for our gig and the same thing. Duh, what gig?  Axis gets Jackshit from me."
Despite the frequency of such incidents, until now the current owner has been given chance after chance by McManus, rightly dubbed the musical "mayor of the Junction" for his role in helping to start the live music program in that room under original owners John and Adam shortly after a vote in the 2000 municipal election allowed alcohol to be served in the Junction area restaurants for the first time in three generations.  In addition to performing at Axis in various configurations (and patronizing it regularly) he's also booked shows for a myriad of other acts there and at other area bars during the past 17 years.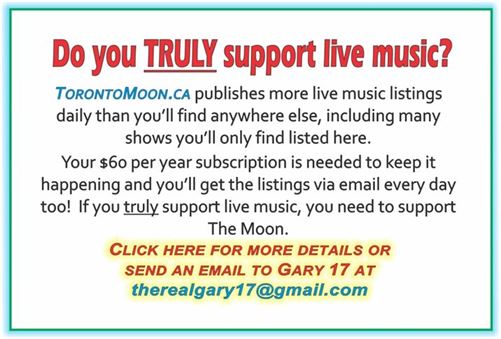 I recall vividly a conversation I had with him on barstools at Axis back at the beginning, when founding owners Adam and John were still there, in which he boldly predicted that the Junction area was going to become a very happening live music zone now that bars were being allowed.  Since then, more than anyone but along with other local scene veterans like Downham and superfan Howie Moore, he's been the primary mover and shaker who created a vibrant live music hotbed on a strip that used to be culturally barren.
"On the weekend before our last Hump Night Show, one of the girls said, 'I'm glad you're here, I have to talk to you,'" McManus recalled.  "She went on to say that she had received a text message from Crystal saying 'No more music on Wednesdays after this week.'"
Even after his Wednesday series after was dropped with no chance for a proper finale and in similar fashion to how Fauth was cancelled, McManus continued to bring his Blues Miners and other bands in at least twice a month.
"Unfortunately the abusive relationship analogy is probably apt … After working so long to get the music ball rolling in this 'hood, it's hard to let go," he told me.
After this past weekend's final insult, however, McManus says he is now at the end of his rope with this place.
"No more.  I feel bad for The Junction, but I feel worse for the great musicians I'm working with.  Time to move on."
That will start with this coming Saturday night, when the act that was supposed to play Axis as part of the annual Junction Summer Solstice Festival celebration (Madagascar-born Zydeco/Afro-Blues sensation Donné Roberts, McManus, guitarist/singer Yoshioka and special guest Taro Ishikawa on harp) has now been shuffled over to nearby La Rev at 2848 Dundas St. West at Keele.
At Axis during the event, meanwhile, they plan "to peddle ice cream through the front window" from the freezer on the stage during the summer months, McManus said a staffer has since told him.
"Jack says he'll book bands in the fall —not if I still have any influence in the 'hood," he stated emphatically.
If the room isn't able to get live music acts and patrons start staying away, brighter days could be around the corner:  McManus said he received a message this week "from a former Junction bar owner asking me to alert him when this guy is ready to sell."
With the help of the music community putting the word out about the lack of business ethics there and encouraging their friends to boycott the room, hopefully that will be soon.
-Gary 17, TorontoMoon.ca
[email protected] * [email protected]