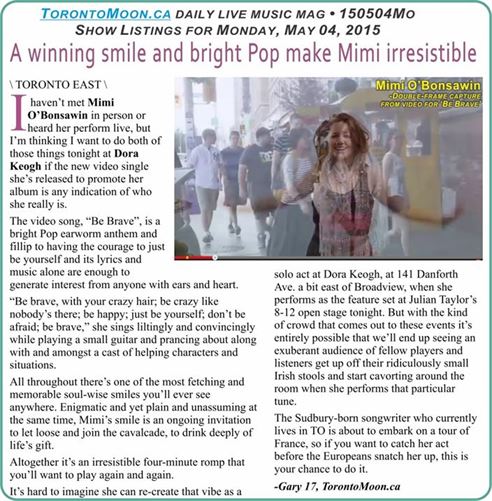 \ TORONTO EAST \
I haven't met Mimi O'Bonsawin in person or heard her perform live, but I'm thinking I want to do both of those things tonight at Dora Keogh if the new video she's released to promote her album is any indication of who she really is.
The video song, "Be Brave", is a bright Pop earworm anthem and fillip to having the courage to just be yourself and its lyrics and music alone are enough to generate interest from anyone with ears and heart.
"Be brave, with your crazy hair; be crazy like nobody's there; be happy; just be yourself; don't be afraid; be brave," she sings liltingly and convincingly while playing a small guitar and prancing about along with and amongst a cast of helping characters and situations.
All throughout there's one of the most fetching and memorable soul-wise smiles you'll ever see anywhere. Enigmatic and yet plain and unassuming at the same time, Mimi's smile is an ongoing invitation to let loose and join the cavalcade, to drink deeply of life's gift.
Altogether it's an irresistible four-minute romp that you'll want to play again and again.
It's hard to imagine she can re-create that vibe as a solo act at Dora Keogh, at 141 Danforth Ave. a bit east of Broadview, when she performs as the feature set at Julian Taylor's 8-12 Monday open stage tonight. But with the kind of crowd that comes out to these events it's entirely possible that we'll end up seeing an exuberant audience of fellow players and listeners get up off their ridiculously small Irish stools and start cavorting around the room when she performs that particular tune.
The Sudbury-born songwriter who currently lives in TO is about to embark on a tour of France, so if you want to catch her act before the Europeans snatch her up, this is your chance to do it.
-Gary 17, TorontoMoon.ca
SHOW LISTINGS for Monday, May 04, 2022
Listings are now organized by area in which the shows occur and within each area field shows are listed chronologically.
Listings preceded by an asterisk (*) are repeating weekly events. (Double asterisk indicates repeating event with different hosts/guest/etc.). Admission prices followed by a slash and minus (/-) after the amount indicates door charge with availability of cheaper rates for some purchases. /+ indicates stated price is minimum.
Names of subscribers appear in bold, are underlined and, where applicable, include a live link to their websites. Advertisers' listings are in larger highlighted type, include live link to website and also have ad icon included in listings.
416 - Toronto Central
6> John Showman & Tom Power @ Cameron House (front), 408 Queen St. W., TO
*6-9> Calliope's Nest open stage/jam for women @ Lola Pub, 40 Kensington Ave., TO
6:30>

The Peter Hill Group

@ The Rex, 194 Queen St. W., TO ~Jazz
7:30> Advocats Big Band @ Seven44, 744 Mount Pleasant Road, TO North ~R&B/Swing
8> comedy @ Cameron House (rear), 408 Queen St. W., TO
8> Ukulele jam @ Tranzac Lounge (Main Hall), 292 Brunswick Ave., TO
**8-1> open stage with host Dylan Hennessy @ Free Times Café, 320 College St., TO
**9-1:30> jam with No Band Required @ Grossman's, 379 Spadina Ave., TO
*9-1> Hamstrung Stringband @ The Local, 396 Roncesvalles Ave., TO West ~Bluegrass
*9:30> open mic night at Amsterdam Bicycle Club, 54 The Esplanade, TO
9:30> The Toronto Jazz Orchestra @ The Rex, 194 Queen St. W., TO ~Jazz
10> Jordan John @ The Orbit Room, 580 College St., TO ~R&B/Blues
*10> open mic (2 songs; signup starts 8p.m.) @ Tranzac Lounge (Southern Cross), 292 Brunswick Ave., TO
10> Tuexedo @ Cameron House (front), 408 Queen St. W., TO
10:30> tba @ The Hideout, 484 Queen St. W., TO ~indie Rock
416 - Toronto East
*6-8> Smokey Folk Bluegrass Mondays @ Relish, 2152 Danforth Ave., Toronto East ~Bluegrass
*7-11> Jerome Godboo & Frank Wilks @ The Duke Live, 1225 Queen St. E., TO East ~Blues/Pop
**7:30> M Factor Mondays with host Elana Harte & features Sister Speak (Vancouver); Twin Lakes (Australia) @ The Old Nick, 123 Danforth Ave., TO East
8-11> tba @ Relish, 2152 Danforth Ave., Toronto East ~songwriter
8-12> open stage with Julian Taylor & 9:30 feature by Mimi O'Bonsawin @ Dora Keogh, 141 Danforth Ave. TO East
8> John K & The Outfit @ The Only Café, 972 Danforth Ave., TO East
8:30> iSpy @ Castro's, 2116 Queen St. E., TO East
*9:30-2> Sebastian Agnello & friends @ Black Swan (ground floor), 154 Danforth Ave., TO East
416 – Toronto West
5-8> Mike Daley Jazz Trio @ Gate 403, 403 Roncesvalles Ave., TO West ~Jazz
*9-1> eclectic open stage/jam with host Nelson Sobral @ The Painted Lady, 218 Ossington Ave., TO West
9-1> Michael O'Grady & Friends @ Gate 403, 403 Roncesvalles Ave., TO West ~Jazz
416 - SCARBOROUGH
*8-11> open stage @ McGradie's, 2167 Victoria Park Ave., Scarborough
705
*7> Hard Time Mondays with Rick & Gailie @ Black Horse Pub, 452 George St. N., Peterborough
905 West
**8-12> BBQ & jam night with Mimico Bill @ Moonshine Café, 137 Kerr St., Oakville; ($8.95 with BBQ dinner special starts at 6)
*9-1> jam with Tom Barlow @ Shore Grill, 71 Lakeshore Rd. E., Port Credit
9-1> Alexander Quail @ Roc'n Doc's, 105 Lakeshore E., Port Credit ~Blues
905 East
*8-12> open stage @ Simcoe Blues & Jazz, 926 Simcoe St. N., Oshawa
Online/On The Air