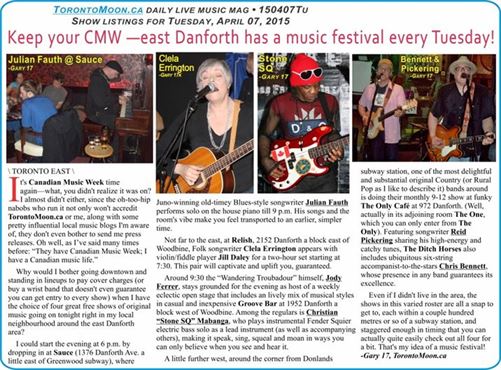 \ TORONTO EAST \
It's Canadian Music Week time again—what, you didn't realize it was on? I almost didn't either, since the oh-too-hip nabobs who run it not only won't accredit TorontoMoon.ca or me, along with some pretty influential local music blogs I'm aware of, they don't even bother to send me press releases. Oh well, as I've said many times before: "They have Canadian Music Week; I have a Canadian music life."
Why would I bother going downtown and standing in lineups to pay cover charges (or buy a wrist band that doesn't even guarantee you can get entry to every show) when I have the choice of four great free shows of original music going on tonight right in my local neighbourhood around the east Danforth area?
I could start the evening at 6 p.m. by dropping in at Sauce (1376 Danforth Ave. a little east of Greenwood subway), where Juno-winning old-timey Blues-style songwriter Julian Fauth performs solo on the house piano till 9 p.m. His songs and the room's vibe make you feel transported to an earlier, simpler time.
Not far to the east, at Relish, 2152 Danforth a block east of Woodbine, Folk songwriter Clela Errington appears with violin/fiddle player Jill Daley for a two-hour set starting at 7:30. This pair will captivate and uplift you, guaranteed.
 Around 9:30 the "Wandering Troubadour" himself, Jody Ferrer, stays grounded for the evening as host of a weekly eclectic open stage that includes an lively mix of musical styles in casual and inexpensive Groove Bar at 1952 Danforth a block west of Woodbine. Among the regulars is Christian "Stone SQ" Mabanga, who plays instrumental Fender Squier electric bass solo as a lead instrument (as well as accompanying others), making it speak, sing, squeal and moan in ways you can only believe when you see and hear it.
A little further west, around the corner from Donlands subway station, one of the most delightful and substantial original Country (or Rural Pop as I like to describe it) bands around is doing their monthly 9-12 show at funky The Only Café at 972 Danforth. (Well, actually in its adjoining room The One, which you can only enter from The Only). Featuring songwriter Reid Pickering sharing his high-energy and catchy tunes, The Ditch Horses also includes ubiquitous six-string accompanist-to-the-stars Chris Bennett, whose presence in any band guarantees its excellence.
Even if I didn't live in the area, the shows in this varied roster are all a snap to get to, each within a couple hundred metres or so of a subway station, and staggered enough in timing that you can actually quite easily check out all four for a bit. That's my idea of a music festival!
-Gary 17, TorontoMoon.ca
SHOW LISTINGS for Tuesday, May 05, 2022
Listings are organized by area in which the shows occur and within each area field shows are listed chronologically.
Listings preceded by an asterisk (*) are repeating weekly events. (Double asterisk indicates repeating event with different hosts/guest/etc.). Admission prices followed by a slash and minus (/-) after the amount indicates door charge with availability of cheaper rates for some purchases. /+ indicates stated price is minimum.
Names of subscribers appear in bold, are underlined and, where applicable, include a live link to their websites. Advertisers' listings are in larger highlighted type, include live link to website and also have ad icon included in listings.
416 – Toronto Central
6> Amdrew Collins Trio @ Cameron House (front), 408 Queen St. W., TO
6:30> Matt Newton Trio @ The Rex, 194 Queen St. W., TO ~Jazz
*7> open mic @ The Central, 603 Markham St., TO
7> Canadian Music Week showcases with REENIE; Cuprian; Celia Palli; Rachael Kennedy; Goodnight, Sunrise; Orangabang; Cardinal Blu @ Cameron House (rear), 408 Queen St. W., TO
7:30> See Through Trio @ Tranzac Club (Southern Cross), 292 Brunswick St., TO ~Jazz
8> Jen Lane & John Antoniuk @ Cameron House (front), 408 Queen St. W., TO
8:30> Syd Perry & Mawe Bahari + Gestures @ Free Times Café, 320 College St., TO ~Reggae/Asian-Canadian Folk
*8:45> Tyler Yarema & His Rhythm @ Reservoir Lounge, 52 Wellington St. E., TO ~Jazz/Blues
9:30> Miz Debbie & The Don Valley Stompers @ Grossman's, 379 Spadina Ave., TO ~Blues-Rock/Country
9:30> Jazz jam with Chris Gale @ The Rex, 194 Queen St. W., TO ~Jazz
*10-2> The Sattalites @ Orbit Room, 580 College St., TO ~orig. & cover Reggae/Funk
10> Peripheral Vision @ Tranzac Club (Southern Cross), 292 Brunswick St., TO ~Jazz
10> Run With The Kittens @ Cameron House (front), 408 Queen St. W., TO
7:30-3> Canadian Music Week: Jesse Roper; The GT's; Live How You Live; Bond Girls; Aviator; Jesse Roper @ The Hideout, 484 Queen St. W., TO ~indie Rock
416 – Toronto East
*6-9> Julian Fauth solo @ Sauce, 1376 Danforth Ave., TO East ~original Blues piano
7:30-9:30> Clela Errington Duo @ Relish, 2152 Danforth Ave., TO East ~songwriter
8-10> TWAC @ Castro's, 2116 Queen St. E., TO East
**9> open mic with host Jody Ferrer & 10 p.m. feature by tba @ Groove Bar, 1952 Danforth Ave., TO East
9> The Ditch Horses featuring Reid Pickering and Chris Bennett @ The Only Café, 972 Danforth Ave., TO East
*9:30> Peter Verity @ Black Swan, 154 Danforth Ave., TO East ~Folk Roots
*9:30-12> open stage hosted by Jennifer Brewer @ The Old Nick, 123 Danforth Ave., TO East
*9:30> jam with Frank Wilks & Friends @ The Duke Live, 1225 Queen St. E., TO East
416 – Toronto West
11 a.m.-1 p.m.> Toronto Ravel scoring "Star Wars" and "Hockey Night In Canada Theme" @ Hugh's Room, 2261 Dundas St. W., TO West ~$15
5-8> Roots 'n' Branches @ Gate 403, 403 Roncesvalles Ave., TO West ~acoustic Blues
7:30> Canadian Music Weeks showcases with Sydney Delong; Jessica Chase; Chasing Jane; Whale Eye; Owen Davies; Midnight Vesta @ Dakota Tavern, 249 Ossington Ave., TO West
7:30> Canadian Music Week aBabe Music showcase with Jesse Parent; Bride & Groom; Lobu; Bad Dad & The Poor Girls; Big Name Actors @ The Painted Lady, 218 Ossington Ave., TO West ~indie showcase; $10 or wristband
7:30-10 open mic with hosts North Of Queen @ Emmanuel Howard Park United Church, 214 Wright Ave., TO West; $2
9> Tyler Ellis; Jan Snider Band; Born Again for Indie Tuesdays @ The Piston, 937 Bloor St. W., TO West ~indie; pwyc
9> Resonant Rogues @ The Local, 396 Roncesvalles Ave., TO West ~Folk-Swing
9> Bruce Chapman Blues Duo & guests @ Gate 403, 403 Roncesvalles Ave., TO West ~Blues
*9:30> jam with Derek Downham @ Axis, 3048 Dundas St. W., TO West ~eclectic
416 – Scarborough
*9:30> karaoke with The English Rose & The Mad Scotsman @ The Fossil & Haggis, 790 Military Trail, Scarborough
705
7> Kerry McMaster @ Black Horse Pub, 452 George St. N., Peterborough
8/9/10?> Rory Taillon @ The Garnet, 231 Hunter St. W., Peterborough ~
905 East
*6:30-11> The Woodshed jam with Don Niblett & Frank Zochodne @ Simcoe Blues & Jazz, 926 Simcoe St. N., Oshawa
9> Ray Darren @ The Corral, 433 Simcoe St. S., Oshawa ~Country Rock
*10> open mic with Josh Beaven @ The Atria, 59 King St. E., Oshawa
905 West
*8-11> Michael Keys & Friends @ The Ale House, 802 Upper Gage Ave., Hamilton ~Pop/Jazz
*8-12> Marshall Dane Trio @ Roc'n Doc's, 105 Lakeshore Rd. E., Port Credit ~New Country/Pop
*8> open stage with host Iain Leslie @ Moonshine Café, 137 Kerr St., Oakville; $2
*8:45> open mic with Matt Zadkovich @ Culchain's Irish Pub, 158 Queen St. S., Streetsville-Mississauga
*9:30> The Phil & John Show feat. Phil Naro @ Shore Grill, 71 Lakeshore Rd. E., Port Credit ~acoustic Pop Rock
*10> open mic @ The Dickens, 423 Elizabeth St., Burlington
905 North
*8-11> jam with Matthew Kane & The Brews Brothers @ The Crown, 9580 Yonge St., Richmond Hill
*8:30> open mic @ Falcon & Firkin, 10300 Yonge St., Richmond Hill
*9> open mic with Manny D, Andy Earle & Dave Breckels @ Big Chris BBQ, 17380 Yonge St., Newmarket
---
Copyright © 2015 Toronto Moon Magazine. All Rights Reserved