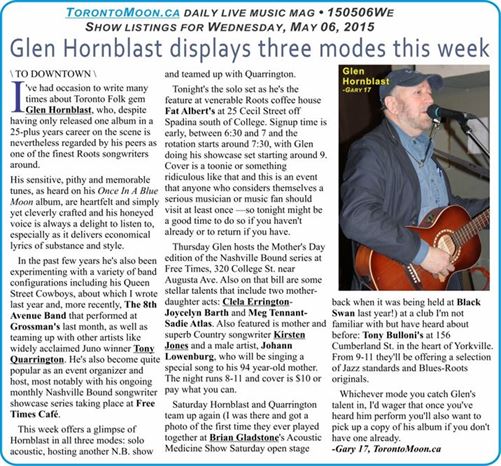 \ TO DOWNTOWN \
I've had occasion to write many times about Toronto Folk gem Glen Hornblast, who, despite having only released one album in a 25-plus years career on the scene is nevertheless regarded by his peers as one of the finest Roots songwriters around.
His sensitive, pithy and memorable tunes, as heard on his Once In A Blue Moon album, are heartfelt and simply yet cleverly crafted and his honeyed voice is always a delight to listen to, especially as it delivers economical lyrics of substance and style.
In the past few years he's also been experimenting with a variety of band configurations including his Queen Street Cowboys, about which I wrote last year, and, more recently, The 8th Avenue Band that performed at Grossman's last month, as well as teaming up with other artists like widely acclaimed Juno winner Tony Quarrington. He's also become quite popular as an event organizer and host, most notably with his ongoing monthly Nashville Bound songwriter showcase series taking place at Free Times Café.
This week offers a glimpse of Hornblast in all three modes: solo acoustic, hosting another N.B. show and teamed up with Quarrington.
Tonight's the solo set as he's the feature at venerable Roots coffee house Fat Albert's at 25 Cecil Street off Spadina south of College. Signup time is early, between 6:30 and 7 and the rotation starts around 7:30, with Glen doing his showcase set starting around 9. Cover is a toonie or something ridiculous like that and this is an event that anyone who considers themselves a serious musician or music fan should visit at least once —so tonight might be a good time to do so if you haven't already or to return if you have.
Thursday Glen hosts the Mother's Day edition of the Nashville Bound series at Free Times, 320 College St. near Augusta Ave. Also on that bill are some stellar talents that include two mother-daughter acts: Clela Errington-Joycelyn Barth and Meg Tennant-Sadie Atlas. Also featured is mother and superb Country songwriter Kirsten Jones and a male artist, Johann Lowenburg, who will be singing a special song to his 94 year-old mother. The night runs 8-11 and cover is $10 or pay what you can.
Saturday Hornblast and Quarrington team up again (I was there and got a photo of the first time they ever played together at Brian Gladstone's Acoustic Medicine Show Saturday open stage back when it was being held at Black Swan last year!) at a club I'm not familiar with but have heard about before: Tony Bulloni's at 156 Cumberland St. in the heart of Yorkville. From 9-11 they'll be offering a selection of Jazz standards and Blues-Roots originals.
Whichever mode you catch Glen's talent in, I'd wager that once you've heard him perform you'll also want to pick up a copy of his album if you don't have one already.
-Gary 17, TorontoMoon.ca
SHOW LISTINGS for Wednesday, May 06, 2022
Listings are now organized by area in which the shows occur and within each area field shows are listed chronologically.
Listings preceded by an asterisk (*) are repeating weekly events. (Double asterisk indicates repeating event with different hosts/guest/etc.) Admission prices followed by a slash and minus (/-) after the amount indicates door charge with availability of cheaper rates for some purchases. /+ indicates stated price is minimum.
Names of subscribers appear in bold and underlined and, where applicable, include a live link to their websites. Advertisers' listings are in larger, highlighted type, include live link to website and also have ad icon included in listings.
 416 – Toronto Central
6> Dave Borins @ Cameron House (front), 408 Queen St. W., TO
6:30> Ross Wooldridge Group @ The Rex, 194 Queen St. W., TO ~Jazz

7> Laura Hubert Band featuring Peter Hill @ Monarchs Pub (Eaton Chelsea Hotel), 33 Gerrard St. W., TO ~Jazz
7-2> Canadian Music Week showcases: Greg Mashinter; The Flying Museum Band; T. Nile; Two Bears North; The Velveteins; The Jessica Stuart Few; Bordeen @ Cameron House (rear), 408 Queen St. W., TO; $/wristband
7:30> Troubleshooting & guests @ Tranzac Club (Southern Cross), 292 Brunswick Ave. TO
7:30-4 a.m.> Canadian Music Week showcases with The Strain; Nemes; Attica Riots; The Tungsten Hum; Amberwood Thought Beneath Film; Michael Wood Band; Autopilot @ The Hideout, 484 Queen St. W., TO ~indie Rock; $/wristband
**8> open stage with 9 p.m. feature by Glen Hornblast @ Fat Albert's, 25 Cecil St. (Steelworkers Hall), TO ~Roots
*8-1> open jam with Wednesday's Child feat. Johnny Bootz Hutt @ Lola, 40 Kensington Ave., TO
8:30> Wordspell showcase with Jemeni G; laRose @ Free Times Cafe, 320 College St., TO ~spoken word; $6
*8:30> Crazy Strings host High Lonesome Wednesdays with opening acoustic act @ Silver Dollar 486 Spadina Ave., TO ~Bluegrass
*8:45> Bradley & The Bouncers @ Reservoir Lounge, 52 Wellington St. E., TO ~Jazz/Blues/R&B
*9> open mic with Sean Barker @ Monarch Tavern, 12 Clinton St., TO
9:30> Tim Ries Group @ The Rex, 194 Queen St. W., TO ~Jazz
*9:30-2> jam with B-Sides @ The Unicorn, 175 Eglinton Ave. E., TO North
9:30> Beth Moore; Kayleigh O'Connor @ C'est What, 67 Front St. E., TO; pwyc
10> Sarah Burton @ Cameron House (front), 408 Queen St. W., TO
10> Rebecca Campbell & Friends @ Tranzac Club (Southern Cross), 292 Brunswick Ave. TO
*10-2> Blues-Rock jam with Bruce Domoney @ Grossman's, 379 Spadina Ave. TO
*10:30> The LMT Connection @ Orbit Room, 580 College St. TO ~Funk/R&B; $10
416 – Toronto East
*6-11> Rock jam with Scar-Bro Pete & Lee Van Leer @ Melange, 172 Main St., TO East
*7:30-10:30> The BTBs @ Relish, 2152 Danforth Ave., TO East ~Jazz
8> acoustic jam with Gary LaRocca @ The Only Café, 972 Danforth Ave., TO East
*8:30-10:30> blueVenus @ Castro's, 2116 Queen St. E., TO East
416 – Toronto West
5-8> Phill Albert Swing Trio @ Gate 403, 403 Roncesvalles Ave., TO West ~Jazz
**8-10:30> Hump Night Blues with Dave McManus & Cleave Anderson + special guest James Carroll @ On Cue Billiards, 349 Jane St., TO West ~Blues
*8-12> Girls Night Out Jazz singers jam with Lisa Particelli, @ Chalkers, 247 Marlee Ave., TO North-West
8:30> David Lindley @ Hugh's Room, 2261 Dundas St. W., TO West ~eclectic multi-instrumentalist; $33.50
8> Canadian Music Week showcases with All Might Voice; Murder Murder; The Pistolwhips; Kasador; The Autumn Portrait The Lion The Bear The Fox; FINN @ Dakota Tavern, 249 Ossington Ave., TO West ~indie; $/wristband
9-12> Blues Night with Julian Fauth & guests @ Gate 403, 403 Roncesvalles Ave., TO West ~original Juno-winning Blues
9> The Boxcar Boys @ The Local, 396 Roncesvalles Ave., TO West ~Ragtime Gypsy Jazz
9> Flohill's Playhouse presents: Loryn Taggart; Roxanne Potvin; Coco Framboise; Ria Reece Bandl SATE @ The Painted Lady, 218 Ossington Ave., TO West
416 – Etobicoke
8-1> Marshall Dane @ Timothy's Pub, 344 Brown's Line, Etobicoke South ~Country Pop
416 – Scarborough
* 7> jam with Tommy Rocker's Classic Rock Band @ Fox at Scarborough Junction, 646 Danforth Rd., Scarborough
*8:30> Al Reilly's Catalyst @ Centro Pizza, 3408 Kingston Rd., Scarborough ~classic Rock
*8:30> open mic with Jadzia Skye & Michael Oesch @ Chez Helene's, 1437 Kingston Rd., Scarborough
905 East
*8> Howard Ross hosts "Big Mojo" Blues jam with guest performer Al Matthews @ The Hub, 15 Simcoe St. N., Oshawa
8> Frank @ Simcoe Blues & Jazz, 926 Simcoe St. N., Oshawa
*8-11> open mic @ Frank's Pasta, 426 King St. E., Cobourg
*9-12> jam with Damage Control @ St. Louis Bar & Grill Ajax, 11 Harwood Ave. S., Ajax
*9:30> open stage with Nicola Vaughan @ Black Swan (downstairs), 154 Danforth Ave., TO East
905 West
*8-12> All-ages jam with band featuring Dave Girdlestone of Soul Funkshun on guitar & host Kevin Reid @ Sixth Line Pub, 1500 Sixth Line, Oakville
*8-2> Paul & Curtis @ Roc'n Doc's, 105 Lakeshore Rd. E., Port Credit ~Rock/Pop
8-1> Lisa McCallum @ Moonshine Café, 137 Kerr St., Oakville ~songwriter; $7
*8:30> Something Country @ The Endzone, 1900 King St. E., Hamilton ~Country
*9> open mic jam with Jack B Nimble @ Blarney's Gate, 1151 Dundas St. W., Mississauga
*9?> jam with Michael Zane or Pat Dowds @ Shakers, 580 Kerr St., Oakville
9:30> The Carson Freeman Diversion @ Shore Grill, 71 Lakeshore Rd. E., Port Credit ~Pop Rock
905 North
*7> open mic night with Tanya Joy Senior @ Col. McGrady's Pub, 44 Brock St. W., Uxbridge
*8-12> acoustic jam with Tony Paglia & Aaron Soloman @ Jake's Boathouse Brampton, 59 First Gulf Rd., Brampton
*8-12> open mic with Kevin Ker @ Aw Shucks, 15230 Yonge St., Aurora
*9-1> open mic jam with Whiskey Birds @ Sweetz Lounge, 5289 Hwy 7, Woodbridge-Vaughan
519
*9> The Phil & John Show feat. Phil Naro @ Molly Bloom's Waterloo, 170 University Ave., Waterloo ~acoustic Pop Rock
705
*7-11> open jam with Wayne Buttery Band @ The Beacon, 146 45th St., Wasaga Beach
7> Randy Dawson @ Black Horse Pub, 452 George St. N., Peterborough ~Blues/Rock
8> Ron Sexsmith @ Donaleigh's Temple Lounge, 28 Dunlop St. E., Barrie ~original Roots-Pop; $