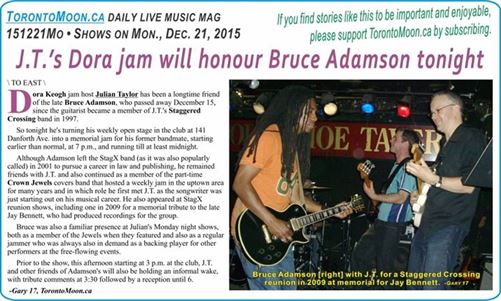 \ TO EAST \
Dora Keogh jam host Julian Taylor has been a longtime friend of the late Bruce Adamson, who passed away December 15, since the guitarist became a member of J.T.'s Staggered Crossing band in 1997.
So tonight he's turning his weekly open stage in the club at 141 Danforth Ave. into a memorial jam for his former bandmate, starting earlier than normal, at 7 p.m., and running till at least midnight.
Although Adamson left the StagX band (as it was also popularly called) in 2001 to pursue a career in law and publishing, he remained friends with J.T. and also continued as a member of the part-time Crown Jewels covers band that hosted a weekly jam in the uptown area for many years and in which role he first met J.T. as the songwriter was just starting out on his musical career. He also appeared at StagX reunion shows, including one in 2009 for a memorial tribute to the late Jay Bennett, who had produced recordings for the group.

Bruce was also a familiar presence at Julian's Monday night shows, both as a member of the Jewels when they featured and also as a regular jammer who was always also in demand as a backing player for other performers at the free-flowing events.
Prior to the show, this afternoon starting at 3 p.m. at the club, J.T. and other friends of Adamson's will also be holding an informal wake, with tribute comments at 3:30 followed by a reception until 6.
-Gary 17, TorontoMoon.ca
SHOW LISTINGS for Monday, December 21, 2021
Listings are organized by area in which the shows occur and within each area field shows are listed chronologically.
Listings preceded by an asterisk (*) are repeating weekly events. (Double asterisk indicates repeating event with different hosts/guest/etc.). Admission prices followed by a slash and minus (/-) after the amount indicates door charge with availability of cheaper rates for some purchases. /+ indicates stated price is minimum.
Names of subscribers appear in bold, are underlined and, where applicable, include a live link to their websites. Advertisers' listings are in larger highlighted type, include live link to website and also have ad icon included in listings.
On The Air / Online
*8:30> Songbird Mondays with Nicole "Songbird" Coward online live @ http://www.streetjelly.com ~Roots/Folk
416 - Toronto Central

6> Zachary Lucky @ Cameron House (front), 408 Queen St. W., TO
6:30> Peter Hill Quintet @ The Rex, 194 Queen St. W., TO ~Jazz; $
*7> Balfolk Toronto @ May Café, 876 Dundas St. W., TO ~Folk music & dance
7:30> tba @ Tranzac Lounge (Southern Cross), 292 Brunswick Ave., TO
7:30> George Lake Big Band @ Seven44, 744 Mount Pleasant Road, TO North ~R&B/Swing
8> Stand Up Comedy Night @ Cameron House (rear), 408 Queen St. W., TO
8> Ukulele jam @ Tranzac Lounge (Main Hall), 292 Brunswick Ave., TO
8:30> Alt Dot Comedy Lounge @ Rivoli, 334 Queen St. W., TO; $5
8:30> Jennifer Castle; Fiver; Damian Rogers @ Horseshoe Tavern, 370 Queen St. W., TO ~indie; $12
**9-1:30> jam with No Band Required @ Grossman's, 379 Spadina Ave., TO
*9?> open mic @ Lou Dawgs Ryerson, 76 Gerrard St. E., TO
*9:30> open mic night at Amsterdam Bicycle Club, 54 The Esplanade, TO
9:30> Jake Wilkinson's Be-Bop Christmas @ The Rex, 194 Queen St. W., TO ~Jazz; $
10> Jordan John @ The Orbit Room, 580 College St., TO ~R&B/Blues
*10> jam night hosted by Phill Hood & Jon McCann @ The Cage 292, 292 College St., TO
**10> open mic (2 songs; sign-up starts 8 p.m.) with host tba @ Tranzac Lounge (Southern Cross), 292 Brunswick Ave., TO
10> Bad Luck Woman & Her Misfortunes @ Cameron House (front), 408 Queen St. W., TO ~Country
10:30> Big Otter Creek Unplugged @ The Hideout, 484 Queen St. W., TO ~indie Rock
416 - Toronto East

3-6> tribute to the late Bruce Adamson (followed by memorial jam at 7) @ Dora Keogh, 141 Danforth Ave. TO East
7-12> open stage with Julian Taylor & memorial jam for Bruce Adamson @ Dora Keogh, 141 Danforth Ave. TO East
**7:30> M Factor Mondays with host Elana Harte & features Monique Barry; Janet Whiteway @ The Old Nick, 123 Danforth Ave., TO East ~songwriters
8-11> Bossa Tres @ Relish, 2152 Danforth Ave., Toronto East ~Latin Jazz
9-11> Big Rude Jake @ Castro's, 2116 Queen St. E., TO East ~Blues
9> Tom Waits Appreciation Congregation Christmas show @ Linsmore Tavern 1298 Danforth Ave., TO East ~Tom Waits tribute; no cover
*9:30-2> Sebastian Agnello & friends @ Black Swan (ground floor), 154 Danforth Ave., TO East
416 – Toronto Etobicoke
*8-12> Al Reilly's Catalyst also featuring Anthony Cee host Rock jam @ Rockpile, 5555 Dundas St. W., Etobicoke
416 – Toronto Scarborough
*8-11> open stage @ McGradie's, 2167 Victoria Park Ave., Scarborough
*8> jam with Cameljoe @ Centro Pizza, 3408 Kingston Rd., Scarborough
416 – Toronto West
5-8> Conrad Gayle Jazz Band @ Gate 403, 403 Roncesvalles Ave., TO West ~Jazz
9> Raveen @ Smiling Buddha, 961 College St., TO West ~$
*9-1> Hamstrung Stringband @ The Local, 396 Roncesvalles Ave., TO West ~Bluegrass
*9-1> eclectic open stage/jam with host Nelson Sobral @ The Painted Lady, 218 Ossington Ave., TO West
9-1> Rob Davis Blues Duo @ Gate 403, 403 Roncesvalles Ave., TO West ~Blues
705
*7> Rick & Gailie @ Black Horse Pub, 452 George St. N., Peterborough
8> Vinyl Night @ The Garnet, 231 Hunter St. W., Peterborough
9> Garbageface @ The Spill, 414 George St. N., Peterborough
905 East
*8-12> open stage @ Simcoe Blues & Jazz, 926 Simcoe St. N., Oshawa
*10> L&M Jam with host Emerson Ireland @ The Thirsty Monk, 21 Celina St., Oshawa
905 West
**8-12> BBQ & jam night with Port Credit Review Band @ Moonshine Café, 137 Kerr St., Oakville; ($8.95 with BBQ dinner special starts at 6)
*8> open mic night @ Fionn MacCool's Burlington, 2331 Appleby Line, Burlington
*9-1> jam hosted by Redder featuring Michelle Deneault @ Roc'n Doc's, 105 Lakeshore E., Port Credit
*9-1> jam with Tom Barlow @ Shore Grill, 71 Lakeshore Rd. E., Port Credit
Copyright © 2015 Toronto Moon Magazine. All Rights Reserved