\ SCARBOROUGH \
Maybe his parents didn't spell well or maybe it's a nickname gone wrong but the late Sonny (James) Milne should really have been known all this time as "Sunny" based on what was said in many online tributes posted about the veteran drummer whose life will be honoured again from 3 p.m.-7 p.m. this afternoon at Birchmount Tavern in Scarborough.
As much as for his drumming talent —which even a condensed resume of acts he performed with testifies was prodigious— Sonny will be missed for his bright nature of buoyant good humour, numerous people have said in many ways since his passing at 75 years of age on September 28.
His versatility on the drum kit was astounding as he was a valued member of combos fronted by top drawer artists in genres ranging through Rock, Country, Blues/R&B and Jazz.  But it seems to have been matched by an ability to get along with pretty well anybody and to add something warm and nourishing to their lives.
In addition to famed musicians including A-list fellow drummers, bassists, guitarists, accompanists and singers of various styles, people posting about Sonny on the Facebook memorial page set up for him by his son James Milne have also included, among numerous acquaintances from over the years, people who were fellow members of a local gym he frequented zealously early mornings in York Region and students to whom who he taught percussion.
Posters also spanned a wide geographic region, including many from the north 905 area where he was living west to Burlington, Hamilton and east through Scarborough, Durham Region and many points beyond.
One poster, Russell Strathdee, succinctly summed up the sentiments many others expressed when he wrote, "Sonny, you will be missed by more people than I can imagine. They will miss your huge infectious laugh, your stories, your exuberance, your good nature, your never-ending desire for self-improvement."
Fellow drummer Norman Marshall Villeneuve, who was joined by fellow sticks men Kid Carson, Paul DeLong, Bucky Berger, Joey Dimarco and Rob Kirkpatrick in expressing their sorrow, wrote, "I loved that man to pieces. He was a great drummer and inspiration to all. A very nice man. Always so funny and happy."
Singer Robbie Lane, among vocalists and band leaders like like Michael Theodore, Donnie Meeker, Sebastian Agnello, Helen Stewart, Wayne Buttery, Woody S. Woodley and Stan Mazda to post, recollected Sonny's favorite saying that evinced his positivity: "Any gig is a good gig" as reflective of his positive attitude.
Bass players like Uli Bohnet, Dennis Pinhorn and Dave McManus were just a few of those who also expressed sadness, Robert Bilton noting that "he always make mine and others time, much brighter … while Neil Numminen said he "was a ray of sunshine and a true inspiration."
Many guitar talents added to the online tributes, including Terry Blankley, Tom Robertson, Sam Taylor, Stan Endersby, Grant Lyle, Mike McDonald, Bernie Labarge, Rob Quail, James Anthony and David Morrison among many others.

Drummer/singer Benny (Rave) Sanders singled out Sonny's kindness as a quality that stuck with him. "He was kind to me even from the first meeting," he wrote.  "I met him at a New Year's Eve gig that I had been asked to sing a couple of songs for. Anthony said 'don't expect to play drums. Sonny doesn't let anyone play his drums' and as soon as I got up with the band, he offered me his sticks. I thanked him and told him that I'd [prefer] to be able to say that I sat in on vocals with him on drums."
In keeping with Sonny's spirit, the family has decided to set up a musical scholarship in his name at Humber College, to which proceeds from the $10 cover and other fundraising at today's event will be directed.  For those who can't make the show but would still like to make a donation in Sonny's name, you can do so online via credit card.  Under where to direct the gift, you should select "Other" and type in Sonny Milne Award, James Milne advises.
Donations can also be made by cheque payable to "Humber College" and mailed to the office at Advancement and Alumni, Humber College Institute of Technology & Advanced Learning, 205 Humber College Boulevard, LRC 5th Floor, Toronto, ON M9W 5L7
Singer Amber Durette, whom Sonny encouraged and whose jams he often attended, was blessed by both his cheerfulness and kindness, which she reflected in writing: "You were sun on a rainy day… and I know that when the next thunder booms ring out, it is you playing that big drum kit in the sky."
While Sonny may indeed now be busy performing with bands of fellow greats wherever it is that souls go after sloughing off the sheath of mortality, he'll be very much present in spirit at today's live tribute, which can be expected to include a raft of talented players comparable to a similar event held Friday night at 5 West Brewpub in Burlington.
Although he may not be there at The Birchmount today in body, you can be certain that inside the room at 462 Birchmount Rd. this afternoon, the skies will be all Sonny.
-Gary 17, TorontoMoon.ca [email protected]
SHOW LISTINGS for Sunday, November 12, 2021
For KEY to listings codes and schemata see note at end of shows list.
Names of subscribers appear in bold, are underlined and, where applicable, include a live link to their Home or Event url.
FOR SUBSCRIPTION DETAILS VISIT:
http://www.torontomoon.ca/subscribe/
Advertisers' listings are in larger, highlighted type, include live link to website and also have ad icon included in listings.  FOR AD INFO VISIT:
http://www.torontomoon.ca/advertise-with-toronto-moon/
ON AIR / ONLINE
*3-5am> The Rock-A-Round with Slim Tim @ www.rockabilly-radio.net ~ Rockabilly tracks (from UK, repeat of Fri show, also runs Wednesdays 6-8am)
4> "Georgian Bay Roots" official show of Summerfolk Festival @ CFOS AM 560 (simulcast on www.560cfos.ca)
5-8> "Across The Universe" with Ken Stowar on CIUT 89.5 FM
*6, 7, 10 & 11am; 5 & 7 pm> "Sunday Morning Soul" with Johnny Max @ www.sundaymorningsoul.com ~Blues
9am> "The Hoose Radio Show" Wee Dan Hoose @  http://www.bluesandrootsradio.com/ ~ artist interviews and tracks
9pm-midnight> 60s, 70s Soul, Jazz & Funk Cape Town/UK LIVE on FM Radio & Online Worldwide @ https://m.mixcloud.com/WorldofMusicSFonMuthaFM/
416 – TORONTO CENTRAL
*11am-2> The Mercenaries @ Drake One Fifty, 150 York St. ~retro R&B/Soul/Funk; $0
12am-2pm> Robert Scott @ Jazz Bistro, 251 Victoria St. ~piano Jazz; $5
noon-3> Excelsior Dixieland Jazz Band @ The Rex, 194 Queen St. W. ~Jazz
1> Toronto Improvisers Orchestra @ Tranzac Lounge (Southern Cross), 292 Brunswick Ave.
3-5> Ayal Senoir @ Tranzac Lounge (Southern Cross), 292 Brunswick Ave.
3-5> Amici Chamber Ensemble @ Royal Conservatory of Music, 273 Bloor St. W. ~ "Inspired By Canada"; $?
3:30-6:30> Red Hot Ramble @ The Rex, 194 Queen St. W. ~Jazz; $
3:30-5:30> Tafelmusik Baroque Orchestra & Chamber Choir @ Trinity St. Paul's Centre, 487 Bloor St. W. ~Classical "Mozart's Piano"; $
*4-7> Michael Brennan @ Graffiti's, 170 Baldwin St. TO ~East Coast Rock/Blues Roots
*4> acoustic open stage with Steve Piette @ The Eagles Club, 17 Elm St.
*4:30-8> New Orleans Connection All Stars & guests @ Grossman's, 379 Spadina Ave. ~New Orleans Jazz
4:30-7:30> Ambiance @ The Local Gest, 424 Parliament St. ~Jazz
5> "More Songs & Poems" with Robert Priest & Max Layton with guest songwriter Ali Jennings & house band featuring Ed Roth & David Hines @ Tranzac Lounge (Southern Cross), 292 Brunswick Ave. ~music & poetry
6-7:30> Ma Anne Dionisio @ 120 Diner, 120 Church St. ~Jazz; $10/pwyc
7> Lou Laurence; Fran Smith @ C'est What, 69 Front St. E. ~songwriters; $?
7-9:30> Jazz Sisters: Ros Kindler & Lynda Covello with backing band Teri Parker, Alison Young & Carlie Howell @ Jazz Bistro, 251 Victoria St. ~Jazz/Blues standards; $
*7-1> Freefall Sundays open stage (2 songs each -signup @ 7 or pre-sign online) @ The Supermarket, 268 Augusta St.
7> Silversun Pickups; Minus The Bear @ Rebel, 11 Polson St.
7-9:30> Marilyn Lerner @ The Rex, 194 Queen St. W. ~Pop-Jazz with punch; $
7-10> The Rhythmaturgically Syncopated Social Hour Jazz jam @ Tranzac Lounge (Tiki Room), 292 Brunswick Ave.
*7-10> Brooke Blackburn @ Nawlins, 299 King St. W. TO ~Blues/Jazz/R&B
7> The La Ti Das @ Cameron House (front), 408 Queen St. W.
7:30> Surefire Sweat @ Tranzac Lounge (Southern Cross), 292 Brunswick Ave.
8> Andrew Locke; Tobias Nathaniel; Jonathan Ongaro; Nabil Ayoub @ Free Times Café, 320 College St. ~songwriters; $?
*8> open mic with Carlos @ The Cavern Bar, 76 Church St.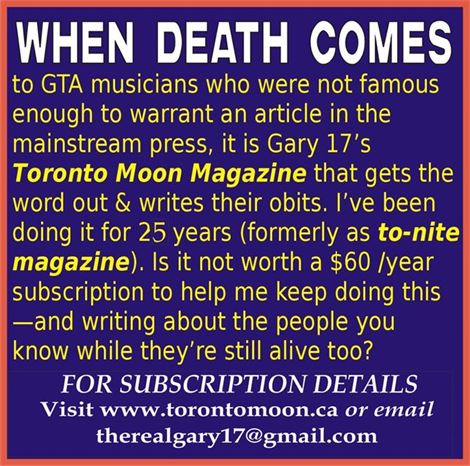 8> Moonchild @ Adelaide Hall, 250 Adelaide St. W. ~Jazz/Soul; $15
8-10> That Choir Remembers @ Trinity College, 6 Hoskin Ave. ~a cappella choir
8-1> Colleen; Khora @ Array Space, 155 Walnut S.
8:30-10> Andre Anthony & Jodi Jahnke with John Pugh @ 120 Diner, 120 Church St. ~Jazz; $10/pwyc
9> L'Autre Dame recording release for album; guests Bloody Blue Darlings @ Handlebar, 159 Augusta Ave.
9> Indie Week Festival closing party @ Bovine Sex Club, 542 Queen St. W.
9:30> Harley Card Quintet @ The Rex, 194 Queen St. W. ~Jazz; $
*10> Horshack feat. Chris Caddell @ Orbit Room, 580 College St. ~Bluesy contemporary & classic Rock
10> Fraser/Scott/Argatoff @ Tranzac Lounge (Southern Cross), 292 Brunswick Ave. ~tribute to Paul Motian
10> Moskito Bar @ Cameron House (front), 408 Queen St. W.
10-2> open mic @ The Hideout, 423 College St.
**10> Blues jam with Bill Hedefine & guests @ Grossman's, 379 Spadina Ave.
416 – TORONTO EAST
11am-2pm> Peter Graham for Jazz brunch @ Relish, 2152 Danforth Ave. ~Jazz; 0$
*3-6> open mic with Nicola Vaughan @ Hirut, 2050 Danforth Ave.
3:30-7:30> The Two Fours @ Black Swan Tavern, 154 Danforth Ave. ~Rock/Top 40 covers
4> Fraser & Daley @ Castro's Lounge, 2116 Queen St. E.
*4:30-8:30> Rock/Blues jam with William A. Miller & The Black Bear All Stars @ Black Bear Pub, 1125 O'Connor Drive
5-7> Cadre @ Relish, 2152 Danforth Ave. ~Roots-Rock; 0$
5-8:30> Hogtown Country @ The Duke Live, 1225 Queen St. E. ~Country Rock
6-8> Jonathan Richman feat. Tommy Larkin @ The Opera House, 735 Queen St. E.
7> John Carpenter @ The Danforth Music Hall, 147 Danforth Ave. ~contemporary original touring; $
7-11> The Legendary Castaways @ Linsmore Tavern, 1298 Danforth Ave ~R&B/Blues; 0$
*9-1> jam with the Stir It Up Band featuring David Macmichael @ Relish, 2152 Danforth Ave.
416 – TORONTO ETOBICOKE
2-4> James Clark; TC Folkpunk @ Village Vinyl Emporium, 2925 Lake Shore Blvd. W. ~songwriters; $0
4-7:30> BG Rhythm Section featuring Gary Kendall + guests Al Lerman & Lance Anderson @ Blue Goose Tavern, 1 Blue Goose Rd. ~Blues/R&B
5-9> David Love Band also featuring Darrell McNeill @ Timothy's Pub, 344 Brown's Line ~60's dance Rock/Pop
*10-2> jam with Rebecca Matiesen & Phoenix @ Southside Johnny's, 3653 Lake Shore Blvd. W.
416 – TORONTO SCARBOROUGH
3-7> "Toronto Tribute to Sonny Milne" & scholarship fund fundraiser with many acts & jam @ Birchmount Tavern, Scarborough, 462 Birchmount Rd. ~eclectic; $10
*7-11> open jam with host Gtar Live @ McGradie's, 2167 Victoria Park Ave.
416 – TORONTO WEST
**11-2> live Jazz brunch @ DeSoto's, 1079 St. Clair Ave. W.
12-2> Martinez All-Stars recording release for Un Abuelo Feliz @ Lula Lounge, 1585 Dundas St. W. ~Latin
*noon-3> Julian Fauth & Ken Yoshioka @ Axis, 3048 Dundas St. W. ~Blues
* noon-3> The Cosmotones @ Dakota Tavern, 249 Ossington Ave. ~Bluegrass
**5-8> John Borra & Sam Ferrara w. guest @ The Communist's Daughter, 1149 Dundas St. W. ~Country
5-8> Ivan Rosenberg & Chris Coole @ The Local, 396 Roncesvalles Ave. ~old-time Country Roots
5-8> Fifth Element @ Gate 403, 403 Roncesvalles Ave. ~Jazz
6> Monk's Music @ The Emmet Ray, 924 College St. ~vibraphone Jazz; pwyc
6> Citizen Jane recording release for In The Storm @ Burdock, 1184 Bloor St. W.
6:30> Yannis recording release & Red Cross fundraiser @ Lula Lounge, 1585 Dundas St. W. ~Worldbeat (various international)
*7-10> "Another Bloody Folk Club" @ Yellow Griffin Pub, 2202 Bloor St. W. ~Roots
8> Buildings; Group Hug; Bleach Bath; Tourist @ Smiling Buddha Stage 1, 961 College St. ~indie; $
8> Kandace Springs @ The Great Hall, 1078 Queen St. W. ~songwriter; $
8:30> Oxubum @ Burdock, 1184 Bloor St. W.
8:30> Keagan Eskritt Quartet with Kelly Jefferson @ The Emmet Ray, 924 College St. ~Jazz; pwyc
9-1> Boogaloo Banzai @ Gate 403, 403 Roncesvalles Ave. ~Jazz
9> Emlyn Stam and John Williams @ The Local, 396 Roncesvalles Ave. ~Roots-Rock
*9:30> The Mercenaries @ Dakota Tavern, 249 Ossington Ave. ~retro R&B/Soul/Funk; $0
10> Kevin Foster & Friends with Sarah Fazackerley; Jonny Starkes @ Junction City Music Hall, 2907 Dundas St. W. ~songwriters; $pwyc
519
2> open mic with host Liv Gains @ Grand River Brewing, 295 Ainslie St., Cambridge
*3-7> acoustic open mic with Scott Rhodes @ The Pick and Shovel, 30 Water St., Cambridge
3-8> The LoFi Mind @ Rhapsody Barrel Bar, 179 King St. W., Kitchener ~contemporary original; $
4-7> Jazz Duo no one can be bothered to name @ Fiddle & Firkin, 707 King St. E. ~Jazz
4> jam with Darrel Martin @ The Boathouse, 97 Jubilee Drive, Kitchener
*8> open mic with Anthony Schmanthony @ The Cornerstone, 1 Wyndham St. N., Guelph
*9-1> jam @ Ivy Arms Pub, 201 Main Street E., Milton
2-4> Traditional English Music Folk Sessions @ The Brownestone Gastropub, 39 Queen St. E., Cambridge
9-1> DRL37; Kasador; Royal Castles @ Ebar, 41 Quebec St., Guelph ~original Rock/Pop; $10
9:30> Romeo Sex Fighter @ Duke of Wellington, 33 Erb St. W. Waterloo
*10-2> open mic @ Jimmy Jazz, 52 Macdonnell St., Guelph
705
*2-6> open mic @ RCL (Royal Canadian Legion) #103, 34 Bridge St. W., Campbellford
3> Doug Horner @ Black Horse Pub, 452 George St. N., Peterborough
7> Celebration of life of the late Jan Schoute with The Weber Brothers, more @ Red Dog Tavern, 189 Hunter St. W., Peterborough
905 EAST
*3-6> Chris Stapley & Earl Johnson @ Ridges Pub, 776 Liverpool Rd., Pickering ~acoustic Blues/Rock
4> Dave band @ Simcoe Blues & Jazz, 926 Simcoe St. N., Oshawa
6-10> open jam with Juggernaut @ The Edge Lounge, 250 Bayly St. W., Ajax
**7-10> "Underground Sundays" with 3 bands @ Frank's Pasta, 426 King St. E., Cobourg ~indie; $0
*8> Gibran & Matt "Smokey" Wildfong @ Harwood Blues, 7 Harwood Ave., Ajax ~Blues
*10> Another Round @ Tartan Tavern, 555 Rossland Rd. E., Oshawa ~Pop Rock
905 NORTH-EAST
*1:30-4:30> Blaine Burnie, Mark Thackway & friends @ Coach House Pub, 3 Felcher Boulevard, Stouffville ~acoustic Roots
*3-7> open stage with Kevin Ker @ The Earl Of Whitchurch, 6204 Main St., Stouffville
*3-7> Daniel Davies Band hosts jam @ C.J. Barley's, 213 The Queensway S., Keswick
3-5> Robyn Ottolini @ Second Wedge Brewing Co., 14 Victoria St. N., Uxbridge ~Country songwriter; $0
*6-9:30> The Andy Earle Trio @ Big Daddy's Newmarket, 446 Davis Drive, Newmarket ~Blues
*6-10> open mic with host Brian Wride @ Col. McGrady's, 44 Brock St. W., Uxbridge
*7-10> Lynn McDonald @ Jester's Court, 279 Queen St., Port Perry ~Pop/Jazz
*8> acoustic open mic with Kat Vhonda @ Wild Wing Newmarket, 340 Eagle Street, Newmarket
*9> King Henry's open mic (sign-up starts 8:45) with host Ben Crosby @ King Henry's Arms, 9301 Yonge St., Richmond Hill
905 NORTH-WEST
*5> open mic with Crosstown Band @ Time Out, 68 Main St., Georgetown
3> Kalyna Rakel @ Copper Kettle, 517 Main St., Georgetown ~songwriter
*5:30-9:30> open jam with host band Faces For Radio & guest @ Crown and Anchor Pub, 389 Main St. N., Brampton
7:30> Sharon Dutton for "Candlelit Church" sessions @ St. Alban's, 537 Main St., Glen Williams-Georgetown ~Roots
905 SOUTH
12-3> Matthew Pullicino Trio @ Rust City Brewery, 27 King William St., Hamilton ~Jazz
2-6> Bay City Blues Band & guest Dwayne Laforme @ Bay City Music Hall, 50 Leander Drive, Hamilton ~Blues; $7
*3> Brother Tom Finochio hosts kitchen party jam @ Rebel's Rock, 537 King St. E., Hamilton
3-2> "Help From The Hammer" benefit for international relief with Dave Pomfret; Mike Williams Band; Creeping Bent Orchestra; Rick & The 30s; Rocket and The Renegades; Delmar Junction; Hellbent Rockers; Jenicii; Prior Convictions; Big Rude Jake; Snowheel Slim & Boogie Infection; closing jam @ This Ain't Hollywood, 345 James St. N., Hamilton ~eclectic indie; $20
*4> open mic with Neon Moon @ Moose Lodge, 1860 Barton St., Hamilton
4> Blues jam & show by Wayne Janus and the Backline @ Masque Wine Bar Hamilton, 13 Hess St. S. Hamilton
4:30-7:30> JP Riemens @ Cat 'N' Fiddle, 174 John St. S., Hamilton
*7> open mic @ The Wee Dram, 1831 Main St. W., Hamilton
8> The Creepshow @ Casbah Lounge, 306 King St. W., Hamilton ~Punk/Thrash; $
8> USS; Ascot Royals; Nikki's Wives @ The Studio, 19 MacNab St., Hamilton ~contemporary original; $
9-12> Adam Ostrosser & guest @ Cat 'N' Fiddle, 174 John St. S., Hamilton
9> open jam with Walker and Jamie @ The Pour House Hamilton, 1115 Fennell Ave. E., Hamilton
9> Shari Dunn & Jonny Kerr @ Lionshead Pub, 137 John St. S., Hamilton
10> Chris Chambers @ Augusta House, Hamilton, 17 Augusta St.
10> open mic @ The Hub, 1141 King St. E., Hamilton
905 WEST
2-6> The McGrath Family @ Carrigan Arms, 2025 Upper Middle Rd., Burlington ~Country
*3-6> Chris Partland @ Cuchulainn's Irish Pub, 158 Queen St. S., Streetsville-Mississauga ~Pop Rock
3:30> James Anthony @ Abbey Arms, 481 North Service Rd., Oakville ~Blues
**4-7:30> The Stew with Lou Moore & Burke Carroll @ Mulligan's, 2458 Dundas St. W., Mississauga ~R&B/Rock
4-7> Glenn Groves @ 5 West Brewpub, 3600 Dundas St. W., Burlington ~Country
*4:30-8> Chuck Jackson's All Stars @ Roc'n Doc's, 105 Lakeshore Rd. E., Port Credit ~Blues
6-9> Kids Are Alright youth open stage @ Moonshine Café, 137 Kerr St., Oakville
**8-12> The Nomads with guest @ Shore Grill, 71 Lakeshore Rd. E., Port Credit ~Pop Rock
*8> open mic night with house band featuring Mike Shotton, Tim & Dave Johns @ Black Swan Burlington, 4040 Palladium Way, Burlington
*10:30> Strummers Union @ The Dickens, 423 Elizabeth St., Burlington
LISTINGS KEY
Listings are organized by area in which the shows occur and within each area field shows are listed chronologically.
Listings preceded by an asterisk (*) are repeating weekly events. (Double asterisk indicates repeating event with different hosts/guest/etc.). Events preceded by question mark (?) usually take place but have not been confirmed. Admission prices followed by a slash and minus (/-) after the amount indicates door charge with availability of cheaper rates for some purchases. /+ indicates stated price is minimum.
-Copyright © 2017 by Gary "17" Webb-Proctor & TorontoMoon.ca. All Rights Reserved