Another veteran musician has passed away as bass player, singer and songwriter Bill Dalrymple succumbed to the cancer he had been battling for some time on the evening of Monday, Sept. 25, friends report.
He was a co-founder of WillyJon and The Wildcats, Rock/R&B band that, along with keyboardist "Michael Keys" Dowson, singer Marvin Vader and the late guitarist Cliff Fielding (who died this spring) in the 60s, often performed at The Purple Onion when house band Luke & The Apostles were touring.
Keys recalls that "he played in a lot of early bands in Yorkville in the '60s.  Not a famous guy, but a good guy" he told us in an email.  Along with Vader and Dowson he was also part of a band called The Marchelle that also featured Michelle Hollingsworth on vocals.
From 1970-1972 he was the bass player for Copperpenny (originally The Penny Farthings) during which time it released the enduring hit "You're Still The One" that led to a major boost in its profile.
He later spent about five years living in Vancouver, where he performed as a one-man band at several venues.
In recent years after moving back to Ontario, while making his living selling real estate Bill continued to appear at jams, ironically often teaming up with guitarist Mike Murphy, who passed away less than two days prior to him, as reported on Sunday.
Coming so soon after Murphy's passing, the news hit several local performers very hard as word began to spread on Tuesday.  Singer Tommy Rocker posted on social media that "Bill used to play with the band Copperpenny and also for a brief time with Mike Murphy.  We all spent many, many good times and nights together at both his place, Mike's & mine.  He was a great bass player, guitar player, vocalist and songwriter as well as a great guy."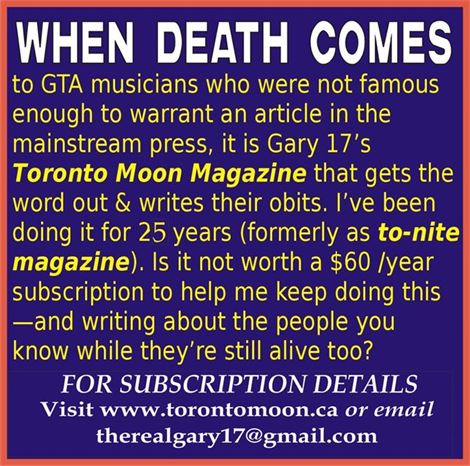 Vader told TorontoMoon.ca that while he had lost touch with Bill for over 30 years, they happily reconnected a few years ago and that although he was sad about his passing, "we all knew it was just a matter of time that Bill himself accepted and went with the flow as to when it would happen, content to keep in a euphoric state, well lubricated and always listening to/playing music till he could no longer."
Information has not yet been made available about a funeral but it is expected that a tribute/memorial show will be organized by friends in the near future.
-Gary 17, TorontoMoon.ca
[email protected]