\ COBALT \
The ashes of multi-dimensional musician, composer, visual artist and poet Shannon Pass will be spread across a park built specially for her by her common-law husband in a remote rural area in Northern Ontario after she succumbed to lymphoma early on Sunday, October 1.
She will be fondly remembered by many TO area artists and friends who knew her as violinist, keyboardist and guitar player, a poet, lover of nature and particularly birds, creator of beautiful art and a sweet, caring person who adored the children and grandchildren of a former beau even though they had separated.
Succumbing at last just two weeks shy of her 53rd birthday after three days in hospital, hubby Angus Skinner said in a telephone interview last night, for at least two years Shannon bravely fought the disease that had led to her having life-extending but also life-ending complications from chemotherapy at Princess Margaret Hospital in Toronto a year ago.
"The chemotherapy last October led to some problems, it just accelerated the lymphoma tumours and created lesions on her brain," he said, severely affecting her ability to function.
"I'm missing her now but I've sort of been missing her for the past year, really.  But it did buy her an extra year because they'd given her only a few weeks without it.  And I'm just grateful we had that."
There will be no funeral service, he said, since Shannon, who in addition to Angus leaves also her mother Joan and a sister, Lara, "didn't want anything like that."
Shannon had moved to Cobalt to be with Angus about four years ago, he said, a year after they'd met at a poetry festival in the area.
While living in Toronto previously, she'd been a frequent participant in poetry sessions in the city, as well as a performer on guitar and violin/fiddle (on which she was classically trained) at open stages and informal gatherings around the Kensington Market area, regularly part of the scene at rooms like Lola, Grossman's and defunct The Central in the Annex area.
She had also doted on the children of Amber Hutt, daughter of musician John Hutt, who had been Pass's companion for several years through the first decade of the century.
"Some of my fondest memories of her are her sitting in the grass in my front yard in front of the field with both my little boys playing her guitar and rejoicing in the kids laughing and dancing and enjoying with her," Amber said in an email interview.  "She also decorated my eldest sons ceiling with glow in the dark stars and it took her half a day to get it just right to express the immensity of the universe around him.
"She was there for me when I graduated university with my 18-month-old son Owen and pregnant with my youngest Aaron.  She could talk for hours on end never running out of things to say.  Her out of the box thinking always gave me a fresh perspective on life. S he may not have had her own kids but she was definitely a mother figure to me whether she knew it or not," Amber said.
A performer friend, Bänoo Zan, recalls Shannon's open stage appearances and hosting of a female-centric performers event.
"She was a musician and a poet, a brave woman who used to run a women's only stage for musicians.  In my early explorations of Toronto art scene I happened to check it out, and invited her to Shab-e She'r (Poetry Night).  She attended and performed a few times in different locations," Zan posted on social media.
"She deeply sympathized with me as an immigrant caught in futile job search, and once offered me her pack of cigarettes.  We exchanged personal stories.  She was brave and generous, and adversity had made her more so.  Now I know the meaning of pauses between her words.  She wanted to bring joy to others' life, or not offer them anything at all if she couldn't afford that, " Zan wrote.
In Cobalt with Skinner, Pass found an idyllic place that she never wanted to leave.  Skinner said that he promised her he'd do "whatever it takes to give her happiness and she used to love the parks in Toronto and said she wanted a park, so I built her one" on a small property he owns near Highway 65.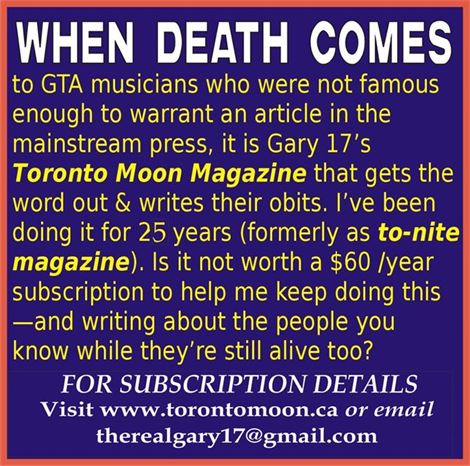 He recalled many nights during their time together "swapping out on organ and piano doing tunes.  We did everything together.  We were like Siamese twins —one couldn't leave the room without the other."
Although she has passed the pair will still be together, Skinner said, since her ashes will be spread in her park and because "she also wanted a cabin there to live in to look after the park, I've got to get busy tomorrow and start building that so I can do that for her."
-Gary 17, TorontoMoon.ca