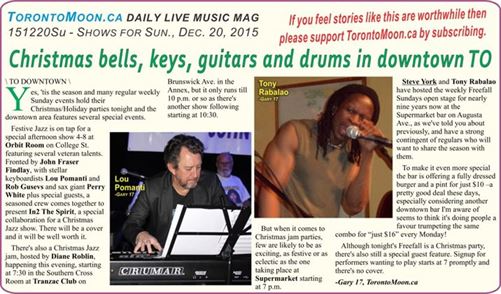 \ TO DOWNTOWN \
Yes, 'tis the season and many regular weekly Sunday events hold their Christmas/Holiday parties tonight and the downtown area features several special events.
Festive Jazz is on tap for a special afternoon show 4-8 at Orbit Room on College St. featuring several veteran talents. Fronted by John Fraser Findlay, with stellar keyboardists Lou Pomanti and Rob Gusevs and sax giant Perry White plus special guests, a seasoned crew comes together to present In2 The Spirit, a special collaboration for a Christmas Jazz show. There will be a cover and it will be well worth it.
There's also a Christmas Jazz jam, hosted by Diane Roblin, happening this evening, starting at 7:30 in the Southern Cross Room at Tranzac Club on Brunswick Ave. in the Annex, but it only runs till 10 p.m. or so as there's another show following starting at 10:30.
But when it comes to Christmas jam parties, few are likely to be as exciting, as festive or as eclectic as the one taking place at Supermarket starting at 7 p.m.
Steve York and Tony Rabalao have hosted the weekly Freefall Sundays open stage for nearly nine years now at the Supermarket bar on Augusta Ave., as we've told you about previously, and have a strong contingent of regulars who will want to share the season with them.
To make it even more special the bar is offering a fully dressed burger and a pint for just $10 –a pretty good deal these days, especially considering another downtown bar I'm aware of seems to think it's doing people a favour trumpeting the same combo for "just $16" every Monday!
Although tonight's Freefall is a Christmas party, there's also still a special guest feature. Signup for performers wanting to play starts at 7 promptly and there's no cover.
-Gary 17, TorontoMoon.ca
SHOW LISTINGS for Sunday, December 20, 2021:
Listings are organized by area in which shows take place and listed chronologically within each area field.
Listings preceded by an asterisk (*) are repeating weekly events. (Double asterisk indicates repeating event with different hosts/guest/etc.). Admission prices followed by a slash and minus (/-) after the amount indicates door charge with availability of cheaper rates for some purchases. /+ indicates stated price is minimum.
Names of subscribers appear in bold, are underlined and, where applicable, include a live link to their websites. Advertisers' listings are in larger highlighted type, include live link to website and also have ad icon included in listings.
416 – Toronto Central
11am-2pm> Kiki's Klezmer Trio for Jewish brunch buffet @ Free Times Café, 320 College St., TO
12-3> Excelsior Dixieland Jazz Band @ The Rex, 194 Queen St. W., TO ~Jazz
12:30> ToqueTrad French-Canadian Music session @ Tranzac Club (Southern Cross), 292 Brunswick Ave., TO
3-5> Alaniaris @ Tranzac Club (Southern Cross), 292 Brunswick Ave., TO
*3-6> Michael Brennan @ Graffiti's, 170 Baldwin St. TO ~East Coast Rock/Blues Roots
3:30-6:30> Club Django @ The Rex, 194 Queen St. W., TO ~Django Jazz; $
4-8> In2 The Spirit with John Fraser Findlay, Lou Pomanti, Charlie Cooley, Perry White, Rob Gusevs, Scott Alexander, Craig Riley & guests @ Orbit Room, 580 College St., TO ~Funky Christmas Jazz; $
*4:30-8> New Orleans Connection All Stars & guests @ Grossman's, 379 Spadina Ave., TO ~New Orleans Jazz
4:40> Harmonica School Recital with Bryn Scott-Grimes @ Free Times Café, 320 College St., TO ~
5-10> indie bands video recordings including T.C Folkpunk (8 p.m.) @ The Hideout, 484 Queen St. W., TO ~indie Rock
5-9> Robbie Lane & The Disciples @ Seven44, 744 Mount Pleasant Road, TO North ~vintage Rock/R&B; $10
5> Monk's Music @ Tranzac Club (Southern Cross), 292 Brunswick Ave., TO ~Jazz

6-7:30> Renee Yoxon @ 120 Diner, 120 Church St., TO ~Jazz; $10
*7-1> Freefall Sundays open stage & Christmas Party with hosts Steve York & Tony Rabalao (2 songs each -signup @ 7 or pre-sign online) & feature guest Mandippal Jandu @ The Supermarket, 268 Augusta St., TO
7> The Double Cuts @ Cameron House (front), 408 Queen St. W., TO ~Western Swing
7-9:30> Autobahn @ The Rex, 194 Queen St. W., TO ~Jazz; $
7> Canadian Men's Chorus @ Jazz Bistro, 251 Victoria St., TO ~Jazz; $
7:30> Diane Roblin's Holiday Jazz Jam @ Tranzac Club (Southern Cross), 292 Brunswick Ave., TO
8> Adrian Duncan; Tyler Anderson; J Cass; KGM Jam @ Rivoli, 334 Queen St. W., TO; $
8> Gordon's Acoustic Living Room @ Free Times Café, 320 College St., TO ~acoustic Pop
8-9:30> Sheila Soares Trio with Peter Hill on keys @ 120 Diner, 120 Church St., TO ~Jazz; $10
*8> open mic @ The Cavern Bar, 76 Church St., TO
9> jam with Jay Pennell @ Scruffy Murphy's, 150 Eglinton Ave. E., TO North
9:30> Three Blind Mice @ The Rex, 194 Queen St. W., TO ~Jazz; $
*10> Horshack feat. Chris Caddell @ Orbit Room, 580 College St., TO ~Bluesy contemporary & classic Rock
10> Makeshift Island @ Tranzac Club (Southern Cross), 292 Brunswick Ave., TO
10> The Silverhearts @ Cameron House (front), 408 Queen St. W., TO
**10> Blues jam with Brian Cober, Bill Hedefine & guest bassist Jerome Tucker @ Grossman's, 379 Spadina Ave., TO
10:30> Geoff Willingham @ The Hideout, 484 Queen St. W., TO ~indie Rock
416 – Toronto East
11-2> Liane Fainsinger for Jazz brunch @ Relish, 2152 Danforth Ave. TO East
*2-5> Steve Koven & Henry Heilig @ Morgan's, 1282 Danforth Ave., TO East ~Jazz
*3-6> open mic with Nicola Vaughan @ Hirut, 2050 Danforth Ave., TO East
*3:30-7:30> jam @ Black Bear, 1125 O'Connor Drive, TO East
4> Fraser-Daley @ Castro's Lounge, 2116 Queen St. E., TO East ~Rootsy Blues
5> Silverstein's Stay Warm Fest with Cancer Bats; Beartooth; Seaway; Capsize; Cardinals Pride; Safe To Say @ The Danforth Music Hall, 147 Danforth Ave., TO East ~indie; $35.50-50.75
*9-1> jam with the Stir It Up Band featuring David Macmichael @ Relish, 2152 Danforth Ave., TO East
9> Watch This Sound @ Castro's Lounge, 2116 Queen St. E., TO East ~vintage Jamaican music
416- Toronto Etobicoke

4-8> BG Rhythm Section featuring Gary Kendall + guests Jimmy Bowskill & Connor Gains @ Blue Goose Tavern, 1 Blue Goose Rd., Etobicoke South ~Blues/R&B
4-10> La Musique Circle Christmas Show & competition in two categories with prizes including recording session (signup 4-5) @ The Rockpile, 5555 Dundas St. W., Etobicoke
5-9> Lost Patients @ Timothy's Pub, 344 Brown's Line, Etobicoke ~Pop Rock; $
*10-2> jam with Rebecca Matiesen & Phoenix @ Southside Johnny's, 3653 Lakeshore Blvd. W., Etobicoke South
416 – Toronto Scarborough
6-9> Speakeasy Band for Customer Appreciation Day @ Winners, 2181 Lawrence Ave. E., Scarborough
*7-11> open jam @ McGradie's, 2167 Victoria Park Ave., Scarborough
416 – Toronto West
**11-2> live Jazz brunch @ DeSoto's, 1079 St. Clair Ave. W., TO West
*12-3> Julian Fauth's Blues brunch @ Axis, 3048 Dundas St. W., TO West ~Blues
* 12-3> The Cosmotones @ Dakota Tavern, 249 Ossington Ave., TO West ~Rockabilly
1> The Ault Sisters celebrate the season @ Hugh's Room, 2261 Dundas St. W., TO West ~Roots-Pot; $22.50/-
**5-8> John Borra & Sam Ferrara w. guest @ The Communist's Daughter, 1149 Dundas St. W. TO West ~Country
5> Steve Ingersoul @ The Tennessee, 1554 Queen St. W., TO West
5-8> Jeff Taylor & The SLT @ Gate 403, 403 Roncesvalles Ave., TO West ~Jazz
8> Mayhemingways host Local anniversary party @ The Local, 396 Roncesvalles Ave., TO West ~Folk-Rock
9> Old Hope; Drofnosura; Sovereign; Goth Girl @ Smiling Buddha, 961 College St., TO West
*8:30-11:30> Fraser Melvin Blues Band @ Fat City Blues, 890 College St., TO West ~Blues
9-1> Hello Darlings @ Gate 403, 403 Roncesvalles Ave., TO West
9> Holiday Show @ Burdock, 1184 Bloor St. W., TO West ~proceeds to Girls Rock Camp
9> Michael O'Grady @ The Tennessee, 1554 Queen St. W., TO West ~Celtic-flavoured Pop
10> The Beauties @ Dakota Tavern, 249 Ossington Ave., TO West ~indie/alt Country; $
519
*9-1> jam @ Ivy Arms Pub, 201 Main Street East, Milton
705
*3-7> jam at CJ Barleys, 213 The Queensway, Keswick
3> Brian Haddelssey @ Black Horse Pub, 452 George St. N., Peterborough
905 East
*3-7> Jam with hosts Paul Storm, John Huntley & Jon McCann @ West Shore Bar & Grill, 877 Bayly St., Pickering
4-7> Soundstorm @ Tartan Tavern, 555 Rossland Rd. E., Oshawa ~Pop
*5-10> All-ages open jam with Juggernaut @ The Edge Lounge, 250 Bayly St. W., Ajax
*7-11> Karaoke with Rob MacArthur @ The Edge, 250 Bayly St. W., Ajax
*8:30-12:30> karaoke with The English Rose & The Mad Scotsman @ Pearson Pub, 101 Mary St. W. Whitby
*10> Another Round @ Tartan Tavern, 555 Rossland Rd. E., Oshawa ~Pop Rock
905 North
**1-3> Joe & Frank with guest performer @ Lake Simcoe Arms, 21089 Dalton Rd., Jackson's Point ~Jazz
*3-7> open stage & Xmas Jamboree & Alan Mok birthday party with host Kevin Ker @ The Earl Of Whitchurch, 6204 Main St., Stouffville
*5-9> open mic with feature guest @ Sgt. Pepper's Aurora, Walmart Plaza (Hwy 404 & Aurora Rd.), Aurora
*6-9:30> The Andy Earle Trio @ Big Daddy's Newmarket, 446 Davis Drive, Newsmarket ~Blues
905 South
2-6> Bay City Blues Band & guest tba @ Bay City Music Hall, 50 Leander Drive, Hamilton ~Blues; $5
7> Bill Dillon & Friends @ This Ain't Hollywood, 345 James St. N., Hamilton
905 West
**2-6> Country matinee with host Colin Connors and guest Brad James @ Carrigan Arms, 2025 Upper Middle Rd., Burlington ~Country
*4:30-8> Chuck Jackson's All Stars @ Roc'n Doc's, 105 Lakeshore Rd. E., Port Credit ~Blues
**5:30-8:30> The Stew Seasonal Celebration @ Mulligan's, 2458 Dundas St. W., Mississauga ~R&B/Rock
**7-11> The Nomads @ Shore Grill, 71 Lakeshore Rd. E., Port Credit
*7> open jam with Mike Shotton & The Flying Squirrels @ Black Swan Pub Burlington, 4040 Palladium Way, Burlington
*7:30> open jam hosted by Troy Harmer @ The Brown Barrel, 1515 Upper Ottawa St., Hamilton
8> Folk Music open stage hosted by Tom Miller @ Moonshine Café, 137 Kerr St., Oakville
*8> open mic night with house band featuring Mike Shotton, Tim & Dave Johns @ Black Swan Burlington, 4040 Palladium Way, Burlington
*9-1> Jake Robertson @ Roc'n Doc's, 105 Lakeshore Rd. E., Port Credit ~Blues; $
*10:30> Adam Cooke & The Adams Family @ The Dickens, 423 Elizabeth St., Burlington
Copyright © 2015 Toronto Moon Magazine. All Rights Reserved