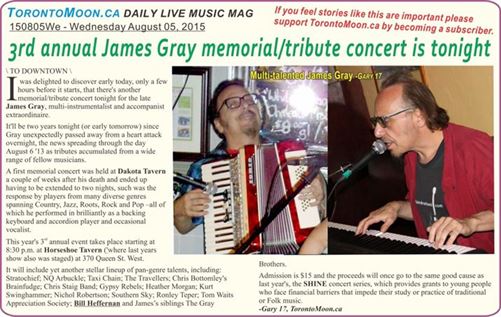 \ TO DOWNTOWN \
I was delighted to discover early today, only a few hours before it starts, that there's another memorial/tribute concert tonight for the late James Gray, multi-instrumentalist and accompanist extraordinaire.
It'll be two years tonight (or early tomorrow) since Gray unexpectedly passed away from a heart attack overnight, the news spreading through the day August 6 '13 as tributes accumulated from a wide range of fellow musicians.
A first memorial concert was held at Dakota Tavern a couple of weeks after his death and ended up having to be extended to two nights, such was the response by players from many diverse genres spanning Country, Jazz, Roots, Rock and Pop –all of which he performed in brilliantly as a backing keyboard and accordion player and occasional vocalist.
This year's 3rd annual event takes place starting at 8:30 p.m. at Horseshoe Tavern (where last year's show also was staged) at 370 Queen St. West.
It will include yet another stellar lineup of pan-genre talents, including: Stratochief; NQ Arbuckle; Taxi Chain; The Travellers; Chris Bottomley's Brainfudge; Chris Staig Band; Gypsy Rebels; Heather Morgan; Kurt Swinghammer; Nichol Robertson; Southern Sky; Ronley Teper; Tom Waits Appreciation Society; Bill Heffernan and James siblings The Gray Brothers.
Admission is $15 and the proceeds will once go to the same good cause as last year's, the SHINE concert series, which provides grants to young people who face financial barriers that impede their study or practice of traditional or Folk music.
-Gary 17, TorontoMoon.ca
SHOW LISTINGS for Wednesday, August 05, 2021
Listings are organized by area in which the shows occur and within each area field shows are listed chronologically.
Listings preceded by an asterisk (*) are repeating weekly events. (Double asterisk indicates repeating event with different hosts/guest/etc.) Admission prices followed by a slash and minus (/-) after the amount indicates door charge with availability of cheaper rates for some purchases. /+ indicates stated price is minimum.
Names of subscribers appear in bold and underlined and, where applicable, include a live link to their websites. Advertisers' listings are in larger, highlighted type, include live link to website and also have ad icon included in listings.
416 – Toronto Central
6:30-12> Raconteurs Storytelling @ Tranzac Club (Main Hall), 292 Brunswick Ave. TO ~folk dancing
6:30> Hannah Barstow Trio @ The Rex, 194 Queen St. W., TO ~Jazz
7:30> Troubleshooting & guests @ Tranzac Club (Southern Cross), 292 Brunswick Ave. TO
*8-1> open jam with Wednesday's Child feat. Johnny Bootz Hutt @ Lola, 40 Kensington Ave., TO
8> David Gogo @ Jazz Bistro, 251 Victoria St., TO ~Jazzy Blues; $
8> Reveal Me Burlesque @ Rivoli, 334 Queen St. W., TO ~$10
8> 4 Acts, 4 Musical Ladies: Nicole Gauthier; Lovely Caro; Katey Morley; Kelsie Parsons @ Free Times Cafe, 320 College St., TO ~
8:30> James Gray Memorial with Stratochief; NQ Arbuckle; Taxi Chain; The Travellers; Chris Bottomley's Brainfudge; Chris Staig Band; Gypsy Rebels; Heather Morgan; Kurt Swinghammer; Nichol Robertson; Southern Sky; Ronley Teper; Tom Waits Appreciation Society; The Gray Brothers; Bill Heffernan @ Horseshoe Tavern, 370 Queen St. W., TO; $15
*8:30> Crazy Strings host High Lonesome Wednesdays with opening acoustic act @ Silver Dollar 486 Spadina Ave., TO ~Bluegrass
*8:45> Bradley & The Bouncers @ Reservoir Lounge, 52 Wellington St. E., TO ~Jazz/Blues/R&B
9> Rebel Hero; The Marwills; Mark Meyler @ The Paddock, 178 Bathurst St., TO ~indie showcase; $6
*9> open mic with Sean Barker @ Monarch Tavern, 12 Clinton St., TO
9:30> Oliver Pigott; Danka Scepanovic @ C'est What, 67 Front St. E., TO ~indie; pwyc
9:30> Montreal's Jazzamboka @ The Rex, 194 Queen St. W., TO ~Jazz
*10-2> Blues-Rock jam with Bruce Domoney @ Grossman's, 379 Spadina Ave. TO
10:30> Paige Armstrong @ The Hideout, 484 Queen St. W., TO ~indie Rock/Blues
*10:30> The LMT Connection @ Orbit Room, 580 College St. TO ~Funk/R&B; $10
416 – Toronto East
*6-11> Rock jam with Scar-Bro Pete & Lee Van Leer @ Melange, 172 Main St., TO East
*7:30-10:30> The BTBs @ Relish, 2152 Danforth Ave., TO East ~Jazz
8> acoustic jam with Gary LaRocca @ The Only Café, 972 Danforth Ave., TO East
8:30-10:30> BlueVenus @ Castro's, 2116 Queen St. E., TO East ~ethereal Folk-Pop
*9:30> open stage with Nicola Vaughan @ Black Swan (downstairs), 154 Danforth Ave., TO East
416 – Toronto West
5-8> John Nicholson Jazz Trio @ Gate 403, 403 Roncesvalles Ave., TO West ~Jazz
*8-12> Girls Night Out Jazz singers jam with Lisa Particelli, Peter Hill et al @ Chalkers, 247 Marlee Ave., TO North-West
8> JAZZ.FM91's World Music Festival (2nd of 5 nights): Cuban concert with Luis Mario Ochoa Cubin Quintet @ Hugh's Room, 2261 Dundas St. W., TO West ~$42
9-12> Blues Night with Julian Fauth & guests @ Gate 403, 403 Roncesvalles Ave., TO West ~original Juno-winning Blues
9> The Love Orchestra; The Earnest Hummingways @ The Tennessee, 1554 Queen St. W., TO West; free
9> Suitcase Sam @ The Local, 396 Roncesvalles Ave., TO West
9> Mighty Word + guest @ Dakota Tavern, 249 Ossington Ave., TO West
416 – Etobicoke
8-1> Marshall Dane @ Timothy's Pub, 344 Brown's Line, Etobicoke South ~Country Pop; $
416 – Scarborough
* 7> jam with Tommy Rocker's Classic Rock Band @ Fox at Scarborough Junction, 646 Danforth Rd., Scarborough
*8:30> Al Reilly's Catalyst @ Centro Pizza, 3408 Kingston Rd., Scarborough ~classic Rock
*8:30> open mic with Jadzia Skye & Michael Oesch @ Chez Helene's, 1437 Kingston Rd., Scarborough
905 East
*8> Howard Ross & Full Count Blues hosts "Big Mojo" Blues jam with guest performer tba @ Corner Pocket, 45 Prince St., Oshawa
8> Frank Z @ Simcoe Blues & Jazz, 926 Simcoe St. N., Oshawa
*8-11> open mic @ Frank's Pasta, 426 King St. E., Cobourg
*9-12> jam with Damage Control @ St. Louis Bar & Grill Ajax, 11 Harwood Ave. S., Ajax
905 West
*8-12> All-ages jam with band & host Kevin Reid @ Sixth Line Pub, 1500 Sixth Line, Oakville
*8-2> Paul & Curtis @ Roc'n Doc's, 105 Lakeshore Rd. E., Port Credit ~Rock/Pop
8-1> jam @ Moonshine Café, 137 Kerr St., Oakville
8:30> The Carson Freeman Diversion @ Shore Grill, 71 Lakeshore Rd. E., Port Credit ~Pop Rock
*9> open mic jam with Jack B Nimble @ Blarney's Gate, 1151 Dundas St. W., Mississauga
*9?> jam with Michael Zane or Pat Dowds @ Shakers, 580 Kerr St., Oakville
905 North
*7> open mic night with Tanya Joy Senior @ Col. McGrady's Pub, 44 Brock St. W., Uxbridge
*8-12> acoustic jam with Tony Paglia & Aaron Soloman @ Jake's Boathouse Brampton, 59 First Gulf Rd., Brampton
*8-12> open mic with Kevin Ker @ Aw Shucks, 15230 Yonge St., Aurora
*8:45> open mic jam with Matt Zady @ Magnums, 21 McMurchy Ave. N., Brampton
*9-1> open mic jam with Whiskey Birds @ Sweetz Lounge, 5289 Hwy 7, Woodbridge-Vaughan
905 South
*8:30> Something Country @ The Endzone, 1900 King St. E., Hamilton ~Country
**8-1> "Country Pubkin" Night with Country artists tba @ Corktown Pub, 175 Young St., Hamilton
9> Graham Walsh; Edgar Breau; Justin Small; Andy Lloyd; Dan Empringham; Wayne Petti @ This Ain't Hollywood, 345 James St. N., Hamilton
519
*9> The Phil & John Show feat. Phil Naro @ Molly Bloom's Waterloo, 170 University Ave., Waterloo ~acoustic Pop Rock
705
*7-11> open jam with Wayne Buttery Band @ The Beacon, 146 45th St., Wasaga Beach
7> Odd Man Rush @ Black Horse Pub, 452 George St. N., Peterborough
10> Sky Vines; James Higgins @ The Garnet, 231 Hunter St. W., Peterborough
Copyright © 2015 Toronto Moon Magazine. All Rights Reserved