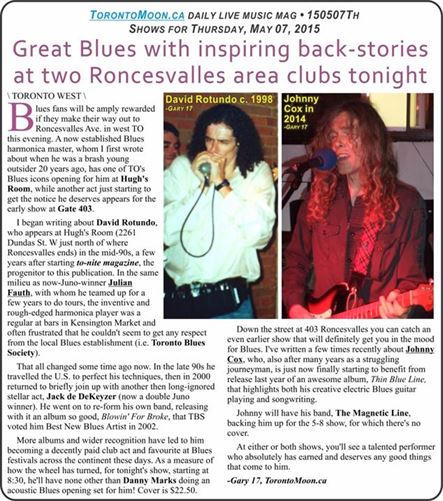 \ TORONTO WEST \
Blues fans will be amply rewarded if they make their way out to Roncesvalles Ave. in west TO this evening. A now established Blues harmonica master, whom I first wrote about when he was a brash young outsider 20 years ago, has one of TO's Blues icons opening for him at Hugh's Room, while another act just starting to get the notice he deserves appears for the early show at Gate 403.
I began writing about David Rotundo, who appears at Hugh's Room (2261 Dundas St. W just north of where Roncesvalles ends) in the mid-90s, a few years after starting to-nite magazine, the progenitor to this publication. In the same milieu as now-Juno-winner Julian Fauth, with whom he teamed up for a few years to do tours, the inventive and rough-edged harmonica player was a regular at bars in Kensington Market and often frustrated that he couldn't seem to get any respect from the local Blues establishment (i.e. Toronto Blues Society).
That all changed some time ago now. In the late 90s he travelled the U.S. to perfect his techniques, then in 2000 returned to briefly join up with another then long-ignored stellar act, Jack de DeKeyzer (now a double Juno winner). He went on to re-form his own band, releasing with it an album so good, Blowin' For Broke, that TBS voted him Best New Blues Artist in 2002.
More albums and wider recognition have led to him becoming a decently paid club act and favourite at Blues festivals across the continent these days. As a measure of how the wheel has turned, for tonight's show, starting at 8:30, he'll have none other than Danny Marks doing an acoustic Blues opening set for him! Cover is $22.50.
Down the street at 403 Roncesvalles you can catch an even earlier show that will definitely get you in the mood for Blues. I've written a few times recently about Johnny Cox, who, also after many years as a struggling journeyman, is just now finally starting to benefit from release last year of an awesome album, Thin Blue Line, that highlights both his creative electric Blues guitar playing and songwriting.
Johnny will have his band, The Magnetic Line, backing him up for the 5-8 show, for which there's no cover.
At either or both shows, you'll see a talented performer who absolutely has earned and deserves any good things that come to him.
-Gary 17, TorontoMoon.ca
SHOW LISTINGS for Thursday, May 07, 2022
Listings are now organized by area in which the shows occur and within each area field shows are listed chronologically.
Listings preceded by an asterisk (*) are repeating weekly events. (Double asterisk indicates repeating event with different hosts/guest/etc.). Admission prices followed by a slash and minus (/-) after the amount indicates door charge with availability of cheaper rates for some purchases. /+ indicates stated price is minimum.
Names of subscribers appear in bold and underlined and, where applicable, include a live link to their websites or event page. Advertisers' listings are in larger type and highlighted, include a live link to their website and also have a copy of the ad included in listings.
416 - Toronto Central
6> Corin Raymond @ Cameron House (front), 408 Queen St. W., TO ~indie Roots-Pop
6:30> Kevin Quain @ The Rex, 194 Queen St. W., TO ~moody Blues
7> Alex Pangman @ Reservoir Lounge, 52 Wellington St. E., TO ~Jazz/Swing
7> Canadian Music Week showcase with DEON; Cleo T.; Sister Speak; Mike Edel; Towers and Trees; SAVVIE; Selahphonic @ Cameron House (rear), 408 Queen St. W., TO ~indie; $/wristband
*7> open mic with Derek Mok @ Kensington Lodge, 21 Kensington Ave., TO
*7:30-9:30> Bluegrass Thursdays with Houndstooth @ Tranzac Lounge (Southern Cross), 292 Brunswick Ave., TO
8> Nashville North Songwriter Series tribute to Mothers Day with Glen Hornblast; Clela Errington & Jocelyn Barth; Kirsten Jones; Meg Tennant & Sadie Atlas; Johann Lowenberg @ Free Times Café, 320 College St. TO ~songwriters; $10/pwyc
*8-1> open mic with Alicia Porter @ The Local Gest, 424 Parliament St., TO
8-4 a.m.> Canadian Music Week showcases with The Strain; Nemes; Attica Roots; The Tungsten Hum; Though Beneath Film; Michael Wood Band; Autopilot @ The Hideout, 484 Queen St. W., TO ~indie Rock; $/wristband
8> Matthew Bailey @ Cameron House (front), 408 Queen St. W., TO
8-12> R&B/Blues @ Nawlin's, 299 King St. W. TO
9-1> Wicked Grin @ Monarchs Pub (Eaton Chelsea Hotel), 33 Gerrard St. W., TO ~Blues
*9-1> Blackburn @ Jo Mamas, 317 King St. W., TO ~Blues
*9:45> Mary Mckay @ Reservoir Lounge, 52 Wellington St. E., TO ~Jazz/Blues
9:45> Hans Luchs Organ Trio @ The Rex, 194 Queen St. W., TO ~Chicago Jazz or R&B
10> Geoff marshall and Company @ Tranzac Lounge (Southern Cross), 292 Brunswick Ave., TO
10> Dixie Chicken @ Orbit Room, 480 College St. TO ~Little Feat tribute; $
10:30> Anastasia A for Canadian Music Week @ Hard Rock Café, 283 Yonge St. TO
416 - Toronto East
7:30-9:30> Joanne Morra @ Relish, 2152 Danforth Ave., TO East ~Jazz
*8-10:30> Pressgang Mutiny @ Castro's, 2116 Queen St. E., TO East ~Folk-Rock/Country
8> In Between Sounds @ The Only Café, 972 Danforth Ave., TO East ~psych soundscapes
8> The Wanted @ Linsmore Tavern, 1298 Danforth Ave., TO East ~original Folk Rock/Rockabilly
*10-2> karaoke with Shane Taylor @ Relish, 2152 Danforth Ave., TO East
416 - Toronto West
5-8> Johnny Cox & The Magnetic Line @ Gate 403, 403 Roncesvalles Ave., TO West ~Jazz
*8-11> Tinderbox Thursdays open stage with Michael Keith @ La Revolucion, 2848 Dundas St. W., TO West ~eclectic
8> Canadian Music Week showcases with Declan O'Donovan; Garrett Kato; Nick Faye & The Deputies; Pierce Brothers; St. Andrews; Glory Glory; Twin Lakes @ Dakota Tavern, 249 Ossington Ave., TO West ~$/wristband
8:30> David Rotundo Band with opener Danny Marks @ Hugh's Room, 2261 Dundas St. W., TO West ~Blues; $22.50
*9-1:30> open stage with Jay Pennell @ Dave's On St. Clair, 730 St. Clair West, TO West ~eclectic
9-12> Melanie Brulee's Band @ Gate 403, 403 Roncesvalles Ave., TO West ~Jazz
9> Australian footstomping revue part for Canadian Music Week @ The Painted Lady, 218 Ossington Ave., TO West ~indie; $/wristband
9> David Celia @ The Local, 396 Roncesvalles Ave., TO West ~indie Pop
416 - Etobicoke

9> Elmer Ferrer Band @ Timothy's Pub, 344 Brown's Line, Etobicoke South ~Pop Rock
*9:30-2> Skip Tracer @ Southside Johnny's, 3653 Lakeshore Blvd., Etobicoke South ~Rock/Pop
416 – Scarborough
*9> Tommy Rocker's Classic Rock Band host jam @ Centro Pizza, 3406 Kingston Rd., Scarborough
9:30> tba @ Black Dog Pub, 87 Island Rd., Scarborough ~Pop Rock
519
*7:30-12> open mic with K.M. Smith @ Molly Bloom's Guelph, 91 Wyndham St. N., Guelph
*8-11> open mic with Sandy MacDonald @ Williamsburg Arms, 1187 Fischer Hallman Rd., Kitchener
705
*7:30> open stage with Rob Phillips Band and Chelsea Bennett @ Black Horse Pub, 452 George St. N., Peterborough
*9> jam with Ted Rusk @ The Sauble Dunes, 11 Southampton Parkway, Sauble Beach
10> Rory Taillon @ The Garnet, 231 Hunter St. W., Peterborough
905 - East
*5-8> Nelson Denis @ Frank's Pasta, 42 King Street E., Cobourg ~eclectic mix (Folk, Jazz, soft Rock, Latin)
8-12> Vince @ Fionn MacCool's Ajax, 32 Kingston Rd. E. Ajax ~Pop
8> Al Mathews @ Simcoe Blues & Jazz, 926 Simcoe St. N., Oshawa
*9> jam @ The Wee Pub, 371 Wilson Rd. South, Oshawa
*9:30> jam with Billick @ Harp & Crown, 300 Kingston Rd., Pickering
905 - North
*8> open mic with Kevin Ker @ Duchess of Markham, 53 Main St., Markham
905 - West
8-12> Freedom Train @ Roc'n Doc's, 105 Lakeshore Rd. E., Port Credit ~Rock/Pop
*8-12> open mic & jam @ Black Swan Pub Burlington, 4040 Palladium Way, Burlington
*8-12> jam hosted by The Personics @ Carrigan Arms, 2025 Upper Middle Rd., Burlington
8:30> Pat Hewitt @ Moonshine Café, 137 Kerr St. Oakville ~Roots Pop; $10
9:30> Glenn Groves @ Shore Grill, 71 Lakeshore Rd. E., Port Credit ~Pop Rock
*9:30> jam with Jack B Nimble @ Abbey Road Pub, 3200 Erin Mills Parkway, Mississauga
Copyright © 2015 Toronto Moon Magazine. All Rights Reserved