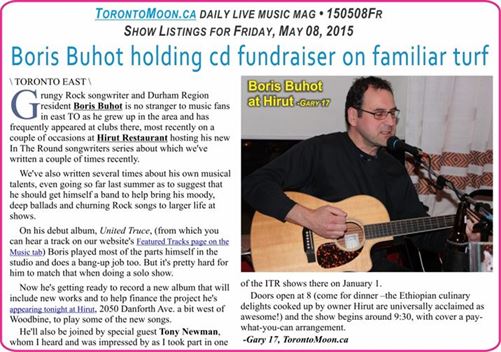 \ TORONTO EAST \
Grungy Rock songwriter and Durham Region resident Boris Buhot is no stranger to music fans in east TO as he grew up in the area and has frequently appeared at clubs there, most recently on a couple of occasions at Hirut Restaurant hosting his new In The Round songwriters series about which we've written a couple of times recently.
We've also written several times about his own musical talents, even going so far last summer as to suggest that he should get himself a band to help bring his moody, deep ballads and churning Rock songs to larger life at shows.
On his debut album, United Truce, (from which you can hear a track on our website's Featured Tracks page on the Music tab) Boris played most of the parts himself in the studio and does a bang-up job too. But it's pretty hard for him to match that when doing a solo show.
Now he's getting ready to record a new album that will include new works and to help finance the project he's appearing tonight at Hirut, 2050 Danforth Ave. a bit west of Woodbine, to play some of the new songs.
He'll also be joined by special guest Tony Newman, whom I heard and was impressed by as I took part in one of the ITR shows there on January 1.
Doors open at 8 (come for dinner –the Ethiopian culinary delights cooked up by owner Hirut are universally acclaimed as awesome!) and the show begins around 9:30, with cover a pay-what-you-can arrangement.
-Gary 17, TorontoMoon.ca
SHOW LISTINGS for Friday, May 08, 2022

:
Listings are organized by area in which the shows occur and within each area field shows are listed chronologically.
Listings preceded by an asterisk (*) are repeating weekly events. (Double asterisk indicates repeating event with different hosts/guest/etc.). Admission prices followed by a slash and minus (/-) after the amount indicates door charge with availability of cheaper rates for some purchases. /+ indicates stated price is minimum.
Names of subscribers appear in bold, are underlined and, where applicable, include a live link to their websites. Advertisers' listings are in larger type, highlighted, include live link to website and also have ad icon included in listings.
416 - Toronto Central
*3-7> acoustic jam with John Hutt @ Lola, 40 Kensington Ave., TO
*4-6> Hogtown Syncopators featuring Terra Hazelton @ The Rex, 194 Queen St. W., TO ~Jazz
*5-8> Kensington Kitchen Party with host Kevin Jollimore of Sin City Boys & guest musicians @ Graffiti's, 170 Baldwin St., TO ~Pop Rock with heart
*5-7> open mic with The Foolish Things @ Tranzac Club (Southern Cross), 292 Brunswick Ave., TO ~original Pop
6> David Celia @ Cameron House (front), 408 Queen St. W., TO ~indie Pop
6:30> Parker/Abbott Trio @ The Rex, 194 Queen St. W., TO ~Jazz
7> Canadian Music Week showcases with Of Gentlemen & Cowards; Windmills; Port Cities; South Of Bloor; First You Get The Sugar; Costume Party @ Cameron House (rear), 408 Queen St. W., TO ~$/wristband
7:30> The Seldon Plan @ Tranzac Club (Southern Cross), 292 Brunswick Ave., TO
8> Patrick Brealey @ Cameron House (front), 408 Queen Street West, TO
8:30> "Piano Night" with Arlene Paculan; Angie Nussey; Jeff Alan Greenway @ Free Times Café, 320 College St., TO ~piano songwriters; pwyc
9-1> Turbo Street Funk @ Monarchs Pub in Eaton Chelsea Hotel, 33 Gerrard St. W., TO ~Funk
9> Paint for Canadian Music Week @ Handlebar, 159 Augusta Ave., TO ~indie; $/wristband
9:30> nameless Pink Floyd tribute @ Seven44, 744 Mount Pleasant Rd., TO North; $
9:30> The Universal Boogie Band @ Alleycatz, 2409 Yonge St., TO North ~Funk/Soul/R&B; $10
9:45> Norman Marshall Villeneuve @ The Rex, 194 Queen St. W., TO ~Jazz
9:45> Dee Dee and the Dirty Martinis @ Reservoir Lounge, 52 Wellington St. E., TO ~Jazz/Blues
*10> karaoke with Randy Petrie @ Kramers, 1915 Yonge St., TO North
10> Dave Murphy Band @ Orbit Room, 480 College St. TO ~Rock/Funk/R&B
10> Melvin Colacino Blues Band @ Cameron House (front), 408 Queen Street West, TO ~Blues
10> Ryan Driver & Emille Mover @ Tranzac Club (Southern Cross), 292 Brunswick Ave., TO ~Jazz
7-4 a.m.> Canadian Music Week showcases with The Undivided; Spirit Animal Shift-D; Mobina Galore; The Standstills; Diemonds; Twin Guns; Aviator Shades; Skegss @ The Hideout, 484 Queen St. W., TO ~indie Rock; $/wristband
416 - Toronto East
5-7> The Straight 8s @ Castro's, 2116 Queen St. E., TO East
8> Boris Buhot showcase album recording fundraiser with special guest Tony Newman @ Hirut, 2050 Danforth Ave., TO East ~grunge-Roots/Roots-Pop
9> Downshift @ Eton House, 710 Danforth Ave., TO East ~old school Rock & Pop
*9:30> David Macmichael & Dean McKinnon @ Relish, 2152 Danforth Ave., TO East ~alt Pop originals and covers
9:30> Tungsten @ The Duke Live, 1225 Queen St. E., TO East ~Pop Rock
9:30> Godboogie with Jerome Godboo and Greg Godovitz @ Linsmore Tavern, 1298 Danforth Ave., TO East ~Blues/Rock; $15 ($8 advance)
416 - Toronto West
5-8> Denise Leslie Band @ Gate 403, 403 Roncesvalles Ave., TO West ~Jazz
8-2> Canadian Music Week showcases with WiL; Hamish Anderson; Ash Grunwald; Scenic Route to Alaska; My Goodness; Adam Faucett; Mike Golden & Friends @ Dakota Tavern, 249 Ossington Ave., TO West ~indie; $/wristband
8:30> Tinsley Ellis with opening set by Sean Pinchin @ Hugh's Room, 2261 Dundas St. W., TO West ~guitar virtuoso; $35
9-1> Denielle Bassels Band @ Gate 403, 403 Roncesvalles Ave., TO West ~Jazz
9:30> Kim Jarrett @ Amico's Pizza, 1648 Queen St. W., TO West ~Roots-Pop
416 - Etobicoke

9> The Twangsters @ Blue Goose Tavern, 1 Blue Goose Rd., Etobicoke South ~Pop Rock/Top 40
9> Avery Stone Band @ Maple Leaf House, 2749 Lakeshore Boulevard East, Etobicoke ~Rock/Top 40/Blues
9:30> Soulful of Funk @ Timothy's Pub, 344 Brown's Line, Etobicoke South ~Funk/Soul; $
10-2> Cameltoe @ Southside Johnny's, 3653 Lakeshore Blvd. W., Etobicoke South ~classic Rock
416 – Scarborough
9:30> Doubleshot featuring Jim Cornell on drums @ The Loaded Dog, 1921 Lawrence Ave. E., Scarborough
9:30> Greg Wyard @ Stone Cottage Pub, 3750 Kingston Rd., Scarborough ~Pop Rock
10> Al Reilly's Catalyst & special guest Davey Meraska @ Centro Pizza, 3408 Kingston Rd., Scarborough ~classic Rock
10> Supernatural @ Smiling Jack's, 3482 Lawrence Ave. E., Scarborough
705
5:30> Rick & Gailie @ Black Horse Pub, 452 George St. N., Peterborough
8:30> Andy Earle & The Bandits @ Black Horse Pub, 452 George St. N., Peterborough
10> Mellow Kotzen; Michael Donald @ The Garnet, 231 Hunter St. W., Peterborough
905 East
8:30> The Weber Brothers @ Simcoe Blues & Jazz, 926 Simcoe St. N, Oshawa ~Blues; $10
9> Ray Darren @ The Corral, 433 Simcoe St. S., Oshawa ~Country
10-2> Two For The Show @ Fionn MacCool's Ajax, 36 Kingston Rd., E., Ajax ~Pop Rock/Top 40
10-2> Deuce @ Whisky John's, 843 King St. W., Oshawa ~Rock
905 North
9> Young Running @ King Richard's Pub, 15570 Yonge St., Aurora ~original Pop Rock
9:30> Orangeman @ Jake's Boathouse Brampton, 59 First Gulf Rd., Brampton ~Pop Rock
*9:30> open mic @ Big Daddy's, 460 Elgin Mills Rd., E, Richmond Hill
9:30> North Of Seven @ Aw Shucks, 15230 Yonge St., Aurora ~Pop Rock
9:45> Fifteen Stone featuring Darrell McNeill @ Oscar's Roadhouse, 1785 Queen St. E., Brampton ~classic Rock
905 West
*5> Adam Ostrosser & Joel Guenther @ Carrigan Arms, 2025 Upper Middle Rd., Burlington ~Pop
*6-9> Rebelljo Duo @ Roc'n Doc's, 105 Lakeshore Rd. E., Port Credit ~acoustic Pop Rock
9:30> Dan Dyer @ Shore Grill, 71 Lakeshore Rd. E., Port Credit ~Pop Rock/Top 40
9:30> Fire When Ready @ Shakers, 580 Kerr St., Oakville ~Pop Rock
9:30> Daryl Gray @ Gator Ted's, 1505 Guelph Line, Burlington ~Pop Rock
9:30> Midriff @ Black Swan Pub Burlington, 4040 Palladium Way, Burlington ~Pop Rock
10-2> Red Velvet @ Roc'n Doc's, 105 Lakeshore Rd. E., Port Credit ~Rock/Top 40; $