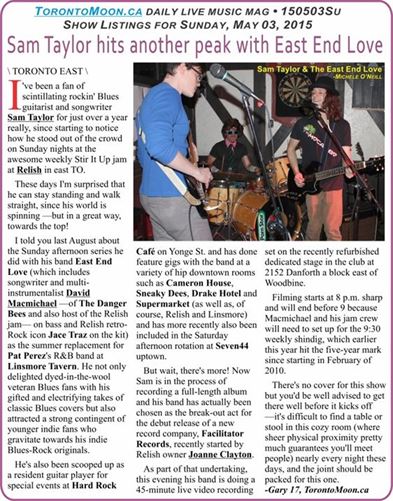 \ TORONTO EAST \
I've been a fan of scintillating rockin' Blues guitarist and songwriter Sam Taylor for just over a year really, since starting to notice how he stood out of the crowd on Sunday nights at the awesome weekly Stir It Up jam at Relish in east TO.
These days I'm surprised that he can stay standing and walk straight, since his world is spinning —but in a great way, towards the top!
I told you last August about the Sunday afternoon series he did with his band East End Love (which includes songwriter and multi-instrumentalist David Macmichael —of The Danger Bees and also host of the Relish jam— on bass and Relish retro-Rock icon Jace Traz on the kit) as the summer replacement for Pat Perez's R&B band at Linsmore Tavern. He not only delighted dyed-in-the-wool veteran Blues fans with his gifted and electrifying takes of classic Blues covers but also attracted a strong contingent of younger indie fans who gravitate towards his indie Blues-Rock originals.
He's also been scooped up as a resident guitar player for special events at Hard Rock Café on Yonge St. and has done feature gigs with the band at a variety of hip downtown rooms such as Cameron House, Sneaky Dees, Drake Hotel and Supermarket (as well as, of course, Relish and Linsmore) and has more recently also been included in the Saturday afternoon rotation at Seven44 uptown.
But wait, there's more! Now Sam is in the process of recording a full-length album and his band has actually been chosen as the break-out act for the debut release of a new record company, Facilitator Records, recently started by Relish owner Joanne Clayton.
As part of that undertaking, this evening his band is doing a 45-minute live video recording set on the recently refurbished dedicated stage in the club at 2152 Danforth a block east of Woodbine.
Filming starts at 8 p.m. sharp and will end before 9 because Macmichael and his jam crew will need to set up for the 9:30 weekly shindig, which earlier this year hit the five-year mark since starting in February of 2010.
There's no cover for this show but you'd be well advised to get there well before it kicks off –it's difficult to find a table or stool in this cozy room (where sheer physical proximity pretty much guarantees you'll meet people) nearly every night these days, and the joint should be packed for this one.
-Gary 17, TorontoMoon.ca
SHOW LISTINGS for Sunday, May 03, 2022

:
Listings are now organized by area, with chronological order within each area field.
Listings preceded by an asterisk (*) are repeating weekly events. (Double asterisk indicates repeating event with different hosts/guest/etc.). Admission prices followed by a slash and minus (/-) after the amount indicates door charge with availability of cheaper rates for some purchases. /+ indicates stated price is minimum.
Names of subscribers appear in bold, are underlined and, where applicable, include a live link to their websites. Advertisers' listings are in larger highlighted type, include live link to website and also have ad icon included in listings.
416 – Toronto Central
11am-2pm> Michael Anklewicz for Jazz brunch @ Free Times Café, 320 College St., TO
12-3> Humber Community Music Student Jazz Recitals @ The Rex, 194 Queen St. W., TO ~Jazz
1> No Angels Dancing @ Tranzac Club (Southern Cross), 292 Brunswick Ave., TO
1> memorial for William Clement @ Cameron House (front), 408 Queen St. W., TO
*3-6> Michael Brennan @ Graffiti's, 170 Baldwin St. TO ~East Coast Rock/Blues Roots
*4:30-8> New Orleans Connection All Stars & guests @ Grossman's, 379 Spadina Ave., TO ~New Orleans Jazz
5-9> Robbie Lane & The Disciples @ Seven44, 744 Mount Pleasant Road, TO North ~vintage Rock/R&B; $10
5> Monk's Music @ Tranzac Club (Southern Cross), 292 Brunswick Ave., TO
5> The Conductors @ Cameron House (front), 408 Queen St. W., TO
*7-1> Freefall Sundays open stage with hosts Steve York & Tony Rabalao (2 songs each -signup @ 7 or pre-sign online) @ The Supermarket, 268 Augusta St., TO
7> The Double Cuts @ Cameron House (front), 408 Queen St. W., TO ~Western Swing
7> Kat Goldman @ C'est What, 69 Front St. E., TO

7> Bet Smith with The Currie Brothers @ Cameron House (rear), 408 Queen St. W., TO
7:30> Zebrina & guests @ Tranzac Club (Southern Cross), 292 Brunswick Ave., TO
7:30- 3 a.m.> Canadian Music Week with various bands @ The Hideout, 484 Queen St. W., TO ~indie Rock
8> Singer's Edge Music School showcase @ Free Times Café, 320 College St., TO ~
9> jam with Jay Pennell @ Scruffy Murphy's, 150 Eglinton Ave. E., TO North
*9> Rob Hiemstra solo @ The Unicorn, 175 Eglinton Ave. E., TO North ~Rock/Pop
9:30> Miriam Snider @ The Rex, 194 Queen St. W., TO ~Vancouver Jazz
*10> Horshack feat. Chris Caddell @ Orbit Room, 580 College St., TO ~Bluesy contemporary & classic Rock
10> The Woodchoppers Association @ Tranzac Club (Southern Cross), 292 Brunswick Ave., TO
10> The Treasures @ Cameron House (front), 408 Queen St. W., TO
**10> Blues jam with Brian Cober, Bill Hedefine & guest bassist Omar Tunnoch @ Grossman's, 379 Spadina Ave., TO
416 – Toronto East
11-2> The Pearl Motel for Jazz brunch @ Relish, 2152 Danforth Ave. TO East
*2-5> At Ease @ Morgan's, 1282 Danforth Ave., TO East ~Jazz
*3-6> open mic with Nicola Vaughan @ Hirut, 2050 Danforth Ave., TO East
*3:30-7:30> jam @ Black Bear, 1125 O'Connor Drive, TO East
4> Leon Knight & The Neon Lights @ Castro's Lounge, 2116 Queen St. E., TO East
*5-9> John Dickie/Pat Perez Band @ Linsmore Tavern, 1298 Danforth Ave, TO East ~R&B/Blues
8-9> Sam Taylor & The East End Love live video shoot @ Relish, 2152 Danforth Ave., TO East ~original Blues-Rock
8> Brian Passmore @ The Only Café, 972 Danforth Ave., TO East ~Folk
9> Watch This Sound @ Castro's Lounge, 2116 Queen St. E., TO East ~vintage Jamaican music
*9:30-1> jam with the Stir It Up Band featuring Bryan Van Dusen & David Macmichael @ Relish, 2152 Danforth Ave., TO East
416 – Toronto West
11 a.m.> Michael Johnson Music Studio student recital & spring celebration @ Hugh's Room, 2261 Dundas St. W., TO West ~$15 adults/$11 children
*12-3> Julian Fauth's Blues brunch @ Axis, 3048 Dundas St. W., TO West ~Blues
* 12-3> The Cosmotones @ Dakota Tavern, 249 Ossington Ave., TO West ~Rockabilly
**5-8> John Borra & Sam Ferrara w. guest @ The Communist's Daughter, 1149 Dundas St. W. TO West ~Country
5-8> Chris Coole @ The Local, 396 Roncesvalles Ave., TO West ~old time Country
5-8> Peter Kauffman Jazz Trio @ Gate 403, 403 Roncesvalles Ave., TO West ~Jazz
8:30> "For The Love Of Pete" tribute to Pete Seeger with host David Newland & Paul Mills; Ken Whiteley; David Celia; James Gordon; Tannis Slimmon; Crabtree & Mills; more @ Hugh's Room, 2261 Dundas St. W., TO West ~$30/-
9-1> Ben Walker Jazz Trio @ Gate 403, 403 Roncesvalles Ave., TO West ~Jazz
9> Freeman Dre & The Kitchen Party @ The Local, 396 Roncesvalles Ave., TO West ~indie Folk-Pop
9> The Mercenaries @ Dakota Tavern, 249 Ossington Ave., TO West
416- Etobicoke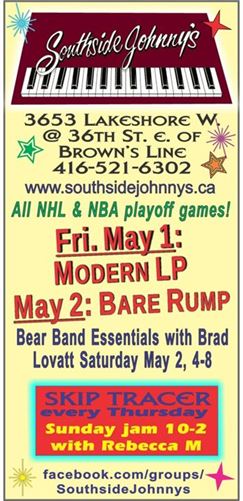 4-8> Lost Patients @ Timothy's Pub, 344 Brown's Line, Etobicoke ~Pop Rock
4-8> The Silverbacks @ Blue Goose Tavern, 1 Blue Goose Rd., Etobicoke South
*10-2> jam with Rebecca Matiesen & Phoenix @ Southside Johnny's, 3653 Lakeshore Blvd. W., Etobicoke South
416 – Scarborough
*6-10> jam with Tommy Rocker, John Robbie @ Scarborough Junction, 646 Danforth Rd., Scarborough
*7-11> open jam @ McGradie's, 2167 Victoria Park Ave., Scarborough
519
*9-1> jam @ Ivy Arms Pub, 201 Main Street East, Milton
705
*3-7> jam at CJ Barleys, 213 The Queensway, Keswick
3> Bluegrass Menagerie feat. Mathew Fines @ Black Horse Pub, 452 George St. N., Peterborough
*7> open mic with Randy Hill @ Black Horse Pub, 452 George St. N., Peterborough
905 East
1-8> Zone Music benefit for Durham Big Brothers & Sisters with Al Reilly, Mena Hardy, Earl Johnson, Goldierocks & The 3 Squares; Echo Room; Jordo Arnott @ Grizzly's, 985 Brock Rd., Pickering ~eclectic; $10
6> John Novak @ Simcoe Blues & Jazz, 926 Simcoe St. N., Oshawa ~Jazz
*5-9> All ages open jam with Juggernaut Jam Band featuring Andy Narsingh @ West Shore Bar & Grill, 877 Bayly St., Pickering
*7-11> Karaoke with Rob MacArthur @ The Edge, 250 Bayly St. W., Ajax
*8:30-12:30> karaoke with The English Rose & The Mad Scotsman @ Gryphon Pub, 114 Dundas St. E., Whitby
905 West
2-6> Young Country Deluxe @ Carrigan Arms, 2025 Upper Middle Rd., Burlington ~Country
3-6> Maria Bell @ Moonshine Café, 137 Kerr St., Oakville
*4:30-8> Chuck Jackson's All Stars @ Roc'n Doc's, 105 Lakeshore Rd. E., Port Credit ~Blues
**5-8> The Stew @ Mulligan's, 2458 Dundas St. W., Mississauga ~R&B/Rock
**7-11> The Nomads @ Shore Grill, 71 Lakeshore Rd. E., Port Credit
7> Ukulele Night jam @ Moonshine Café, 137 Kerr St., Oakville
*7> open jam with Mike Shotton & The Flying Squirrels @ Black Swan Pub Burlington, 4040 Palladium Way, Burlington
*7:30> open jam hosted by Troy Harmer @ The Brown Barrel, 1515 Upper Ottawa St., Hamilton
*9-1> The Tonkas @ Roc'n Doc's, 105 Lakeshore Rd. E., Port Credit ~Rock/Top 40
*10:30> Adam Cooke & The Adams Family @ The Dickens, 423 Elizabeth St., Burlington
905 North
*3-7> open stage with Kevin Ker @ The Earl Of Whitchurch, 6204 Main St., Stouffville
*5-9> open mic with feature guest @ Sgt. Pepper's Aurora, Walmart Plaza (Hwy 404 & Aurora Rd.), Aurora
6-8> Mark Yan & Barry Mulcahy @ Coffee Culture, 9 Queen St. E., Brampton ~acoustic Pop Rock; $5
Copyright © 2015 Toronto Moon Magazine. All Rights Reserved