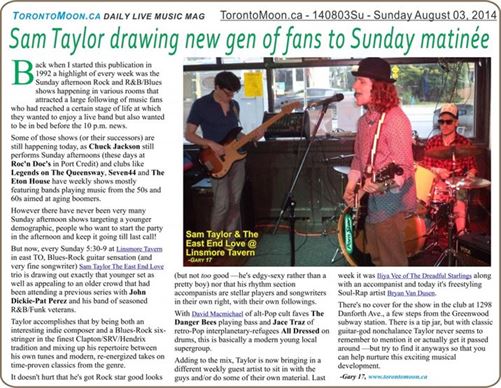 Sam Taylor drawing new gen of fans to Sunday matinée
\TORONTO EAST\
Back when I started this publication in 1992 a highlight of every week was the Sunday afternoon Rock and R&B/Blues shows happening in various rooms that attracted a large following of music fans who had reached a certain stage of life at which they wanted to enjoy a live band but also wanted to be in bed before the 10 p.m. news.
Some of those shows (or their successors) are still happening today, as Chuck Jackson still performs Sunday afternoons (these days at Roc'n Doc's in Port Credit) and clubs like Legends on The Queensway, Seven44 and The Eton House have weekly shows mostly featuring bands playing music from the 50s and 60s aimed at aging boomers.
However there have never been very many Sunday afternoon shows targeting a younger demographic, people who want to start the party in the afternoon and keep it going till last call!
But now, every Sunday 5:30-9 at Linsmore Tavern in east TO, Blues-Rock guitar sensation (and very fine songwriter) Sam Taylor The East End Love trio is drawing out exactly that younger set as well as appealing to an older crowd that had been attending a previous series with John Dickie-Pat Perez and their band of seasoned R&B/Funk veterans.
Taylor accomplishes that by being both an interesting indie composer and a Blues-Rock six-stringer in the finest Clapton/SRV/Hendrix tradition and mixing up his repertoire between his own tunes and modern, re-energized takes on time-proven classics from the genre.
It doesn't hurt that he's got Rock star good looks (but not too good —he's edgy-sexy rather than a pretty boy) nor that his rhythm section accompanists are stellar players and songwriters in their own right, with their own followings.
With David Macmichael of alt-Pop cult faves The Danger Bees playing bass and Jace Traz of retro-Pop interplanetary-refugees All Dressed on drums, this is basically a modern young local supergroup.
Adding to the mix, Taylor is now bringing in a different weekly guest artist to sit in with the guys and/or do some of their own material. Last week it was Iliya Vee of The Dreadful Starlings along with an accompanist and today it's freestyling Soul-Rap artist Bryan Van Dusen.
There's no cover for the show in the club at 1298 Danforth Ave., a few steps from the Greenwood subway station. There is a tip jar, but with classic guitar-god nonchalance Taylor never seems to remember to mention it or actually get it passed around —but try to find it anyways so that you can help nurture this exciting musical development.
-Gary 17, www.torontomoon.ca
LISTINGS for Sunday, August 03, 2021

:
Listings preceded by an asterisk (*) are repeating weekly events. (Double asterisk indicates repeating event with different hosts/guest/etc.). Admission prices followed by a slash and minus (/-) after the amount indicates door charge with availability of cheaper rates for some purchases. /+ indicates stated price is minimum.
Names of subscribers appear in bold, are underlined and, where applicable, include a live link to their websites. Advertisers' listings are in larger type, include live link to website and also have ad icon included in listings.
11am-11pm> Scarborough Ribfest with karaoke and music by Rob MacArthur, The Macs; Days Of Elvis; Destiny International; more @ Thomson Memorial Park, 1005 Brimley Rd., Scarborough
11am-2pm> The Horables for Jazz Brunch @ Free Times Café, 320 College St., TO ~
*11am-3pm> Rockabilly Brunch with The Cosmotones @ Dominion On Queen, 500 Queen St. E., TO ~Rockabilly
*12-3> Julian Fauth's Blues Brunch @ Axis, 3048 Dundas St. W., TO West ~Blues
noon> Excelsior Dixieland Jazz Band @ The Rex, 194 Queen St. W., TO ~Jazz
1-5> Al Reilly's Catalyst for Food Truck Vendors Festival @ Woodbine Park 1675 Lakeshore Blvd. E., TO East ~classic Rock
1> No Angels Dancing @ Tranzac Club (Southern Cross), 292 Brunswick Ave., TO
*2-5> acoustic jam with host Bill Black @ The Working Dog Saloon, 3676 St. Clair Ave. E., Scarborough
*3-6> open mic with Nicola Vaughan @ Hirut, 2050 Danforth Ave., TO East
3-7> Blues & Troubles on the patio @ Lola Pub, 40 Kensington Ave., TO ~Blues
*3-7> open mic @ Moskito + Bite, 423 College St. TO
*3-6> Michael Brennan @ Graffiti's, 170 Baldwin St. TO ~East Coast Rock/Blues Roots
*3-7> jam at CJ Barleys, 213 The Queensway, Keswick
3> Bluegrass Menagerie feat. Mathew Fines @ Black Horse Pub, 452 George St. N., Peterborough
3:30-6:30> Club Django @ The Rex, 194 Queen St. W., TO ~Jazz
*4-7> open jam with Mike Murphy @ The Brigadoon, 1109 Victoria Park Ave., Scarborough
*4-8> Lost Patients @ Timothy's Pub, 344 Brown's Line, Etobicoke ~Pop
4> Leon Knight & The Neon Lights @ Castro's Lounge, 2116 Queen St. E., TO East
*4:30-8> New Orleans Connection All Stars & guests @ Grossman's, 379 Spadina Ave., TO ~New Orleans Jazz
*4:30-8> Chuck Jackson's All Stars @ Roc'n Doc's, 105 Lakeshore Rd. E., Port Credit ~Blues
**5-8> John Borra & Sam Ferrara w. guest @ The Communist's Daughter, 1149 Dundas St. W. TO West ~Country
*5-9> Robbie Lane & The Disciples @ Seven44, 744 Mount Pleasant Blvd., TO North ~vintage Pop Rock/R&B; $10
5-9> Virgil Schot @ Legends On The Queensway, 1184 The Queensway, Etobicoke South ~Rock/R&B faves; $5
5-8> Jitensha @ The Local, 396 Roncesvalles Ave., TO West ~Folk duo from B.C.
5> Monk's Music @ Tranzac Club (Southern Cross), 292 Brunswick Ave., TO
5-8> David Rubel music recital @ Gate 403, 403 Roncesvalles Ave., TO West ~Jazz
5-9> Parkside Drive @ Lake Affect, 1 Port St., Port Credit
**5-8> The Stew @ Mulligan's, 2458 Dundas St. W., Mississauga ~R&B/Rock
*7-1> open stage with hosts Steve York & Tony Rabalao (2 songs each -signup @ 7 or pre-sign online) @ The Supermarket, 268 Augusta St., TO
*7-9:30> Dan Fortin Group @ The Rex, 194 Queen St. W., TO ~Jazz
*7-11> open jam @ McGradie's, 2167 Victoria Park Ave., Scarborough
**7-11> The Nomads with special guest Penny Skolski @ Shore Grill, 71 Lakeshore Rd. E., Port Credit
*7> open jam @ Black Swan Pub Burlington, 4040 Palladium Way, Burlington
*7> open mic with Randy Hill @ Black Horse Pub, 452 George St. N., Peterborough
8> The Winery Dogs with special guests Heavens Fire featuring Andy Narsingh; Suckershot & more @ Phoenix Concert Theatre, 410 Sherbourne St. TO; $35
8> open jam @ Moonshine Café, 137 Kerr St., Oakville;
*8:30-12:30> karaoke with The English Rose & The Mad Scotsman @ Gryphon Pub, 114 Dundas St. E., Whitby
9-1> Simone Morris Trio @ Gate 403, 403 Roncesvalles Ave., TO West ~Jazz
9> Los Cabelleros del Son @ The Local, 396 Roncesvalles Ave., TO West ~Cuban traditional
9-1> Johnni X @ Lake Affect, 1 Port St., Port Credit
*9-1> jam with Mike Roland and Lenny Vaccari @ Stewart Maguires Landing, 15 Allan Dr., Bolton
*9-1> jam @ Ivy Arms Pub, 201 Main Street East, Milton
*9:30-1> jam with the Stir It Up Band featuring Bryan Van Dusen & David Macmichael @ Relish, 2152 Danforth Ave., TO East
*9:30-1:30> jam with Rebecca Matiesen & Phoenix @

Southside Johnny's

, 3653 Lakeshore Blvd. W., Etobicoke South
9:45> Pram Trio @ The Rex, 194 Queen St. W., TO ~Jazz
*10> Horshack feat. Chris Caddell @ Orbit Room, 580 College St., TO ~Bluesy contemporary & classic Rock
10> The Woodchoppers Association @ Tranzac Club (Southern Cross), 292 Brunswick Ave., TO
10> The Mercenaries Soul Revival @ Dakota Tavern, 249 Ossington Ave., TO West
*10> open mic/jam hosted by Phill Hood (with backline avail.) @ The Cage 292, 292 College St., TO
**10> Blues jam with Brian Cober, Bill Hedefine & guest bassist @ Grossman's, 379 Spadina Ave., TO
*10> jam with Groovestone feat. Dale Harrison @ Scruffy Murphy's Uptown, 150 Eglinton Ave. E., TO North
10> Sean Pinchin's Blues 'n' Beers @ Roc'n Doc's, 105 Lakeshore Rd. E., Port Credit ~Blues
10:30> Don Campbell Trio @ The Hideout, 484 Queen St. W., TO ~indie Rock
Copyright © 2014 Toronto Moon Magazine. All Rights Reserved