\ OSHAWA \
Fellow musicians, friends and family will assemble the afternoon of Sunday March 25 to celebrate the life and talent of Oshawa Blues-Rock guitarist, singer and songwriter Craig Peterkin, whose passing from cancer was announced the evening of Monday, March 19.
A longtime presence on the Durham Region and Scarborough area Rock and Blues scene, Peterkin, just 56 years old, was an immensely talented player known for his searing riffs on the Stratocaster guitar but also could evoke a more soulful, sedate feel when he chose to, as I noted in an article about him in January of 2013 when he had booked a solo acoustic show in TO.
As I noted in the article, I first met Craig back in the late '90s when he had a band called Snake Boogie that was starting to get some notice in Durham.  He took a bit of a hiatus for a while it seemed but a few years ago re-emerged with a new self-titled act that has been featured at rooms in the east GTA.  For some reason, however, despite his talent he never quite achieved the high profile he deserved, perhaps because his gigging was somewhat sporadic.
He appeared regularly at jams however, and fellow players have been commenting on his agreeable, understated disposition along with guitar prowess that impressed other veteran players, neophytes and audiences alike.  He hadn't gigged since late summer, so it appears he was starting in the autumn to feel the effects of the lung cancer that felled him and was eventually diagnosed in November according to close friend Denise Byers.
Byers told TorontoMoon.ca this morning that she was "decimated" by the news because while friends knew Craig was very ill and "looked really worn out last week" he "was up and around, he was strong, he was fighting," so there was no real indication the end was so near.
"He just called me Sunday night to make plans for the week and he was gone the next morning," she said.
Other longtime pals and musical compatriots expressed sadness at the loss and shared their appreciation of Craig's talent and demeanour in posts on his Facebook timeline.
Paulie Tufano wrote: "So there is a friend of mine, who would make me want to play guitar more. He use to make me put my guitar in the corner and think too. He could play the Strat like no tomorrow. It didn't matter what song he chose to share with us, he would sing out in the toughest, deepest voice I ever heard. On or off stage he shared good time and hosted a true laugh and impeccable smile. I'm proud to Still have you as my friend."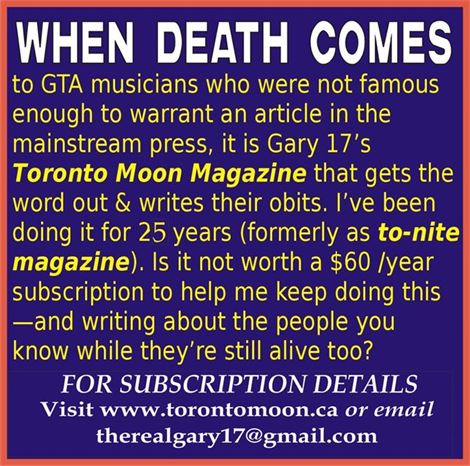 David Wells recollected: "Craig Peterkin is one of the first musicians to ever have me join him on stage. It was at a jam night at "mix it up" in Pickering in the 90's. I remember Craig saying "I heard you sing …want to do a few songs with me?". I couldn't say no. He was such a cool guy and I was honoured that he asked. I was so nervous and he was so supportive and laid Back. I have gone to see him perform so many times after and he came out to one of my gigs with Acoustica at the Hunters Horn in Whitby, a number of years ago. I asked him to do a couple songs with us and he ripped some killer riffs on a borrowed guitar (a strat of course) and I couldn't get the smile off my face. He was always a pleasure to watch and hear. He stuck around until the end of the night and I gave him a ride home. That night we talked about getting together for a jam but unfortunately that never happened…that was the last time I saw Craig. Maybe one day we will have that jam in the afterlife."
Singer Tommy Rocker commented to TorontoMoon.ca in a message that "another great one has left us.  |I played with him many times over the decades with bands and as just me and him doing it as a two-man show," adding in a social media post that "he was an amazing person and a true very kind friend who ways made me smile when we were ever together."
Veteran musician Dan Walek called Peterkin "a gift" and fan Melodie Andrus regarded him as "in a league of your own with the talent you had … a true Rockstar … you blew me away."
Band-mate Raun Sammut posted: "We knew we were going to lose him soon but it is still hard to [accept]! The last time we talked was last Thursday! He leaves behind two beautiful daughters! Well buddy you touched many lives on your journey of life, and now it's time for that "Great gig in the sky"!
Byers, who is helping the family to organize Sunday's commemoration event, herself noted that "Craig mesmerized everyone when he played and also touched people's hearts & souls with his enigmatic performances."
The musical life celebration will take place starting at 1 p.m. in the recreation centre of the Lawlor Court Co-operative at 777 Oxford St. in Oshawa, where Craig and several family members have lived for some time.  [Take the Bloor Street/Simcoe Street exit off 401 and access Oxford via Cordova Rd. off Park St. west of Simcoe.]
-Gary 17, TorontoMoon.ca
[email protected] * [email protected]