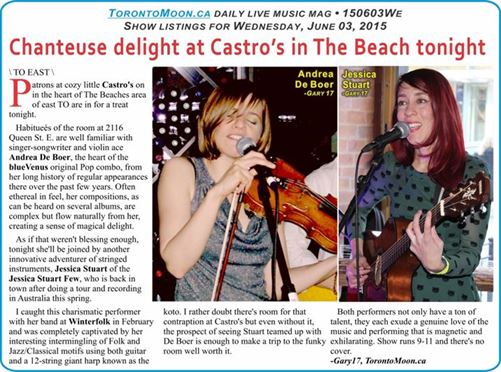 \ TO EAST \
Patrons at cozy little Castro's on in the heart of The Beaches area of east TO are in for a treat tonight.
Habitueés of the room at 2116 Queen St. E. are well familiar with singer-songwriter and violin ace Andrea De Boer, the heart of the blueVenus original Pop combo, from her long history of regular appearances there over the past few years. Often ethereal in feel, her compositions, as can be heard on several albums, are complex but flow naturally from her, creating a sense of magical delight.
As if that weren't blessing enough, tonight she'll be joined by another innovative adventurer of stringed instruments, Jessica Stuart of the Jessica Stuart Few, who is back in town after doing a tour and recording in Australia this spring.
I caught this charismatic performer with her band at Winterfolk in February and was completely captivated by her interesting intermingling of Folk and Jazz/Classical motifs using both guitar and a 12-string giant harp known as the koto. I rather doubt there's room for that contraption at Castro's but even without it, the prospect of seeing Stuart teamed up with De Boer is enough to make a trip to the funky room well worth it.
Both performers not only have a ton of talent, they each exude a genuine love of the music and performing that is magnetic and exhilarating. Show runs 9-11 and there's no cover.
-Gary17, TorontoMoon.ca
SHOW LISTINGS for Wednesday, June 03, 2022
Listings are organized by area in which the shows occur and within each area field shows are listed chronologically.
Listings preceded by an asterisk (*) are repeating weekly events. (Double asterisk indicates repeating event with different hosts/guest/etc.) Admission prices followed by a slash and minus (/-) after the amount indicates door charge with availability of cheaper rates for some purchases. /+ indicates stated price is minimum.
Names of subscribers appear in bold and underlined and, where applicable, include a live link to their websites. Advertisers' listings are in larger, highlighted type, include live link to website and also have ad icon included in listings.
416 – Toronto Central
6> Dave Borins @ Cameron House (front), 408 Queen St. W., TO
6:30> Brian de Lima's Bud Powell tribute @ The Rex, 194 Queen St. W., TO ~Jazz
7> Sean Meredith-Jones @ Monarchs Pub (Eaton Chelsea Hotel), 33 Gerrard St. W., TO ~Jazz
7:30> Troubleshooting & guests @ Tranzac Club (Southern Cross), 292 Brunswick Ave. TO
**8> open stage with 9 p.m. feature by Honey Novick @ Fat Albert's, 25 Cecil St. (Steelworkers Hall), TO ~Roots
*8-1> open jam with Wednesday's Child feat. Johnny Bootz Hutt @ Lola, 40 Kensington Ave., TO
8> Suzanne Jarvie @ Cameron House (front), 408 Queen St. W., TO
8> Reveal Me Burlesque @ The Rivoli, 334 Queen St. W., TO; $10
8:30> Rick & Mike "The Teachers" @ Free Times Cafe, 320 College St., TO
*8:30> Crazy Strings host High Lonesome Wednesdays with opening acoustic act @ Silver Dollar 486 Spadina Ave., TO ~Bluegrass
*8:45> Bradley & The Bouncers @ Reservoir Lounge, 52 Wellington St. E., TO ~Jazz/Blues/R&B
*9> open mic with Sean Barker @ Monarch Tavern, 12 Clinton St., TO
9:30> Leyland Gordon Group @ The Rex, 194 Queen St. W., TO ~Jazz
*9:30-2> jam with B-Sides @ The Unicorn, 175 Eglinton Ave. E., TO North
10> Johnson Crook @ Cameron House (front), 408 Queen St. W., TO
10> Ravi Neill & Tom @ Tranzac Club (Southern Cross), 292 Brunswick Ave. TO
*10-2> Blues-Rock jam with Bruce Domoney @ Grossman's, 379 Spadina Ave. TO
10:30> tba @ The Hideout, 484 Queen St. W., TO ~indie Rock
*10:30> The LMT Connection @ Orbit Room, 580 College St. TO ~Funk/R&B; $10
416 – Toronto East
*6-11> Rock jam with Scar-Bro Pete & Lee Van Leer @ Melange, 172 Main St., TO East
*7:30-10:30> The BTBs @ Relish, 2152 Danforth Ave., TO East ~Jazz
8> acoustic jam with Gary LaRocca @ The Only Café, 972 Danforth Ave., TO East
9-11> blueVenus with Jessica Stuart @ Castro's, 2116 Queen St. E., TO East
*9:30> open stage with Nicola Vaughan @ Black Swan (downstairs), 154 Danforth Ave., TO East
416 – Toronto West
5-8> Evan DeSaulnier Trio @ Gate 403, 403 Roncesvalles Ave., TO West ~Jazz
6-9> Carolyn Mark @ Dakota Tavern, 249 Ossington Ave., TO West
**8-10:30> Hump Night Blues with Dave McManus & Cleave Anderson + special guest Jay Pennell @ On Cue Billiards, 349 Jane St., TO West ~Blues
*8-12> Girls Night Out Jazz singers jam with Lisa Particelli, Peter Hill et al @ Chalkers, 247 Marlee Ave., TO North-West
8:30> Anne Lindsay album release @ Hugh's Room, 2261 Dundas St. W., TO West ~Celtic/Roots violin/fiddler; $22.50
9-12> Blues Night with Julian Fauth & guests @ Gate 403, 403 Roncesvalles Ave., TO West ~original Juno-winning Blues
9> Joey Wright @ The Local, 396 Roncesvalles Ave., TO West
9> The Sleepovers; The Black Fever @ The Tennessee, 1554 Queen St. W., TO West ~indie
9> Pierson Ross; Dopamine Machine @ The Painted Lady, 218 Ossington Ave., TO West ~indie
10> Sarah Burton; Devon Coyote Band @ Dakota Tavern, 249 Ossington Ave., TO West
416 – Etobicoke
8-1> Marshall Dane @ Timothy's Pub, 344 Brown's Line, Etobicoke South ~Country Pop
416 – Scarborough
* 7> jam with Tommy Rocker's Classic Rock Band @ Fox at Scarborough Junction, 646 Danforth Rd., Scarborough
*8:30> Al Reilly's Catalyst @ Centro Pizza, 3408 Kingston Rd., Scarborough ~classic Rock
*8:30> open mic with Jadzia Skye & Michael Oesch @ Chez Helene's, 1437 Kingston Rd., Scarborough
905 East
8> Frank Z @ Simcoe Blues & Jazz, 926 Simcoe St. N., Oshawa
*8-11> open mic @ Frank's Pasta, 426 King St. E., Cobourg
*9-12> jam with Damage Control @ St. Louis Bar & Grill Ajax, 11 Harwood Ave. S., Ajax
905 West
*8-12> All-ages jam with band featuring Dave Girdlestone of Soul Funkshun on guitar & host Kevin Reid @ Sixth Line Pub, 1500 Sixth Line, Oakville
*8-2> Paul & Curtis @ Roc'n Doc's, 105 Lakeshore Rd. E., Port Credit ~Rock/Pop
*9> open mic jam with Jack B Nimble @ Blarney's Gate, 1151 Dundas St. W., Mississauga
*9?> jam with Michael Zane or Pat Dowds @ Shakers, 580 Kerr St., Oakville
9:30> The Carson Freeman Diversion @ Shore Grill, 71 Lakeshore Rd. E., Port Credit ~Pop Rock
905 North
*7> open mic night with Tanya Joy Senior @ Col. McGrady's Pub, 44 Brock St. W., Uxbridge
*8-12> acoustic jam with Tony Paglia & Aaron Soloman @ Jake's Boathouse Brampton, 59 First Gulf Rd., Brampton
*8-12> open mic with Kevin Ker @ Aw Shucks, 15230 Yonge St., Aurora
*9-1> open mic jam with Whiskey Birds @ Sweetz Lounge, 5289 Hwy 7, Woodbridge-Vaughan
905 South
*8:30> Something Country @ The Endzone, 1900 King St. E., Hamilton ~Country
*9> Nick Ferrio album release for Amongst The Coyotes and Birdsongs; Lowlands @ This Ain't Hollywood, 345 James St. N., Hamilton ~indie; $7
519
*9> The Phil & John Show feat. Phil Naro @ Molly Bloom's Waterloo, 170 University Ave., Waterloo ~acoustic Pop Rock
705
*7-11> open jam with Wayne Buttery Band @ The Beacon, 146 45th St., Wasaga Beach
7> Odd Man Rush @ Black Horse Pub, 452 George St. N., Peterborough
10> Ivory Hours @ The Garnet, 231 Hunter St. W., Peterborough
Copyright © 2015 Toronto Moon Magazine. All Rights Reserved