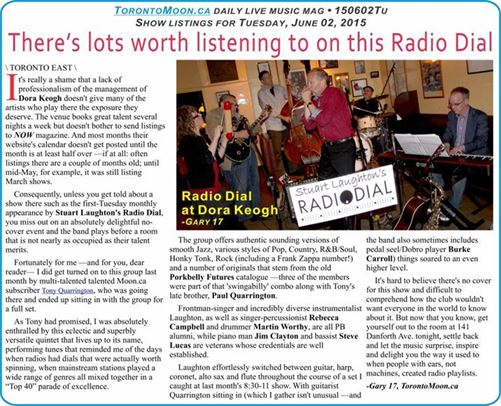 \ TORONTO EAST \
It's really a shame that a lack of professionalism of the management of Dora Keogh doesn't give many of the artists who play there the exposure they deserve. The venue books great talent several nights a week but doesn't bother to send listings to NOW magazine. And most months their website's calendar doesn't get posted until the month is at least half over —if at all: often listings there are a couple of months old; until mid-May, for example, it was still listing March shows.
Consequently, unless you get told about a show there such as the first-Tuesday monthly appearance by Stuart Laughton's Radio Dial, you miss out on an absolutely delightful no-cover event and the band plays before a room that is not nearly as occupied as their talent merits.
Fortunately for me —and for you, dear reader— I did get turned on to this group last month by multi-talented talented Moon.ca subscriber Tony Quarrington, who was going there and ended up sitting in with the group for a full set.
As Tony had promised, I was absolutely enthralled by this eclectic and superbly versatile quintet that lives up to its name, performing tunes that reminded me of the days when radios had dials that were actually worth spinning, when mainstream stations played a wide range of genres all mixed together in a "Top 40" parade of excellence.
The group offers authentic sounding versions of smooth Jazz, various styles of Pop, Country, R&B/Soul, Honky Tonk, Rock (including a Frank Zappa number!) and a number of originals that stem from the old Porkbelly Futures catalogue —three of the members were part of that 'swingabilly' combo along with Tony's late brother, Paul Quarrington.
Frontman-singer and incredibly diverse instrumentalist Laughton, as well as singer-percussionist Rebecca Campbell and drummer Martin Worthy, are all PB alumni, while piano man Jim Clayton and bassist Steve Lucas are veterans whose credentials are well established.
Laughton effortlessly switched between guitar, harp, coronet, alto sax and flute throughout the course of a set I caught at last month's 8:30-11 show. With guitarist Quarrington sitting in (which I gather isn't unusual —and the band also sometimes includes pedal seel/Dobro player Burke Carroll) things soared to an even higher level.
It's hard to believe there's no cover for this show and difficult to comprehend how the club wouldn't want everyone in the world to know about it. But now that you know, get yourself out to the room at 141 Danforth Ave. tonight, settle back and let the music surprise, inspire and delight you the way it used to when people with ears, not machines, created radio playlists.
-Gary 17, TorontoMoon.ca
SHOW LISTINGS for Tuesday, June 02, 2022
Listings are organized by area in which the shows occur and within each area field shows are listed chronologically.
Listings preceded by an asterisk (*) are repeating weekly events. (Double asterisk indicates repeating event with different hosts/guest/etc.). Admission prices followed by a slash and minus (/-) after the amount indicates door charge with availability of cheaper rates for some purchases. /+ indicates stated price is minimum.
Names of subscribers appear in bold, are underlined and, where applicable, include a live link to their websites. Advertisers' listings are in larger highlighted type, include live link to website and also have ad icon included in listings.
416 – Toronto Central
6> Liam Titcomb @ Cameron House (front), 408 Queen St. W., TO ~original Pop-Roots
6:30> Julia Cleveland Quintet @ The Rex, 194 Queen St. W., TO ~Jazz
*7> open mic @ The Central, 603 Markham St., TO
7:30> JuLion King's Reggae Jam Session presents The Fugitive Minds @ Tranzac Club (Southern Cross), 292 Brunswick St., TO
8:30> open mic night @ The Rivoli, 334 Queen St. W., TO; $5
8:30> Sam Sundar-Singh + Jennifer Dash @ Free Times Café, 320 College St., TO ~songwriters; $6
*8:45> Tyler Yarema & His Rhythm @ Reservoir Lounge, 52 Wellington St. E., TO ~Jazz/Blues
9> The Kents; Towers; Iduna; Sans Foulard @ Horseshoe Tavern, 370 Queen St. W., TO ~indie; $0
9:30> Django Gypsy Jam @ Grossman's, 379 Spadina Ave., TO
9:30> PRIVATE EVENT @ The Rex, 194 Queen St. W., TO ~Jazz
*10-2> The Sattalites @ Orbit Room, 580 College St., TO ~orig. & cover Reggae/Funk
10> Peripheral Vision @ Tranzac Club (Southern Cross), 292 Brunswick St., TO ~Jazz
10> Run With The Kittens @ Cameron House (front), 408 Queen St. W., TO ~original Pop Rock
10:30> tba @ The Hideout, 484 Queen St. W., TO ~indie Rock
416 – Toronto East
*6-9> Julian Fauth solo @ Sauce, 1376 Danforth Ave., TO East ~original Blues piano
8-11> Bossa Tres @ Relish, 2152 Danforth Ave., TO East ~Gypsy Jazz
8-10> TWAC @ Castro's, 2116 Queen St. E., TO East
8:30> Stuart Laughton's Radio Dial @ Dora Keogh ~eclectic vintage Pop/Jazz
**9> open mic with host Jody Ferrer & 10 p.m. feature by tba @ Groove Bar, 1952 Danforth Ave., TO East
9> The Ditch Horses featuring Reid Pickering & Chris Bennett @ The Only Café, 972 Danforth Ave., TO East
*9:30> Peter Verity @ Black Swan, 154 Danforth Ave., TO East ~Folk Roots
*9:30-12> open stage hosted by Jennifer Brewer @ The Old Nick, 123 Danforth Ave., TO East
*9:30> jam with Frank Wilks & Friends @ The Duke Live, 1225 Queen St. E., TO East
416 – Toronto West
10 a.m.> Toronto Ravel led by John Herberman @ Hugh's Room, 2261 Dundas St. W., TO West ~$15
5-8> Howard Willett Blues Duo @ Gate 403, 403 Roncesvalles Ave., TO West ~Blues
7:30-10> open mic with hosts North Of Queen @ Emmanuel Howard Park United Church, 214 Wright Ave., TO West; $2
9> Tim Bradford & Friends @ The Local, 396 Roncesvalles Ave., TO West ~Country
9> Nick Morgan Jazz Trio @ Gate 403, 403 Roncesvalles Ave., TO West ~Jazz
**9> aBabe Music presents Shikha Sehgal; JoJo Worthington; Dave Quanbury; Gin City Miracles @ The Painted Lady, 218 Ossington Ave., TO West ~indie showcase; $5
*9:30> jam with Derek Downham @ Axis, 3048 Dundas St. W., TO West ~eclectic
416 – Scarborough
*9:30> karaoke with The English Rose & The Mad Scotsman @ The Fossil & Haggis, 790 Military Trail, Scarborough
705
7> Kerry Jayne @ Black Horse Pub, 452 George St. N., Peterborough
905 East
*6:30-11> The Woodshed jam with Don Niblett & Frank Zochodne @ Simcoe Blues & Jazz, 926 Simcoe St. N., Oshawa
9> James Cameron @ The Corral, 433 Simcoe St. S., Oshawa ~Country Rock
*10> open mic with Josh Beaven @ The Atria, 59 King St. E., Oshawa
905 North
*8-11> jam with Matthew Kane & The Brews Brothers @ The Crown, 9580 Yonge St., Richmond Hill
*8:30> open mic @ Falcon & Firkin, 10300 Yonge St., Richmond Hill
*9> open mic with Manny D, Andy Earle & Dave Breckels @ Big Chris BBQ, 17380 Yonge St., Newmarket
905 South
*8-11> Michael Keys & Friends @ The Ale House, 802 Upper Gage Ave., Hamilton ~Pop/Jazz
*9:30-1> Traditional Irish jam @ Corktown Pub, 175 Young St., Hamilton
9> Reverend Horton Heat; Nekromantix & The Brains @ This Ain't Hollywood, 345 James St. N., Hamilton ~indie
905 West
*8-12> Marshall Dane Trio @ Roc'n Doc's, 105 Lakeshore Rd. E., Port Credit ~New Country/Pop
*8> open stage with host Iain Leslie @ Moonshine Café, 137 Kerr St., Oakville; $2
*8:45> open mic with Matt Zadkovich @ Culchain's Irish Pub, 158 Queen St. S., Streetsville-Mississauga
*9:30> The Phil & John Show feat. Phil Naro @ Shore Grill, 71 Lakeshore Rd. E., Port Credit ~acoustic Pop Rock
*10> open mic @ The Dickens, 423 Elizabeth St., Burlington
Copyright © 2015 Toronto Moon Magazine. All Rights Reserved