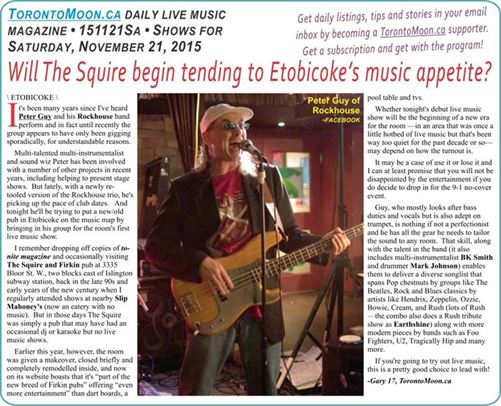 \ ETOBICOKE \
It's been many years since I've heard Peter Guy and his Rockhouse band perform and in fact until recently the group appears to have only been gigging sporadically, for understandable reasons.
Multi-talented multi-instrumentalist and sound wiz Peter has been involved with a number of other projects in recent years, including helping to present stage shows.  But lately, with a newly re-tooled version of the Rockhouse trio, he's picking up the pace of club dates.   And tonight he'll be trying to put a new/old pub in Etobicoke on the music map by bringing in his group for the room's first live music show.
I remember dropping off copies of to-nite magazine and occasionally visiting The Squire and Firkin pub at 3335 Bloor St. W., two blocks east of Islington subway station, back in the late 90s and early years of the new century when I regularly attended shows at nearby Slip Mahoney's (now an eatery with no music).  But in those days The Squire was simply a pub that may have had an occasional dj or karaoke but no live music shows.
Earlier this year, however, the room was given a makeover, closed briefly and completely remodelled inside, and now on its website boasts that it's "part of the new breed of Firkin pubs" offering "even more entertainment" than dart boards, a pool table and tvs.
Whether tonight's debut live music show will be the beginning of a new era for the room —in an area that was once a little hotbed of live music but that's been way too quiet for the past decade or so— may depend on how the turnout is.
It may be a case of use it or lose it and I can at least promise that you will not be disappointed by the entertainment if you do decide to drop in for the 9-1 no-cover event.
Guy, who mostly looks after bass duties and vocals but is also adept on trumpet, is nothing if not a perfectionist and he has all the gear he needs to tailor the sound to any room.  That skill, along with the talent in the band (it also includes multi-instrumentalist BK Smith and drummer Mark Johnson) enables them to deliver a diverse songlist that spans Pop chestnuts by groups like The Beatles, Rock and Blues classics by artists like Hendrix, Zeppelin, Ozzie, Bowie, Cream, and Rush (lots of Rush —the combo also does a Rush tribute show as Earthshine) along with more modern pieces by bands such as Foo Fighters, U2, Tragically Hip and many more.
If you're going to try out live music, this is a pretty good choice to lead with!
-Gary 17, TorontoMoon.ca
SHOW LISTINGS for Saturday, November 21, 2021
Listings are organized by area in which the shows occur and within each area field shows are listed chronologically.
Listings preceded by an asterisk (*) are repeating weekly events. (Double asterisk indicates repeating event with different hosts/guest/etc.). Admission prices followed by a slash and minus (/-) after the amount indicates door charge with availability of cheaper rates for some purchases. /+ indicates stated price is minimum.
Names of subscribers appear in bold, are underlined and, where applicable, include a live link to their websites. Advertisers' listings are in larger, highlighted type, include live link to website and also have ad icon included in listings.
416 - Toronto Central

*12-3> The Sinners Choir @ The Rex, 194 Queen St. W., TO ~Jazz
3> The Boxcar Boys @ C'est What, 67 Front St. E., TO ~Rockabilly/Bluegrass; $5
3> Jamzac @ Tranzac Club (Southern Cross), 292 Brunswick Ave., TO
3:30> Bob Brough Quartet @ The Pilot, 22 Cumberland St., TO ~Jazz
4-7> Sin City Boys featuring Kevin Jollimore @ Graffiti's, 170 Baldwin St., TO ~classic Pop Rock/Tex Mex original
4-7> Rick Lavine @ Seven44, 744 Mount Pleasant Road, TO North ~$
*4-7> Climax Jazz Band @ Alleycatz, 2409 Yonge St., TO North ~Dixieland Jazz; $?
*4:40-7:30> The Happy Pals @ Grossman's, 379 Spadina Ave., TO ~New Orleans Jazz
*5-8> Blues & Troubles @ Déjà vu Bar, 389 College St., TO ~Blues
6-8> Kristina Nojd @ 120 Diner, 120 Church St., TO ~Jazz
6> Grier Coppins @ Cameron House (front), 408 Queen St. W., TO
7:30> No Seas @ Tranzac Club (Southern Cross), 292 Brunswick Ave., TO
7:30> Justin Bacchus @ The Rex, 194 Queen St. W., TO ~ Jazz
8> Hawaiian Lions @ Musideum, 401 Richmond St. W., #133, TO ~Hawaiian music; $20
8:30> Robyn Dell'Unto Student Recital @ Free Times Café, 320 College St. TO ~indie Pop
8:30> Natalie Simons @ May Café, 876 Dundas St. W., TO
9> Ginger Ale & The Monowhales; Amberwood; Crisis Ctrl Club @ Rivoli, 334 Queen St. W., TO; $10
9> Jay Harmony & The Groove Sharks @ Seven44, 744 Mount Pleasant Road, TO North ~Rock/Funk; $
9> The Garden @ Drums N Flats, 1980 Avenue Rd., TO North ~Led Zeppelin tribute
9> Broadsway @ Jazz Bistro, 251 Victoria St., TO ~Jazz
9> Souljazz Orchestra album release @ Lee's Palace, 529 Bloor St. W., TO ~$
9> Gray @ The Old Laurel, 300 College St., TO
9> Reynolds Creek; Johnson Crook; Wool & Howl; Sad Boys Glee Club @ Cameron House (rear), 408 Queen St. W., TO
9> Night Beats; Mexican Slang; La Witch; Hooded Fang; B-17; Fill Spectre @ Horseshoe Tavern, 370 Queen St. W., TO ~Psychedelic Garage Soul; $
9:30> Last Hologram @ C'est What, 67 Front St. E., TO ~$10
9:30> Por qué @ The Cavern Bar, 76 Church St., TO
9:30> Recipee Band @ Alleycatz, 2409 Yonge St., TO North ~Funk/Soul/R&B; $
9:45> Al Henderson Quintet @ The Rex, 194 Queen St. W., TO ~Jazz
*9:45> Tyler Yarema & His Rhythm @ Reservoir Lounge, 52 Wellington St. E., TO ~Jazz/Blues; $
10> Soul Stew @ Orbit Room, 480 College St. TO ~Funk/Soul; $
10> Combo Royale @ Cameron House (front), 408 Queen St. W., TO
10> Benjamin Ross @ Tranzac Club (Southern Cross), 292 Brunswick Ave., TO
10-2> Brian Cober's Rocking Reveal featuring Josh Piche @ Grossman's, 379 Spadina Ave., TO ~Blues
10:30> Danyka Nadeau Duo @ Fionn MacCool's Esplanade, 70 The Esplanade ~Pop
10:30> Music City North showcases @ The Hideout, 484 Queen St. W., TO ~indie Rock
3-5> The Cooling Agents @ The Eton House, 710 Danforth Ave., TO East ~Folk/Blues
*3:30-6> Johnny Wright @ Outriggers, 2232 Queen St. E., TO East ~R&B
*4-7:30> Ronnie Hayward Trio @ McQueen's, 993 Queen St. E., TO E. ~Blues/Roots
6-8> The Cosmotones @ Castro's, 2116 Queen St. E., TO East ~Blues/Roots
8> Kickback @ The Feathers, 962 Kingston Rd., TO East ~Rock/Blues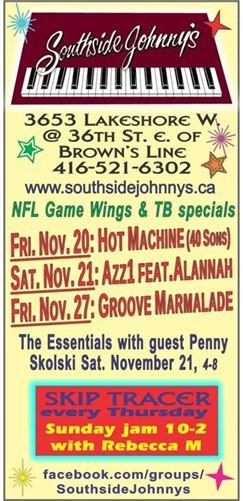 9> Trish O'Brien Band @ Dora Keogh, 141 Danforth Ave., TO East
9> The Starlite Band @ The Eton House, 710 Danforth Ave., TO East ~vintage Rock
9:30-11:30> Mark Sepic @ Relish, 2152 Danforth Ave., TO East ~innovative Jazz/experimental/Pop
9:30> For Those About To Rock @ The Duke Live, 1225 Queen St. E., TO East ~AC/DC tribute
9:30> The Mockers @ Linsmore Tavern, 1298 Danforth Ave., TO East ~Beatles tribute; $10
416 – Toronto Etobicoke
*3-6> Danny B Band @ Blue Goose, 1 Blue Goose St., Etobicoke South ~R&B/Blues
**4-8> The Bear's Essentials with guest singer Penny Skolksi @ Southside Johnny's, 3653 Lake Shore Blvd. W. Etobicoke South ~Rock-R&B
*4-8> The Meteors with guest Tony "Wild T" Springer @ Timothy's Pub, 344 Brown's Line, Etobicoke South ~Blues/Rock/R&B
7:30> Maureen Kennedy Trio @ Old Mill Inn Homesmith Bar, 21 Old Mill Rd., Etobicoke ~Jazz; minimum table charge
8> Pitfest @ The Rockpile, 5555 Dundas St. W., Etobicoke; $

8> Retro Mix @ Old Mill Inn Dining Room, 21 Old Mill Rd., Etobicoke ~Jazz; minimum table charge
9> The O'Deadlys @ Blue Goose Tavern, 1 Blue Goose Rd., Etobicoke South ~Pop Rock
9> Doubleshot @ Maple Leaf House, 2749 Lake Shore Boulevard West, Etobicoke ~Blues
9:30> Blackboard Blues Band @ Timothy's Pub, 344 Brown's Line, Etobicoke South ~Blues; $
9:30> lip synch contest @ Refinery Public House, 3039 Lake Shore Blvd. W., Etobicoke
10-2> Azz1 @ Southside Johnny's, 3653 Lake Shore Blvd. W. Etobicoke South ~Rock/Blues/Funk
416 – Toronto Scarborough
*3-6> Still Sunday featuring Jim Cornell with guests Chasing Shadows & hosting Rock/Blues jam @ The Loaded Dog, 1921 Lawrence Ave. E., Scarborough
8> Noah Zacharin with Jenie Thai Nolan opening for Acoustic Harvest @ Robinson Hall, St. Nicholas Anglican Church, 1512 Kingston Rd., Scarborough ~Folk originals; $25
9-1> Frank Perry Duo @ Black Dog Pub, 87 Island Rd., Scarborough ~ Pop Rock
*9:30-2> karaoke with The English Rose & The Mad Scotsman @ Winners, 2181 Lawrence Ave. E., Scarborough
9:30> Jay Vasquez @ Stone Cottage Pub, 3750 Kingston Rd., Scarborough ~Pop Rock
9:30> Cameljoe @ Fox at Scarborough Junction, 646 Danforth Rd., Scarborough ~classic Rock/Blues
9:30> Bone-Yard @ The Loaded Dog, 1921 Lawrence Ave. E., Scarborough ~Rock/Pop
416 - Toronto West
*12-3> Julian Fauth's Blues Brunch @ Axis, 3048 Dundas St. W., TO West ~Blues
**2-6> open mic with guest host Brian Jantzi @ Magic Oven, 347 Keele St., TO West
**5-8> Bill Heffernan's Saturday Sessions with featured guests Glen Hornblast; The McDales featuring Herb Dale @ Gate 403, 403 Roncesvalles Ave. TO West ~Roots/Country/Pop
5-8> Mike Tod & Sean Donald @ The Local, 396 Roncesvalles Ave., TO West ~old-time
6:30> Random Order; more @ The Painted Lady, 218 Ossington Ave., TO West
7-9> Slow Leaves @ Dakota Tavern, 249 Ossington Ave., TO West ~$7
8> International Pop Overthrow Toronto: The Snows; Hailee Rose; Carmen "Social Potion" Toth; The 905s; Clockwise; Jaimie Vernon; Dave Rave @ The Tennessee, 1554 Queen St. W., TO West ~indie; $10
8-10> Donna Greenberg @ Humble Beginnings, 3109 Dundas St. W., TO West ~acoustic Roots/Blues/Pop
8:30> Stan Rogers tribute with Paul Mills; Laura Smith; Dan McKinnon; Ariel Rogers; Beth Rogers; more @ Hugh's Room, 2261 Dundas St. W., TO West ~$27.50/-
9-1> Sweet Derrick Blues Band @ Gate 403, 403 Roncesvalles Ave., TO West ~Blues
9> Ben Gunning album release for Massive Love with Bernice guesting @ Burdock, 1184 Bloor St. W., TO West
9> Surf Dads @ Smiling Buddha, 961 College St., TO West ~Surf Rock classics
9> Mimi Shaw & Tiny Bill Cody @ The Local, 396 Roncesvalles Ave., TO West
9:30> Hervé Basset Duo @ Brazen Head Pub, 165 East Liberty St., TO West ~Pop Rock
9:30> Raoul & The Big Time @ Fat City Blues, 890 College St., TO West ~Blues
10> BackTrack featuring Marty Zatzman @ Cadillac Lounge, 1296 Queen St. W., TO West ~Rock/Dance/Funk; $
10-2> The Royal Crowns @ Dakota Tavern, 249 Ossington Ave., TO West ~Rockabilly; $
10:30> Ken Yoshioka Band featuring Julian Fauth on keys & Dave McManus on bass @ On Cue Billiards, 349 Jane St., TO West
519
3-6> Kauffey Temple Big Band @ Brando's Beach House, 135 Market St., Brantford  ~Blues
8> Annette Haas @ Fionn MacCool's Kitchener, 4287 King St. E., Kitchener ~original & cover Roots-Pop
9> Descendants of Dunn @ Fionn MacCool's Guelph, 494 Ediburgh Rd. S., Guelph
9:30> Bobby Cameron @ Fionn MacCool's Orangeville, 75 Fourth Ave., Orangeville
705
5> Rick & Gailie @ Black Horse Pub, 452 George St. N., Peterborough
8:30> Gunslingers @ Black Horse Pub, 452 George St. N., Peterborough
9:30> Babylon featuring James Alcock @ Beaverton Motel, 501 Osborne St., Beaverton ~classic Rock
9:30> Bang On @ Sticky Fingers Dunlop, 150 Dunlop St. W., Barrie
9:30> Psych Ward @ Red Dog Tavern, 189 Hunter St. W., Peterborough
10> Famines; Garbage Face @ The Garnet, 231 Hunter St. W., Peterborough
905 East
*4> PRJ @ Simcoe Blues & Jazz, 926 Simcoe St., Oshawa ~Blues
8> Lee Aaron @ Oshawa Music Hall. 39 King St. E., Oshawa ~CanRock icon; $30
*9-1> karaoke with Rob MacArthur @ Tudor Rose, 700 Harwood Ave. S., Ajax
9> James Cameron @ The Corral, 433 Simcoe St. S., Oshawa ~Country
9> Holy Mount; Sarin; Horse Lung @ The Atria, 59 King St. E., Oshawa ~Hard ROck
9-1> Jim Longo @ Simcoe Blues & Jazz, 926 Simcoe St. N., Oshawa ~Blues
9> Wayne Kennedy; Bike Thiefs; Stranded Cruiser; Direct Disregard @ The Moustache Club, 15 Simcoe St. N., Oshawa ~Punk $2
9:30> Midnight Jewel featuring Brian Potts on bass @ West Shore, 877 Bayly St., Pickering ~Rock/Pop
9:30> Red Velvet @ The Edge, 250 Bayly St., Ajax ~Rock/Pop; $
10-2> David Cavern Fraser & Special K @ Fionn MacCool's Ajax, 36 Kingston Rd. E., Ajax ~Pop Rock
10-2> Bon Jovi Forever @ Whisky John's, 843 King St. W., Oshawa ~Bon Jovi tribute; $5
905 North
6-9> Dinner Jazz @ Lake Simcoe Arms, 21089 Dalton Rd., Jackson's Point ~Jazz
9-1> Subterraneans @ Oscar's Roadhouse, 1785 Queen St. E., Brampton ~Rock & Jazz/Reggae
9> Andrew McGrady @ Fionn MacCool's Newmarket, 17315 Leslie St., Newmarket
9> Charlotte & The Dirty Cowboys @ King Richard's Pub, 15570 Yonge St., Aurora ~Pop Rock
9:30> LEFTY @ All Stars Bar, 73 Bramalea Rd., Brampton ~classic Rock
9:30> Jukebox Heroes @ Stewart Maguire's Landing, 15 Allan Rd., Bolton ~Foreigner tribute
9:30> Skip Tracer @ Jake's Boathouse Brampton, 59 First Gulf Rd., Brampton ~Pop Rock
9:30> 3MDM @ Aw Shucks, 15230 Yonge St., Aurora ~Pop Rock
*11> DJ Ozne (Enzo Simone) @ Britannia Pub, 7359 Yonge St., Thornhill
905 South
*2-6> jam w. Tom Finocchio @ Sam's Place, Barton-Chestnut Sts., Hamilton
**2:30> special guest with The Mighty Duck Band, The Duck, 244 Ontario St., St. Catharines ~R&B/Blues
**2:30> Conor Gains @ Coach & Lantern (upstairs), 384 Wilson St E., Hamilton ~Blues
9> Shari & Jonny Band @ Coach & Lantern, 384 Wilson St E., Hamilton
9> Freddy Pompeii & The Secrets; The Sheanderthals @ This Ain't Hollywood, 345 James St. N., Hamilton
**9> Niagara Rhythm Section @ The Old Winery, 2228 Niagara Stone Rd., Niagara-On-The-Lake ~R&B/Blues
9:30> Martha and the Fulfords @ Corktown Pub, 175 Young St., Hamilton ~indie; $
10> 351 Cleveland @ Doc Magilligan's Irish Pub, 6400 Lundy's Lane, Niagara Falls
905 West
**2-6> Sil Simone Band with special guest Melissa Bell @ Carrigan Arms, 2025 Upper Middle Rd., Burlington ~Rock/Blues
**2-6> Saturday Blues Sermon with James Anthony & special guest Harmonica Shah @ Black Swan Pub Burlington, 4040 Palladium Way, Burlington ~Blues
*3-7> jam with Michelle Deneault & Redder @ Port Credit Legion, 35 Front St., Port Credit
3-6> Big Bob Hammond and the Mississauga Delta Blues Band @ Roc'n Doc's, 105 Lakeshore Rd. E., Port Credit ~Blues; $
*3-7> open stage jam @ Moonshine Café, 137 Kerr St., Oakville; $2
8-12> Conor Gains Band @ Moonshine Café, 137 Kerr St., Oakville ~Blues/Jazz; $10
9> The Pub Jugs @ Fionn MacCool's Oakville, 350 Dundas St. E., Oakville
9> Pretzel Logic @ Carrigan Arms, 2025 Upper Middle Rd., Burlington ~Steely Dan tribute; $
9:30> Groove Hammer @ Sixth Line Pub, 1500 Sixth Line, Oakville
9:30> Pat Hewitt @ Shore Grill, 71 Lakeshore Rd. E., Port Credit ~Pop Rock/Top 40
9:30> Dualing Divas @ The Franklin House, 263 Queen St. S., Streetsville ~Pop Rock
9:30> Dirty Pioneers @ Gator Ted's, 1505 Guelph Line, Burlington ~Rock/Pop
9:30> The 905 Band @ Boston Manor, 4460 Fairview Ave., Burlington ~Rock/Pop; $
10-2> Sonny Boy Mick @ Roc'n Doc's, 105 Lakeshore Rd. E., Port Credit ~Rock/Top 40; $
10:15> Orangeman @ Failte, 201 City Centre Dr., Mississauga ~Rock/Pop
Copyright © 2015 Toronto Moon Magazine. All Rights Reserved