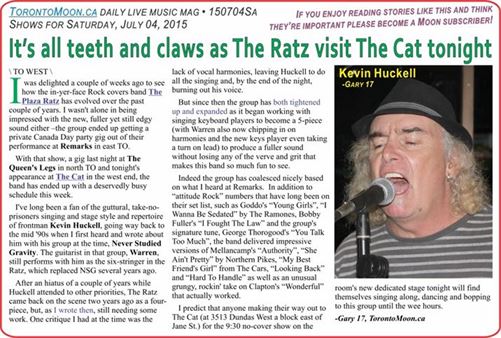 \ TO WEST \
I was delighted a couple of weeks ago to see how the in-yer-face Rock covers band The Plaza Ratz has evolved over the past couple of years. I wasn't alone in being impressed with the new, fuller yet still edgy sound either –the group ended up getting a private Canada Day party gig out of their performance at Remarks in east TO.
With that show, a gig last night at The Queen's Legs in north TO and tonight's appearance at The Cat in the west end, the band has ended up with a deservedly busy schedule this week.
I've long been a fan of the guttural, take-no-prisoners singing and stage style and repertoire of frontman Kevin Huckell, going way back to the mid '90s when I first heard and wrote about him with his group at the time, Never Studied Gravity. The guitarist in that group, Warren, still performs with him as the six-stringer in the Ratz, which replaced NSG several years ago.
After an hiatus of a couple of years while Huckell attended to other priorities, The Ratz came back on the scene two years ago as a four-piece, but, as I wrote then, still needing some work. One critique I had at the time was the lack of vocal harmonies, leaving Huckell to do all the singing and, by the end of the night, burning out his voice.
But since then the group has both tightened up and expanded as it began working with singing keyboard players to become a 5-piece (with Warren also now chipping in on harmonies and the new keys player even taking a turn on lead) to produce a fuller sound without losing any of the verve and grit that makes this band so much fun to see.
Indeed the group has coalesced nicely based on what I heard at Remarks.  In addition to "attitude Rock" numbers that have long been on their set list, such as Goddo's "Young Girls", "I Wanna Be Sedated" by The Ramones, Bobby Fuller's "I Fought The Law" and the group's signature tune, George Thorogood's "You Talk Too Much", the band delivered impressive versions of Mellancamp's "Authority", "She Ain't Pretty" by Northern Pikes, "My Best Friend's Girl" from The Cars, "Looking Back" and "Hard To Handle" as well as an unusual grungy, rockin' take on Clapton's "Wonderful" that actually worked.
I predict that anyone making their way out to The Cat (at 3513 Dundas West a block east of Jane St.) for the 9:30 no-cover show on the room's new dedicated stage tonight will find themselves singing along, dancing and bopping to this group until the wee hours.
-Gary 17, TorontoMoon.ca
SHOW LISTINGS for Saturday, July 04, 2021
Listings are organized by area in which the shows occur and within each area field shows are listed chronologically.
Listings preceded by an asterisk (*) are repeating weekly events. (Double asterisk indicates repeating event with different hosts/guest/etc.). Admission prices followed by a slash and minus (/-) after the amount indicates door charge with availability of cheaper rates for some purchases. /+ indicates stated price is minimum.
Names of subscribers appear in bold, are underlined and, where applicable, include a live link to their websites. Advertisers' listings are in larger, highlighted type, include live link to website and also have ad icon included in listings.
ONLINE/ON AIR
11:15 a.m.> Nicole "Songbird" Coward interviewed by Jim Marino on "The Freewheelin' Folk Show" on the air and online at 93.3 CFMU
416 - Toronto Central
*12-3> The Sinners Choir @ The Rex, 194 Queen St. W., TO ~Jazz
1:30-4:30> Words & Music with hosts Linda Stitt & Lucky Mike + guests Harpin' Norm Lucien; The Curries; Mary Milne; more @ Vino Rosso, 995 Bay St. TO ~eclectic original mix
3> Jamzac @ Tranzac Club (Southern Cross), 292 Brunswick Ave., TO
3:30> Jake Chisholm Group @ The Rex, 194 Queen St. W., TO ~Blues
3:30> Barry Elmes Quartet @ The Pilot, 22 Cumberland St., TO ~Jazz
4-7> Don River Blues @ Seven44, 744 Mount Pleasant Road, TO North ~Blues; $
*4-7> Climax Jazz Band @ Alleycatz, 2409 Yonge St., TO North ~Dixieland Jazz; $?
4:15-11> White Feather; Calm Cool Collective; Chez Imbecile; Natalie Fasheh; Jazz Money; Saboumando; Sideponynation; The Plaidversaries; The JEM; Wayne Neon; Saboumando; A Touch Of Rosemary; Stalkyard Hurts for Fringe Festival @ Busker's Club, 581 Bloor St. W., TO ~eclectic
*4:40-7:30> The Happy Pals @ Grossman's, 379 Spadina Ave., TO ~New Orleans Jazz
6-8> Rattlesnake Choir @ Cameron House (front), 408 Queen St. W., TO ~Bluegrass
7> Barosz Hadala Trio @ The Rex, 194 Queen St. W., TO ~ Jazz
7:30> Abigail Lapell @ Tranzac Club (Southern Cross), 292 Brunswick Ave., TO
8:30> Shelder The Electric Clamfish + John Muller @ Free Times Café, 320 College St. TO ~songwriter
9> Something Extra @ Seven44, 744 Mount Pleasant Road, TO North ~Rock/Top 40
9> Common Lobby; The Shakedown; Sleepy Mean; Countless Numbers; DB Cooper @ Horseshoe Tavern, 370 Queen St. W., TO ~indie; $8
9:30> Lady Kane @ Alleycatz, 2409 Yonge St., TO North ~Funk/Soul/R&B; $
9:45> Steve Koven's Project Rex @ The Rex, 194 Queen St. W., TO ~Jazz
*9:45> Tyler Yarema & His Rhythm @ Reservoir Lounge, 52 Wellington St. E., TO ~Jazz/Blues
10> Ride The Tiger @ Orbit Room, 480 College St. TO ~Funk/Soul
10> Laura Cole @ Cameron House (front), 408 Queen St. W., TO
10-2> Bard From The Club @ Grossman's, 379 Spadina Ave., TO ~Reggae Rock
10?> New Row; Common Deer; Cardboard Crowns; New Teeth @ Lee's Palace, 529 Bloor St. W., TO; $7
10:30> 4 Letter World; Elevation featuring Shawn Brady @ The Hideout, 484 Queen St. W., TO ~U2 tribute
416 - Toronto East
*3:30-6> Johnny Wright @ Outriggers, 2232 Queen St. E., TO East ~R&B
*4-7:30> Ronnie Hayward Trio @ McQueen's, 993 Queen St. E., TO E. ~Blues/Roots
6-8> tba @ Castro's, 2116 Queen St. E., TO East ~Blues/Roots
8> Michael Danckert @ The Feathers, 962 Kingston Rd., TO East ~Rock/Pop songwriter
8> Mudpunch @ The Only Café, 972 Danforth Ave., TO East ~Blues Rock duo
9:30-11:30> The Ditch Horses featuring Reid Pickering & Chris Bennett @ Relish, 2152 Danforth Ave., TO East ~original Country/rural Pop

9:30> Jerome Godboo Band with Greg Godovitz on bass @ The Duke Live, 1225 Queen St. E., TO East ~Blues
9:30> The Doors Men @ Linsmore Tavern, 1298 Danforth Ave., TO East ~Doors tribute; $
416 - Etobicoke
*3-6> The Penny Machine @ Blue Goose, 1 Blue Goose St., Etobicoke South ~R&B/Blues
**4-8> The Bear's Essentials with guest singer Jim Gillard @ Southside Johnny's, 3653 Lakeshore Blvd. W. Etobicoke South ~Rock-R&B
*4-8> The Meteors with guest tba @ Timothy's Pub, 344 Brown's Line, Etobicoke South ~Blues/Rock/R&B
7:30> Terry Clarke Trio @ Old Mill Inn, 21 Old Mill Rd., Etobicoke ~Jazz; minimum table charge
9> Owen's Sound @ Maple Leaf House, 2749 Lakeshore Boulevard East, Etobicoke ~Rock/Blues/Funk
9:30> Frank Cosentino @ Timothy's Pub 344 Brown's Line, Etobicoke South ~Blues; $
416 – Scarborough
9> The Tall Boyz featuring Tommy Rocker @ West Hill Pizza, 4379 Kingston Rd., Scarborough ~acoustic Rock
9-1> tba @ Black Dog Pub, 87 Island Rd., Scarborough ~acoustic Pop/soft Rock
*9:30-2> karaoke with The English Rose & The Mad Scotsman @ Winners, 2181 Lawrence Ave. E., Scarborough
9:30> City Soul @ Stone Cottage Pub, 3750 Kingston Rd., Scarborough ~Pop Rock
416 - Toronto West
*12-3> Julian Fauth's Blues Brunch @ Axis, 3048 Dundas St. W., TO West ~Blues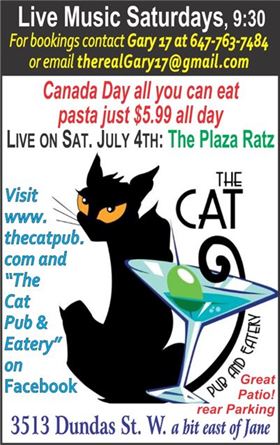 **2-6> open mic with host David Storey @ Magic Oven, 347 Keele St., TO West
2:30-4:30> Michael Keith @ Humble Beginnings, 3109 Dundas St. W., TO West ~acoustic Roots/Blues/Pop
**5-8> Johnny Cox & The Magnetic Line @ Gate 403, 403 Roncesvalles Ave. TO West –Blues
5-8> Kimberley & The Collect Callers @ The Local, 396 Roncesvalles Ave., TO West ~Folk
9-1> Julian Fauth @ Gate 403, 403 Roncesvalles Ave., TO West ~ Blues
9> Bad Luck Woman & Her Misfortunes @ The Local, 396 Roncesvalles Ave., TO West ~Swing Blues
10> BackTrack featuring Marty Zatzman @ Cadillac Lounge, 1296 Queen St. W., TO West ~Motown R&B/Top 40
10-2> Delta Sugar @ Dakota Tavern, 249 Ossington Ave., TO West
705
11 a.m. - midnight> Mariposa Folk Festival with various performers @ Tudhope park, Atherley Rd., Orillia
5> Brian Haddelssey @ Black Horse Pub, 452 George St. N., Peterborough
8:30> Chelsey Bennett Band @ Black Horse Pub, 452 George St. N., Peterborough
9:30> Stephanie Gregg Band @ Sticky Fingers Dunlop, 150 Dunlop St. W., Barrie
10> Chairs; Elms; Garbageface @ The Garnet, 231 Hunter St. W., Peterborough
905 East
2-5> matinée show with Gator James Band @ The Ganaraska Hote, 30 Ontario St., Port Hope ~Rock/Country
*4> PRJ @ Simcoe Blues & Jazz, 926 Simcoe St., Oshawa ~Blues
*9-1> karaoke with Rob MacArthur @ Tudor Rose, 700 Harwood Ave. S., Ajax
9> James Barker Band @ The Corral, 433 Simcoe St. S., Oshawa ~Country
10> Gator James Band @ The Ganaraska Hote, 30 Ontario St., Port Hope ~Rock/Country
10-2> Paradox @ Whisky John's, 843 King St. W., Oshawa ~Rock
905 North
Noon – 11> various acts including Shawn Brady & The Northern Sons (8 p.m.) for Bradford Ribfest @ Zehrs Market Field, 500 Holland St. W., Bradford
9-1> Outshine @ Oscar's Roadhouse, 1785 Queen St. E., Brampton ~Pop Rock/Top 40
9:30> Kat House @ Stewart Maguire's Landing, 15 Allan Rd., Bolton ~Rock/Top 40
9:30> Stella @ Jake's Boathouse Brampton, 59 First Gulf Rd., Brampton ~Pop Rock
9:30> Souled Out @ Aw Shucks, 15230 Yonge St., Aurora ~Pop Rock
10> The Dirty Rottens featuring Anthony Cee @ Allstars, 73 Bramalea Rd., Brampton ~Rock/Top 40
905 South
**2> Brant Parker Band with guest tba @ Donnelley's Pub, 54 Front St., Thorold ~Blues
**2:30> special guest with The Mighty Duck Band, The Duck, 244 Ontario St., St. Catharines ~R&B/Blues
**2:30> tba @ Coach & Lantern (upstairs), 384 Wilson St E., Hamilton ~Blues
9> Sons Of Revelry; Blacken'd Red; The Rathburns; Spin Dizzy @ This Ain't Hollywood, 345 James St. N., Hamilton
9> Uncorked @ Coach & Lantern, 384 Wilson St E., Hamilton
9> Psychotic Authority; Flyswatter @ Corktown Pub, 175 Young St., Hamilton ~indie; $
**9> Niagara Rhythm Section @ The Old Winery, 2228 Niagara Stone Rd., Niagara-On-The-Lake ~R&B/Blues
905 West
**2-6> Sil Simone Band with special guest Frank Cosentino @ Carrigan Arms, 2025 Upper Middle Rd., Burlington ~Rock/Blues
*2-6> jam w. Tom Finocchio @ Sam's Place, Barton-Chestnut Sts., Hamilton
**2-6> Saturday Blues Sermon with James Anthony & special guest Chuck Jackson @ Black Swan Pub Burlington, 4040 Palladium Way, Burlington ~Blues
*3-7> jam with Michelle Deneault & Redder @ Port Credit Legion, 35 Front St., Port Credit
*3-7> open stage jam @ Moonshine Café, 137 Kerr St., Oakville; $2
*6-9> Victoria & Bobby Keys @ Roc'n Doc's, 105 Lakeshore Rd. E., Port Credit ~soft Pop
9-1> Vivienne Wilder Band @ Moonshine Café, 137 Kerr St., Oakville ~Northern Gothic; $10
9> Travelling Beer Bellies @ Carrigan Arms, 2025 Upper Middle Rd., Burlington
9:30> Ernie G & John Bridge @ Shore Grill, 71 Lakeshore Rd. E., Port Credit ~Pop Rock/Top 40
9:30> Screaming Evil Blues Band @ The Franklin House, 263 Queen St. S., Streetsville ~Blues
10-2> Sonny Boy Mick @ Roc'n Doc's, 105 Lakeshore Rd. E., Port Credit ~Rock/Top 40
Copyright © 2015 Toronto Moon Magazine. All Rights Reserved