Many years ago when I was in the early days of publishing to-nite magazine I came up with sort of a zany idea: publishing "Musician Trading Cards" that would feature some of the people I was writing about.
Being busy and technical considerations ended up shelving that idea but now a weekly music showcase host has started an online series that kind of reminds me of that.
I told you previously about Rootsabilly songwriter/shows host Bill Heffernan's efforts to support the musical community that surrounds his 16-years running Saturday Session shows through administering a musician benefit fund and more recently through promoting online performances by various artists.
(The fund continues to grow, btw, and you can still donate by sending an e-transfer to [email protected] via credit card through the Square.com online portal, or you can provide cash or cheque to Bill directly.)
Now, starting today, Bill is also issuing a new weekly "Saturday Sessions Snapshots" series to his newslettrer subscribers, profiling some of the multitude of guests he's featured over the years.
Like really nifty trading cards, as he notes, the snapshot series includes a photo of an artist and a very brief bio and summary of their playing details —what "teams" they've played with, and "stats" for performances, etc.
Today's "card" is of songwriter and former Grievous Angels singer Michelle Rumball, who's been a fixture of the local Roots-Rock/Country scene for over 30 years but still looks zestful and eager when in performance mode.
She also, he notes in today's send out, now performs online live every Friday from 5-8 on Facebook for your listening pleasure
If you want to collect the set, sign up for Bill's weekly newsletter by contacting him at [email protected].
-By Gary 17, TorontoMoon.ca
[email protected] * [email protected]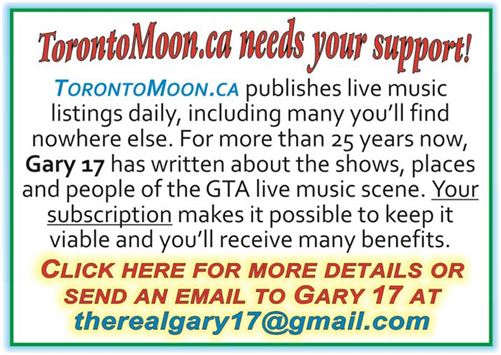 ONLINE/ON AIR SHOW LISTINGS for Friday, April 17, 2022
"RESIDING" items are those which are not time-sensitive and can be accessed 24/7
Names of subscribers appear in bold, are underlined and, where applicable, include a live link to their websites.
For Subscription details visit https://www.torontomoon.ca/subscribe/
Advertisers' listings are in larger, highlighted type, include live link to website and also have ad icon included in listings.
FOR ADVERTISING INFO VISIT: https://www.torontomoon.ca/advertise-with-toronto-moon/
*6am-6am weekdays> CBCMusic shows feature all-Canadian content @ CBC Radio One
*11am-1pm weekly> The Rock-A-Round with Slim Tim @ www.rockabilly-radio.net ~ Rockabilly tracks (from UK, repeats Sundays 3-5am & Wednesdays 6-8am)
Noon-1 weekdays> Zeca Polina for City Hall Live in support of Unison Benevolent Fund relief for artists fund streamed live on Facebook ~songwriter
Noon-6 weekly> Steel City Music with Gunner Smith @ The HAWK FM 101.5fm & streaming online ~Blues, etc.
1-2pm weeky> "Groove Radio" with host Bill King & guests @ CIUT 89.5FM & streamed online
1-1:30pm weekly> Come Sunday (Gospel Radio Show) w Paul Panchezak (Trickbag) @ 93.3 CFMU or cfmu.ca (Hamilton)
3-7 weekdays> Julian Taylor hosts @ 106.5 ELMNT FM in Toronto & www.elemntfm.ca ~eclectic music 25% indigenous, 35% CanCon
3> Home Routes Online presents Tim Allan streamed live on Facebook ~Jazz
3> Whitehorse live stream ~original Rock/Pop
4> Home Routes Online presents Lorraine Founier streamed live on Facebook ~Jazz
5-8 weekly> Michelle Rumball's "All The Fridays" live stream on Facebook ~songwriter
8> The Mac's (Rob & Lorraine MacArthur) perform live from "The Beach House" home in support of Ajax Legion branch #232 on Facebook ~Rockabilly
2> Laila Biali for National Arts Centre #CanadaPerforms series on Facebook
8> Blue October live stream ~original Rock/Pop
8> Lido Pimienta live stream ~Punk/Thrash
8 weekly> Ken Wallis Blues Source show with tracks and interviews @ www.bluesandrootsradio.com
9-11:30> Brady's Basement: Live Stream Concerts to Support Musicians fundraiser for Gareth Bush with Shawn Brady doing "I Love The 80s" themed songs ~streamed from www.facebook.com/bradyvox; tickets from Eventbrite
9-midnight weekly> "Gumbo Kitchen" with Ron Littlejohn @ JAZZ.FM91 & online ~Blues/R&B/Funk tracks and artists
*9:30-10:30 daily> "Q" TV broadcast with Tom Power with segments from @TheCurrentCBC, interviews, entertainment news & more @ CBC-TV
RESIDING> Shawn Brady performs original song "Sideways 2020" video on Facebook ~songwriter (0:4:46)
RESIDING> Kathleen Lovett performs cover of John's Prine's "Sam Stone" acoustic solo on YouTube; (0:5:22)
RESIDING> Al Reilly performs "Still Loving You" Scorpions cover acoustic solo on YoutTube (0:6:17)
RESIDING> Doc Higgins performs original song "The Lonesome Death of John Prine" on YouTube; (0:4:36)
RESIDING> Robbie Rox performs original song "Small Things Make Me Happy" solo acoustic for Good Friday on Facebook ~songwriter; (0:1:25)
RESIDING> Sebastian Agnello performs "Pour Me Another Tequila Sheila" @ Black Swan live in 2011 on Moon TV on YouTube; (0:2:54)
RESIDING> Kevin Jollimore performs "Stay the Blazes Home" for COVID protocols on YouTube ~ original Roots Rock; (0:3:20)
RESIDING> Drew Winters all ten tracks from Last Call In Montreal album on YouTube and on Spotify ~original Pop
RESIDING> Rob Minderman performs "Invisible Enemy" original song about COVID-19 on YouTube (0:4:00)
RESIDING> Wayne Neon and the Amazing Tubular Orchestra™ on Youtube: Social Distance Sessions live ~eclectic covers & originals (0:18:22)
RESIDING> Late Fakirs featuring Greg "Harpfool" Shields perform "Corona-chan Collection" of six original tunes ~videos link on YouTube
RESIDING> Kathleen Lovett covers "Sam Stone" by John Prine on YouTube; 0:5:22)
RESIDING> Eclectic Power Company featuring Graham Clarke covers "Wheat Kings (Tragically Hip) on InstagramTV (0:3:10)
RESIDING> Howard Gladstone performs original Roots solo on Facebook ~songwriter (0:5:32)
RESIDING> Dougal Bichan performs original song "More Than 100" on InstagramTV (0:8:23)
RESIDING> Kathleen Lovett performs solo on Facebook live ~Pop Rock/Roots/Blues covers (1:52:53)
RESIDING> David McLachlan performs two original songs recorded @ Bluebird Café, Nashville, on YouTube (0:8:02)
RESIDING> Colin James performs cover of "Walkin' Blues" by Son House on YouTube ~Blues (0:3:28)
RESIDING> Jesse Cook (with 12-year old daughter) performs 25-years-old original song "Tempest" on Facebook ~songwriter (0:3:30)
RESIDING> Andy Griffiths performs "What's So Funny" (Nick Lowe cover) on YouTube (0:4:34)
RESIDING> Jackie performs original song "Unspun" on YouTube ~songwriter (0:3:14)
RESIDING> Rick McCue performs original song "A Full Bottle of Wine" on Facebook ~songwriter (0:3:13)
RESIDING> Eric Schenkman performs original "Locked In The House All Day" song on YouTube ~original Rock; (0:3:45)
RESIDING> Jesse Parent performs new original song "Learning to Live Apart" in YouTube video; ~songwriter (0:3:22)
RESIDING> Steve Bowen's Kitchen Party from Milton on Facebook ~ol' time/traditional Roots; (0:42:51)
RESIDING> Bill Romberg performs original "Army of Heroes" song on YouTube ~songwriter; (0:3:30)
RESIDING> Craig Cardiff MP3s of two versions of new "To Be Safe, Loved & Home" original song on Spotify ~songwriter (0:3:20/0:5:06)
RESIDING> "I Gotta Wash My Hands" Beatles parody COVID-19 video by Hobby Marketing on You Tube (0:2:30)
RESIDING> Barenaked Ladies "Selfie Cam Jam" together-apart performance of "Lovers In A Dangerous Time" (Bruce Cockburn cover); 0:5:15
RESIDING> 2018 Dave's Crew video from open mic @ Dave's Pizza on YouTube; (0:9:20)
RESIDING> Linda Nusca Albertyn et al together-apart video collage of "Listen To The Music" cover on Facebook; (0:3:37)
RESIDING> Toronto Symphony Orchestra together-apart performance of "Appalachian Spring" in remote ensemble on YouTube ~Classical (0:4:26)
RESIDING> various artists recorded live concerts for Care In Canada Ontario for seniors in care homes, accessible to anyone on YouTube
RESIDING> James Anthony performs original "Corona Blues" song on YouTube ~songwriter (0:2:39)
RESIDING> Canadian astronaut Chris Hadfield performs "Space Oddity" from International Space Station on YouTube via TorontoMoon.ca (0:5:30)
RESIDING> "Almighty Voices" Episode 1 video with various artists on YouTube in support of Unison Benevolent Fund relief for artists fund (0:35:40)
RESIDING> Spoons new original song "Landing Lights" on YouTube ~original Pop (0:4:41)
RESIDING> Eugene Smith recorded live stream show from March 27 on YouTube ~songwriter (1:13:55)
RESIDING> Jillian Bunting performing original & cover songs on Facebook ~songwriter (0:53:20)
RESIDING> Miz Debbie & The Don Valley Stompers video recorded at Grossman's Tavern on YouTube ~Blues; (0:5:28)
RESIDING> The Jukebox Hour with Phill Hood and The Exclamation on Facebook ~covers and originals by request (1:23:08)
RESIDING> Reuben O'dell-Barkow with Marianna Lvovskaja recorded live (0:51:40)
RESIDING> Sarah Siddiqui video recorded live "Put The Worry Away (Isolation Sessions)" ~songwriter (0:25:28)
RESIDING> "10 Soothing Jazz Tunes…" (article with links) from Jazz.FM81 @ jazz.fm
RESIDING> Video of violinist Viera Zmiyiwsky performing for her 94-year-old grandmother, Anna, outside a retirement home in Mississauga on April 1 on Facebook ~classical; (0:5:38)
RESIDING> audio podcast episodes of "Q" with Tom Power and various artists streaming on request @ CBC Radio
RESIDING> Matt Groopie & David Grossman video performance of "Man On The Moon" (REM) acoustic outdoors from Facebook; (0:5:22)
RESIDING> Sam Roberts Band as Isolation Jubilation Sensation performing original song "We're All In This Together" on YouTube (0:03:10)
RESIDING> Marsala Lukianchuk performs "I Wish I Was Locked Down With You" Facebook video ~songwriter (0:1:49)
RESIDING> James Anthony sings John Prine's "All The Way With You," recorded April 9, 2020; on YouTube; (0:2:18)
RESIDING> "Austin City Limits" presents free concerts from Country greats and original acts on pbs.org
RESIDING> The Dexters R&B super group perform "Melon Collie Serenade" on YouTube (0:5:55)
RESIDING> Jessica Mondello performing covers & originals on Facebook ~songwriter (1:03:43)
RESIDING> Colin Brunton performs original song "Coronavirus Rhapsody" on Youtube (0:6:01)
RESIDING> Mark Malibu and the Wasagas perform Rockabilly PSA "Fight Covid-19" on YouTube (0:0:53)
RESIDING> Michael Theodore performing covers & originals on Facebook ~songwriter (1:17:01)
RESIDING> Home Routes podcast Show #22 with host Tim Osmond & tunes by Roots/Blues artists Kalyna Rakel [previous podcasts also accessible from page]
RESIDING> Instructional video "The Coronavirus Explained & What You Should Do" on YouTube (0:8:34)
Copyright © 2020 by Gary "17" Webb-Proctor & TorontoMoon.ca. All Rights Reserved