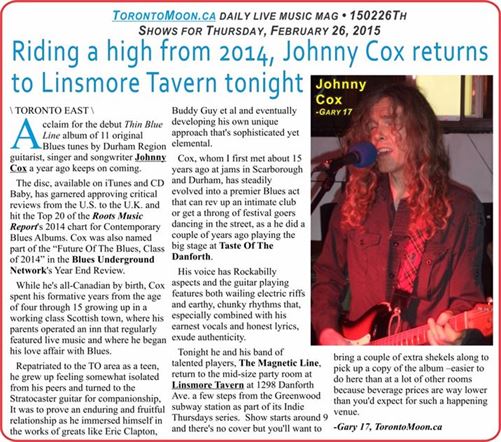 \ TORONTO EAST \
Acclaim for the debut Thin Blue Line album of 11 original Blues tunes by Durham Region guitarist, singer and songwriter Johnny Cox a year ago keeps on coming.
The disc, available on iTunes and CD Baby, has garnered approving critical reviews from the U.S. to the U.K. and hit the Top 20 of the Roots Music Report's 2014 chart for Contemporary Blues Albums. Cox was also named part of the "Future Of The Blues, Class of 2014" in the Blues Underground Network's Year End Review.
While he's all-Canadian by birth, Cox spent his formative years from the age of four through 15 growing up in a working class Scottish town, where his parents operated an inn that regularly featured live music and where he began his love affair with Blues.
Repatriated to the TO area as a teen, he grew up feeling somewhat isolated from his peers and turned to the Stratocaster guitar for companionship, It was to prove an enduring and fruitful relationship as he immersed himself in the works of greats like Eric Clapton, Buddy Guy et al and eventually developing his own unique approach that's sophisticated yet elemental.
Cox, whom I first met about 15 years ago at jams in Scarborough and Durham, has steadily evolved into a premier Blues act that can rev up an intimate club or get a throng of festival goers dancing in the street, as a he did a couple of years ago playing the big stage at Taste Of The Danforth.
His voice has Rockabilly aspects and the guitar playing features both wailing electric riffs and earthy, chunky rhythms that, especially combined with his earnest vocals and honest lyrics, exude authenticity.
Tonight he and his band of talented players, The Magnetic Line, return to the mid-size party room at Linsmore Tavern at 1298 Danforth Ave. a few steps from the Greenwood subway station as part of its Indie Thursdays series.  Show starts around 9 and there's no cover but you'll want to bring a couple of extra shekels along to pick up a copy of the album –easier to do here than at a lot of other rooms because beverage prices are way lower than you'd expect for such a happening venue.
-Gary 17, TorontoMoon.ca
SHOW LISTINGS for Thursday, February 26, 2022
Listings preceded by an asterisk (*) are repeating weekly events. (Double asterisk indicates repeating event with different hosts/guest/etc.). Admission prices followed by a slash and minus (/-) after the amount indicates door charge with availability of cheaper rates for some purchases. /+ indicates stated price is minimum.
Names of subscribers appear in bold and underlined and, where applicable, include a live link to their websites or event page. Advertisers' listings are in larger type and highlighted, include a live link to their website and also have a copy of the ad included in listings.
*5-8> Kirsten Jones @ Richtree Restaurant, Eaton Centre (14 Queen St. West), TO ~Country originals & Pop covers
5-8> Christine Aziz Jazz Quartet @ Gate 403, 403 Roncesvalles Ave., TO West ~Jazz
*5-8> Nelson Denis @ Frank's Pasta, 42 King Street E., Cobourg ~eclectic mix (Folk, Jazz, soft Rock, Latin)
6> Corin Raymond @ Cameron House (front), 408 Queen St. W., TO
6-9> Charlotte Cornfield & Rachel Ries @ Dakota Tavern, 249 Ossington Ave., TO West; $7
6:30> Worst Pop Band Ever @ The Rex, 194 Queen St. W., TO ~Jazz
*6:30> Songwriters Café @ Tranzac Lounge (Tiki Room), 292 Brunswick Ave., TO
7-9> Clela Errington @ Relish, 2152 Danforth Ave., TO East ~songwriter
7> Kimberley Wetmore & Co featuring Dave Girdlestone of Soul Funkshun @ Timothy's Pub, 344 Brown's Line, Etobicoke South ~Pop Rock
*7> open mic with Derek Mok @ Kensington Lodge, 21 Kensington Ave., TO
*7-10> Zone Music Youth jam with hosts Chasing Shadows @ West Shore Bar & Grill, 877 Bayly St., Pickering
*7:30-9:30> Bluegrass Thursdays with Houndstooth @ Tranzac Lounge (Southern Cross), 292 Brunswick Ave., TO
*7:30-12> open mic with K.M. Smith @ Molly Bloom's Guelph, 91 Wyndham St. N., Guelph
*8-11> Tinderbox Thursdays open stage with Michael Keith @ La Revolucion, 2848 Dundas St. W., TO West ~eclectic
*8-10:30> Jerry Leger & The Situation @ Castro's, 2116 Queen St. E., TO East ~Folk-Rock/Country
8-12> R&B/Blues @ Nawlin's, 299 King St. W. TO
8> Emergency Monologues @ Cameron House (rear), 408 Queen St. W., TO
8-11> benefit for Nellie's @ Supermarket, 268 Augusta Ave., TO
8> Ike Cedar & The Day Drinkers @ The Only Café, 972 Danforth Ave., TO East
8-12> Freedom Train @ Roc'n Doc's, 105 Lakeshore Rd. E., Port Credit
*8-12> open mic & jam @ Black Swan Pub Burlington, 4040 Palladium Way, Burlington
*8-12> jam hosted by The Personics @ Carrigan Arms, 2025 Upper Middle Rd., Burlington
*8-11> open mic with Sandy MacDonald @ Williamsburg Arms, 1187 Fischer Hallman Rd., Kitchener
8:30> Lorraine Klaasen's tribute toe Miriam Makeba @ Hugh's Room, 2261 Dundas St. W., TO West ~South African Jazz; $28.50/-
8:30> Emily Coffin; Ian Weir @ Free Times Café, 320 College St. TO ~songwriters; $6
8:30> Roberto Riveron; Pablosky Rosales @ Moonshine Café, 137 Kerr St. Oakville ~Cuban Fusion Jazz; $10
*9> Tommy Rocker's Classic Rock Band  with Jonny Rock on bass host jam @ Centro Pizza, 3406 Kingston Rd., Scarborough
*9> jam with Ted Rusk @ The Sauble Dunes, 11 Southampton Parkway, Sauble Beach
*9-1:30> open stage with Jay Pennell @ Dave's On St. Clair, 730 St. Clair West, TO West ~eclectic
9-12> Collette Savard Duo @ Gate 403, 403 Roncesvalles Ave., TO West ~Jazz
*9-1> Blackburn @ Jo Mamas, 317 King St. W., TO ~Blues
9> John Showman Trio @ The Local, 396 Roncesvalles Ave., TO West
9-12> Dead Penny Trio @ The Roncy, 390 Roncesvalles Ave., TO West ~acoustic Hip Hop & Reggae
9> Legends of R&B/Soul @ Alleycatz, 2409 Yonge St., TO North ~Funk/Soul/R&B
9-1> The Gary Kendall Band @ Monarchs Pub (Eaton Chelsea Hotel), 33 Gerrard St. W., TO ~Blues
*9> jam @ The Wee Pub, 371 Wilson Rd. South, Oshawa
9> Robert London @ Simcoe Blues & Jazz, 926 Simcoe St. N., Oshawa
*9:30-2> Skip Tracer @ Southside Johnny's, 3653 Lakeshore Blvd., Etobicoke South ~Rock/Pop
*9:30> karaoke with Shane Taylor @ Relish, 2152 Danforth Ave., TO East
9:30> open mic with Robbie & Mat @ Stone Cottage Pub, 3750 Kingston Rd., Scarborough ~Pop Rock
9:30> The High Rollers @ Black Dog Pub, 87 Island Rd., Scarborough ~Pop Rock
9:30> Glenn Groves @ Shore Grill, 71 Lakeshore Rd. E., Port Credit ~Pop Rock
*9:30> jam with Billick @ Harp & Crown, 300 Kingston Rd., Pickering
*9:30> jam with Jack B Nimble @ Abbey Road Pub, 3200 Erin Mills Parkway, Mississauga
*9:45> Robin Banks @ The Reservoir Lounge, 52 Wellington St. E., TO ~Jazz/Blues
9:45> Erik Deutsch & The Jazz Outlaws @ The Rex, 194 Queen St. W., TO ~Brooklyn NY Jazz
10> Ferraro; Communism @ Cameron House (front), 408 Queen St. W., TO
10> Rebecca Hennessy & Friends @ Tranzac Lounge (Southern Cross), 292 Brunswick Ave., TO
10> Rachael Cardiello; Stonetrotter; Michelle Willis @ Dakota Tavern, 249 Ossington Ave., TO West; $10
10> Pretzel Logic @ Orbit Room, 480 College St. TO ~Steely Dan tribute; $15
10:30> Paige Armstrong @ The Hideout, 484 Queen St. W., TO ~indie Rock
Copyright © 2015 Toronto Moon Magazine. All Rights Reserved