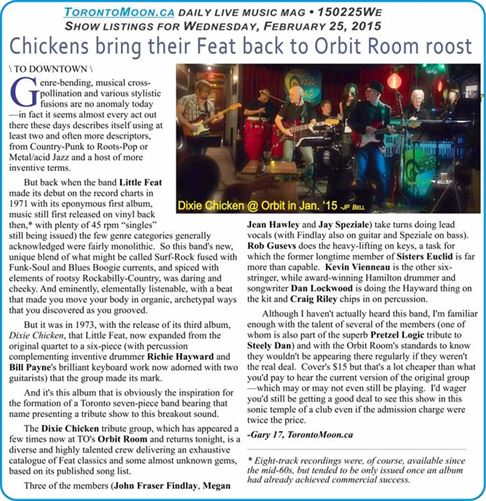 \ TO DOWNTOWN \
Genre-bending, musical cross-pollination and various stylistic fusions are no anomaly today —in fact it seems almost every act out there these days describes itself using at least two and often more descriptors, from Country-Punk to Roots-Pop or Metal/acid Jazz and a host of more inventive terms.
But back when the band Little Feat made its debut on the record charts in 1971 with its eponymous first album, music still first released on vinyl back then,* with plenty of 45 rpm "singles" still being issued) the few genre categories generally acknowledged were fairly monolithic.  So this band's new, unique blend of what might be called Surf-Rock fused with Funk-Soul and Blues Boogie currents, and spiced with elements of rootsy Rockabilly-Country, was daring and cheeky. And eminently, elementally listenable, with a beat that made you move your body in organic, archetypal ways that you discovered as you grooved.
But it was in 1973, with the release of its third album, Dixie Chicken, that Little Feat, now expanded from the original quartet to a six-piece (with percussion complementing inventive drummer Richie Hayward and Bill Payne's brilliant keyboard work now adorned with two guitarists) that the group made its mark.
And it's this album that is obviously the inspiration for the formation of a Toronto seven-piece band bearing that name presenting a tribute show to this breakout sound.
The Dixie Chicken tribute group, which has appeared a few times now at TO's Orbit Room  and returns tonight, is a diverse and highly talented crew delivering an exhaustive catalogue of Feat classics and some almost unknown gems, based on its published song list.
Three of the members (John Fraser Findlay, Megan Jean Hawley and Jay Speziale) take turns doing lead vocals (with Findlay also on guitar and Speziale on bass).  Rob Gusevs does the heavy-lifting on keys, a task for which the former longtime member of Sisters Euclid is far more than capable.  Kevin Vienneau is the other six-stringer, while award-winning Hamilton drummer and songwriter Dan Lockwood is doing the Hayward thing on the kit and Craig Riley chips in on percussion.
Although I haven't actually heard this band, I'm familiar enough with the talent of several of the members (one of whom is also part of the superb Pretzel Logic tribute to Steely Dan) and with the Orbit Room's standards to know they wouldn't be appearing there regularly if they weren't the real deal.  Cover's $15 but that's a lot cheaper than what you'd pay to hear the current version of the original group —which may or may not even still be playing.  I'd wager you'd still be getting a good deal to see this show in this sonic temple of a club even if the admission charge were twice the price.
-Gary 17, TorontoMoon.ca
* Eight-track recordings were, of course, available since the mid-60s, but tended to be only issued once an album had already achieved commercial success.
 

SHOW LISTINGS for Wednesday, February 25, 2022
Listings preceded by an asterisk (*) are repeating weekly events. (Double asterisk indicates repeating event with different hosts/guest/etc.) Admission prices followed by a slash and minus (/-) after the amount indicates door charge with availability of cheaper rates for some purchases. /+ indicates stated price is minimum.
Names of subscribers appear in bold and underlined and, where applicable, include a live link to their websites. Advertisers' listings are in larger, highlighted type, include live link to website and also have ad icon included in listings.
5-8> School of Bishop Marrocco event @ Gate 403, 403 Roncesvalles Ave., TO West ~special
6> Justin Nozuka @ Cameron House (front), 408 Queen St. W., TO
*6-11> Rock jam with Scar-Bro Pete & Lee Van Leer @ Melange, 172 Main St., TO East
6> Comhaltas Irish Slow Session @ Tranzac Club (Tiki Room), 292 Brunswick Ave. TO ~folk dancing
6:30> Brett Higgins Group @ The Rex, 194 Queen St. W., TO ~Jazz
7> Toronto Jazz Collective @ Monarchs Pub (Eaton Chelsea Hotel), 33 Gerrard St. W., TO ~Jazz
7-1> Mary Panacci Jazz Trio @ Timothy's Pub, 344 Brown's Line, Etobicoke South ~Jazz
7> Big Wind @ Simcoe Blues & Jazz, 926 Simcoe St. N., Oshawa
*7> open mic night with Tanya Joy Senior @ Col. McGrady's Pub, 44 Brock St. W., Uxbridge
*7-11> open jam with Wayne Buttery Band @ The Beacon, 146 45th St., Wasaga Beach
7> Randy Hill @ Black Horse Pub, 452 George St. N., Peterborough
*7:30-10:30> The BTBs @ Relish, 2152 Danforth Ave., TO East ~Jazz
7:30> Trevor Giancola @ Tranzac Club (Southern Cross), 292 Brunswick Ave. TO ~Jazz
**8-10:30> Hump Night Blues with Dave McManus & Cleave Anderson + special guest tba @ On Cue Billiards, 349 Jane St., TO West ~Blues
*8-12> Girls Night Out Jazz singers jam with Lisa Particelli, Peter Hill et al @ Chalkers, 247 Marlee Ave., TO North-West
*8-12> Kimberley Wetmore & Co. featuring Dave Girdlestone of Soul Funkshun on guitar host all-ages jam @ Sixth Line Pub, 1500 Sixth Line, Oakville
*8> Howard Ross hosts "Big Mojo" Blues jam with guest performer Brian Cober @ The Hub, 15 Simcoe St. N., Oshawa
**8> open stage with 9 p.m. feature by Rye & Fairytales @ Fat Albert's, 25 Cecil St. (Steelworkers Hall), TO ~Roots
*8-1> open jam with Wednesday's Child feat. Johnny Bootz Hutt @ Lola, 40 Kensington Ave., TO
8> Lrszn @ The Only Café, 972 Danforth Ave., TO East ~Space Jazz
*8-11> Fraser-Daley @ Inter Steer, 357 Roncesvalles Ave. TO West ~Roots/Blues
8> Ryan Henderson & Hide birthday show @ Free Times Cafe, 320 College St., TO ~
*8-2> Paul & Curtis @ Roc'n Doc's, 105 Lakeshore Rd. E., Port Credit ~Rock/Pop
8-1> Songbirds with host Sarah Beatty @ Moonshine Café, 137 Kerr St., Oakville ~female songwriters
*8-11> open mic @ Frank's Pasta, 426 King St. E., Cobourg
*8:30-10:30> Jazz Money @ Castro's, 2116 Queen St. E., TO East
8:30> Jazz FM Songwriters Series: "Jazz From The World of Disney: The Sherman Brothers" @ Hugh's Room, 2261 Dundas St. W., TO West ~tribute Jazz; $39/-
*8:30> open mic with Jadzia Skye & Michael Oesch @ Chez Helene's, 1437 Kingston Rd., Scarborough
*8:30> Crazy Strings host High Lonesome Wednesdays with opening acoustic act @ Silver Dollar 486 Spadina Ave., TO ~Bluegrass
*8:30> open mic with Jenn Fiorentino @ Earl Of Whitchurch, 6204 Main St., Stouffville
*8:30> Something Country @ The Endzone, 1900 King St. E., Hamilton ~Country
*8:45> Bradley & The Bouncers @ Reservoir Lounge, 52 Wellington St. E., TO ~Jazz/Blues/R&B
9-12> Blues Night with Julian Fauth & guests @ Gate 403, 403 Roncesvalles Ave., TO West ~original Juno-winning Blues
*9> The Phil & John Show feat. Phil Naro @ Molly Bloom's Waterloo, 170 University Ave., Waterloo ~acoustic Pop Rock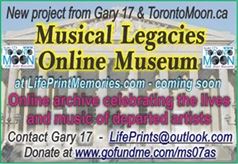 9> Don Kerr & Rich Burnett @ The Local, 396 Roncesvalles Ave., TO West ~Roots
*9> open mic with Sean Barker @ Monarch Tavern, 12 Clinton St., TO
9> The Treasures @ Dakota Tavern, 249 Ossington Ave., TO West; $7
*9> open mic jam with Jack B Nimble @ Blarney's Gate, 1151 Dundas St. W., Mississauga
*9?> jam with Michael Zane @ Shakers, 580 Kerr St., Oakville
*9-12> jam with Damage Control @ St. Louis Bar & Grill Ajax, 11 Harwood Ave. S., Ajax
*9-1> open mic jam with Whiskey Birds @ Sweetz Lounge, 5289 Hwy 7, Woodbridge-Vaughan
*9:30> open stage with Nicola Vaughan @ Black Swan (downstairs), 154 Danforth Ave., TO East
9:30> Erit Deutsch & The Jazz Outlaws @ The Rex, 194 Queen St. W., TO ~Brookly NY Jazz
9:30> Snowheel Slim & The Boogie Infection; Matthew Kane & Midnight Train; Arthur Renwick @ Cherry Cola's, 200 Bathurst St., TO ~original Blues
*9:30-2> jam with B-Sides @ The Unicorn, 175 Eglinton Ave. E., TO North
9:30> The Carson Freeman Diversion @ Shore Grill, 71 Lakeshore Rd. E., Port Credit ~Pop Rock
10> Dave Quanbury; Sugar Brown @ Cameron House (front), 408 Queen St. W., TO
10> Zone Support; Tax Haven @ Tranzac Club (Southern Cross), 292 Brunswick Ave. TO
*10-2> Blues-Rock jam with Bruce Domoney @ Grossman's, 379 Spadina Ave. TO
10:30> Jerry McCabe & Paul McCann @ The Hideout, 484 Queen St. W., TO ~indie Rock
*10:30> Dixie Chicken @ Orbit Room, 580 College St. TO ~Little Feat tribute; $15
Copyright © 2015 Toronto Moon Magazine. All Rights Reserved
If you enjoy articles like the one in this post and consider this service valuable, please subscribe to support TorontoMoon.ca. I can't keep it going without support from the musical community. For more details, visit the

Subscribe page

under the Membership tab.