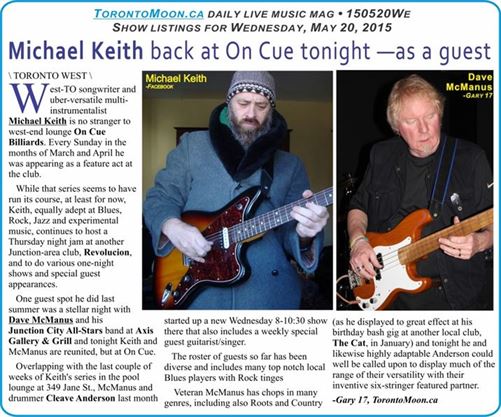 \ TORONTO WEST \
West-TO songwriter and uber-versatile multi-instrumentalist Michael Keith is no stranger to west-end lounge On Cue Billiards. Every Sunday in the months of March and April he was appearing as a feature act at the club.
While that series seems to have run its course, at least for now, Keith, equally adept at Blues, Rock, Jazz and experimental music, continues to host a Thursday night jam at another Junction-area club, Revolucion, and to do various one-night shows and special guest appearances.
One guest spot he did last summer was a stellar night with Dave McManus and his Junction City All-Stars band at Axis Gallery & Grill and tonight Keith and McManus are reunited, but at On Cue.
Overlapping with the last couple of weeks of Keith's series in the pool lounge at 349 Jane St., McManus and drummer Cleave Anderson last month started up a new Wednesday 8-10:30 show there that also includes a weekly special guest guitarist/singer.
The roster of guests so far has been diverse and includes many top notch local Blues players with Rock tinges. Veteran McManus has chops in many genres, including also Roots and Country (as he displayed to great effect at his birthday bash gig at another local club, The Cat, in January) and tonight he and likewise highly adaptable Anderson could well be called upon to display much of the range of their versatility with their inventive six-stringer featured partner.
-Gary 17, TorontoMoon.ca
SHOW LISTINGS for Wednesday, May 20, 2022
Listings are now organized by area in which the shows occur and within each area field shows are listed chronologically.
Listings preceded by an asterisk (*) are repeating weekly events. (Double asterisk indicates repeating event with different hosts/guest/etc.) Admission prices followed by a slash and minus (/-) after the amount indicates door charge with availability of cheaper rates for some purchases. /+ indicates stated price is minimum.
Names of subscribers appear in bold and underlined and, where applicable, include a live link to their websites. Advertisers' listings are in larger, highlighted type, include live link to website and also have ad icon included in listings.
416 – Toronto Central
6> Dave Borins @ Cameron House (front), 408 Queen St. W., TO
6:30> Ross Wooldridge Group @ The Rex, 194 Queen St. W., TO ~Jazz
6:30> Jean Baptiste De Collier et al @ Graffiti's, 170 Baldwin St., TO
7> Jordana Talsky Quartet @ Monarchs Pub (Eaton Chelsea Hotel), 33 Gerrard St. W., TO ~Jazz
7:30> Piano Party @ Tranzac Club (Southern Cross), 292 Brunswick Ave. TO
7:30> Nerd Nite @ Tranzac Club (Main Hall), 292 Brunswick Ave. TO
**8> open stage with 9 p.m. feature by John Reid & Michael Harrington @ Fat Albert's, 25 Cecil St. (Steelworkers Hall), TO ~Roots
*8-1> open jam with Wednesday's Child feat. Johnny Bootz Hutt @ Lola, 40 Kensington Ave., TO
8> Samantha Rose & Delta Sugar opening for Romi Mayes album release party @ The Rivoli, 334 Queen St. W., TO; $
8:30> Sue & Dwight's Folk Revival @ Free Times Cafe, 320 College St., TO ~Folk; $10
*8:30> Crazy Strings host High Lonesome Wednesdays with opening acoustic act @ Silver Dollar 486 Spadina Ave., TO ~Bluegrass
*8:45> Bradley & The Bouncers @ Reservoir Lounge, 52 Wellington St. E., TO ~Jazz/Blues/R&B
8:45> Second Pass; Future Villians @ The Bovine Sex Club, 542 Queen St. W., TO
9> The Last Honest Fool; The Tungsten Hum; Faiyaz and The Wasted Chances; Sofa King Addicted @ Horseshoe Tavern, 370 Queen St. W., TO ~indie
*9> open mic with Sean Barker @ Monarch Tavern, 12 Clinton St., TO
9:30> Jeff LaRochelle @ The Rex, 194 Queen St. W., TO ~Jazz
*9:30-2> jam with B-Sides @ The Unicorn, 175 Eglinton Ave. E., TO North
9:30> Beth Moore @ C'est What, 67 Front St. E., TO
10> Sarah Burton @ Cameron House (front), 408 Queen St. W., TO
10> Josh Cole & Friends @ Tranzac Club (Southern Cross), 292 Brunswick Ave. TO
*10-2> Blues-Rock jam with Bruce Domoney @ Grossman's, 379 Spadina Ave. TO
10:30> The Undercovers @ The Hideout, 484 Queen St. W., TO ~indie Rock
*10:30> The LMT Connection @ Orbit Room, 580 College St. TO ~Funk/R&B; $10
416 – Toronto East
*6-11> Rock jam with Scar-Bro Pete & Lee Van Leer @ Melange, 172 Main St., TO East
*7:30-10:30> The BTBs 3rd anniversary show @ Relish, 2152 Danforth Ave., TO East ~Jazz
*8:30-10:30> Mediterranean Stars featuring Ed Roth @ Castro's, 2116 Queen St. E., TO East ~Mediterranean Jazz
*9:30> open stage with Nicola Vaughan @ Black Swan (downstairs), 154 Danforth Ave., TO East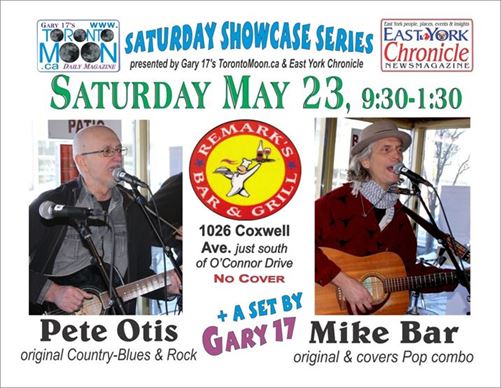 416 – Toronto West
5-8> Concord Jazz Quintet @ Gate 403, 403 Roncesvalles Ave., TO West ~Jazz
7-9> Roaring Girl Records 1st Anniversary Party @ Dakota Tavern, 249 Ossington Ave., TO West
**8-10:30> Hump Night Blues with Dave McManus & Cleave Anderson + special guest Michael Keith @ On Cue Billiards, 349 Jane St., TO West ~Blues
*8-12> Girls Night Out Jazz singers jam with Lisa Particelli, Peter Hill et al @ Chalkers, 247 Marlee Ave., TO North-West
8:30> Ian Tyson album release for Camero Vaquero (2nd of 2 nights) @ Hugh's Room, 2261 Dundas St. W., TO West ~Roots-Pop icon; $70/-
9-12> Blues Night with Julian Fauth & guests @ Gate 403, 403 Roncesvalles Ave., TO West ~original Juno-winning Blues
9> Boxcar Boys @ The Local, 396 Roncesvalles Ave., TO West ~Ragtime Gypsy Jazz
9> Loryn Taggart Band @ The Painted Lady, 218 Ossington Ave., TO West ~indie
10> The Rucksack Willies; Midnight Vesta @ Dakota Tavern, 249 Ossington Ave., TO West
416 – Etobicoke
8-1> Three Dads @ Timothy's Pub, 344 Brown's Line, Etobicoke South ~smooth Pop
416 – Scarborough
* 7> jam with Tommy Rocker's Classic Rock Band @ Fox at Scarborough Junction, 646 Danforth Rd., Scarborough
*8:30> Al Reilly's Catalyst @ Centro Pizza, 3408 Kingston Rd., Scarborough ~classic Rock
*8:30> open mic with Jadzia Skye & Michael Oesch @ Chez Helene's, 1437 Kingston Rd., Scarborough
905 East
*8> Howard Ross hosts "Big Mojo" Blues jam with guest performer Mark Crissinger @ The Hub, 15 Simcoe St. N., Oshawa
8-12> open mic night @ Fionn MacCool's Ajax, 32 Kingston Rd. E. Ajax
8> Bruce & Gorrie @ Simcoe Blues & Jazz, 926 Simcoe St. N., Oshawa
*8-11> open mic @ Frank's Pasta, 426 King St. E., Cobourg
*9-12> jam with Damage Control @ St. Louis Bar & Grill Ajax, 11 Harwood Ave. S., Ajax
905 West
*8-12> All-ages jam with band featuring Dave Girdlestone of Soul Funkshun on guitar & host Kevin Reid @ Sixth Line Pub, 1500 Sixth Line, Oakville
*8-2> Paul & Curtis @ Roc'n Doc's, 105 Lakeshore Rd. E., Port Credit ~Rock/Pop
8-1> Alan Rhody with opener Jack Connolly @ Moonshine Café, 137 Kerr St., Oakville ~Roots icon
*9> open mic jam with Jack B Nimble @ Blarney's Gate, 1151 Dundas St. W., Mississauga
*9?> jam with Michael Zane or Pat Dowds @ Shakers, 580 Kerr St., Oakville
9:30> The Carson Freeman Diversion @ Shore Grill, 71 Lakeshore Rd. E., Port Credit ~Pop Rock
905 North
*7> open mic night with Tanya Joy Senior @ Col. McGrady's Pub, 44 Brock St. W., Uxbridge
*8-12> acoustic jam with Tony Paglia & Aaron Soloman @ Jake's Boathouse Brampton, 59 First Gulf Rd., Brampton
*8-12> open mic with Kevin Ker @ Aw Shucks, 15230 Yonge St., Aurora
*9-1> open mic jam with Whiskey Birds @ Sweetz Lounge, 5289 Hwy 7, Woodbridge-Vaughan
905 South
*8:30> Something Country @ The Endzone, 1900 King St. E., Hamilton ~Country
519
 *9> The Phil & John Show feat. Phil Naro @ Molly Bloom's Waterloo, 170 University Ave., Waterloo ~acoustic Pop Rock
705
*7-11> open jam with Wayne Buttery Band @ The Beacon, 146 45th St., Wasaga Beach
7> Christine Atril Blues Band @ Black Horse Pub, 452 George St. N., Peterborough
10> David White; Annie Sumi @ The Garnet, 231 Hunter St. W., Peterborough
Copyright © 2015 Toronto Moon Magazine. All Rights Reserved