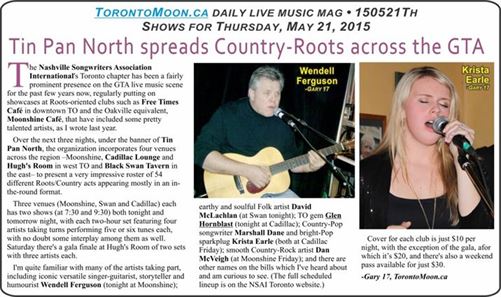 The Nashville Songwriters Association International's Toronto chapter has been a fairly prominent presence on the GTA live music scene for the past few years now, regularly putting on showcases at Roots-oriented clubs such as Free Times Café in downtown TO and the Oakville equivalent, Moonshine Café, that have included some pretty talented artists, as I wrote last year.
Over the next three nights, under the banner of Tin Pan North, the organization incorporates four venues across the region –Moonshine, Cadillac Lounge and Hugh's Room in west TO and Black Swan Tavern in the east– to present a very impressive roster of 54 different Roots/Country acts appearing mostly in an in-the-round format.
Three venues (Moonshine, Swan and Cadillac) each has two shows (at 7:30 and 9:30) both tonight and tomorrow night, with each two-hour set featuring four artists taking turns performing five or six tunes each, with no doubt some interplay among them as well. Saturday there's a gala finale at Hugh's Room of two sets with three artists each.
I'm quite familiar with many of the artists taking part, including iconic versatile singer-guitarist, storyteller and humourist Wendell Ferguson (tonight at Moonshine); earthy and soulful Folk artist David McLachlan (at Swan tonight); TO gem Glen Hornblast (tonight at Cadillac); Country-Pop songwriter Marshall Dane and bright-Pop sparkplug Krista Earle (both at Cadillac Friday); smooth Country-Rock artist Dan McVeigh (at Moonshine Friday);  and there are other names on the bills which I've heard about and am curious to see. (The full scheduled lineup is on the NSAI Toronto website.)
Cover for each club is just $10 per night, with the exception of the gala, afor which it's $20, and there's also a weekend pass available for just $30.
-Gary 17, TorontoMoon.ca
SHOW LISTINGS for Thursday, May 21, 2022
Listings are organized by area in which the shows occur and within each area field shows are listed chronologically.
Listings preceded by an asterisk (*) are repeating weekly events. (Double asterisk indicates repeating event with different hosts/guest/etc.). Admission prices followed by a slash and minus (/-) after the amount indicates door charge with availability of cheaper rates for some purchases. /+ indicates stated price is minimum.
Names of subscribers appear in bold and underlined and, where applicable, include a live link to their websites or event page. Advertisers' listings are in larger type and highlighted, include a live link to their website and also have a copy of the ad included in listings.
416 - Toronto Central
6> Corin Raymond @ Cameron House (front), 408 Queen St. W., TO ~Roots-Pop
6:30> Kevin Quain @ The Rex, 194 Queen St. W., TO ~ moody Blues
6:30> Open; Refine @ Free Times Café, 320 College St. TO ~
*7> open mic with Derek Mok @ Kensington Lodge, 21 Kensington Ave., TO
*7:30-9:30> Bluegrass Thursdays with Houndstooth @ Tranzac Lounge (Southern Cross), 292 Brunswick Ave., TO
*8-1> open mic with Alicia Porter @ The Local Gest, 424 Parliament St., TO
8-12> R&B/Blues @ Nawlin's, 299 King St. W. TO
8> TFO; NQ @ The Rivoli, 334 Queen St. W., TO; $5
8> Shannon Lyon; Henry Taylor @ Free Times Café, 320 College St. TO ~$15
9> Slim Cessna's Auto Club; Bad Breed; Luke Bill @ Horseshoe Tavern, 370 Queen St. W., TO; $
9-1> Brandon Santini @ Monarchs Pub (Eaton Chelsea Hotel), 33 Gerrard St. W., TO ~Blues
*9-1> Blackburn @ Jo Mamas, 317 King St. W., TO ~Blues
9:30> Jesse Malone Group @ The Rex, 194 Queen St. W., TO ~Jazz
*9:45> Mary Mckay @ Reservoir Lounge, 52 Wellington St. E., TO ~Jazz/Blues
10> Callan Furlong @ Cameron House (front), 408 Queen St. W., TO
10> The Special Interest Group @ Tranzac Lounge (Southern Cross), 292 Brunswick Ave., TO
10> Soulstack @ Orbit Room, 480 College St. TO ~Soul/R&B; $
10:30> Big City Band @ The Hideout, 484 Queen St. W., TO ~indie Rock
416 - Toronto East
7:30-9:30> Liane Fainsinger Jazz Quartet @ Relish, 2152 Danforth Ave., TO East ~Jazz
7:30> Tin Pan North showcase with Nashville Songwriters Association International artists David Leask; Paul Lamarche; Don Sawchuk; Riki Knox; 9:30> Alan Rhody; David McLachlan; Shaun Devlin; Bruce Madole @ Black Swan, 154 Danforth Ave., TO East ~songwriters; $10
*8-10:30> Jerry Leger & The Situation @ Castro's, 2116 Queen St. E., TO East ~Folk-Rock/Country
8-12> Russ Macklem's Jazz jam @ Linsmore Tavern, 1298 Danforth Ave., TO East ~Jazz
*10-2> karaoke with Shane Taylor @ Relish, 2152 Danforth Ave., TO East
416 - Toronto West
5-8> Jeffrey Hewer Jazz Band @ Gate 403, 403 Roncesvalles Ave., TO West ~Jazz
7:30> Tin Pan North showcase with Nashville Songwriters Association International artists Lindsay Broughton; Augusta; Jeff Hollaman; Glen Hornblast; 9:30> Benita Hill; Mike Ruby; AHI; Jeff Little @ Cadillac Lounge, 1296 Queen St. W. ~songwriters; $10
*8-11> Tinderbox Thursdays open stage with Michael Keith @ La Revolucion, 2848 Dundas St. W., TO West ~eclectic
8:30> Russel Drago Trio @ Hugh's Room, 2261 Dundas St. W., TO West ~Jazz; $25/-
*9-1:30> open stage with Jay Pennell @ Dave's On St. Clair, 730 St. Clair West, TO West ~eclectic
9-12> Tevlin Swing Band @ Gate 403, 403 Roncesvalles Ave., TO West ~Jazz/Swing
9> Bruce Domoney; The Responsibles @ The Painted Lady, 218 Ossington Ave., TO West ~indie Rock
9> Tich Maredza Trio @ The Local, 396 Roncesvalles Ave., TO West ~Zimbabwe Roots
9> Shane Murphy @ Dakota Tavern, 249 Ossington Ave., TO West
416 - Etobicoke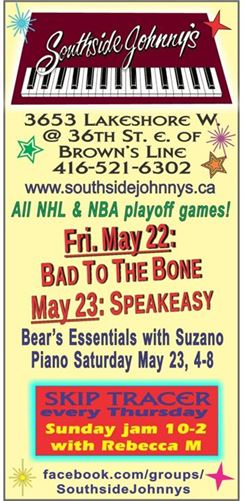 9> The 905 Band @ Timothy's Pub, 344 Brown's Line, Etobicoke South ~Rock/Funk; $15
*9:30-2> Skip Tracer @ Southside Johnny's, 3653 Lakeshore Blvd., Etobicoke South ~Rock/Pop
416 – Scarborough
*9> Tommy Rocker's Classic Rock Band host jam @ Centro Pizza, 3406 Kingston Rd., Scarborough
519
*7:30-12> open mic with K.M. Smith @ Molly Bloom's Guelph, 91 Wyndham St. N., Guelph
*8-11> open mic with Sandy MacDonald @ Williamsburg Arms, 1187 Fischer Hallman Rd., Kitchener
705
*7:30> Rob Phillips Band and Chelsea Bennett @ Black Horse Pub, 452 George St. N., Peterborough
*9> jam with Ted Rusk @ The Sauble Dunes, 11 Southampton Parkway, Sauble Beach
10> Purple @ The Garnet, 231 Hunter St. W., Peterborough
905 - East
*5-8> Nelson Denis @ Frank's Pasta, 42 King Street E., Cobourg ~eclectic mix (Folk, Jazz, soft Rock, Latin)
8-12> Igor Laze @ Fionn MacCool's Ajax, 32 Kingston Rd. E. Ajax ~Pop
*9> jam @ The Wee Pub, 371 Wilson Rd. South, Oshawa
*9:30> jam with Billick @ Harp & Crown, 300 Kingston Rd., Pickering
905 - North
*8> open mic with Kevin Ker @ Duchess of Markham, 53 Main St., Markham
905 - West
8-12> Freedom Train @ Roc'n Doc's, 105 Lakeshore Rd. E., Port Credit ~Rock/Top 40
*8-12> open mic & jam @ Black Swan Pub Burlington, 4040 Palladium Way, Burlington
*8-12> jam hosted by The Personics @ Carrigan Arms, 2025 Upper Middle Rd., Burlington
7:30> Tin Pan North showcase with Nashville Songwriters Association International artists Patrick Ballantyne; Barbara Lynn Doran; Liam Kinnon; 9:30> Justin Latam; Elora Taylor; Wendell Ferguson; Dean Stacey; Melissa Lynn @ Moonshine Café, 137 Kerr St. Oakville ~songwriters; $10
9:30> Glenn Groves @ Shore Grill, 71 Lakeshore Rd. E., Port Credit ~Pop Rock
*9:30> jam with Jack B Nimble @ Abbey Road Pub, 3200 Erin Mills Parkway, Mississauga
Copyright © 2015 Toronto Moon Magazine. All Rights Reserved