By Carmen Toth
Special to TorontoMoon.ca
\ TO CENTRAL \
On February 24, I got the call nobody wants to get.  My friend and fellow artist Derek Mok had been found dead in his condo.  As the shock set in, I tried to calm down my friend on the phone —who had just discovered his body and was asking me what to do.
"Just do whatever the police say," I remember saying.  The day before, our social circle was frantic to figure out why nobody had seen or heard or heard from Derek in over two weeks.  Finally, three of my friends took it upon themselves to convince Derek's condo security to let them in.  After a police investigation and autopsy, it was determined that Derek passed from natural causes peacefully in his sleep.  He was only 42.
If you've been to an open mic or local indie show in Toronto in the last few years, there's a good chance you've seen Derek Mok blowing the audience away with his distinctive falsetto voice and guitar skills on his covers of Queen's "Bohemian Rhapsody," Andrew Lloyd Webber's "The Phantom Of The Opera" or one of his many original songs, such as my personal fave "Riddle Of The Fall."
You might have even seen him shooting photos or videos, as he was also a talented photographer, videographer, director and editor.  His most recent work includes the official music videos for Angela Saini's "Black Sheep," (which he photographed, edited, drew and directed entirely by himself) and "My Once Upon A Time."
And maybe, like me and many local artists, you were lucky enough to know him.
I first "met" Derek in December, 2014 at a One Fire Movement fundraiser concert for War Child, where he was shooting video of the event.  We didn't actually talk, but rather I turned around to be nearly blinded by a bright LED light, and there was Derek in my face with his camera.
"He just goes wherever he wants," explained my friend Harrison Fine, who had performed that night and was laughing at my first encounter with Derek —who had by then buzzed away.
So I friended Derek on Facebook and it wasn't long before we were running into each other at mutual friends' parties and shows, bonding over our love for 80s music and cats.
By 2016, we were good friends, had started jamming together and even worked on a co-write which I had always hoped to finish with him when we both had time —that's the thing, you think you have time.
Derek was unapologetically eccentric, highly supportive of his fellow artists and funny as hell.  I once asked him how he got some of his shots of places they don't usually let photographers near and he said "Oh, I just pretend I'm a tourist who can't speak English."
He wore sandals with socks and gave no fucks what people thought. He was always there for his friends —known for answering all the nerdy gear questions, helping with sound and transportation for gigs and delivering care packages of soup and cough syrup when we were sick.
Our mutual friend and singer-songwriter Sherry Jacoby summed it up quite well when she told me "He really affected my life in more ways than I thought," because I came to that same conclusion myself, as I imagine many others have as well.
Tonight (Tuesday, March 19, 2022) we will be celebrating Derek's life with An Open Mic For Derek Mok at The Paddock Tavern (178 Bathurst St., Toronto) from 8-10pm (no cover).  There will be a group singalong of "Bohemian Rhapsody" and a signup sheet for those who want to play, but mostly it's just a chance for everyone whose lives were touched by this unique soul to share stories and perhaps a few tears.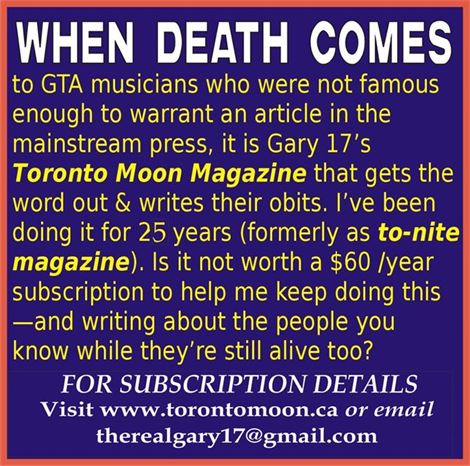 -Gary 17, TorontoMoon.ca
[email protected] * [email protected]
SHOW LISTINGS for Tuesday, March 19, 2022
Listings are organized by area in which the shows occur and within each area field shows are listed chronologically.  For KEY to listings codes and schemata see note at end of shows list.
Names of subscribers appear in bold, are underlined and, where applicable, include a live link to their websites.
FOR SUBSCRIPTION DETAILS VISIT:  https://www.torontomoon.ca/subscribe/
Advertisers' listings are in larger, highlighted type, include live link to website and also have ad icon included in listings.
FOR ADVERTISING INFO VISIT: https://www.torontomoon.ca/advertise-with-toronto-moon/
ON AIR/ONLINE
3-7> Julian Taylor hosts @ 106.5 ELMNT FM in Toronto & www.elemntfm.ca ~eclectic music 25% indigenous, 35% CanCon
4-6pm> Blues Blast w Ken Wallis @ 101.5 FM or 1015thehawk.ca
**7-8> "Songtalk Radio" songwriters interviews/chat with weekly guest @ CJRU 1280AM Toronto and online
7-9> "Unsung and On The Side" with Carolyn Fe on www.Rock-FM.ca
7-10> Bluesday On Tuesday @ CKUW 95.9 FM www.ckuw.ca/listen
10-11> "Howl" with hosts Nancy Bullis & Valentino Assenza on CIUT 89.5FM & online ~profiles of and interviews with poets and songwriters
416 – TORONTO CENTRAL -Broadview/Bayview to Ossington
Noon-1> The Next Wave @ Four Seasons Centre, 145 Queen St. W. ~vocalistgs; $0
6> The Young Novelists @ Cameron House (front), 408 Queen St. W. ~original Rock/Pop
6-8:30> Drew Sweetwood @ Drom Taberna, 458 Queen St. W. ~Rock/Top 40 covers
*6:30-9:30> Stacie McGregor @ N'awlin's, 299 King St. W. ~Jazz piano
7> Comethazine @ Mod Club, 722 College St. ~contemporary original; $
7-10:30> Donne Roberts with band @ Jazz Bistro, 251 Victoria St. ~Jazz/Blues; $10
7> Alex Stringer Band @ Grossman's, 379 Spadina Ave. ~Rockabilly; $0
7:30> Bob Cohen's Three Ring Circus @ Tranzac Club (Southern Cross), 292 Brunswick St. ~Roots-Rock
7:30> Mariah Carey @ Sony Centre for the Performing Arts, 1 Front St. E. ~contemporary original; $
7:30-11> Dan Mangan + screening of "Dazed and Confused" @ Royal Cinema, 608 College St. ~indie band + movie of their choice; $0
*7:45-12> open mic @ Cavern Bar, 76 Church St.
8> open mic for Derek Mok with performances by Carmen Toth; Deanna Fae; Jillian Bunting; Jody H. Ferrer; Jade Wan; Signe Miranda; Alissa Vox Raw; Monica Graham; many more @ The Paddock, 178 Bathurst St. ; $0
*8> open mic night with Michael & Mark Villamor @ The Hideout, 423 College St.
8> Maria Schneider & Christine Jensen with the Dennis Kwok Jazz Orchestra @ Array Space, 155 Walnut Ave. ~big band composers
8> Art Bar poetry & open stage @ Free Times Café, 320 College St. ~spoken word
8> Hey Stella! @ Cameron House (front), 408 Queen St. W. ~Country/Roots-Rock/Rockabilly
8-11:30> Molly Nilsson; Phedre @ Horseshoe Tavern, 370 Queen St. W. ~indie; $
*8:45> Tyler Yarema & His Rhythm @ Reservoir Lounge, 52 Wellington St. E. ~Jazz/Blues; $
9-11> The Soul Maitre Ds & guests Lester McLean @ Amsterdam Bicycle Club, 54 The Esplanade ~songwriters; $0
*9> game.set.trap @ Poetry Jazz Café, 224 Augusta Ave. ~Trap Jazz
9> open mic with Sean Stoneham @ Drom Taberna, 458 Queen St. W.
9> open mic with host Reuben Barkow and full backline @ Hemingway's, 142 Cumberland St.
9> Amarras @ Tranzac Club (Tiki Room), 292 Brunswick St.
9:30> Graeme Stephen with Chris Wallace @ The Rex, 194 Queen St. W. ~Jazz; $
*10-2> The Sattalites @ Orbit Room, 580 College St. ~original & cover Reggae/Funk; $
10> The Ken McDonald Trio @ Tranzac Club (Southern Cross), 292 Brunswick St. ~Jazz
10> The Sinners Choir @ Cameron House (front), 408 Queen St. W. ~Blues/R&B
416 - TORONTO EAST -Broadview/Bayview to Victoria Park
*6-9> Julian Fauth & Friends @ Sauce, 1376 Danforth Ave. ~original Blues piano/acoustic Blues guests
7-10> Wayne Neon & Brian Morgan Duo @ Relish, 2152 Danforth Ave. ~songwriter; 0$
7> Lennon Stella; Valley @ The Danforth Music Hall, 147 Danforth Ave. ~contemporary original; $
7-10> Greg Pilo and guests Alison Young, Stacie McGregor, Neil Swainson @ Salty Dog, 1980 Queen St. E. ~mainstream Jazz; $0
**8-11> open stage hosted by Kyle Duffin with feature by The Brankas @ The Old Nick, 123 Danforth Ave.
8-11> The Upper Tunist; Ralphie Boy; Ghosttown @ Linsmore Tavern, 1298 Danforth Ave. ~indie; 0$
8:30-10:30> Phil Snowdon @ Castro's, 2116 Queen St. E.
*9> open mic with host Asha Diaz @ Groove Bar, 1952 Danforth Ave.
*9:30> Peter Verity @ Black Swan, 154 Danforth Ave. ~Folk Roots
416 – TORONTO ETOBICOKE
*6-10> The Irish Guys @ The Irish Shebeen, 5555 Eglinton Ave. W. ~acoustic Pop covers & originals
*7-11> Go Rabbit Band @ Dakota's Sports Bar, 2814 Lake Shore Blvd. W. ~Rock/Top 40 covers
8> Marshall Dane @ Timothy's Pub, 344 Brown's Line ~Pop Rock/Country covers & originals
416 – TORONTO WEST -Ossington to Etobicoke

6:30> open mic @ Golden Gecko Coffee, 282 Jane St.
7-9> West End Ukulele Jam with host Ronny Shinder @ Gin Mill Gastro, 2202 Bloor St. W. ~byou; $10
7> Guitar Night Sing-along @ The Painted Lady, 218 Ossington Ave. ~ol' time/traditional Roots; pwyc
7:30> Re.verse @ Drake Hotel, 1150 Queen St. W. ~contemporary original; $
8-10:30> Tuesday duos with Peter Hill on keys & guest Reg Schwager on guitar @ La Rev, 2848 Dundas St. W. ~Jazz/Blues; 0$
*8-11> Laura Hubert with guest guitarist @ The Inter Steer, 357 Roncesvalles Ave. ~acoustic Pop/Jazz/Rock covers
8> Oh Pep! @ The Baby G, 1608 Dundas St. W. ~indie; $
*8-11> open mic with Rui Pedro @ Tail of The Junction, 3367 Dundas St. W.
8:30> Drummers In Exile @ Remix Lounge, 1305 Dundas St. W.  ~drum & dance circle
8:30-10:30> Kalyna Rakel @ Alchemy, 890 College St. ~Jazz; $0
8:30> Rosie & The Riveters @ Hugh's Room Live, 2261 Dundas St. W. ~original Roots-Rock; $30
9> Delyn Grey; Manic Theatrics; J. Blissette @ The Piston, 937 Bloor St. W. ~indie; pwyc
9> Wax Mannequin; Kim Barlow (recording release for How To Let Go album); Chris Bell @ Burdock, 1184 Bloor St. W. ~songwriters; $
9> Fred Spek's Camp Combo @ The Local, 396 Roncesvalles Ave. ~Jazz/Roots-Rock
9> Johnson Crook with guest The Opera Blue @ Dakota Tavern, 249 Ossington Ave. ~Pop covers & originals; $9
*9:30> open mic with Dado @ Café Embargo, 1521 Queen St. W.
519 EAST -Guelph & K-W and vicinity
*6> Bob McFee @ Manhattan's Guelph, 951 Gordon St., Guelph ~~smooth piano Rock/Pop
*6> open mic @ The Ridge Social Eatery, 3215 Roseville Rd., Ayr
6:30-8> Ukulele jam & workshop @ Idea Exchange Preston, 435 King St. E., Cambridge
*7-8:30> community jam and singalong with Marit Collective @ The Causerie, 154 Victoria St., Kitchener
7:30> open mic night @ The Boathouse, 57 Jubilee Drive, Kitchener
8> Chelsea Reed @ The Cornerstone, 1 Wyndham St. N., Guelph ~original Rock/Pop; $
8> jam with John McKinley Band @ Lana's Lounge, 220 King St. N., Waterloo
8> acoustic song circle jam with host Terry Golletz @ Café Crêperie, 40 Mill St. W., Elora
8:30> open mic jam with Kent McMillan & Enio @ Sip Club, 91 Wyndham St. N., Guelph
*9> Ross Burant @ McCabe's Irish Pub, 9 Wyndham St. N., Guelph ~acoustic Pop covers & originals
705
5:30-8> Lee Harvey Osmond (Tom Wilson) @ CROW Bar and Variety, 18 Huron St., Collingwood ~songwriter
7> Randy Hill Band with guest Nathan Miller @ Black Horse Pub, 452 George St. N., Peterborough
8> The Three Martinis ft Rob Phillips, Dan Fewings, and Josh Fewings @ The Garnet, 231 Hunter St. W., Peterborough; $10
905 EAST -Pickering to Cobourg
*6:30-11> The Woodshed jam with Don Niblett & Frank Zochodne @ Simcoe Blues & Jazz, 926 Simcoe St. N., Oshawa
*7:30> Don Owen & Bruce Longman @ Arthur's Pub, 930 Burnham St., Cobourg ~tribute to The Beatles
*8:30-12:30> open mic with Jason Cini @ The Pearson Pub, 101 Mary St. W., Whitby
9> Colin Amey Band @ The Corral, 433 Simcoe St. S., Oshawa ~Country Rock
*9-1> open mic with Justin Cooper @ Fox & The Goose, 799 Park St. S., Oshawa
*9-1> open acoustic jam @ The General, 21 Celina St., Oshawa
*9> open jam with Will Surphlis @ Ballers, 1414 King St. E., Clarington
*10> open mic with Josh Beaven @ The Atria, 59 King St. E., Oshawa
905 NORTH
*8> open mic @ The Tickled Toad, 330 Steeles Ave. W., Thornhill
8> Dave Young Quintet @ The Rose Theatre, 1 Theatre Lane, Brampton ~Jazz; $
*8:30-12:30> open mic jam with backline &  host Steffi Postol Goodfield @ Falcon & Firkin, 10300 Yonge St., Richmond Hill
905 SOUTH -Hamilton & vicinity
7> songwriters open stage with Deeps/Dave Pomfret @ Lukaya Café, 592 Upper Wellington St., Hamilton
7> Hamilton Regional Songwriters Group showcase/open stage @ Birchway Sound, 47 Grant Ave., Hamilton
*8:30-12> Traditional Irish jam @ Corktown Pub, 175 Young St., Hamilton
*8> Chris Clause @ Thirsty Cactus, 2 King St. E., Dundas ~acoustic
*9:30> Ten Gallon Cat @ Cat 'n' Fiddle, 174 John St. S., Hamilton ~Country?
905 WEST -south Peel, Halton
*6:30-10:30> The Phil & John Show @ Shore Grill, 71 Lakeshore Rd. E., Port Credit-Mississauga ~acoustic Pop covers & originals; $0
*7> Rob Reed @ Max Resto Lounge, 102-2180 Itabashi Way, Burlington ~smooth Rock/Pop
*7> open mic with Chris Partland @ Fionn MacCool's Burlington, 2331 Appleby Line, Burlington ~songwriters
*8> open stage (signup at 7:30) with host Neil McNaughton @ Moonshine Café, 137 Kerr St., Oakville; $2
*9:30> open mic with Matt Zaddy @ Cuchulainn's Irish Pub, 158 Queen St. S., Streetsville-Mississauga
LISTINGS KEY
Listings preceded by an asterisk (*) are repeating weekly events. (Double asterisk indicates repeating event with different hosts/guest/etc.). Events preceded by question mark (?) usually take place but have not been confirmed. Admission prices followed by a slash and minus (/-) after the amount indicates door charge with availability of cheaper rates for some purchasers eg. students, members, seniors, etc.). /+ indicates stated price is minimum.
Copyright © 2019 by Gary "17" Webb-Proctor & TorontoMoon.ca All Rights Reserved