\ PETERBOROUGH \
Peterborough's live music community is in shock today after learning over the weekend about the sudden death of 33-year-old singer and visual artist Charlene "Charlie" Earle.
A Facebook post by Ryan Weber of The Weber Brothers local band exemplifies the pain and confusion that seems to surround her unexpected passing on Friday, the day after she appeared with the group at the local Red Dog Tavern.
"Charlie I played with you at the Red Dog just this Thursday….just three little days ago. What a night of triumph….all anyone could say is WOW. From your first note you shook the room, you shook the hearts of everyone there, and it just continued and intensified all night long. Song after song, note after note, bigger and more brilliant. I was in awe as was every single other person, you had the whole room right with you, right with you, feeling your heart…
"I don't know how we got to where we are now from where we were in those moments after your sets ended Thursday night….how this is where we are. How this realization of what's happened now slowly settles in and becomes reality," the post says, in part.
The band has also announced it will hold a special commemoration/celebration of Earle's life this coming Sunday from 1-10 at the Red Dog.
Earle, who also worked as a bartender at another local music bar, The Garnet, and occasionally performed as Charlie Maine, was in addition a painter whose acrylic works were displayed at the Red Dog as part of a March art crawl show.
The Toronto native who moved to Peterborough in 2012 was best known "for her powerhouse vocals in the style of Etta James, Aretha Franklin, and Tina Turner," according to an article on kawarthanow.com written by Bruce Head, the publication's managing editor.
"She sang backup vocals with Beau Dixon's band Slips & The High Fives and, from 2013 to 2014, was the lead vocalist in the band Little Fire along with Dave Tough on guitar, Aaron Cavon on bass, and Brandon Root on drums.
"More recently, she performed with local musicians including the Weber Brothers, Rob Phillips, Pat Temple and the Hilo Players, and others.  Earle had recently formed a new "modwave" band called Nudge, with Erika Nininger, Will Dobbin, Rick Sloukji, and Brandon Root," the kawarthanow.com article adds.
She was also scheduled to showcase this coming Saturday, July 27 at Oakville's Moonshine Café with her own Charlie Earle Trio that woul have included Weber and Rico Browne.
The kawartha.com article also includes links to several posts on social media by local performers shaken by Earle's passing and paying tribute to both her talent and a nature described as warm and kind.
A cause of death has not yet been publicly announced, but Head refers to her demise as "a developing story" that will be updated when more information is made available.
-By Gary 17, TorontoMoon.ca
[email protected] * [email protected]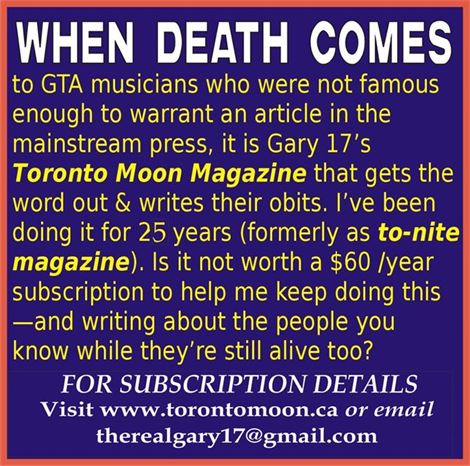 SHOW LISTINGS for Monday, July 22, 2021
Listings are organized by area in which the shows occur and within each area field shows are listed chronologically. For KEY to listings codes and schemata see note at end of shows list.
Names of subscribers appear in bold, are underlined and, where applicable, include a live link to their Home or Event url.  FOR SUBSCRIPTION DETAILS VISIT: https://www.torontomoon.ca/subscribe/
Advertisers' listings are in larger, highlighted type, include live link to website and also have ad icon included in listings.  FOR ADVERTISING INFO VISIT:
https://www.torontomoon.ca/advertise-with-toronto-moon/
ON AIR/ONLINE
*2-3> "Out of The Bassment" with host Keiko Gutierrez @ 93.3 CFMU Hamilton and online at http://cfmu.ca/shows/21-out-of-the-bassment ~music featuring bass players
3-7> Julian Taylor hosts @ 106.5 ELMNT FM in Toronto & www.elemntfm.ca ~eclectic music 25% indigenous, 35% CanCon
*6> "Underplayed and Underpaid" interviews and performances by Guelph area bands on CFRU 93.3 FM broadcast and online
6> "Soundcheck with Sabrina" with Sabrina Fallah @ Jungle 77.3 & online at http://www.jungle773.com/ ~eclectic tracks, interviews etc.
416 – TORONTO CENTRAL -Broadview/Bayview to Ossington
Noon-2> Jordan John @ College Park Plaza, 777 Bay St. ~acoustic Pop covers & originals; $0
12:15-1:15> Wendy Zhou, Padideh Ahranejad, Ali Massoudi @ Holy Trinity Church, 10 Trinity Square ~Worldbeat
*5-9> Jim Heineman Trio @ Mirto Italian Restaurant, 25 Toronto St. ~Jazz
5> Jacob Gorzhaltsan Trio @ Drom Taberna, 458 Queen St. W. ~Jazz
6> Jon Brooks & The Outskirts of Town @ Cameron House (front), 408 Queen St. W. ~songwriter
6-8> Chris Banks, Dafydd Hughes & Jesse Baird @ Tranzac Club (Southern Cross), 292 Brunswick St. ~Jazz
6> Respire; Infant Island; more @ Sneaky Dee's, 431 College St. ~indie; $
6:30> Fabio Ragnelli Trio @ The Rex, 194 Queen St. W. ~Jazz; $
**7-1 (sign-up at 7, show starts 7:30)> open stage with host Mark Harris @ Free Times Café, 320 College St.
*7-10> open stage with Brad Scott @ Lola, 40 Kensington Ave.
*7-9:30> UkeZac ukulele jam & workshop @ Tranzac Club (Main Hall), 292 Brunswick Ave.; $10
7-9> Steve & Quxxn @ O'Grady's, 518 Church St. ~Rock 'n' Roll/Pop
7:30-10:30 Sasiedzi for Balfolk @ Drom Taberna, 458 Queen St. W. ~folk dancing to live music fiddlers etc.
**8> open mic (2 songs; sign-up starts 8 p.m.) with host Chris Banks @ Tranzac Club (Southern Cross), 292 Brunswick Ave.
8> Dave Thorner & his father & brother @ Imperial Pub, 54 Dundas St. E. ~Jazz
8> Amyl and The Sniffers; D Boy; Hex @ Velvet Underground, 508 Queen St. W. ~contemporary original; $
8:30> Kyle Craft; Showboat Honey; Keegan Powell @ Horseshoe Tavern, 370 Queen St. W. ~indie; $0
9-1:30> Edmund Stay; C.R. Gilliespie (double recording release for tapes); more  @ Grossman's, 379 Spadina Ave. ~eclectic indie; $5/pwyc
*9:30> open mic @ Amsterdam Bicycle Club, 54 The Esplanade
9:30> Marie Goudy Large Ensemble feat. Allison Au on sax & Joceylyn Barth @ The Rex, 194 Queen St. W. ~Jazz; $
10> Jordan John @ The Orbit Room, 580 College St. ~Jazz-Rock fusion; $
10-2> Dan Gagnon @ The Hideout, 423 College St. ~contemporary Rock
416 - TORONTO EAST -Broadview/Bayview to Victoria Park
7-10> Tom Rich (recording release for Lovesick Insomniacs) @ Relish, 511 Danforth Ave. ~songwriter; 0$
*7:30> George Lake Big Band @ The Duke Live, 1225 Queen St. E. ~big band Swing Jazz/Soul; $10
*8:45-12> acoustic open stage jam with Tyler Ellis @ Dora Keogh, 141 Danforth Ave.
*9-12> Gareth Parry's Book Club @ Sauce on Danforth, 1376 Danforth Ave. ~Blues/Jazz
*9:30-2> Sebastian Agnello & friends open stage @ Black Swan Tavern, 154 Danforth Ave.; 0$
416 – TORONTO ETOBICOKE
416 – TORONTO SCARBOROUGH
*6:30-10:30>  open mic night @ Rise Entertainment, 1081 Progress Ave.
7:30> Uke jam/workshop or Uke Circle jamalong @ Stone Cottage Pub, 3750 Kingston Rd. ~amateur ukulele players welcome; $5
416 – TORONTO WEST -Ossington to Etobicoke
6-8:30> Twisted Pines & guest Ahn Phung; Frank Evans opens @ Burdock, 1184 Bloor St. W.  ~U.S. string band; $
7> Noah Franche-Nolan Trio @ The Emmet Ray, 924 College St. ~Jazz; pwyc
7> Juice; Shephen Day, Will Bowes @ Drake Hotel Lounge, 1150 Queen St. W. ~contemporary original; $
8> Temple of Angels; Iris; Exe; Texas Dreamers; more @ The Baby G, 1608 Dundas St. W. ~contemporary original; $
8:30> Monkey House (recording pre-release for Friday album) @ Hugh's Room Live, 2261 Dundas St. W. ~original Blues/R&B; $30
*9-1> Hamstrung Stringband @ The Local, 396 Roncesvalles Ave. ~Bluegrass
*9-1> eclectic open stage/jam with host Nelson Sobral @ The Painted Lady, 218 Ossington Ave.
9> Chelsea McBride's Socialist Night School @ Burdock, 1184 Bloor St. W. ~songwriter; $
9:30> Chris Pruden Combo @ The Emmet Ray, 924 College St. ~Jazz; pwyc
*10-11> The Skyliners @ Skyline Restaurant, 1426 Queen St. W. ~low-fi Soul/Blues
519 EAST -Guelph, K-W & vicinity
*7> open mic with Dennis Napper @ Rhapsody Barrel Bar, 179 King St. W., Kitchener
*7:30-12> open mic with Anthony Schmanthony @ The Cornerstone, 1 Wyndham St. N., Guelph
9:30> Dylan Wallace @ McCabe's Irish Pub, 9 Wyndham St. N., Guelph ~acoustic Pop covers & originals
9:30> Turk and the Hobbits @ Duke of Wellington, 33 Erb St. W., Waterloo
705
*7-11> Rick & Gailie's Crash & Burn @ Black Horse Pub, 452 George St. N., Peterborough ~acoustic Pop covers & originals; $0
7> Gary Cain Band @ The Garnet, 231 Hunter St. W., Peterborough ~original Blues
8> Morgan Davis @ Dominion Hotel, 113 Main St., Minden ~original Blues; $12.50
905 EAST -Pickering to Cobourg
7-9> Rob Phillips @ Arthur's Pub, 930 Burnham St., Cobourg ~Jazz
7-11> open mic @ Simcoe Blues & Jazz, 926 Simcoe St. N., Oshawa ~spoken word & music
905 SOUTH -Hamilton & vicinity
Noon-1> Rick Henderson @ Jackson Square, Hamilton, 2 King St. W. ~smooth Pop/Jazz/Rock; $0
6> The Repeatles @ Innsville, 1141 Highway 8, Stoney Creek ~Beatles covers
6:30>> Greensville Guitar Pickers jam @ Greensville Branch Library, 59 Kirby Ave., Hamilton
*9:30> The New Rebel Westerners @ Cat N Fiddle, 174 John St. S., Hamilton ~Country
905 WEST -south Peel, Halton
*8-12> jam with Tom Barlow @ Shore Grill, 71 Lakeshore Rd. E., Port Credit-Mississauga
**8-12> BBQ & jam night with Catherine Harrison @ Moonshine Café, 137 Kerr St., Oakville; ($8.95 with BBQ dinner special starts at 6)
*9:30> Gracie @ Spice Lounge, 52 Lakeshore Rd. E., Port Credit-Mississauga ~Pop covers & originals; $0
LISTINGS KEY
Listings preceded by an asterisk (*) are repeating weekly events. (Double asterisk indicates repeating event with different hosts/guest/etc.). Events preceded by question mark (?) usually take place but have not been confirmed. Admission prices followed by a slash and minus (/-) after the amount indicates door charge with availability of cheaper rates for some purchasers (eg. students, seniors, members, etc.). /+ indicates stated price is minimum.
-Copyright © 2019 by Gary "17" Webb-Proctor & TorontoMoon.ca. All Rights Reserved