The world of authentic ol' time Roots music is doubly poorer today after the passing of two iconic masters of the genres and songwriters who were also longtime pals and collaborators.
Leon Redbone, (born Dickran Gobalian), an American who made his stage debut in Toronto in the early 1970s and Mose Scarlett of Peterborough and Toronto both died on Thursday, May 30, according to various sources.
While Redbone, being American, was much better known to the mainstream —already obituaries have appeared in The Washington Post, New York Times, on Wikipedia and on his own website, www.leonredbone.com— Scarlett was almost a recluse for most of his life, only occasionally performing and with no website or social media engagement whatsoever.
Mose was known to be ailing and in fact a group of musical friends from his hometown staged a benefit for him just three days ago at the Market Hall Performing Arts Centre in Peterborough that featured Jackson Delta, The Alan Black Band, Pat Temple and Pineapple Frank, Catfish Willie and The Buckle Busters, Tiny Davis, Dennis O'Toole and MC Magoo.
Scarlett was perhaps best known to the Roots mainstream as a member of a power-Roots trio with Ken Whiteley and the late Jackie Washington, which through Borealis Records released several albums of old-time style music that either hailed from or sounded like it was written in the Tin Pan era, including Three by Three and Where Old Friends Meet, which last was nominated for Best Roots & Traditional Album at the 1993 Juno Awardsi
But Scarlett also released several solo albums on Borealis, including Stalling for Time, Precious Seconds, Second Hand Songs and The Fundamental Things.
A bio of Scarlett from the Borealis website nots that "his self-taught, original technique of finger-picking, dubbed 'stride guitar' by Canadian music journalists, delivers a syncopated punch and features simultaneous chords, melody and bass line, smoothly executed, and seemingly effortless.
"Over the resplendent guitar backing rides a big bass-baritone voice, warm and rich, with enormous emotional range."
Redbone and Scarlett became pals back in the 1970s, Roots talent booker/promoter Richard Flohill recalled in a social media post that "Mose — slow, rumbling, mordant and a fine guitarist — was one of Leon's closest friends; I often referred to him as "the original Leon Redbone." Back home (I'm in the country using my laptop) I have a wonderful photograph of the pair of them, looking suitably mysterious and from another age."
"Anyone who knew either of them will never forget them."
The Acoustic Harvest account on Facebook had  similar reflections on the passing of the two giants on the same day, posting: "so sad to hear of Mose Scarlett's passing, on the same day as Leon Redbone too (I think those two old friends and great musicians secretly planned it that way).
"I had many a long conversation with Mose - he had a knack for endlessly spinning out a story - and could enlighten you with the most fascinating facts about any and all bits of knowledge. He was a gentle kind soul, with a wonderfully, exceptionally deep singing voice. He was a fine guitarist, a unique, one-of-a-kind musician. He will be dearly missed by so many."
Songwriter and Roots producer David Gillis had a similar reflection on the passing of the two giants on the same day, writing:
"It's sad to hear that Mose Scarlett passed away yesterday, the same day as Leon Redbone.  Mose and Leon were friends, and they shared many of the same aspirations and musical values.
"I met Mose several times, played with him twice and I always loved his gentle candor and was in awe of his deep level of musical knowledge.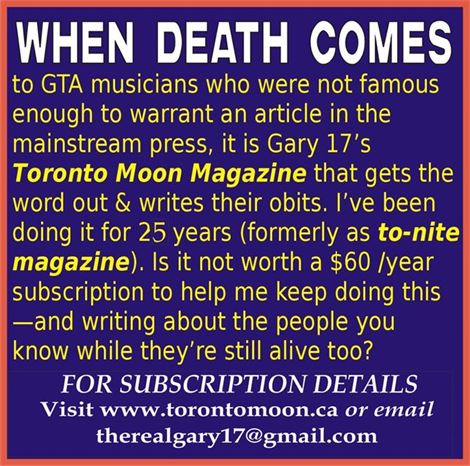 Recording engineer and bassist Doug McClement posted that Mose was a "ragtime guitarist with the richest baritone voice I've ever recorded.
"Played bass with Mose on several gigs. The songs he played from the 1930's and 40's had more chords than most albums have now. He exposed me to a lot of great old-timey music from the early part of the last century. Played several intense Trivial Pursuit games with him and our buddy Norm Hacking when he lived on Major St. A classy gentleman with a wicked sense of humour, whose song introductions were often longer than the songs he performed. We'll miss you, Mose," McClement wrote.
Laconic and sometimes acerbic in his pithy and often humourous observations, Scarlett also turned his wit upon himself.  His Borealis bio starts out: "Mose bills his music as Jazz, Blues, Ragtime and Swing because (as he says) 'those are the four things I've been accused of most often.'"  In addition to the self-deprecating nature of his musical self-description, David Gillis recalls: "My wife, Erin painted a portrait of Mose Scarlett [see photo].  One day he called up to thank her saying, 'that looks more like me than I do'."
Mose is survived by his wife, Tina, and daughter Jessica and leaves many, many fans and friends grateful that he shared his talent and time with them.