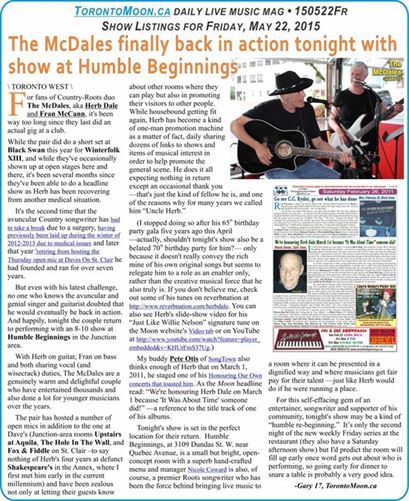 \ TORONTO WEST \
For fans of Country-Roots duo The McDales, aka Herb Dale and Fran McCann, it's been way too long since they last did an actual gig at a club.
While the pair did do a short set at Black Swan this year for Winterfolk XIII, and while they've occasionally shown up at open stages here and there, it's been several months since they've been able to do a headline show as Herb has been recovering from another medical situation.
It's the second time that the avuncular Country songwriter has had to take a break due to a surgery, having previously been laid up during the winter of 2012-2013 due to medical issues and later that year retiring from hosting the Thursday open mic at Dave's On St. Clair he had founded and ran for over seven years.
But even with his latest challenge, no one who knows the avuncular and genial singer and guitarist doubted that he would eventually be back in action. And happily, tonight the couple return to performing with an 8-10 show at Humble Beginnings in the Junction area.
With Herb on guitar, Fran on bass and both sharing vocal (and wisecrack) duties, The McDales are a genuinely warm and delightful couple who have entertained thousands and also done a lot for younger musicians over the years.
The pair has hosted a number of open mics in addition to the one at Dave's (Junction-area rooms Upstairs at Aquila, The Hole In The Wall, and Fox & Fiddle on St. Clair –to say nothing of Herb's four years at defunct Shakespeare's in the Annex, where I first met him early in the current millennium) and have been zealous not only at letting their guests know about other rooms where they can play but also in promoting their visitors to other people. While housebound getting fit again, Herb has become a kind of one-man promotion machine as a matter of fact, daily sharing dozens of links to shows and items of musical interest in order to help promote the general scene. He does it all expecting nothing in return except an occasional thank you —that's just the kind of fellow he is, and one of the reasons why for many years we called him "Uncle Herb."
(I stopped doing so after his 65th birthday party gala five years ago this April —actually, shouldn't tonight's show also be a belated 70th birthday party for him?— only because it doesn't really convey the rich mine of his own original songs but seems to relegate him to a role as an enabler only, rather than the creative musical force that he also truly is. If you don't believe me, check out some of his tunes on reverbnation at http://www.reverbnation.com/herbdale. You can also see Herb's slide-show video for his "Just Like Willie Nelson" signature tune on the Moon website's Video tab or on YouTube at: http://www.youtube.com/watch?feature=player_embedded&v=KHUrFmS37Ug.)
My buddy Pete Otis of SongTown also thinks enough of Herb that on March 1, 2011, he staged one of his Honouring Our Own concerts that toasted him. As the Moon headline read: "We're honouring Herb Dale on March 1 because 'It Was About Time' someone did!" —a reference to the title track of one of his albums.
Tonight's show is set in the perfect location for their return.  Humble Beginnings, at 3109 Dundas St. W. near Quebec Avenue, is a small but bright, open-concept room with a superb hand-crafted menu and manager Nicole Coward is also, of course, a premier Roots songwriter who has been the force behind bringing live music to a room where it can be presented in a dignified way and where musicians get fair pay for their talent —just like Herb would do if he were running a place.
For this self-effacing gem of an entertainer, songwriter and supporter of his community, tonight's show may be a kind of "humble re-beginning."  It's only the second night of the new weekly Friday series at the restaurant (they also have a Saturday afternoon show) but I'd predict the room will fill up early once word gets out about who is performing, so going early for dinner to snare a table is probably a very good idea.
-Gary 17, TorontoMoon.ca
SHOW LISTINGS for Friday, May 22, 2022

:

Listings are now organized by area in which the shows occur and within each area field shows are listed chronologically.

Listings preceded by an asterisk (*) are repeating weekly events. (Double asterisk indicates repeating event with different hosts/guest/etc.). Admission prices followed by a slash and minus (/-) after the amount indicates door charge with availability of cheaper rates for some purchases. /+ indicates stated price is minimum.

Names of subscribers appear in bold, are underlined and, where applicable, include a live link to their websites. Advertisers' listings are in larger type, highlighted, include live link to website and also have ad icon included in listings.

416 - Toronto Central

*3-7> acoustic jam with John Hutt @ Lola, 40 Kensington Ave., TO

*4-6> Hogtown Syncopators featuring Terra Hazelton @ The Rex, 194 Queen St. W., TO ~Jazz

*5-8> Kensington Kitchen Party with host Kevin Jollimore of Sin City Boys & guest musicians @ Graffiti's, 170 Baldwin St., TO ~Pop Rock with heart

*5-7> open mic with The Foolish Things @ Tranzac Club (Southern Cross), 292 Brunswick Ave., TO ~original Pop

6> Lucas Stagg @ Cameron House (front), 408 Queen St. W., TO

6:30> Teri Parker Trio @ The Rex, 194 Queen St. W., TO ~Jazz

7:30> Laranjaras @ Tranzac Club (Southern Cross), 292 Brunswick Ave., TO ~Folk-Jazz

8> Patrick Brealey @ Cameron House (front), 408 Queen Street West, TO ~Country

8:30> Otto and the Pilots @ The Rivoli, 334 Queen St. W., TO; $10

9:30> tba @ Free Times Café, 320 College St., TO ~

9-1> The Jeanine Mackie Band @ Monarchs Pub in Eaton Chelsea Hotel, 33 Gerrard St. W., TO ~Rock/R&B

9:30> Exale @ Seven44, 744 Mount Pleasant Rd., TO North

9:30> Lady Kane @ Alleycatz, 2409 Yonge St., TO North ~Funk/Soul/R&B; $10

9:30> The Manvils; Goodnight Sunrise; Maps; The Autumn Portrait @ Horseshoe Tavern, 370 Queen St. W., TO ~indie; $8

9:45> Terra Hazelton @ The Rex, 194 Queen St. W., TO ~Jazz

9:45> Dee Dee and the Dirty Martinis @ Reservoir Lounge, 52 Wellington St. E., TO ~Jazz/Blues

*10> karaoke with Randy Petrie @ Kramers, 1915 Yonge St., TO North

10> Dave Murphy Band @ Orbit Room, 480 College St. TO ~Rock/Funk/R&B

10> tba @ Cameron House (front), 408 Queen Street West, TO

10> Give Me Something Beautiful @ Tranzac Club (Southern Cross), 292 Brunswick Ave., TO

10:30> Lera Salt featuring Hervé Basset on keys @ The Hideout, 484 Queen St. W., TO ~indie Rock

416 - Toronto East

5-7> The Straight 8s @ Castro's, 2116 Queen St. E., TO East

7:30> Tin Pan North showcase with Nashville Songwriters Association International artists Late Todd; Brian Donkers; Imogen Bel; Victoria Powell; 9:30> Anthony Smith; Roger Beckett; Dayna Shereck; Angela Saini @ Black Swan (Upstairs), 154 Danforth Ave., TO East ~songwriters; $10

9> The Circumstantialists @ Dora Keogh, 141 Danforth Ave., TO East

*9:30> David Macmichael & The $5 Tall Boys @ Relish, 2152 Danforth Ave., TO East ~alt Pop originals and covers

9:30> Trevor Jones @ Black Swan Tavern (downstairs), 154 Danforth Ave., TO East ~eclectic Pop/Roots

9:30> Craig Dougan @ The Duke Live, 1225 Queen St. E., TO East ~Pop Rock

9:30> Mark T Band @ Linsmore Tavern, 1298 Danforth Ave., TO East ~Jerry Garcia jam tribute; $10

416 - Toronto West

5-8> Leigh Graham Duo @ Gate 403, 403 Roncesvalles Ave., TO West ~Jazz

7:30> Tin Pan North showcase with Nashville Songwriters Association International artists Tia McGraff & Tommy Parham; Paul Malysa; Krista Earle; Carrie Demaeyer; 9:30> Marshall Dane; Zac Wrixon; Tori Hathaway; Chase Stevens @ Cadillac Lounge, 1296 Queen St. W. ~songwriters; $10

8-10> The McDales feat. Herb Dale @ Humble Beginnings, 3109 Dundas St. W., TO West ~Roots/Roots-Pop

8:30> Bob Dylan tribute band with Robert Morgan & Friends @ Hugh's Room, 2261 Dundas St. W., TO West ~$25/-

9-1> Tiffany Hanus Band @ Gate 403, 403 Roncesvalles Ave., TO West ~Jazz

10> Julian Fauth & Ken Yoshioka @ The Hole In The Wall, 2867 Dundas St. W., TO West ~Blues

10-2> The Double Cuts @ Dakota Tavern, 249 Ossington Ave., TO W. ~$10

416 - Etobicoke

9> Soda Blue @ Blue Goose Tavern, 1 Blue Goose Rd., Etobicoke South ~Pop Rock/Top 40

9> Hard Drive @ Maple Leaf House, 2749 Lakeshore Boulevard East, Etobicoke ~Rock/Top 40/Blues

9:30> Freedom Train @ Timothy's Pub, 344 Brown's Line, Etobicoke South ~Pop Rock/Top 40
10-2> Bad To The Bone @ Southside Johnny's, 3653 Lakeshore Blvd. W., Etobicoke South ~Thorogood tribute & 70s/80s hits
416 – Scarborough
9:30> Greg Wyard @ Stone Cottage Pub, 3750 Kingston Rd., Scarborough ~Pop Rock
9:30?> Rough & Ready @ Winners, 2181 Lawrence Ave. E., Scarborough
10> Catalyst featuring Al Reilly & Anthony Cee @ Centro Pizza, 3408 Kingston Rd., Scarborough ~classic Rock
705
5:30> Rick & Gailie @ Black Horse Pub, 452 George St. N., Peterborough
10> Puppet; Severed Feathers; Watershed Hour @ The Garnet, 231 Hunter St. W., Peterborough ~
905 East
9-1> PRJ @ Simcoe Blues & Jazz, 926 Simcoe St. N., Oshawa ~Blues
10-2> The Band Edge @ Fionn MacCool's Ajax, 36 Kingston Rd., E., Ajax ~Pop Rock/Top 40
10-2> Deuce @ Whisky John's, 843 King St. W., Oshawa ~Rock
905 North
9> Whisky River @ King Richard's Pub, 15570 Yonge St., Aurora
9:30> The Doubts @ Jake's Boathouse Brampton, 59 First Gulf Rd., Brampton ~Pop Rock
9:30> Madhaus @ Oscar's Roadhouse, 1785 Queen St. E., Brampton ~Top 40/Rock
*9:30> open mic @ Big Daddy's, 460 Elgin Mills Rd., E, Richmond Hill
9:30> Itchy & Scratchy @ Aw Shucks, 15230 Yonge St., Aurora ~Pop Rock
10> Tommy Rocker @ The Crown Bar & Grill, 9580 Yonge St., Richmond Hill ~classic Rock
10> Avro @ Colonel McGrady's Uxbridge, 44 Brock St., Uxbridge ~alternative covers
905 West
*5> Adam Ostrosser & Joel Guenther @ Carrigan Arms, 2025 Upper Middle Rd., Burlington ~Pop
*6-9> Robelljo Duo @ Roc'n Doc's, 105 Lakeshore Rd. E., Port Credit ~acoustic Pop Rock
7:30> Tin Pan North showcase with Nashville Songwriters Association International artists Jamie Warren; Carol Harrison; David Neale; Neil Morrissey; 9:30> Frank Myers; Dan McVeigh; Brad Battle; Shae Dupuy @ Moonshine Café, 137 Kerr St. Oakville ~songwriters; $10
9:30> Dan Dyer @ Shore Grill, 71 Lakeshore Rd. E., Port Credit ~Pop Rock/Top 40
9:30> Hot Buttered Soul @ Gator Ted's, 1505 Guelph Line, Burlington ~Pop Rock
9:30> retro dj dance party @ Black Swan Pub Burlington, 4040 Palladium Way, Burlington ~Pop Rock
10-2> The LMT Connection @ Roc'n Doc's, 105 Lakeshore Rd. E., Port Credit ~Funk/R&B; $