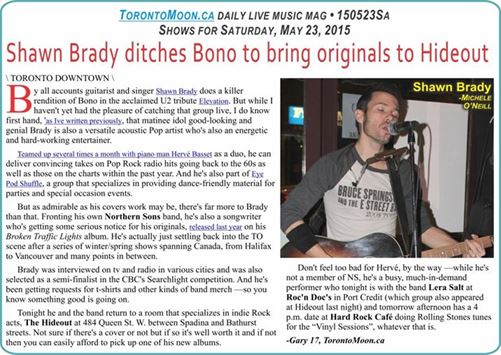 \ TORONTO DOWNTOWN \
By all accounts guitarist and singer Shawn Brady does a killer rendition of Bono in the acclaimed U2 tribute Elevation. But while I haven't yet had the pleasure of catching that group live, I do know first hand, as I've written previously, that matinee idol good-looking and genial Brady is also a versatile acoustic Pop artist who's also an energetic and hard-working entertainer.
Teamed up several times a month with piano man Hervé Basset as a duo, he can deliver convincing takes on Pop Rock radio hits going back to the 60s as well as those on the charts within the past year. And he's also part of Eye Pod Shuffle, a group that specializes in providing dance-friendly material for parties and special occasion events.
But as admirable as his covers work may be, there's far more to Brady than that. Fronting his own Northern Sons band, he's also a songwriter who's getting some serious notice for his originals, released last year on his Broken Traffic Lights album. He's actually just settling back into the TO scene after a series of winter/spring shows spanning Canada, from Halifax to Vancouver and many points in between.
Brady was interviewed on tv and radio in various cities and was also selected as a semi-finalist in the CBC's Searchlight competition. And he's been getting requests for t-shirts and other kinds of band merch —so you know something good is going on.
Tonight he and the band return to a room that specializes in indie Rock acts, The Hideout at 484 Queen St. W. between Spadina and Bathurst streets. Not sure if there's a cover or not but if so it's well worth it and if not then you can easily afford to pick up one of his new albums.
Don't feel too bad for Hervé, by the way —while he's not a member of NS, he's a busy, much-in-demand performer who tonight is with the band Lera Salt at Roc'n Doc's in Port Credit (which group also appeared at Hideout last night) and tomorrow afternoon has a 4 p.m. date at Hard Rock Café doing Rolling Stones tunes for the "Vinyl Sessions", whatever that is.
-Gary 17, TorontoMoon.ca
SHOW LISTINGS for Saturday, May 23, 2022
Listings are organized by area in which the shows occur and within each area field shows are listed chronologically.
Listings preceded by an asterisk (*) are repeating weekly events. (Double asterisk indicates repeating event with different hosts/guest/etc.). Admission prices followed by a slash and minus (/-) after the amount indicates door charge with availability of cheaper rates for some purchases. /+ indicates stated price is minimum.
Names of subscribers appear in bold, are underlined and, where applicable, include a live link to their websites. Advertisers' listings are in larger, highlighted type, include live link to website and also have ad icon included in listings.
416 - Toronto Central
*12-3> Danny Marks & friends @ The Rex, 194 Queen St. W., TO ~Jazz
*2-5> Dr. B's Acoustic Medicine Show open stage with guest host Steve Raiken @ Free Times Café, 320 College St. TO ~Roots; pwyc
3> The Boxcar Boys @ C'est What, 67 Front St. E., TO ~Ragtime Jazz; $5
3> Jamzac @ Tranzac Club (Southern Cross), 292 Brunswick Ave., TO
3:30> Socialist Night School @ The Rex, 194 Queen St. W., TO ~Jazz
3:30> Allison Au Quartet @ The Pilot (downstairs), 22 Cumberland St., TO ~Jazz
4-7> Club Django @ Seven44, 744 Mount Pleasant Road, TO North ~Jazz; $
*4-7> Climax Jazz Band @ Alleycatz, 2409 Yonge St., TO North ~Dixieland Jazz; $?
*4:40-7:30> The Happy Pals @ Grossman's, 379 Spadina Ave., TO ~New Orleans Jazz
4:45> Brian Gladstone & Tony Quarrington @ The Pilot (upstairs), 22 Cumberland St., TO ~Jazz
6-8> Swamperella featuring Soozi Schlanger @ Cameron House (front), 408 Queen St. W., TO ~Cajun stomp
6:30> Scott B Sympathy @ Tranzac Club (Southern Cross), 292 Brunswick Ave., TO
7:30> The Bacchus Collective @ The Rex, 194 Queen St. W., TO ~ Jazz
9> Brian Gladstone & Tony Quarrington @ The Pilot (upstairs), 22 Cumberland St., TO ~Jazz
9> Community Soul Project @ Seven44, 744 Mount Pleasant Road, TO North
9> Teenage Kicks; Orphan Choir; Graeme Kennedy @ Horseshoe Tavern, 370 Queen St. W., TO ~indie; $10
9:30> Alter Eager @ Alleycatz, 2409 Yonge St., TO North ~Funk/Soul/R&B
9:45> Ted Warren's Broadview @ The Rex, 194 Queen St. W., TO ~Jazz
*9:45> Tyler Yarema & His Rhythm @ Reservoir Lounge, 52 Wellington St. E., TO ~Jazz/Blues
*10> karaoke with Randy Petrie @ Kramers, 1915 Yonge St., TO North
10> Ride The Tiger @ Orbit Room, 480 College St. TO ~Funk/Soul
10> Footprints @ The Rivoli, 334 Queen St. W., TO; $10
10> David Baxter Band @ Cameron House (front), 408 Queen St. W., TO
10> Mackenzie Longpre @ Tranzac Club (Southern Cross), 292 Brunswick Ave., TO
10:30> Shawn Brady & The Northern Sons @ The Hideout, 484 Queen St. W., TO ~indie Rock
416 - Toronto East
*3:30-6> Johnny Wright @ Outriggers, 2232 Queen St. E., TO East ~R&B
*4-7:30> Ronnie Hayward Trio @ McQueen's, 993 Queen St. E., TO E. ~Blues/Roots
6-8> The Cosmotones @ Castro's, 2116 Queen St. E., TO East ~Blues/Roots
7> The Loaded Blues featuring Jim Cornell @ The Green Dragon, 1032 Kingston Rd., TO East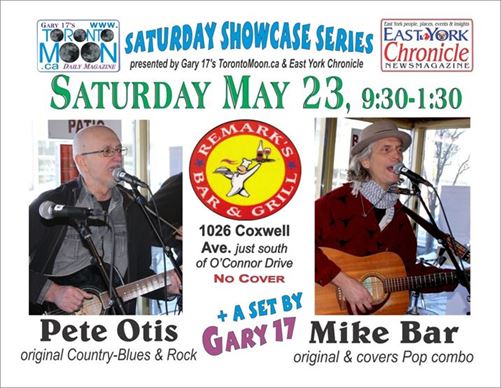 9> Root Magic @ Dora Keogh, 141 Danforth Ave., TO East
9> BACA @ Eton House, 710 Danforth Ave., TO East ~acoustic trio
9> Blombo album release @ Linsmore Tavern, 1298 Danforth Ave., TO East ~original & contemporary cover Rock; $5
9:30-11:30> Das Fagott Mannschaft @ Relish, 2152 Danforth Ave., TO East ~instrumental bassoon band
9:30> Paul James Band @ The Duke Live, 1225 Queen St. E., TO East ~Bluesabilly
416 - Etobicoke
*3-6> Danny B Band @ Blue Goose, 1 Blue Goose St., Etobicoke South ~R&B/Blues
**4-8> The Bear's Essentials with guest singer Suzano Piano @ Southside Johnny's, 3653 Lakeshore Blvd. W. Etobicoke South ~Rock-R&B
*4-8> The Meteors with guest Michael Theodore @ Timothy's Pub, 344 Brown's Line, Etobicoke South ~Blues/Rock/R&B
9> Feelin' Alright @ Blue Goose Tavern, 1 Blue Goose Rd., Etobicoke South ~Pop Rock
9> Harvest @ Maple Leaf House, 2749 Lakeshore Boulevard East, Etobicoke ~Rock/Top 40
9:30> Material Men @ Timothy's Pub 344 Brown's Line, Etobicoke South ~80s Rock tribute; $5
10-2> Speakeasy @ Southside Johnny's, 3653 Lakeshore Blvd. W. Etobicoke South ~Rock/Top 40
416 – Scarborough
9:30> Valerie & The Dreamcatcher featuring Tony Oldland @ Centro Pizza, 3408 Kingston Rd., Scarborough ~Rock/Pop covers & originals
*9:30-2> karaoke with The English Rose & The Mad Scotsman @ Winners, 2181 Lawrence Ave. E., Scarborough
416 - Toronto West
*12-3> Julian Fauth's Blues Brunch @ Axis, 3048 Dundas St. W., TO West ~Blues
**2-6> open mic with host Robert James Cooney @ Magic Oven, 347 Keele St., TO West
2:30-4:30> Alex Vissia and Lindsey Walker @ Humble Beginnings, 3109 Dundas St. W., TO West ~acoustic Alberta indie Folk
4-7> Songbook @ Cadillac Lounge, 1206 Queen St. W., TO West ~Pop covers
**5-8> Bill Heffernan & Friends featuring guests Mr. Rick & Michelle Rumball @ Gate 403, 403 Roncesvalles Ave. TO West –Roots-Pop
5-8> Jimmy Byron @ The Local, 396 Roncesvalles Ave., TO West ~Folk trio
7:30> National Songwriters Association International, Toronto Chapter presents Tin Pan Alley showcase with Victoria Bank; Frank Myers; Anthony Smith; Tebey; Jimmy Rankin; Patricia Conroy @ Hugh's Room, 2261 Dundas St. W., TO West ~$20
8> Michael Keith @ Revolucion, 2848 Dundas St. W., TO West ~solo eclectic
9-1> Julian Fauth @ Gate 403, 403 Roncesvalles Ave., TO West ~Blues
9> Tim Bradford @ The Local, 396 Roncesvalles Ave., TO West ~Country-Roots
9-2> Lucas Stagg & The Blanks @ Dakota Tavern, 249 Ossington Ave., TO West ~Country/Rockabilly; $
905 East
*4> Susan Latimer @ Simcoe Blues & Jazz, 926 Simcoe St., Oshawa ~Folk
*9-1> karaoke with Rob MacArthur @ Tudor Rose, 700 Harwood Ave. S., Ajax
9> Kris Barclay @ The Corral, 433 Simcoe St. S., Oshawa ~Country
9-1> Solid @ Simcoe Blues & Jazz, 926 Simcoe St. N., Oshawa
10-2> Andy Earle @ Fionn MacCool's Ajax, 36 Kingston Rd. E., Ajax ~Pop Rock
10-2> Baz Littlerock Band @ Whisky John's, 843 King St. W., Oshawa
905 North
9-1> Escape @ Oscar's Roadhouse, 1785 Queen St. E., Brampton ~Pop Rock/Top 40
9> Fat Cat Jamboree @ Fionn MacCool's, Vaughan ~Rock/Pop
9:30> George Pants @ King Richard's Pub, 15570 Yonge St., Aurora ~Pop Rock
9:30> The Doubts @ Jake's Boathouse Brampton, 59 First Gulf Rd., Brampton ~Pop Rock
9:30> Itchy & Scratchy @ Aw Shucks, 15230 Yonge St., Aurora ~Pop Rock
905 South
**2:30> Connor Gains with The Mighty Duck Band, The Duck, 244 Ontario St., St. Catharines ~R&B/Blues
**9> Niagara Rhythm Section @ The Old Winery, 2228 Niagara Stone Rd., Niagara-On-The-Lake ~R&B/Blues
10> After Funk; Ghostik Willy;  @ Corktown Pub, 175 Young St., Hamilton ~indie; $10
9:30?> Rockinchair Blues Band @ Buddy's Roadhouse, 1360 King St. E., Hamilton ~Blues
905 West
**2-6> Sil Simone Band with special guest Kat Lovett @ Carrigan Arms, 2025 Upper Middle Rd., Burlington ~Rock/Blues
*2-6> jam w. Tom Finocchio @ Sam's Place, Barton-Chestnut Sts., Hamilton
**2-6> Saturday Blues Sermon with James Anthony & special guest Kathy Fleck @ Black Swan Pub Burlington, 4040 Palladium Way, Burlington ~Blues
*3-7> jam with Michelle Deneault & Redder @ Port Credit Legion, 35 Front St., Port Credit
*3-7> open stage jam @ Moonshine Café, 137 Kerr St., Oakville; $2
*6-9> Victoria & Bobby Keys @ Roc'n Doc's, 105 Lakeshore Rd. E., Port Credit ~soft Pop
8-12> Paw's for Applause animal shelter fundraiser @ Moonshine Café, 137 Kerr St., Oakville; $5
9> Killing Time @ Carrigan Arms, 2025 Upper Middle Rd., Burlington ~Pop Rock
9:30> Paul & Curtis @ Shore Grill, 71 Lakeshore Rd. E., Port Credit ~Pop Rock/Top 40
9:30> tba @ Sixth Line Pub, 1500 Sixth Line, Oakville
9:30> Tim Park @ Gator Ted's, 1505 Guelph Line, Burlington
10-2> Lera Salt Band featuring Hervé Basset on keys @ Roc'n Doc's, 105 Lakeshore Rd. E., Port Credit ~Rock/Top 40
705
5> Rick & Gailie @ Black Horse Pub, 452 George St. N., Peterborough
8:30> House Brand @ Black Horse Pub, 452 George St. N., Peterborough
9:30> The David Love Band also featuring Darrell McNeill @ Sticky Fingers, 150 Dunlop St., Barrie ~60s Pop Rock
Copyright © 2015 Toronto Moon Magazine. All Rights Reserved