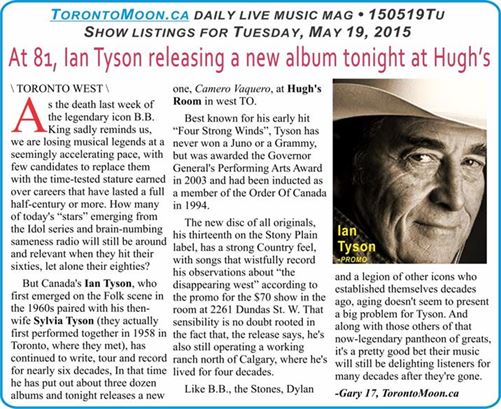 \ TORONTO WEST \
As the death last week of the legendary icon B.B. King sadly reminds us, we are losing musical legends at a seemingly accelerating pace, with few candidates to replace them with the time-tested stature earned over careers that have lasted a full half-century or more. How many of today's "stars" emerging from the Idol series and brain-numbing sameness radio will still be around and relevant when they hit their sixties, let alone their eighties?
But Canada's Ian Tyson, who first emerged on the Folk scene in the 1960s paired with his then-wife Sylvia Tyson (they actually first performed together in 1958 in Toronto, where they met), has continued to write, tour and record for nearly six decades, In that time he has put out about three dozen albums and tonight releases a new one, Camero Vaquero, at Hugh's Room in west TO.
Best known for his early hit "Four Strong Winds", Tyson has never won a Juno or a Grammy, but was awarded the Governor General's Performing Arts Award in 2003 and had been inducted as a member of the Order Of Canada in 1994.
The new disc of all originals, his thirteenth on the Stony Plain label, has a strong Country feel, with songs that wistfully record his observations about "the disappearing west" according to the promo for the $70 show in the room at 2261 Dundas St. W. That sensibility is no doubt rooted in the fact that, the release says, he's also still operating a working ranch north of Calgary, where he's lived for four decades.
Like B.B., the Stones, Dylan and a legion of other icons who established themselves decades ago, aging doesn't seem to present a big problem for Tyson. And along with those others of that now-legendary pantheon of greats, it's a pretty good bet their music will still be delighting listeners for many decades after they're gone.
-Gary 17, TorontoMoon.ca
SHOW LISTINGS for Tuesday, May 19, 2022
Listings are now organized by area in which the shows occur and within each area field shows are listed chronologically.
Listings preceded by an asterisk (*) are repeating weekly events. (Double asterisk indicates repeating event with different hosts/guest/etc.). Admission prices followed by a slash and minus (/-) after the amount indicates door charge with availability of cheaper rates for some purchases. /+ indicates stated price is minimum.
Names of subscribers appear in bold, are underlined and, where applicable, include a live link to their websites. Advertisers' listings are in larger highlighted type, include live link to website and also have ad icon included in listings.
416 – Toronto Central
6> Andrew Collins Trio @ Cameron House (front), 408 Queen St. W., TO
6:30> Matt Newton Trio @ The Rex, 194 Queen St. W., TO ~Jazz
*7> open mic @ The Central, 603 Markham St., TO
7:30> foulplayboys @ Tranzac Club (Southern Cross), 292 Brunswick St., TO ~indie Rock
8:30> Dave Keystone @ Free Times Café, 320 College St., TO ~storytelling
8:40> Under The Sun; Tribe Royal; Quiet Company; Brothers Highway @ Horseshoe Tavern, 370 Queen St. W., TO ~indie
*8:45> Tyler Yarema & His Rhythm @ Reservoir Lounge, 52 Wellington St. E., TO ~Jazz/Blues
9:30> Django Gypsy Jam @ Grossman's, 379 Spadina Ave., TO
9:30> Jazz jam hosted by Norbert Botos @ The Rex, 194 Queen St. W., TO ~Jazz
*10-2> The Sattalites @ Orbit Room, 580 College St., TO ~orig. & cover Reggae/Funk
10> Ken McDonald Quartet + guests @ Tranzac Club (Southern Cross), 292 Brunswick St., TO ~Jazz
10> Sinners Choir @ Cameron House (front), 408 Queen St. W., TO
10:30> The World Is Yours members acoustic duo @ The Hideout, 484 Queen St. W., TO ~indie Rock
416 – Toronto East
*6-9> Julian Fauth solo @ Sauce, 1376 Danforth Ave., TO East ~original Blues piano
7:30-9:30> Sarah Burton @ Relish, 2152 Danforth Ave., TO East ~songwriter
8:30-10:30> Lily Frost @ Castro's, 2116 Queen St. E., TO East
**9> open mic with host Jody Ferrer & 10 p.m. feature by tba @ Groove Bar, 1952 Danforth Ave., TO East
9> Tom Waits Appreciation Congregation @ Linsmore Tavern, 1298 Danforth Ave., TO East ~Tom Waits tribute
9> The Laughing Monkey @ The Only Café, 972 Danforth Ave., TO East ~comedy
*9:30> Peter Verity @ Black Swan, 154 Danforth Ave., TO East ~Folk Roots
*9:30-12> open stage hosted by Jennifer Brewer @ The Old Nick, 123 Danforth Ave., TO East
*9:30> jam with Frank Wilks & Friends @ The Duke Live, 1225 Queen St. E., TO East
416 – Toronto West
5-8> Chris Reid Jazz Band @ Gate 403, 403 Roncesvalles Ave., TO West ~Jazz
8:30> Ian Tyson album release for Camero Vaquero @ Hugh's Room, 2261 Dundas St. W., TO West ~Roots-Pop icon; $70/-
9> tba for Indie Tuesdays @ The Piston, 937 Bloor St. W., TO West ~indie; pwyc
9> Marlin Chaplin with Sintia Baba @ The Local, 396 Roncesvalles Ave., TO West ~Country Folk
9> The Big City Trio featuring Wendy Irvine @ Gate 403, 403 Roncesvalles Ave., TO West ~Jazz
9> The Smart Alecks featuring members of Purple Hill @ Dakota Tavern, 249 Ossington Ave., TO West
**9> aBabe Music presents Stacey Dowsell; Conan & The Romantyks; Scott Neary Band; Black Suit Devil @ The Painted Lady, 218 Ossington Ave., TO West ~indie showcase; $5
*9:30> jam with Derek Downham @ Axis, 3048 Dundas St. W., TO West ~eclectic
416 – Scarborough
*9:30> karaoke with The English Rose & The Mad Scotsman @ The Fossil & Haggis, 790 Military Trail, Scarborough
705
7> Kerry McMaster @ Black Horse Pub, 452 George St. N., Peterborough
10> Don Amero @ The Garnet, 231 Hunter St. W., Peterborough
905 East
*6:30-11> The Woodshed jam with Don Niblett & Frank Zochodne @ Simcoe Blues & Jazz, 926 Simcoe St. N., Oshawa
9> tba @ The Corral, 433 Simcoe St. S., Oshawa ~Country Rock
*10> open mic with Josh Beaven @ The Atria, 59 King St. E., Oshawa
905 West
*8-12> Marshall Dane Trio @ Roc'n Doc's, 105 Lakeshore Rd. E., Port Credit ~New Country/Pop
*8> open stage with host Iain Leslie @ Moonshine Café, 137 Kerr St., Oakville; $2
*8:45> open mic with Matt Zadkovich @ Culchain's Irish Pub, 158 Queen St. S., Streetsville-Mississauga
*9:30> The Phil & John Show feat. Phil Naro @ Shore Grill, 71 Lakeshore Rd. E., Port Credit ~acoustic Pop Rock
*10> open mic @ The Dickens, 423 Elizabeth St., Burlington
905 North
*8-11> jam with Matthew Kane & The Brews Brothers @ The Crown, 9580 Yonge St., Richmond Hill
*8:30> open mic @ Falcon & Firkin, 10300 Yonge St., Richmond Hill
*9> open mic with Manny D, Andy Earle & Dave Breckels @ Big Chris BBQ, 17380 Yonge St., Newmarket
905 South
*8-11> Michael Keys & Friends @ The Ale House, 802 Upper Gage Ave., Hamilton ~Pop/Jazz
Copyright © 2015 Toronto Moon Magazine. All Rights Reserved