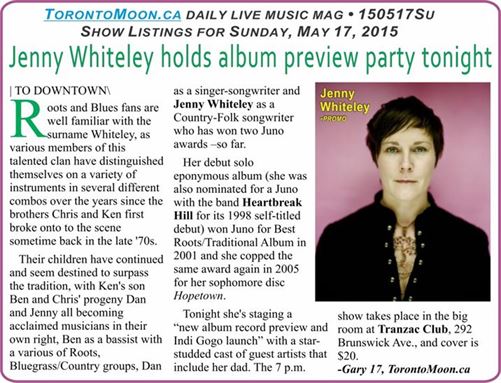 \ TO DOWNTOWN\
Roots and Blues fans are well familiar with the surname Whiteley, as various members of this talented clan have distinguished themselves on a variety of instruments in several different combos over the years since the brothers Chris and Ken first broke onto to the scene sometime back in the late '70s.
Their children have continued and seem destined to surpass the tradition, with Ken's son Ben and Chris' progeny Dan and Jenny all becoming acclaimed musicians in their own right, Ben as a bassist with a various of Roots, Bluegrass/Country groups, Dan as a singer-songwriter and Jenny Whiteley as a Country-Folk songwriter who has won two Juno awards –so far.
Her debut solo eponymous album (she was also nominated for a Juno with the band Heartbreak Hill for its 1998 self-titled debut) won Juno for Best Roots/Traditional Album in 2001 and she copped the same award again in 2005 for her sophomore disc Hopetown.
Tonight she's staging a "new album record preview and Indi Gogo launch" with a star-studded cast of guest artists that include her dad. The 7 p.m. show takes place in the big room at Tranzac Club, 292 Brunswick Ave., and cover is $20.
-Gary 17, TorontoMoon.ca
SHOW LISTINGS for Sunday, May 17, 2022

:
Listings are organized by area in which shows take place and listed chronologically within each area field.
Listings preceded by an asterisk (*) are repeating weekly events. (Double asterisk indicates repeating event with different hosts/guest/etc.). Admission prices followed by a slash and minus (/-) after the amount indicates door charge with availability of cheaper rates for some purchases. /+ indicates stated price is minimum.
Names of subscribers appear in bold, are underlined and, where applicable, include a live link to their websites. Advertisers' listings are in larger highlighted type, include live link to website and also have ad icon included in listings.
416 – Toronto Central
11am-2pm> Michael Anklewicz for Jazz brunch @ Free Times Café, 320 College St., TO
12-3> Excelsior Dixieland Jazz Band @ The Rex, 194 Queen St. W., TO ~Jazz
1> Quebecois jam @ Tranzac Club (Southern Cross), 292 Brunswick Ave., TO
2-5> Bob Cohen with guests Noah Zacharin, Donna Flynn, Peter Lafferty & Glen Hornblast @ Vino Rosso, 995 Bay St., TO ~Roots/Pop
3-5> Alaniaris @ Tranzac Club (Southern Cross), 292 Brunswick Ave., TO ~Jazz
3> The Wintergarten Orchestra @ C'est What, 69 Front St. E., TO ~$10
*3-6> Michael Brennan @ Graffiti's, 170 Baldwin St. TO ~East Coast Rock/Blues Roots
3:15-5:30> Signe Miranda hosts Song Creation Formula free sample workshop (2nd of two days) @ The Fringe Creation Lab, 402-702 Bathurst St., TO
3:30-6:30> Club Django @ The Rex, 194 Queen St. W., TO ~Jazz
*4:30-8> New Orleans Connection All Stars & guests @ Grossman's, 379 Spadina Ave., TO ~New Orleans Jazz
5> The Conductors @ Cameron House (front), 408 Queen St. W., TO
5-9> Robbie Lane & The Disciples @ Seven44, 744 Mount Pleasant Road, TO North ~vintage Rock/R&B; $10
5> Monk's Music @ Tranzac Club (Southern Cross), 292 Brunswick Ave., TO ~Jazz
*7-1> Freefall Sundays open stage with hosts Steve York & Tony Rabalao (2 songs each -signup @ 7 or pre-sign online) @ The Supermarket, 268 Augusta St., TO
7> The Double Cuts @ Cameron House (front), 408 Queen St. W., TO ~Western Swing
7> Song Studio @ C'est What, 69 Front St. E., TO
7-9:30> Joel Visentin's Bugaloo Squad @ The Rex, 194 Queen St. W., TO ~Jazz
7> Jenny Whiteley album release with Sam Allison; Joey Wright; Chris Whiteley @ Tranzac Club (Main Hall), 292 Brunswick Ave., TO ~Roots; $20
7:30> Diane Roblin Presents @ Tranzac Club (Southern Cross), 292 Brunswick Ave., TO
8> Gordon's Acoustic Living Room @ Free Times Café, 320 College St., TO ~Roots/Pop
9> jam with Jay Pennell @ Scruffy Murphy's, 150 Eglinton Ave. E., TO North
*9> Rob Hiemstra solo @ The Unicorn, 175 Eglinton Ave. E., TO North ~Rock/Pop
9:30> Eric Divito @ The Rex, 194 Queen St. W., TO ~NY Jazz
*10> Horshack feat. Chris Caddell @ Orbit Room, 580 College St., TO ~Bluesy contemporary & classic Rock
10> Makeshift Island @ Tranzac Club (Southern Cross), 292 Brunswick Ave., TO
10> New Grease Revival @ Cameron House (front), 408 Queen St. W., TO
**10> Blues jam with Brian Cober, Bill Hedefine & guest bassist @ Grossman's, 379 Spadina Ave., TO
10:30> tba @ The Hideout, 484 Queen St. W., TO ~indie Rock
416 – Toronto East
*2-5> Allyson Morris with Madrugada @ Morgan's, 1282 Danforth Ave., TO East ~Jazz
*3-6> open mic with Nicola Vaughan @ Hirut, 2050 Danforth Ave., TO East
*3:30-7:30> jam @ Black Bear, 1125 O'Connor Drive, TO East
4> Cash On Demand @ Castro's Lounge, 2116 Queen St. E., TO East ~Johnny Cash tribute
5-7> Cadre @ Relish, 2152 Danforth Ave., TO East ~Blues-Rock
*5-9> John Dickie/Pat Perez Band @ Linsmore Tavern, 1298 Danforth Ave, TO East ~R&B/Blues
9> Watch This Sound @ Castro's Lounge, 2116 Queen St. E., TO East ~vintage Jamaican music
*9:30-1> jam with the Stir It Up Band featuring Bryan Van Dusen & David Macmichael @ Relish, 2152 Danforth Ave., TO East
416 – Toronto West
*12-3> Julian Fauth's Blues brunch @ Axis, 3048 Dundas St. W., TO West ~Blues
* 12-3> The Cosmotones @ Dakota Tavern, 249 Ossington Ave., TO West ~Rockabilly
**5-8> John Borra & Sam Ferrara w. guest @ The Communist's Daughter, 1149 Dundas St. W. TO West ~Country
5-8> Chris Coole @ The Local, 396 Roncesvalles Ave., TO West ~old time Country
5-8> Rob Thaller & Joanna Reynolds Duo @ Gate 403, 403 Roncesvalles Ave., TO West ~Jazz
7> The Dark Day Review @ Dakota Tavern, 249 Ossington Ave., TO West
8:30> Craig Cardiff @ Hugh's Room, 2261 Dundas St. W., TO West ~songwriter; $22.50
9-1> Steve Farrugia Quartet @ Gate 403, 403 Roncesvalles Ave., TO West ~Jazz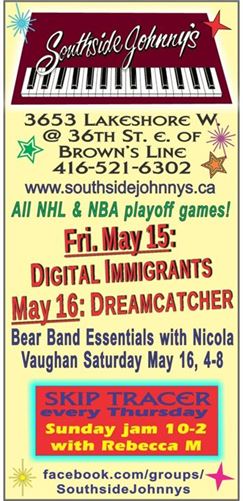 9> Mimi Shaw @ The Local, 396 Roncesvalles Ave., TO West ~alt-Country
416- Etobicoke
4-8> Lost Patients @ Timothy's Pub, 344 Brown's Line, Etobicoke ~Pop Rock
*10-2>

jam with Rebecca Matiesen & Phoenix

@ Southside Johnny's, 3653 Lakeshore Blvd. W., Etobicoke South
416 – Scarborough
*6-10> jam with Tommy Rocker @ Scarborough Junction, 646 Danforth Rd., Scarborough
*7-11> open jam @ McGradie's, 2167 Victoria Park Ave., Scarborough
519
*9-1> jam @ Ivy Arms Pub, 201 Main Street East, Milton
705
*3-7> jam at CJ Barleys, 213 The Queensway, Keswick
3> Brian Haddelssey @ Black Horse Pub, 452 George St. N., Peterborough
*7> open mic with Randy Hill @ Black Horse Pub, 452 George St. N., Peterborough
10> Sister Says @ The Garnet, 231 Hunter St., W., Peterborough
905 East
*5-9> All ages open jam with Juggernaut Jam Band featuring Andy Narsingh @ West Shore Bar & Grill, 877 Bayly St., Pickering
*7-11> Karaoke with Rob MacArthur @ The Edge, 250 Bayly St. W., Ajax
*8:30-12:30> karaoke with The English Rose & The Mad Scotsman @ Gryphon Pub, 114 Dundas St. E., Whitby
905 West
2-6> Rebecca and the Prairie Dawgz @ Carrigan Arms, 2025 Upper Middle Rd., Burlington ~Country
3-6> jam with host Buddy Love Band @ Moonshine Café, 137 Kerr St., Oakville
*4:30-8> Chuck Jackson's All Stars @ Roc'n Doc's, 105 Lakeshore Rd. E., Port Credit ~Blues
**7-11> The Nomads @ Shore Grill, 71 Lakeshore Rd. E., Port Credit
*7> open jam with Mike Shotton & The Flying Squirrels @ Black Swan Pub Burlington, 4040 Palladium Way, Burlington
*7:30> open jam hosted by Troy Harmer @ The Brown Barrel, 1515 Upper Ottawa St., Hamilton
*9-1> The Tonkas @ Roc'n Doc's, 105 Lakeshore Rd. E., Port Credit ~Rock/Top 40
*10:30> Adam Cooke & The Adams Family @ The Dickens, 423 Elizabeth St., Burlington
905 North
*3-7> open stage with Kevin Ker @ The Earl Of Whitchurch, 6204 Main St., Stouffville
*5-9> open mic with feature guest @ Sgt. Pepper's Aurora, Walmart Plaza (Hwy 404 & Aurora Rd.), Aurora
Copyright © 2015 Toronto Moon Magazine. All Rights Reserved