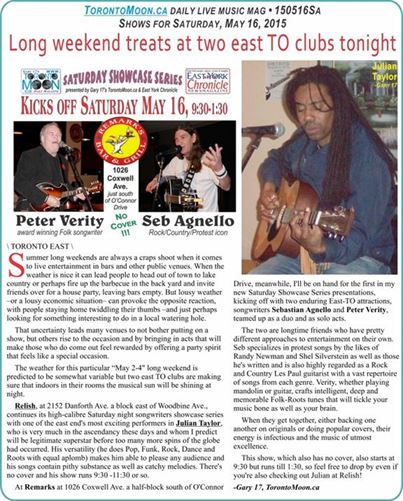 \ TORONTO EAST \
Summer long weekends are always a craps shoot when it comes to live entertainment in bars and other public venues. When the weather is nice it can lead people to head out of town to lake country or perhaps fire up the barbecue in the back yard and invite friends over for a house party, leaving bars empty. But lousy weather –or a lousy economic situation– can provoke the opposite reaction, with people staying home twiddling their thumbs –and just perhaps looking for something interesting to do in a local watering hole.
That uncertainty leads many venues to not bother putting on a show, but others rise to the occasion and by bringing in acts that will make those who do come out feel rewarded by offering a party spirit that feels like a special occasion.
The weather for this particular "May 2-4″ long weekend is predicted to be somewhat variable but two east TO clubs are making sure that indoors in their rooms the musical sun will be shining at night.
Relish, at 2152 Danforth Ave. a block east of Woodbine Ave., continues its high-calibre Saturday night songwriters showcase series with one of the east end's most exciting performers in Julian Taylor, who is very much in the ascendancy these days and whom I predict will be legitimate superstar before too many more spins of the globe had occurred. His versatility (he does Pop, Funk, Rock, Dance and Roots with equal aplomb) makes him able to please any audience and his songs contain pithy substance as well as catchy melodies. There's no cover and his show runs 9:30 -11:30 or so.
At Remarks at 1026 Coxwell Ave. a half-block south of O'Connor Drive, meanwhile, I'll be on hand for the first in my new Saturday Showcase Series presentations, kicking off with two enduring East-TO attractions, songwriters Sebastian Agnello and Peter Verity, teamed up as a duo and as solo acts.

The two are longtime friends who have pretty different approaches to entertainment on their own. Seb specializes in protest songs by the likes of Randy Newman and Shel Silverstein as well as those he's written and is also highly regarded as a Rock and Country Les Paul guitarist with a vast repertoire of songs from each genre. Verity, whether playing mandolin or guitar, crafts intelligent, deep and memorable Folk-Roots tunes that will tickle your music bone as well as your brain.
When they get together, either backing one another on originals or doing popular covers, their energy is infectious and the music of utmost excellence.
This show, which also has no cover, also starts at 9:30 but runs till 1:30, so feel free to drop by even if you're also checking out Julian at Relish!
-Gary 17, TorontoMoon.ca
SHOW LISTINGS for Saturday, May 16, 2022
Listings are organized by area in which the shows occur and within each area field shows are listed chronologically.
Listings preceded by an asterisk (*) are repeating weekly events. (Double asterisk indicates repeating event with different hosts/guest/etc.). Admission prices followed by a slash and minus (/-) after the amount indicates door charge with availability of cheaper rates for some purchases. /+ indicates stated price is minimum.
Names of subscribers appear in bold, are underlined and, where applicable, include a live link to their websites. Advertisers' listings are in larger, highlighted type, include live link to website and also have ad icon included in listings.
416 - Toronto Central
*12-3> Danny Marks & friends @ The Rex, 194 Queen St. W., TO ~Jazz
*2-5> Dr. B's Acoustic Medicine Show open stage with host Brian Gladstone @ Free Times Café, 320 College St. TO ~Roots; pwyc
3> The Hot Five Jazzmakers @ C'est What, 67 Front St. E., TO ~traditional Jazz; $5
3> Smokey Witt @ Cameron House (front), 408 Queen St. W., TO ~Folk
3> Jamzac @ Tranzac Club (Southern Cross), 292 Brunswick Ave., TO
3:15-5:30> Signe Miranda hosts Song Creation Formula free sample workshop (1st of two days) @ The Fringe Creation Lab, 402-702 Bathurst St., TO
3:30> Tonight at Noon @ The Rex, 194 Queen St. W., TO ~Charlie Mingus tribute
3:30> Bob Brough Quartet @ The Pilot, 22 Cumberland St., TO ~Jazz
4> Sin City Boys featuring Kevin Jollimore @ Graffiti's, 170 Baldwin St. ~vintage Pop Rock/Tex Mex
4-7> Danny 11 @ Seven44, 744 Mount Pleasant Road, TO North ~$
*4-7> Climax Jazz Band @ Alleycatz, 2409 Yonge St., TO North ~Dixieland Jazz; $?
*4:40-7:30> The Happy Pals @ Grossman's, 379 Spadina Ave., TO ~New Orleans Jazz
7> The Double Cuts @ Cameron House (front), 408 Queen St. W., TO ~Western Swing
7:30> The Bacchus Collective @ The Rex, 194 Queen St. W., TO ~ Jazz
7:30> jam with Bert Clarke @ Tranzac Club (Southern Cross), 292 Brunswick Ave., TO
8:30> Giu Smagghe @ Free Times Café, 320 College St. TO ~songwriter; $5
9> The Dawgs @ Seven44, 744 Mount Pleasant Road, TO North ~Rock
9> Jim Jr. ep release @ Cameron House (rear), 408 Queen St. W., TO
9:30> Lady Kane @ Alleycatz, 2409 Yonge St., TO North ~Funk/Soul/R&B
9:45> The Travelling Wall-barries @ The Rex, 194 Queen St. W., TO
*9:45> Tyler Yarema & His Rhythm @ Reservoir Lounge, 52 Wellington St. E., TO ~Jazz/Blues
10-2> Julian Fauth @ Grossman's, 379 Spadina Ave., TO ~Blues
*10> karaoke with Randy Petrie @ Kramers, 1915 Yonge St., TO North
10> Ride The Tiger @ Orbit Room, 480 College St. TO ~Funk/Soul
10> New Grease Revival @ Cameron House (front), 408 Queen St. W., TO
10:30> Era 9; Scully & The Crossbones @ The Hideout, 484 Queen St. W., TO ~indie Rock
416 - Toronto East
*3:30-6> Johnny Wright @ Outriggers, 2232 Queen St. E., TO East ~R&B
*4-7:30> Ronnie Hayward Trio @ McQueen's, 993 Queen St. E., TO E. ~Blues/Roots
6-8> The Cosmotones @ Castro's, 2116 Queen St. E., TO East ~Blues/Roots
8> Michael Danckert @ The Feathers, 962 Kingston Rd., TO East ~songwriter
9> Al Woods & The Woodsmen @ Dora Keogh, 141 Danforth Ave., TO East
9> Dave Whalen & The Starlite Band @ Eton House, 710 Danforth Ave., TO East ~vintage Pop Rock
9:30> Gary 17 presents Saturday Night Showcase with Sebastian Agnello & Peter Verity @ Remarks, 1026 Coxwell Ave., TO East ~Country-Rock/Protest/Roots
9:30-11:30> Julian Taylor @ Relish, 2152 Danforth Ave., TO East ~Pop/Funk
9:30> AC/DC Rocks @ Linsmore Tavern, 1298 Danforth Ave., TO East ~AC/DC tribute; $10
416 - Etobicoke
*3-6> Danny B Band @ Blue Goose, 1 Blue Goose St., Etobicoke South ~R&B/Blues
**4-8> The Bear's Essentials with guest singer

Nicola Vaughan

@ Southside Johnny's, 3653 Lakeshore Blvd. W. Etobicoke South ~Rock-R&B
*4-8> The Meteors with guest Chris Plock @ Timothy's Pub, 344 Brown's Line, Etobicoke South ~Blues/Rock/R&B
9> Marco Bressette @ Blue Goose Tavern, 1 Blue Goose Rd., Etobicoke South ~Pop Rock
9:30> Taxi @ Timothy's Pub 344 Brown's Line, Etobicoke South ~Pop Rock/Top 40; $5
10-2> Valerie & The Dreamcatcher featuring

Tony Oldland

@ Southside Johnny's, 3653 Lakeshore Blvd. W. Etobicoke South ~Rock/Top 40
416 – Scarborough
8> Alan Rhody with Vezi & opening set by Ron Jones for Acoustic Harvest @ St. Nicholas Anglican Church, 1512 Kingston Rd., Scarborough ~Roots; $25
*9:30-2> karaoke with The English Rose & The Mad Scotsman @ Winners, 2181 Lawrence Ave. E., Scarborough
9:30> City Soul @ Stone Cottage Pub, 3750 Kingston Rd., Scarborough ~Pop Rock
416 - Toronto West
*12-3> Julian Fauth's Blues Brunch @ Axis, 3048 Dundas St. W., TO West ~Blues
**2-6> open mic with a host Philomene Hoffman @ Magic Oven, 347 Keele St., TO West
2:30-4:30> Rye & Fairy Tales @ Humble Beginnings, 3109 Dundas St. W., TO West ~acoustic Folk/Bluegrass duo
**5-8> Bill Heffernan & Friends featuring guests Bill Colgate & Cadre @ Gate 403, 403 Roncesvalles Ave. TO West –Rootsy Pop
5-8> Sarah Jane Scouten @ The Local, 396 Roncesvalles Ave., TO West ~alt-Bluegrass
8:30> A Concert for Nepal with Ron Sexsmith; Willow Rutherford; Eve Goldbert; The Young Novelists; Kyp Harness; Communism; more @ Hugh's Room, 2261 Dundas St. W., TO West ~eclectic fundraiser; $27.50
9-1> Sweet Derrick Blues Band @ Gate 403, 403 Roncesvalles Ave., TO West ~ Blues
9> Angie Gunn @ The Local, 396 Roncesvalles Ave., TO West ~Country
9> The Weber Brothers fundraiser for Diabetes Association @ Cadillac Lounge, 1296 Queen St. W., TO West ~original Blues
9> Jessica Speziale @ Tennessee, 1554 Queen St. W., TO West ~original Pop
10-2> Samantha Martin & The Haggard @ Dakota Tavern, 249 Ossington Ave., TO West
905 East
*4> PRJ @ Simcoe Blues & Jazz, 926 Simcoe St., Oshawa ~Blues
*9-1> karaoke with Rob MacArthur @ Tudor Rose, 700 Harwood Ave. S., Ajax
9> Jesse Slack @ The Corral, 433 Simcoe St. S., Oshawa ~Country
9-1> The Spirits @ Simcoe Blues & Jazz, 926 Simcoe St. N., Oshawa
10-2> Cece Pastor @ Fionn MacCool's Ajax, 36 Kingston Rd. E., Ajax ~Pop Rock
10-2> DJ Angie @ Whisky John's, 843 King St. W., Oshawa
905 North
9-1> Two For The Show @ Oscar's Roadhouse, 1785 Queen St. E., Brampton ~Pop Rock/Top 40
9:30> IN2U @ Jake's Boathouse Brampton, 59 First Gulf Rd., Brampton ~Pop Rock
9:30> Pop Machine @ Aw Shucks, 15230 Yonge St., Aurora ~Pop Rock
10> MINT featuring Amanda Rose & Anthony Cee @ Duchess of Markham, 53 Main St. N., Markham
905 South
*2-6> jam w. Tom Finocchio @ Sam's Place, Barton-Chestnut Sts., Hamilton
**9> Niagara Rhythm Section @ The Old Winery, 2228 Niagara Stone Rd., Niagara-On-The-Lake ~R&B/Blues
905 West
**2-6>  Sil Simone Band with special guest Melissa Bell @ Carrigan Arms, 2025 Upper Middle Rd., Burlington ~Rock/Blues
**2-6> Saturday Blues Sermon with James Anthony & special guest Chris Murphy @ Black Swan Pub Burlington, 4040 Palladium Way, Burlington ~Blues
*3-7> jam with Michelle Deneault & Redder @ Port Credit Legion, 35 Front St., Port Credit
*3-7> open stage jam @ Moonshine Café, 137 Kerr St., Oakville; $2
*6-9> Victoria & Bobby Keys @ Roc'n Doc's, 105 Lakeshore Rd. E., Port Credit ~soft Pop
8-12> Alfie Smith's Blues Workshop with guests @ Moonshine Café, 137 Kerr St., Oakville ~Blues; $10
9> Beat Heathens @ Carrigan Arms, 2025 Upper Middle Rd., Burlington
9:30> Pat Hewitt @ Shore Grill, 71 Lakeshore Rd. E., Port Credit ~Pop Rock/Top 40
9:30> Groove Hammer @ Sixth Line Pub, 1500 Sixth Line, Oakville ~Rock/Funk
10-2> Smoke In The Cockpit @ Roc'n Doc's, 105 Lakeshore Rd. E., Port Credit ~Rock/Top 40
705
5> Rick & Gailie @ Black Horse Pub, 452 George St. N., Peterborough
8:30> Mr. B @ Black Horse Pub, 452 George St. N., Peterborough
10> The Venisons @ The Garnet, 231 Hunter St. W., Peterborough
Copyright © 2015 Toronto Moon Magazine. All Rights Reserved